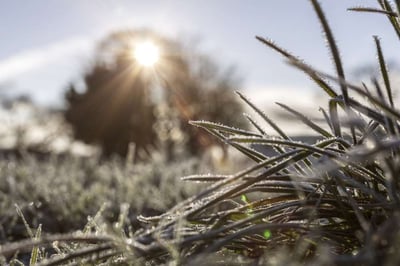 While the frigid, frosty air and the wintry winds may have you bundled up inside and hibernating for the winter, overlooking landscaping during the winter months can really set you back when it comes to having the gorgeous property you desire. After all, truly getting the most out of your landscape means that you can't fail to overlook it for part of the year and still expect it to be its best.
Unfortunately, a lot of folks do tend to neglect winter landscaping tasks in order to wait for the spring when it's warm and when they're spending more time outside. But this will set you back. By the time spring rolls around, your landscape could be a mess and it will take you a lot longer to catch up than had you not taken the winter off—not to mention the fact that the availability of landscapers in the spring can become limited if you wait too long.
While you know you want to keep your property tidy, even in the winter, you're not sure exactly which winter landscaping services matter. That's why we've rounded up a list of some of the most important winter landscaping tasks to consider.
1. Banish Winter Weeds
Yes, there are winter weeds out there and they can overtake a property—even in the colder months. Common Chickweed, for instance, is very cold-tolerant and can survive in temperatures close to zero degrees! Corn Speedwell and Henbit are also common winter weeds that need to be taken care of as part of your winter landscaping tasks.
Weeds are typically activated by soil temperature and it is possible for the ground to warm up during periods of winter. At Rock Water Farm, we typically hand-pull weeds that we spot on our clients' properties over the winter (and we've certainly spotted plenty of them!).
2. Clean Up Leaves and Debris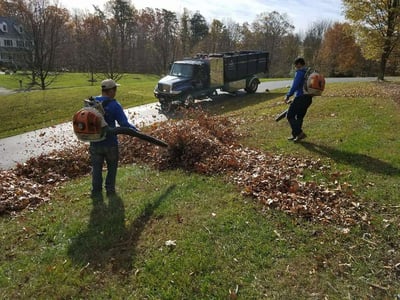 Even if you had a fall clean-up service, you likely still have some debris in your yard that must be cleaned up. Leaves can blow around from other properties and some species of trees even drop their leaves slowly over the winter (or at least really late in the fall). Debris is not just an eyesore, it's an invitation for rodents to take cover on your property.
Fallen leaves and debris can also cause your lawn to get matted down and even kill off your grass. And leaves on your pavement can stain if they sit there for too long.
3. Take Care of Winter Pruning
In general, pruning is an important part of winter landscape maintenance as plants are in their dormant state. But certain plants, such as Crape Myrtles, Roses, and even some ornamental grasses, have very specific timelines as to when they should be pruned in winter.
If you wait too long to do your pruning you can actually impair these plants' ability to flower come spring. Knowing the best time to trim shrubs can be complicated and is often best left to the professionals.
4. Devise a Strategy to Deal with Winter Foragers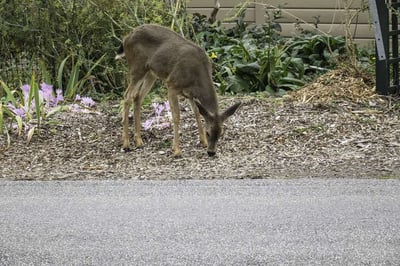 With winter often comes a host of hungry white-tailed deer who are looking for their next meal. Deer are a problem year-round in the Northern Virginia area but as food becomes more scarce in the colder months, their foraging habits may become more aggressive, making it even more important that you have a plan in place should you be expecting visitors.
Fencing, deer repellent products, and replacing some species with deer resistant plants are some options. You might also want to wrap your smaller shrubs in burlap which not only protects them from hungry deer but also helps prevent them from drying out in the wintry winds.
5. Get on Your Landscaper's Schedule
An important, and often overlooked, winter landscaping task is to get in touch with your landscape professional and get on their schedule for the spring. As you can imagine, as soon as the weather turns warm your landscape professional is getting bombarded with calls whether it's for spring clean-ups or even larger hardscaping projects, such as a patio. Larger projects like this can require several months of pre-planning. Winter is a great time to go through that process, giving you ample time to complete the logistics (such as permits) as well as to make important decisions.
If you wait until everyone else is calling you may end up farther down the list for these services. Better yet, have your landscape professional perform these winter landscape maintenance services and then roll right into spring. You won't miss a beat and there will be no downtime of your property not looking its best.
No Time for Haste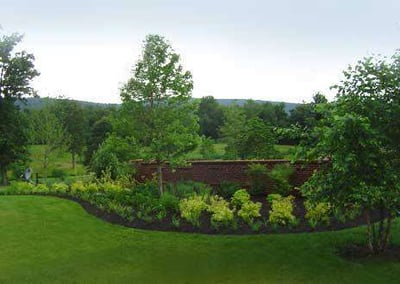 Spring, summer, fall, or winter, when it comes to a gorgeous landscape, you can't ignore your landscape for part of the year and still expect the best results. Failing to perform any landscaping during winter months will definitely set you back come spring. Instead of being able to get right outside and enjoy those warmer months, you'll be wasting time trying to catch your landscape up to where it ought to be.
Of course, you don't have to be the one to be out there in the cold handling these winter landscaping tasks. You can leave the winter tasks to a landscape maintenance professional and stay inside where it's warm and comfortable!
The choice is yours. You can hold off on winter landscaping and take the risk that you'll impact your spring season. Or, you can make winter landscaping is part of a comprehensive, year-round plan that helps ensure your landscape always looks and performs its best.
If you're ready to talk about our year-round landscape maintenance services in Ashburn, Aldie, or Leesburg, VA, request a free consultation. Then let us take the reins so that you can relax knowing your landscape will look its best regardless of the time of year.