Posted by

Todd Thomasson on Apr 4, 2019 9:00:00 AM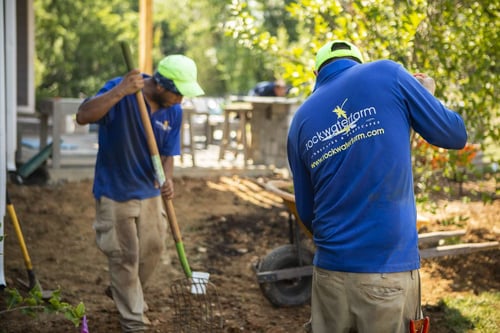 If you're in the market to hire a landscape company, you've probably realized how much work is involved in the research process alone. Searching for a landscape company can be an exhausting process of reading online reviews, asking for referrals, and perusing websites. But it's important to put in that due diligence.
Whether you're looking to complete a big design/build project such as a patio or outdoor kitchen, or you just have a few small projects in mind, you want to know that you've found a landscaping company that you can trust.
Having been in business since 2005 and active in this community for so long, those of us here at Rock Water Farm Landscapes & Hardscapes have really been able to get to know our competition. We certainly are not naive and we recognize that potential clients have a lot of options when it comes to hiring a landscaping service in Ashburn, Aldie or Leesburg, VA. There are many reputable companies providing landscape services right here in the Northern Virginia area.
While not all companies are created equal, we appreciate that there are other professional companies in the area who help establish a benchmark for excellence in this field. In fact, we'd much rather compete with fellow reputable companies who help uphold the reputation of the industry as a whole, as opposed to companies that come in with lowball prices and ultimately produce poor quality work which lowers the bar.
Options for Landscaping Companies in Ashburn, Aldie and Leesburg, VA
Let's take a look at how some of the other professional landscaping companies in Ashburn, Aldie and Leesburg, VA stack up. Here are five of our well-known competitors and a little bit about each of them.
Epling Landscaping and Lawn Services
Epling Landscaping is owner-operated, just like us. We respect that Epling gives back to the community by donating to a number of charities. Epling employs 35 lawn and landscape professionals and says they complete an average of 300-plus projects per year.
Blue Sky Landscaping
Founded in 1999, Blue Sky remains locally owned and operated in the Northern Virginia area. The company provides a range of services, though their primary focus has always been landscape maintenance.
Kane Landscapes, Inc.
Kane is a reputable competitor that we appreciate for their ability to help maintain high landscaping standards in Northern Virginia. They value keeping employees well-trained and are focused on quality. Their main focus is design/build work.
Surrounds Landscape Architecture and Construction
This high-end design/build firm is primarily focused on landscape architecture, though they do also offer maintenance work. They do very nice work. With a Registered Landscape Architect on staff, their design fees alone start on the higher end and may therefore limit those who can't afford a hefty investment.
Holloway Company
This renovation company is known for building decks though they also build porches, pergolas, paver patios, and other outdoor structures. Holloway has also expanded into offering outdoor home furnishings.
How Rock Water Farm Compares to Other
Landscape Companies
Like some of these other companies, we are locally owned and operated and feel a deep sense of commitment to our community. While some of these larger companies work all over Virginia, we're a bit more focused on landscape services in Ashburn, Aldie and Leesburg, VA and surrounding communities. We know the Northern Virginia area well and feel we offer the best possible service by continuing our commitment to this specific area.
One area where Rock Water Farm truly shines is in our relationships with our customers. Building ongoing relationships with the folks that we work with is incredibly important to us. Just a little bit of investigative work will reveal that some companies are strongly volume driven. They might offer decent work but more than anything they are committed to growing their numbers and focused on their bottom line. We've noticed that may even mean they're willing to knock on doors and undercut our prices by just enough to increase their volume.
As long as the company is doing good work you might not see the problem with hiring a volume-driven company. After all, it may even save you a few bucks. But as soon as you have a problem, will they be there to help you? If their main commitment is volume, instead of customer relationships, the answer is NO.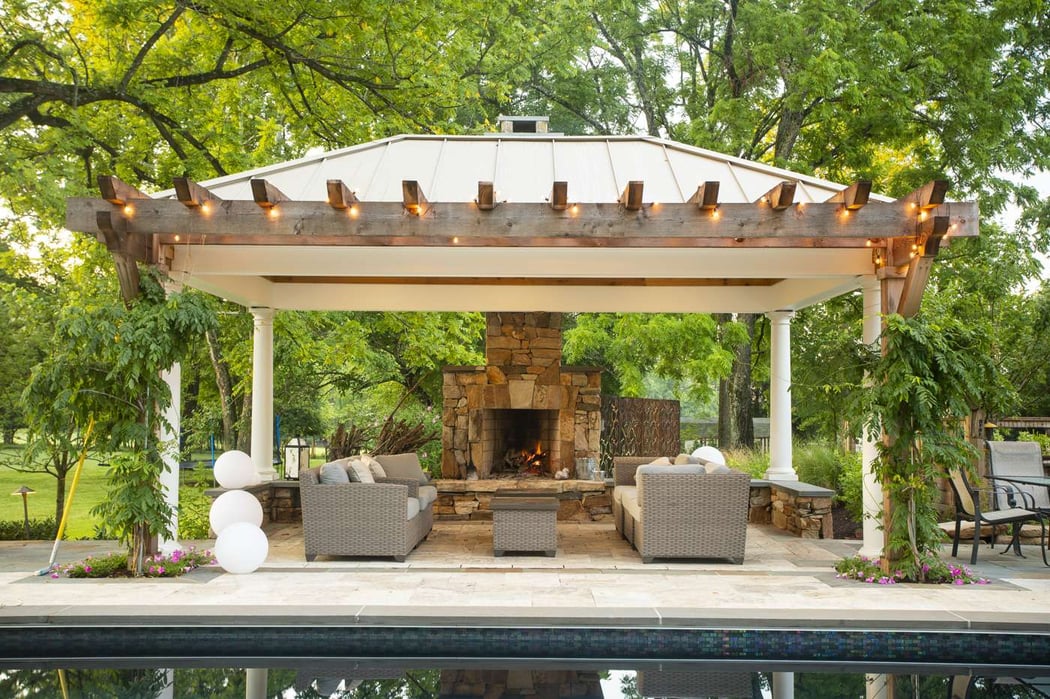 While a volume-driven company might be working if you're just getting weekly mowing services, what about that design/build project you might be considering down the line? Many of the volume-driven mowing and maintenance companies in Northern Virginia will try to upsell their clients on design/build services, but you should be leary about what you're getting.
If design/build work isn't a primary focus of their business, you must ask if you will receive a premium product and service. If the company's employees are mostly mowing, do they know how to do beautiful design/build work? Customer service is also incredibly important when it comes to design/build projects so you want to find a company you feel comfortable conversing with throughout the process.
At Rock Water Farm, we are a one-stop-shop for our customers in that we offer maintenance and design/build work all under one roof. We also love working with people and truly value the relationships we build. While many of the landscape companies in Ashburn, Aldie and Leesburg, VA use manmade concrete pavers for their outdoor projects such as walkways and patios, we are committed to using natural stone in as many of our projects as we can. We believe in offering our customers the best both with our service and our products.
(READ TESTIMONIALS FROM OUR HAPPY CLIENTS)
Choosing the Best
Landscaping Company in Ashburn, Aldie or Leesburg, VA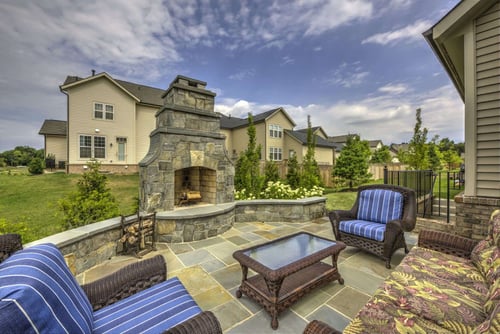 As you narrow down your choices, don't be afraid to directly call the companies you're considering and ask them questions. Bear in mind that prices and services are going to vary. Be careful not to split hairs over minimal dollar differences. Everyone has a budget, but price alone should not be how you shop for a landscape company. Sometimes it's worth paying a little extra if you're receiving better quality and service for that price difference.
We would love to be your choice as a landscaper for your Northern Virginia home and are ready to take your call and answer your questions. We have worked incredibly hard to be at the top of our game and continuously strive to improve. Keeping our customers happy is our number one priority. We would be grateful for the opportunity to provide you with the same high level of attention and care that has helped us grow.
If you're ready to choose Rock Water Farm for your landscaping needs, or just want to talk more, schedule a free consultation or call us at 703-327-1636.