Posted by

Todd Thomasson on Jan 19, 2021 9:27:11 AM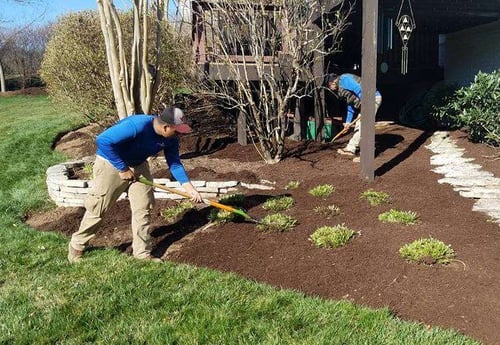 When it comes to your South Riding, Haymarket, or Ashburn, VA property, you likely want a landscape that looks great—but doesn't require a tremendous amount of upkeep to keep it looking (and performing) that way. In other words, you want to be able to enjoy your landscape when you spend time in it, not constantly having to worry that things look unkempt or that you need to get out there and clean it up.

Even if you've hired a professional landscape company to handle your landscape maintenance, you don't want to feel like you're spending a fortune because of high-maintenance choices—or that your company needs to come out more regularly because the landscaping gets messy so quickly.

For these reasons, you're likely looking for ideas on low maintenance landscaping. We've rounded up some of our best landscaping tips on creating a low maintenance landscape at your Northern Virginia home.
1. Make Low Maintenance Plant Choices
The plants that you choose for your landscape are ultimately going to play a huge role in how much maintenance is needed. You want plants that look great but that don't require a ton of upkeep to continue to look and perform well. That means choosing plants that are relatively drought-tolerant, don't require constant trimming, and are not prone to pest or disease problems. You also want plants that are well-suited to the local climate and conditions.

We've written a lot on low maintenance plant choices, including this article on 12 of the best low maintenance trees, shrubs, and plants that won't require a ton of "tending to." These are generally native species that are naturally suited to perform well in our region.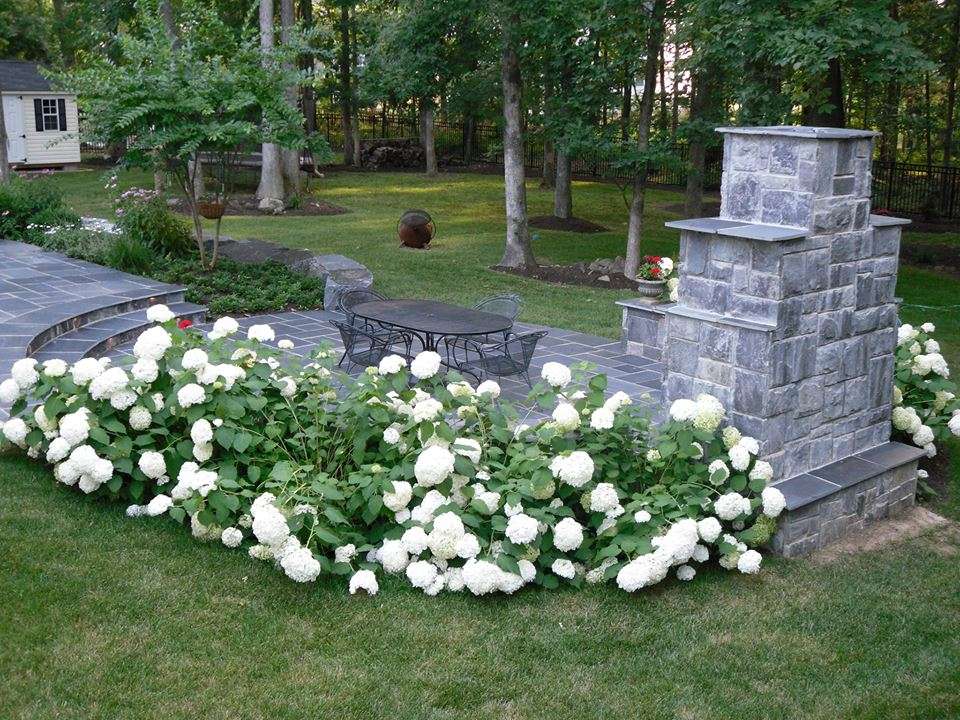 Of course, there's more to having low maintenance plants than just paying attention to the plant type. The planting location is also critical. You can choose a low maintenance, native plant but if you plant it in the wrong place, it's not going to perform well. For instance, a plant that needs full sun should not be planted in the shade.

This is why plant installation is a bit more complicated than people often realize. Your landscape professional needs to be paying attention to the plant type that they're choosing as well as where it's best installed both in terms of aesthetic appeal and site conditions. But paying attention to all of these details will help ensure low maintenance landscaping.
2. Use High-Quality Mulch
Mulch can be a wonderful addition to your landscape because it provides so many great benefits. It can suppress weed growth, help retain plant bed moisture, regulate soil temperatures, and even add nutrients to the soil as it naturally decomposes. These are the reasons why we recommend mulch over stone in many cases (even though stone is considered a lower maintenance material due to the fact that it doesn't need to be replaced). Mulch just has so many benefits to your plant material.

But this is all contingent on using a high-quality mulch.

Some homeowners assume that "mulch is mulch," and this certainly is not the case. Cheap mulch can actually cause maintenance hassles and headaches that will increase your landscape burdens. While bagged mulch is not necessarily a great choice, the bigger problem lies in utilizing mulch from bulk supply locations that carry low-quality products. As a worst case scenario, we've heard stories of mulch made from recycled materials like ground-up pallets and two-by-fours. This is not going to benefit your plant material and could even introduce disease into the plant beds if this wood is decaying. We've even heard of this cheap mulch having nails left in it from when pallets got ground up!

Sometimes cheap mulch that includes ground-up plant material even ends up having weed seeds in it. You could be increasing your maintenance burdens by actually introducing weeds into your plant beds with poor-quality mulch.

As you can see, your mulch selection goes a long way in creating low maintenance landscaping. At Rock Water Farm, we use virgin hardwood bark mulch, meaning it has never been used for anything else. This is going to help give you the best results without adding more work to your landscape.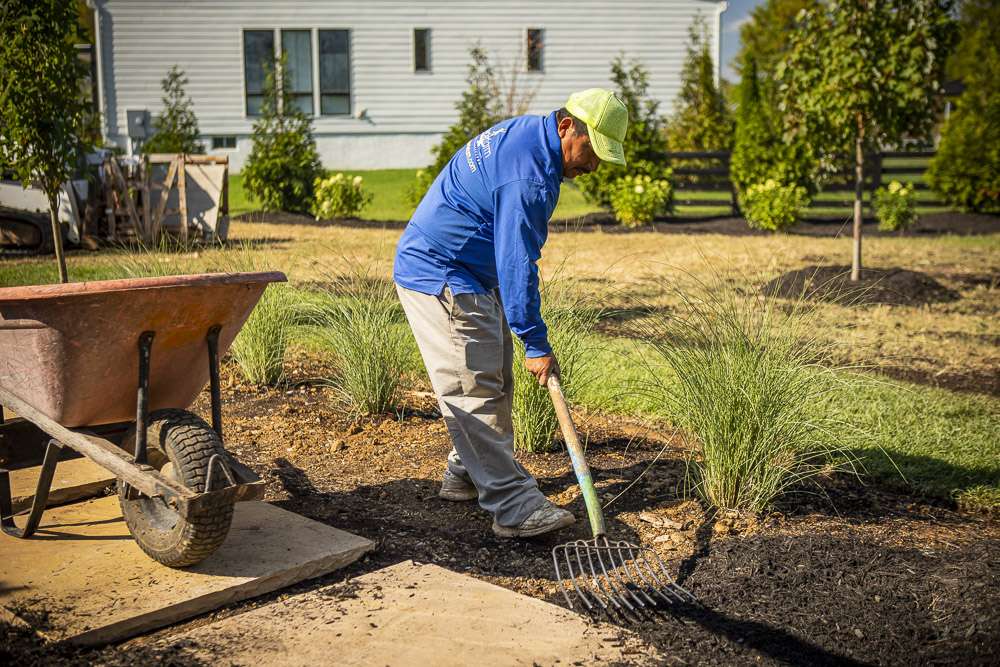 3. Keep Up with Weeding, Pruning, and Other Landscape Maintenance Tasks
Regular landscape maintenance might not sound like it should be on a list of low maintenance landscaping tips, but the truth is, when you save all of the work for "one big job," it's not ideal for the health of your landscape—nor is it ideal for aesthetics.

In reality, waiting until weeds are out of control or trees and shrubs have become so overgrown that they need a massive pruning job is not optimal. Now you're going to need a major overhaul just to get things back on track.

Instead, it makes a lot more sense to allow a landscape professional to handle those tasks and ensure that they're kept up with the ideal timetable for their health and performance.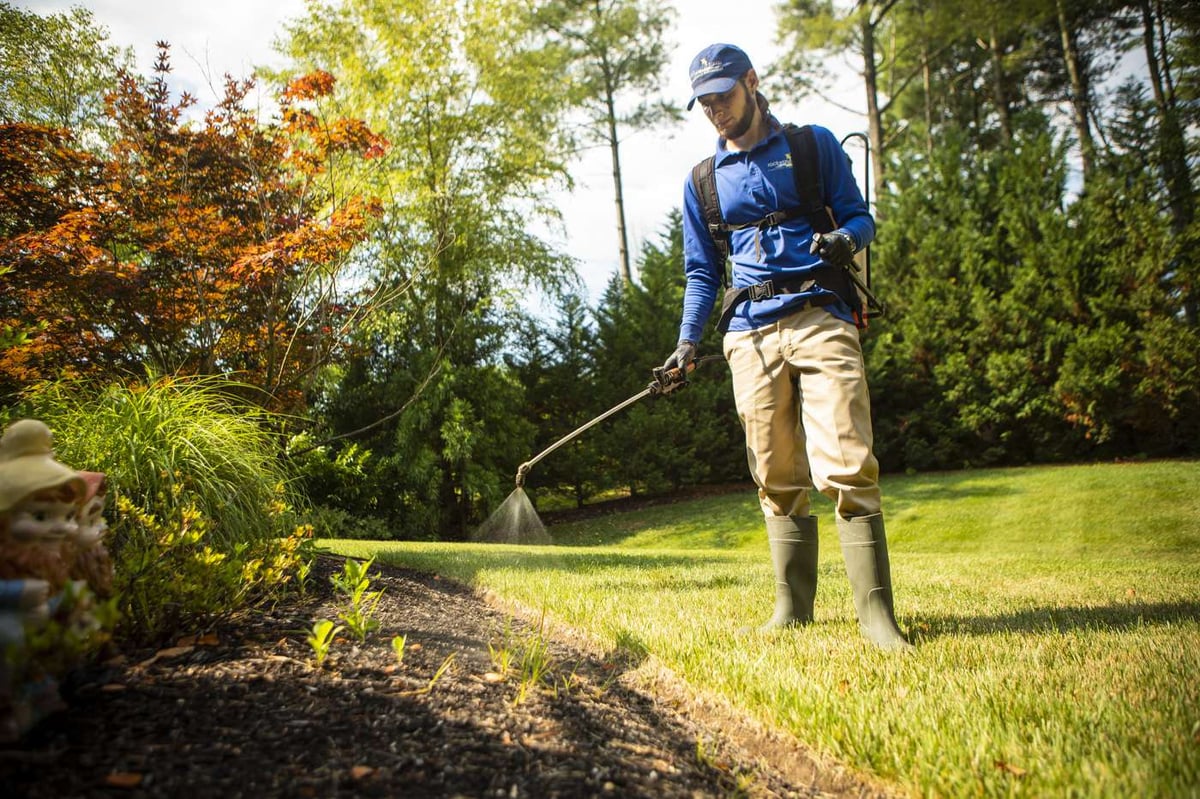 It boils down to the fact that "low maintenance" does not mean "no maintenance," as we find some people tend to believe. There is no such thing as a landscape that is maintenance-free—at least if your goal is to have a space that's beautiful (not overgrown and messy).

Ultimately, a low maintenance landscape is one that is fairly easy to maintain, as long as it is kept up with on an ongoing basis.
4. Reduce Lawn Areas (and Let a Professional Handle Them)
If you think about your property's maintenance needs, you know that mowing is often one of the biggest tasks. It needs to be performed regularly in order to maintain the best results. When you skimp on mowing by skipping a week or two, you're actually hurting the health of your lawn when you do mow again by having to make a drastic cut. It's also important to keep up with regular lawn care services that help keep weeds at bay and produce thick and healthy grass growth.

For these reasons, lawn areas can definitely feel like a high maintenance need.

Adding hardscape areas that make your property more functional and also reduce the amount of mowing that needs to be done can help contribute to low maintenance landscaping. Incorporating outdoor living space is one of the best ways to truly maximize your time outside.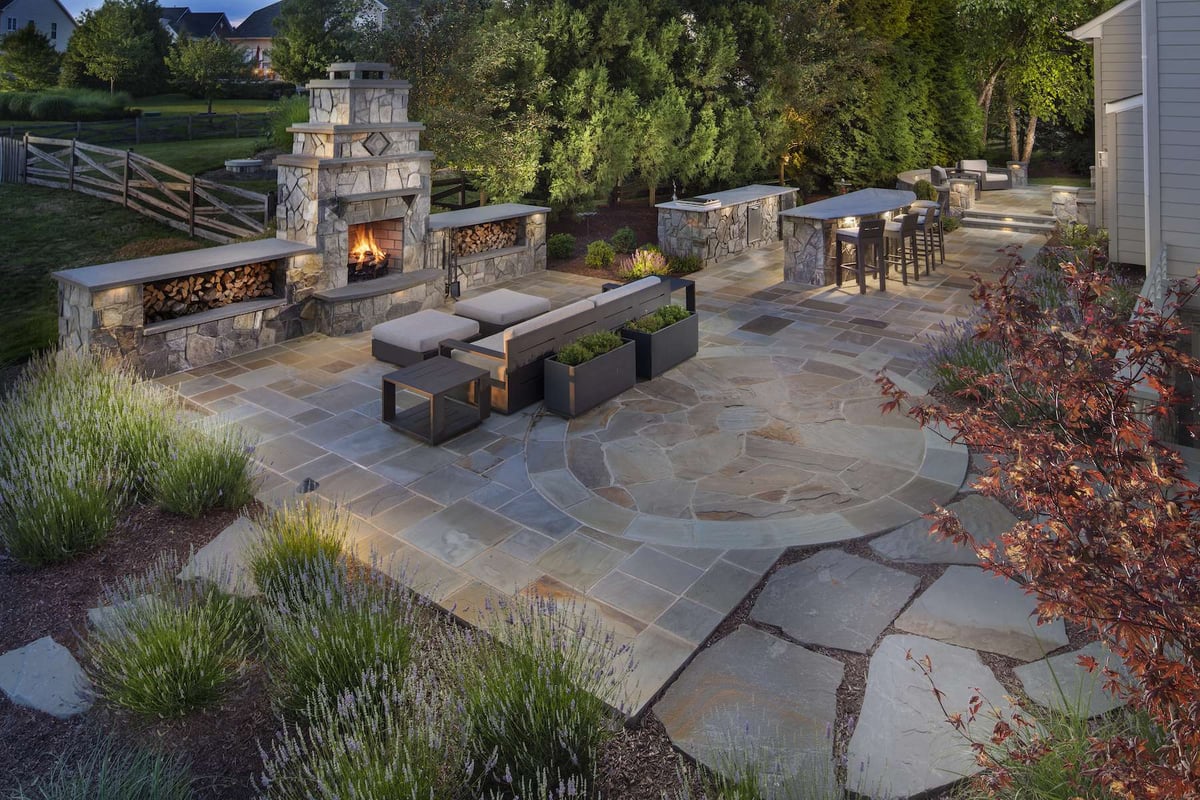 Of course, even with the addition of some hardscape areas, you'll likely still have a lawn to maintain. Many people love their lawn and we completely understand that! Instead of having to handle this task every week on your own, you can invest in professional lawn care services that include weekly mowing, too.

It removes all of the maintenance burdens from your end and ensures that your lawn care is being performed properly.
5. Choose High-Quality Building Materials
It probably comes as no surprise that the quality of the materials used for any hardscaping or building projects will also contribute to the amount of maintenance needed to keep these areas looking their best.

Ensuring long-lasting quality and low maintenance is why Rock Water Farm does not build pressure-treated wooden decks. Although it's less expensive at the onset, pressure-treated lumber will ultimately need ongoing maintenance and even replacement as time goes on making it a hassle-ridden (and eventually more expensive) option. We're only building decks from low-maintenance wood alternative products that offer the highest quality.

Similarly, while some landscape professionals build pergolas from cheap kits, using cheap materials, we're custom building these structures from only the highest quality materials so that you can get the most value (both from an aesthetics standpoint and a maintenance one).


The same goes for hardscaping materials. Although the price tag of natural stone may raise some eyebrows, if you think about the durability and beauty of this product versus pavers, there's no comparison.

At Rock Water Farm, our clear preference is for natural stone because it's the superior choice. Whereas pavers are going to need to be resealed and can be prone to cracking, stones like travertine or flagstone (both popular choices for patios) have already survived in nature for thousands of years! While the surface of pavers can weather over time and begin to expose the aggregate (the tiny rocks and pebbles used as structural filler), natural stone will outlast your time in the home. For that reason, it's definitely the low maintenance winner.
6. Work with an Experienced Landscape Professional
Although landscape design and landscape maintenance are often thought of as two separate entities, in reality, the way in which the landscape is designed is ultimately going to impact how it needs to be maintained. As you can see from above, everything from building material choices to where plants are installed can have an impact on how much work it will be to keep your landscape looking its best.

This is why it's so important to work with an experienced landscape professional who can design and maintain a low maintenance landscape. You want to be sure that you're working with a company that is detail-oriented and thinking about the big picture for any design work you're having completed. They should not just be thinking about how the design is going to look the day after it's completed—but how it's going to look and perform for years to come.

Even better, if they're a company that also offers landscape maintenance, then they can seamlessly transition into caring for the landscape the way it ought to be cared for.

If you truly want low maintenance landscaping that won't come with a lot of hassles (but that you'll also love), it's important that you work with a professional who takes both the design and the maintenance process seriously.
A Low Maintenance Landscape You Can Enjoy to the Fullest
At the end of the day, having a low maintenance landscape also means having a space that you can enjoy to the fullest. It doesn't add stress to your life by constantly looking as though it needs upkeep but instead, it's a space that you love to spend time in.

At Rock Water Farm, we're focused on using the best practices as well as top-quality materials so that we can help design, build, and maintain landscapes that homeowners love.

By choosing a professional who knows what's needed on your property, you're investing in ensuring that it will continue to look and perform its best for years to come!

If you want to choose landscaping services that are best for creating a low maintenance landscape at your South Riding, Haymarket, or Ashburn, VA home, then talk to an expert, choose a solution that rocks, and then enjoy your yard and relax.