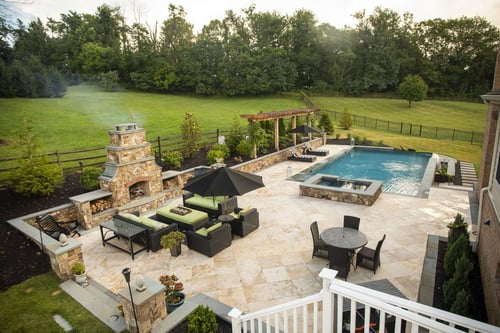 Hardscaped areas are a great way to add value and purpose to your backyard. Whereas softscaping involves using plant material such as turfgrasses, shrubs, and trees, hardscaping involves using stone, wood, and other materials to create solid surfaces and structures. By hardscaping areas of your property you increase functionality and create spaces where you can set up furniture, have an outdoor kitchen, or can even have a fire feature such as an outdoor fireplace.
While functionality is key, you also want your outdoor hardscaped areas to be visually appealing. You want to look outside and have a space that you are proud of. You don't want to look outside and see a kidney bean shaped patio like everyone else on the block has—you want something that is truly your own. Advanced planning and creativity are important to ensure the finished product is unique for your wants and needs.
Here are 8 hardscape design ideas for your Northern Virginia home to get you started dreaming.
Hardscape Design Ideas
If you're dreaming of a backyard transformation but have no idea where to start, we wanted to help give you some ideas to consider. These are some of the most popular hardscape projects we work on along with a few tips to get you thinking.
1. Patio
The patio is the quintessential hardscape space for your home, as it's typically the foundation for everything you do outdoors.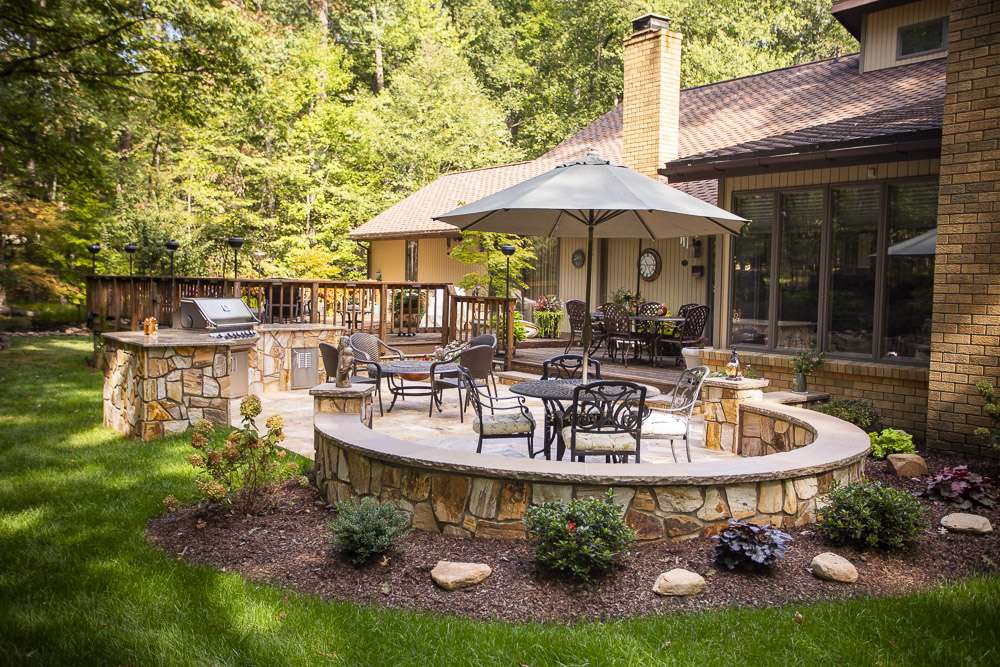 Whether you just add furniture to your patio to create a seating area or you also add an adjoining outdoor kitchen, pavilion, or pool, the patio is going to be your starting point for any of those projects. One idea for your patio build is to use natural stone such as flagstone or travertine. It's a look that cannot be replicated with manmade pavers.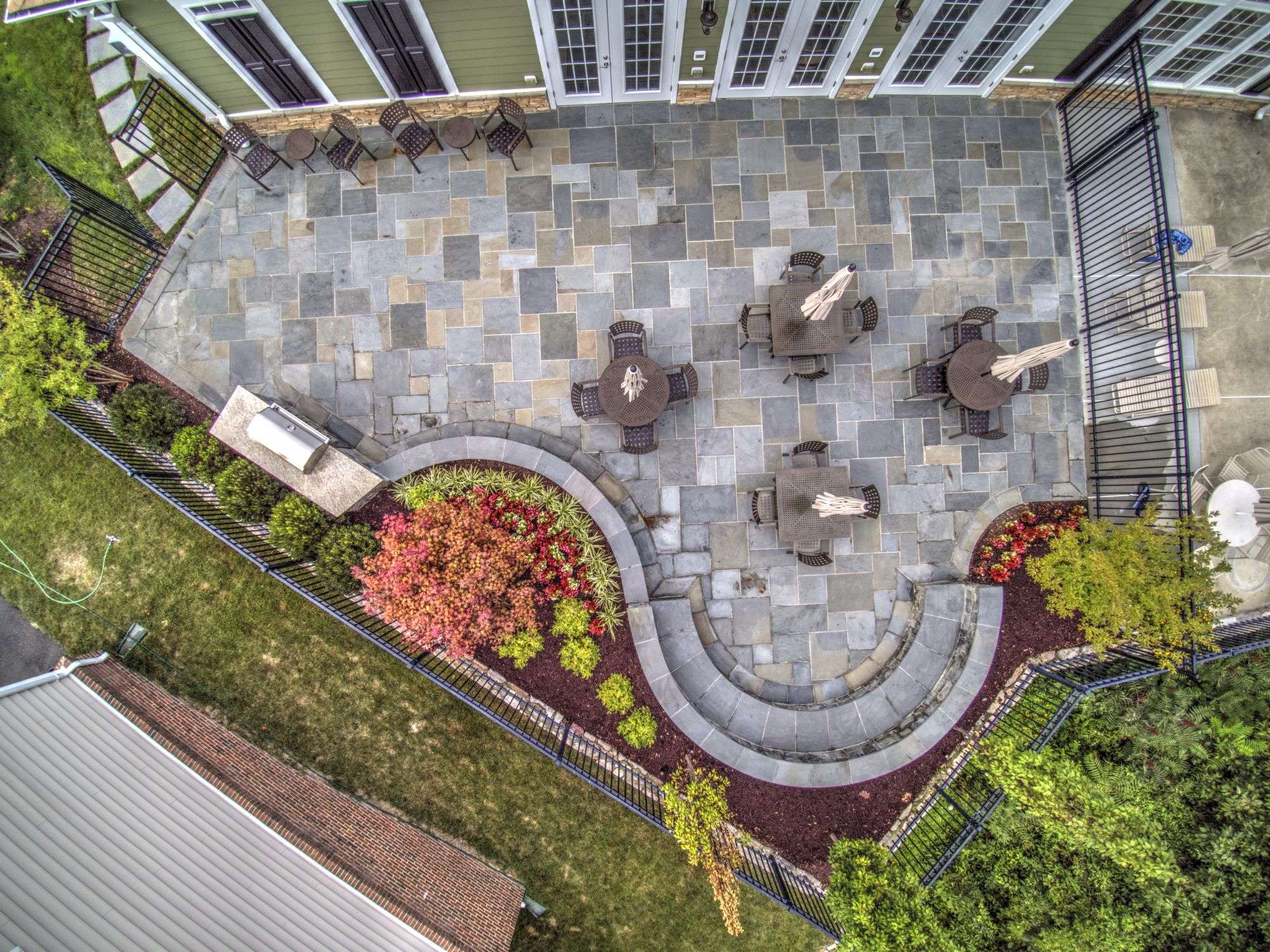 2. Walkway
Walkways can be built to connect your hardscaped areas, direct traffic from one area of the property to another, or direct people in and out of your home.
At Rock Water Farm, we like to build walkways with natural stone to complement your patio. While a walkway obviously serves a highly functional purpose, we like to make walkways beautiful and pay close attention to their design in terms of aesthetic appeal.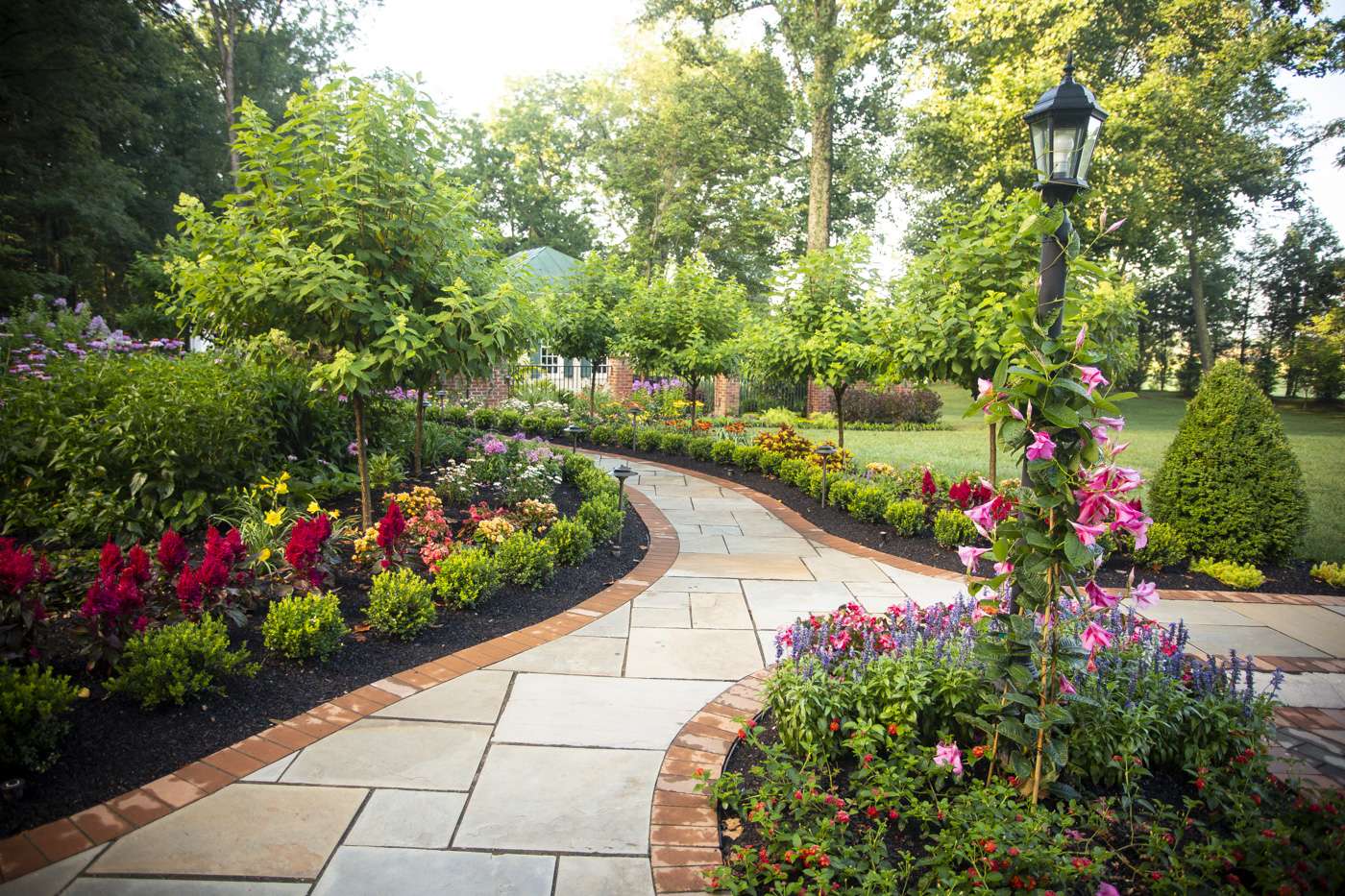 3. Steps
Whether it's addressing transitional levels of the property or you need steps to enter and exit your home from the patio, they are an important part of the project. While they obviously serve a highly functional purpose that's not to say that steps can't be an attractive addition.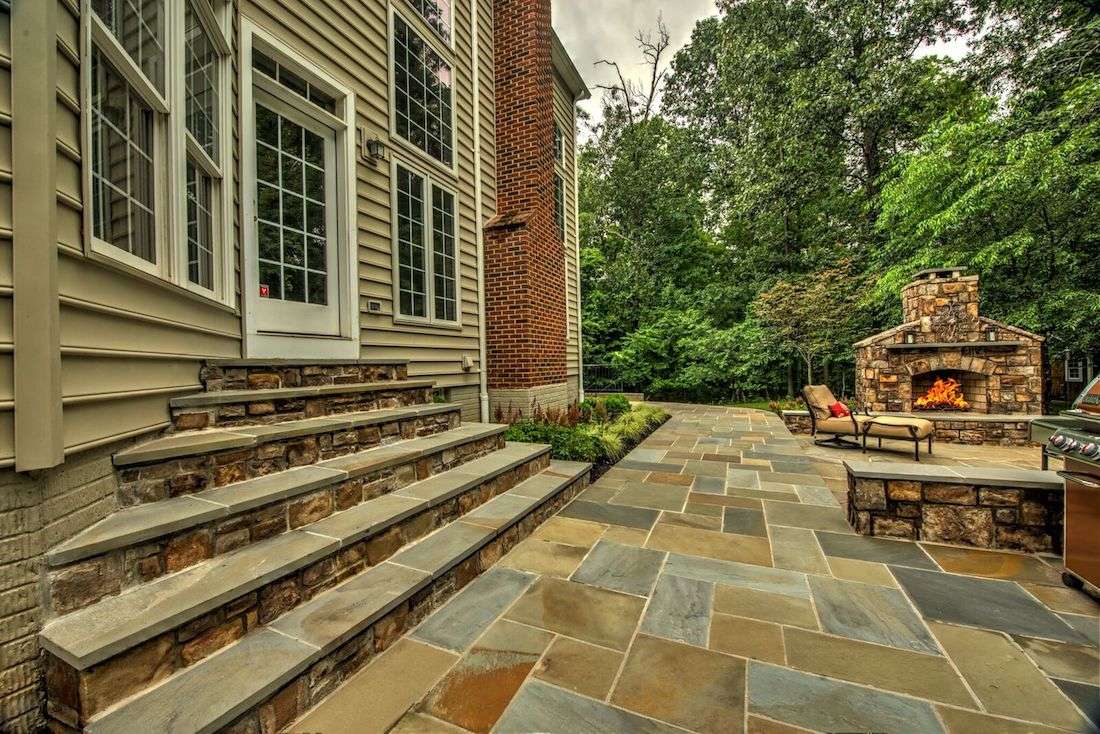 We often like to make steps wide and grand, as an elegant feature that really enhances the look of the space—while of course also getting you where you need to go.
4. Fireplace or Fire Pit
Adding a fire feature to your outdoor living space is a great way to make it a dream space. Fire features add a lot of ambiance and throw some light and heat into your space as well. We find that an outdoor fireplace is typically the best fit for most homeowners as it takes up the least amount of space on your patio but still creates a wonderful space to gather around.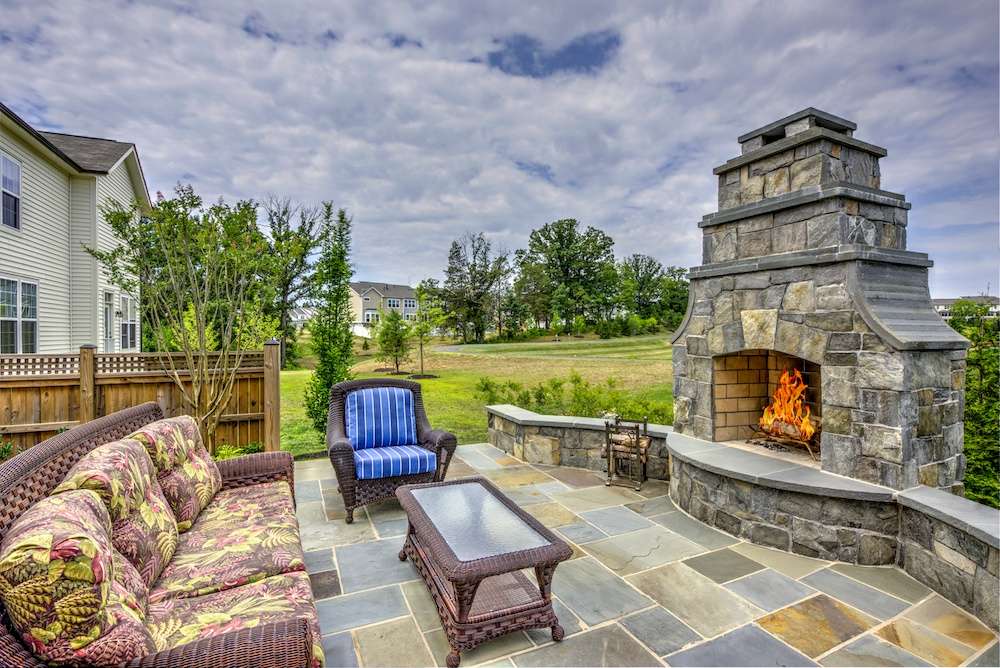 At Rock Water Farm, we believe vertical structures should always be built utilizing natural stone even if your patio was not. That's because vertical builds wind up being the showpiece of the space.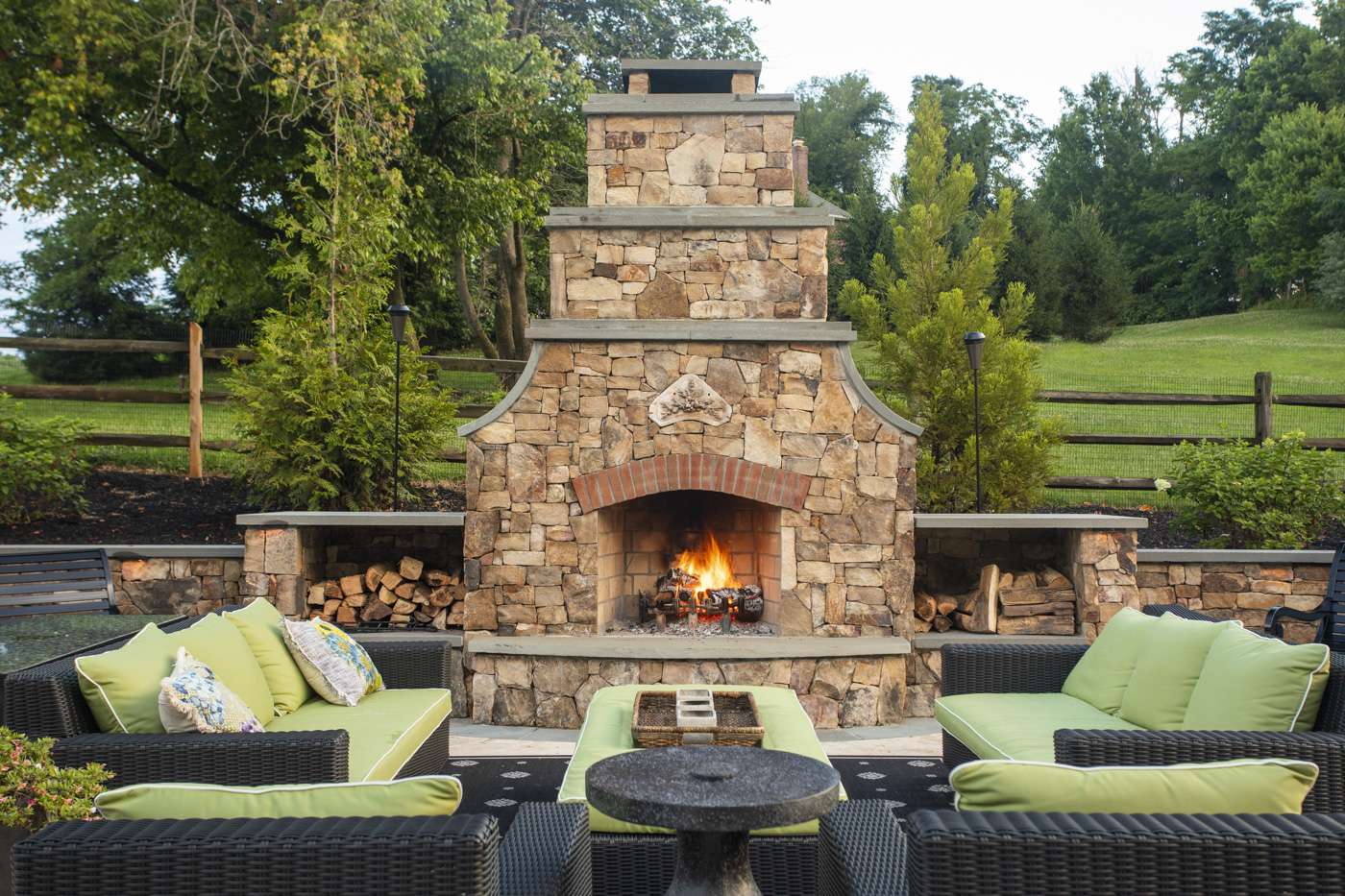 5. Retaining Walls & Seating Walls
Retaining walls are often structurally necessary but that doesn't mean they need to be unattractive. Actually, walls can really add a lot to your space.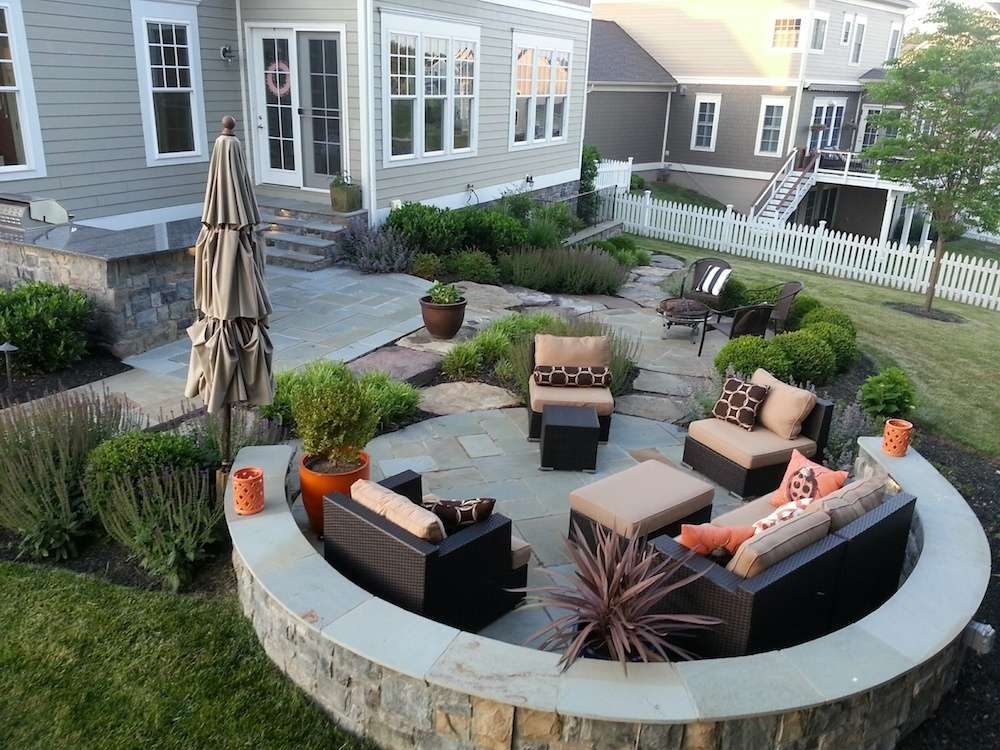 Walls can make for great seating areas, can be used to define an outdoor living room, and can give your space a lot of character. Again, when we build upward, we prefer to use natural stone to really enhance the look.
6. Custom Driveway
Driveways are typically done by an asphalt company but for a more original look, can be done in pavers. Many driveways run through the backyard and end up being part of your backyard landscape. Therefore you shouldn't completely ignore their impact on the aesthetics.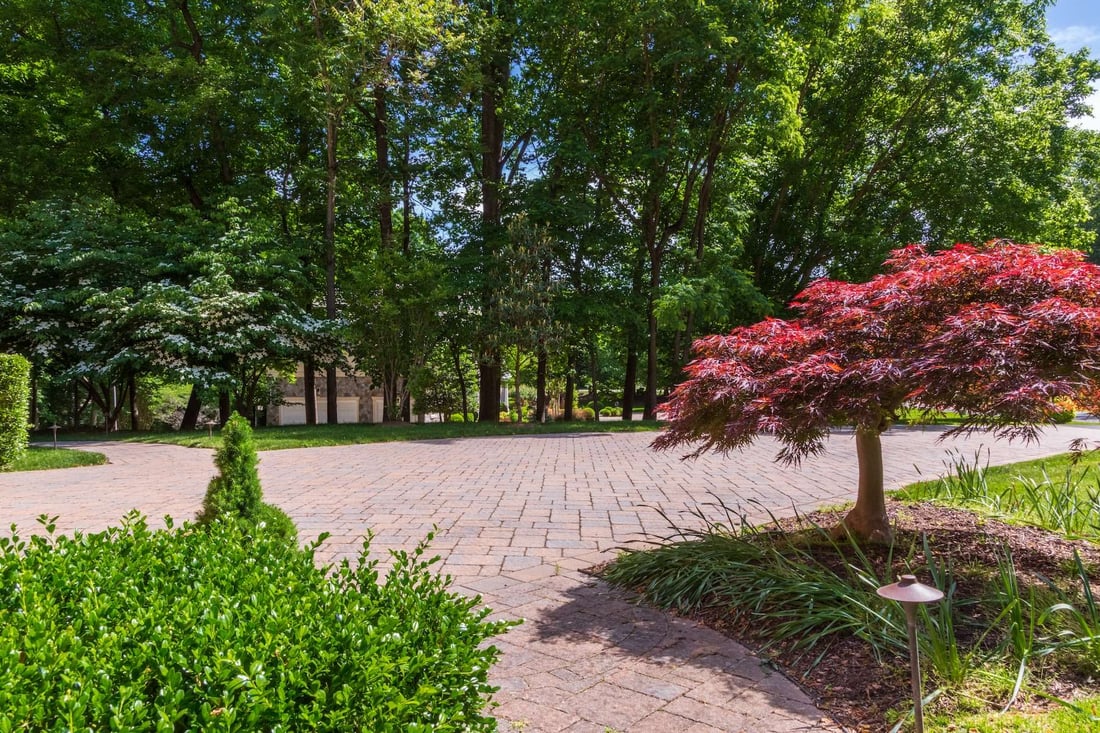 Regardless of what type of driveway you have, adding stone pillars or decorative boulders are some other ways that hardscaping can enhance your driveway.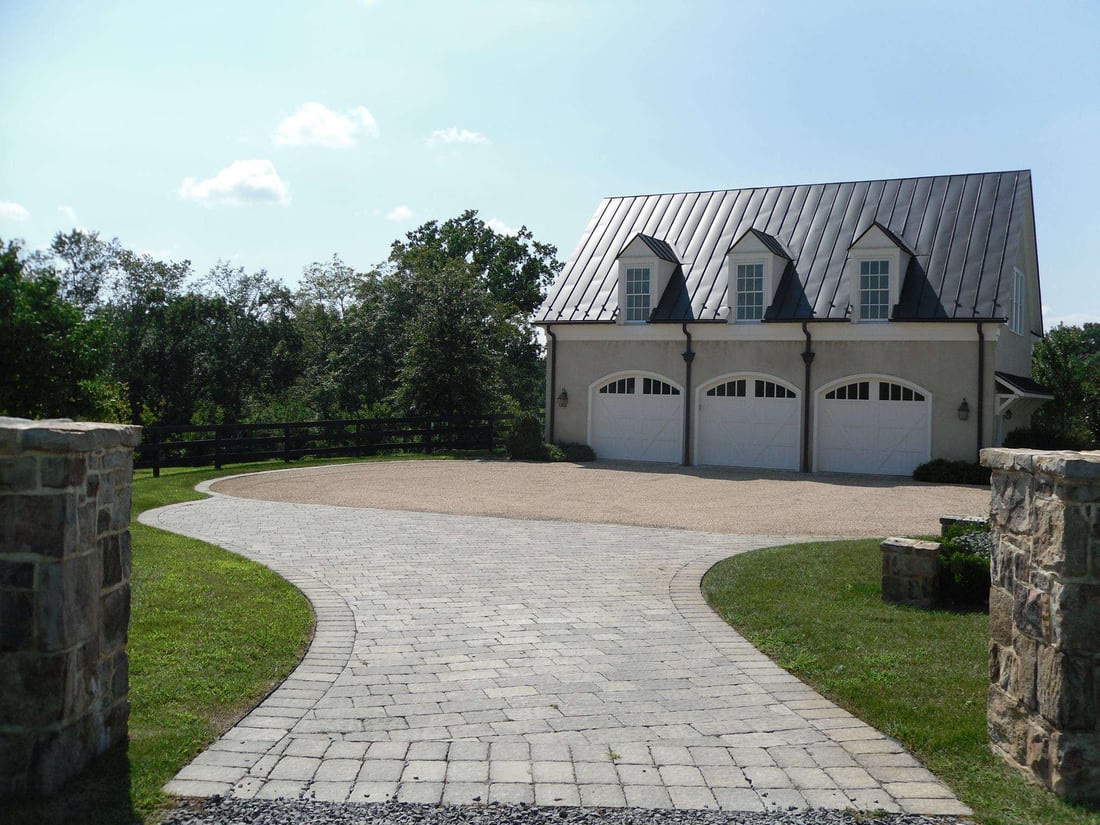 7. Pergola
A pergola can add interest and character to the hardscape of your home. That's because pergolas have a lot of architectural charm.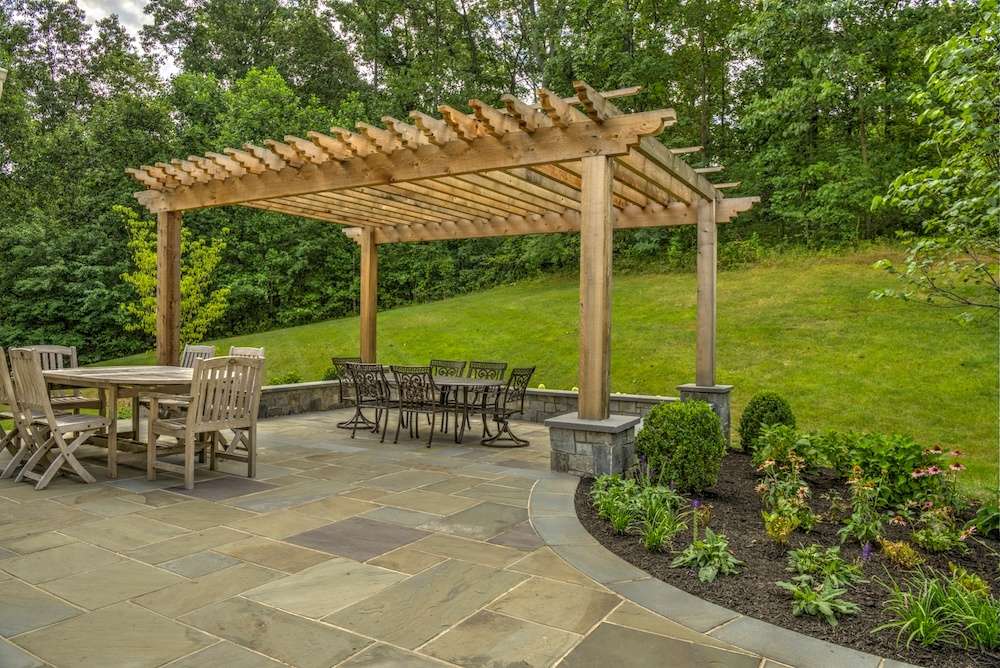 If thoughtfully designed and placed, a pergola can also help cast some shade over your outdoor living space. It can be dressed up with lighting or made even more functional by adding a canopy or retractable awning in order to create more shade.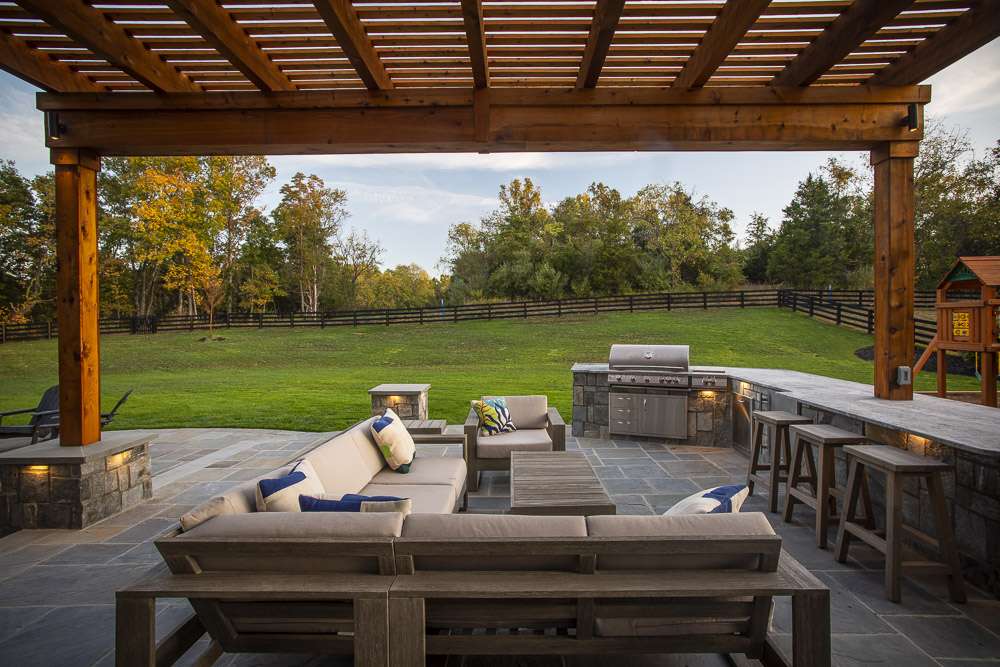 8. Outdoor Kitchen
An outdoor kitchen is one of those features that will take your outdoor living space to the next level. By adding an outdoor kitchen you can cook and dine al fresco—truly getting the maximum use out of your space.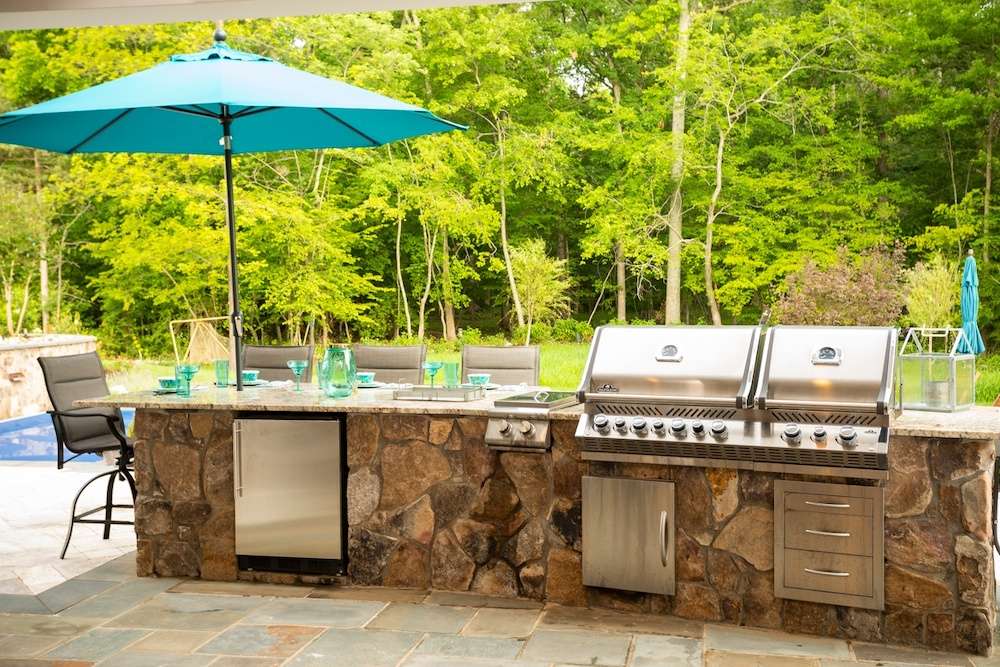 At a minimum, an outdoor kitchen typically includes a built-in grill, a sink, and some counter space. But you can upgrade from there and include everything from refrigeration to a built-in oven.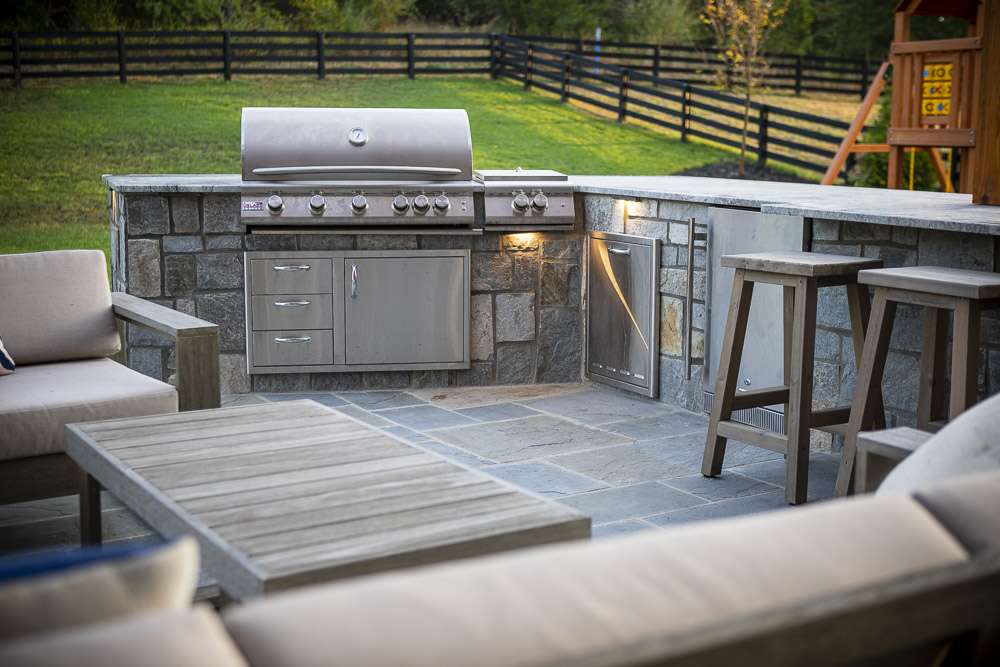 Hiring a Professional for your
Hardscape
Project in Northern Virginia
While a lot of landscape companies advertise their hardscaping services, we believe it's important to hire a professional that takes a creative approach to each and every hardscape project. That's because we've seen a ton of tiny kidney bean shaped patios that are not only cookie cutter in their design but also not as functional as they could be. A lot of landscape companies know how to build one type of hardscape project and they just do it again and again—not giving you any originality since they're only comfortable building what they know.
If you want a dream backyard, you need to hire a company that has a team of problem solvers. That is, a company willing to take on a challenge and do more than just put down the exact same patio they've built for all your neighbors. A company like this is one that is focused on high quality landscape design.
At Rock Water Farm, we take a fresh approach with each and every project we design and build. Instead of just slapping together a patio like everyone else on your block already has, we put thought into the little details that really make a difference in the end such as where you get the most sun, how many people you'll be regularly entertaining in the space, and even what the view will be like from inside your home. After all, you spend a fair amount of time inside, looking out on your outdoor living space. We want that view to be beautiful, too.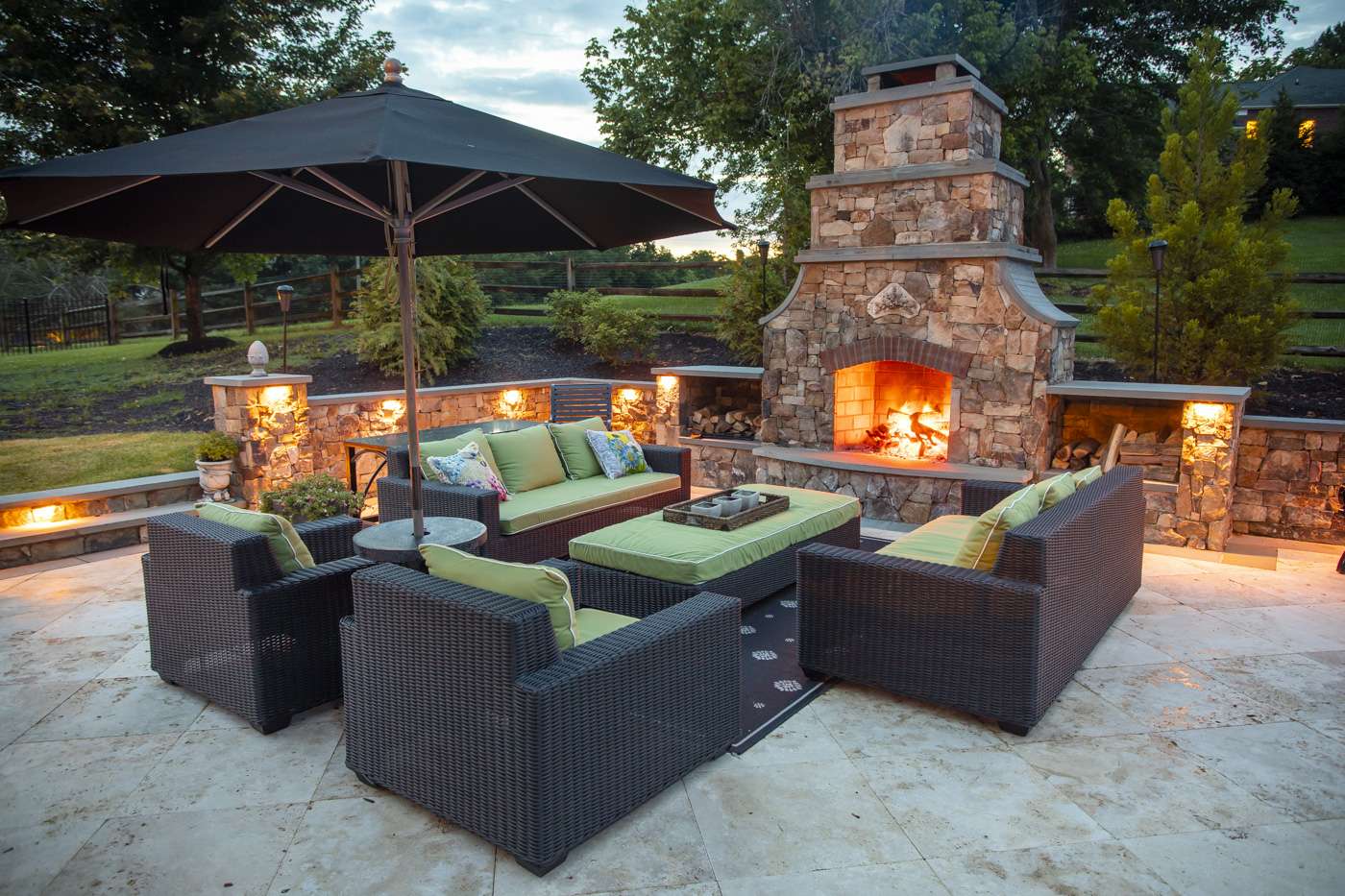 Oftentimes we come across homes where the backyard is relatively flat and homeowners think there's really no way to be creative. That's where we come in. We can recess a patio and create a seating wall around it even if your yard is completely flat. We find solutions to problems in creative ways that many other companies would not have even thought of—or perhaps was not comfortable trying.
Creativity is our forte and we'll help you make your space one-of-a-kind. Even if your yard starts off looking like everyone else's on the block, by the time we're done, it will be completely transformed into your dream backyard.
Also keep in mind that your dream backyard would not be complete without add-ons like lighting and plantings, and we do those too. When every detail is addressed, you truly get the most out of the space. At Rock Water Farm we take into account everything from the color plantings you prefer to what areas should be lit up so that you can enjoy them in the evening hours.
While we understand that you might be dreaming bigger than your budget can handle all at once, we also have the ability to design and build the hardscape project for your home in phases. Because we take a thoughtful approach and are always thinking about the future, we can appropriately plan your hardscape projects so that they are completed in affordable phases. For instance, we can build the patio now but plan ahead for the outdoor kitchen and pavilion that will be built down the road.
No matter what you have in mind for the hardscape of your Northern Virginia home, we'd love to help you get started in bringing your dream backyard to life. We're here to help every step of the way.
If you'd like to find out more about how Rock Water Farm can create your dream hardscape in Ashburn, Aldie Leesburg, VA or surrounding areas, contact us for a free consultation or give us a call at 703-327-1636 so that we can answer any of your questions.