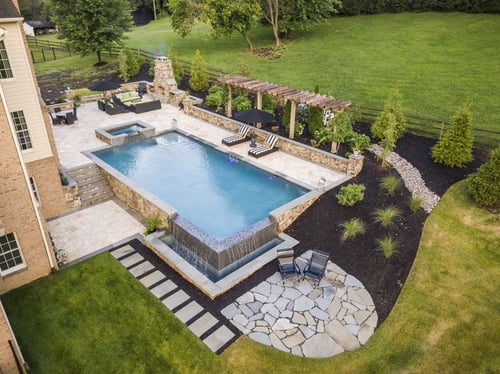 The lawn and landscape around a pool is an important aspect to your overall enjoyment of your backyard. You might be someone that loves having a lawn both for its beauty but also the functional space that it allows you. Being able to play yard games when you and your family (or friends) are not in the pool might be part of your entertainment. Or perhaps you have a pet that needs to use the lawn.
Though you know you want a lawn to be part of your pool area you might be worried that grass and a pool too close to one another could cause trouble. The last thing that you want is for grass clippings to constantly end up in your pool (whether tracked there by wet feet or blown into the pool after mowing).
Of course, you also don't want to see your beautiful and lush lawn harmed by swimming pool chemicals, particularly when a certain level of drainage may be required for winterization.
Fortunately, with the right landscape design, you can have a swimming pool and a lawn at your Haymarket, Gainesville, or Warrenton, VA home.
The Proximity of Pools and a Lawn
When it comes to grass and pools, one of the questions that homeowners have is how close their pool and their lawn should be.
We generally recommend at least a 4-foot-wide passage on either side of the pool that borders your grass or landscaped areas.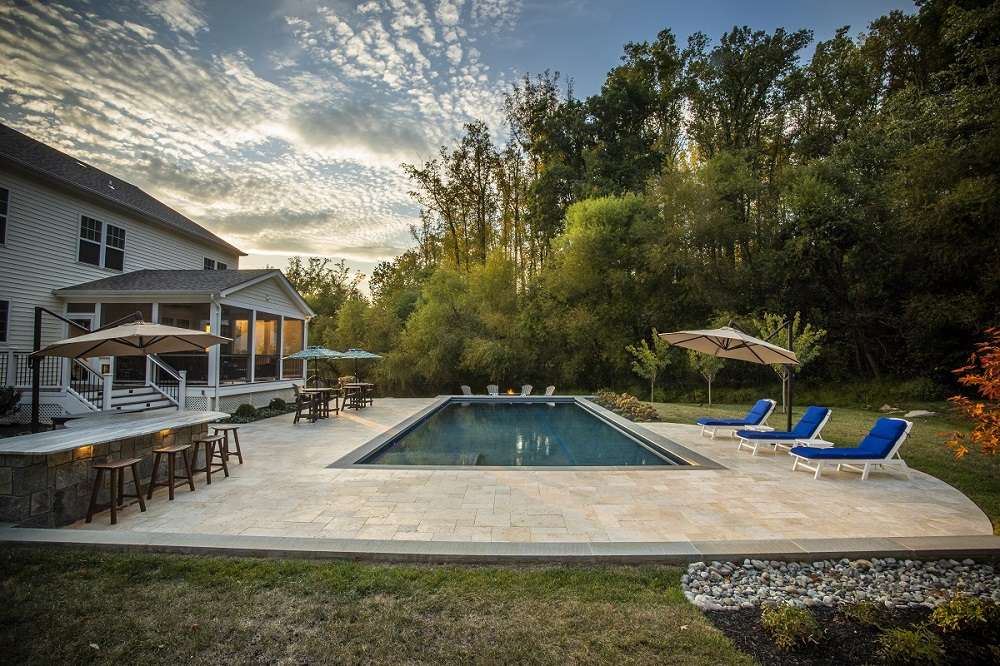 This is not just about creating a good barrier between the pool water and the lawn but also about making these "walking areas" fully comfortable to traverse. You don't want to end up with a narrow little walkway around your pool that is awkward to use.
This is one of the design features that we sometimes see with inexpensive pool builders that build cookie-cutter pools. You get this tiny little concrete walkway around the pool with no thought given to functionality.
Dividing Grass and Pool Areas with Plant Beds
One of the more common approaches to creating even more distance between your swimming pool and your lawn is to incorporate planting beds. This not only separates the grassy areas from the water (and reduces or even eliminates the possibility of grass being tracked in the pool) but it also looks aesthetically appealing. Frankly, a swimming pool without any landscaping around it is going to look pretty barren.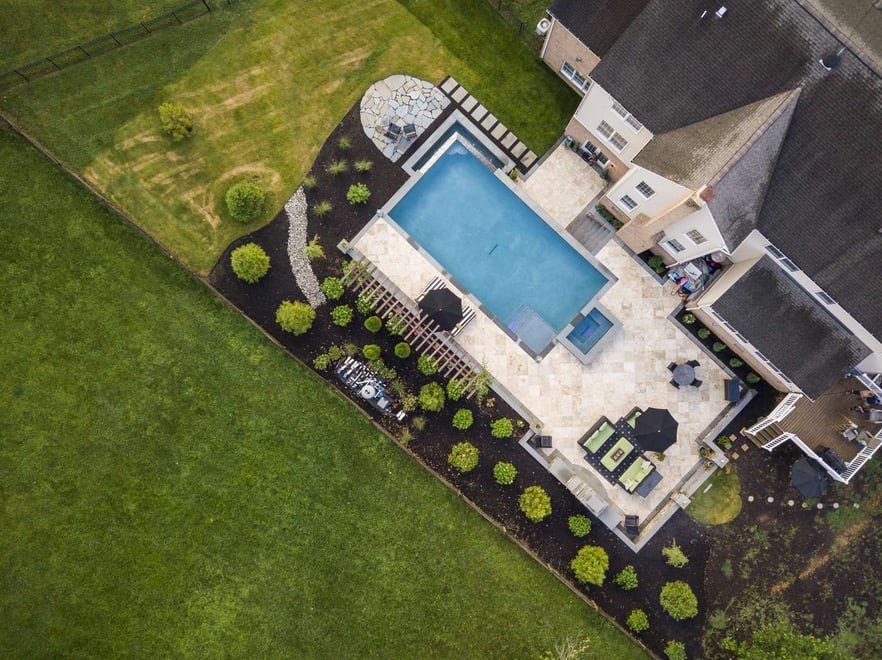 Of course, a lot of attention should be paid to the plants around the pool. Which plants will work best for your pool will depend upon your goals. Obviously, everyone wants their plants to look good and to enhance the aesthetic appeal.
But plants can do more than that.
There are a lot of considerations to keep in mind as you select the ideal plants for your space.
Are you trying to use plants to create privacy?
Are you trying to use a shrub or small tree to create shade?
Are you concerned about stinging insects or thorny branches? While nobody wants to get stung by a bee (attracted to a flowering shrub) or scratched by a prickly bush while lounging at the pool, this might be more of a concern for families with young children who might run through the landscaping.
The point is, plant beds can help serve many purposes beyond just separating pools from lawn areas or looking nice. They can be a functionally valuable benefit but there are a lot of considerations to keep in mind based on your specific wants and needs and your specific circumstances.
Using Rock or Mulch in Pool Landscaping Beds
Since we're talking about concerns related to grass being tracked in the pool, it's also worth bringing up that some people get worried about mulch being tracked or blown into their pool, too. For that reason, some homeowners do end up using a material such as river rock for their plant beds around the pool.
Of course, even the size of the rocks must be considered. You'd want a more medium sized rock as pea-sized gravel can also get blown and tracked around (possibly even worse than mulch).
Keep in mind that rocks do not help the plants in the same way that mulch can so this will alter some of your plant selection. Mulch will break down and decompose, adding nutrients to the soil in the process. Rocks obviously will not do this. Plus, whereas mulch can help insulate plant roots from the sun, rocks actually heat up. But there are heat-tolerant plants, such as certain ornamental grasses, that will perform well in a rock bed.
Whether or not rock or mulch is right for you will once again come down to your unique situation. We create plenty of landscape designs around pools that have no issues with mulch ending up in the water. It could be a matter of how windy your property is or which direction the wind blows. There are also certain situations where we'd be using a retaining wall to correct a grading issue, and that could help keep mulch in place as an additional benefit.
Of course, there are also many cases where it doesn't have to be "one or the other." We can often combine these materials. We might create a landscaped area with a rock border. Or we can have the areas immediately by the pool deck landscaped with stone but mulch beds used elsewhere within the landscaping.
How the Landscape Design Impacts the Grass and the Pool
It's really important to mention that the success of having the "best of both worlds" (a lawn and a pool) often comes down to the landscape design. A professional landscape designer is going to consider whether grass clippings blowing into your pool could be an issue and will ensure that an appropriate distance is kept between the areas.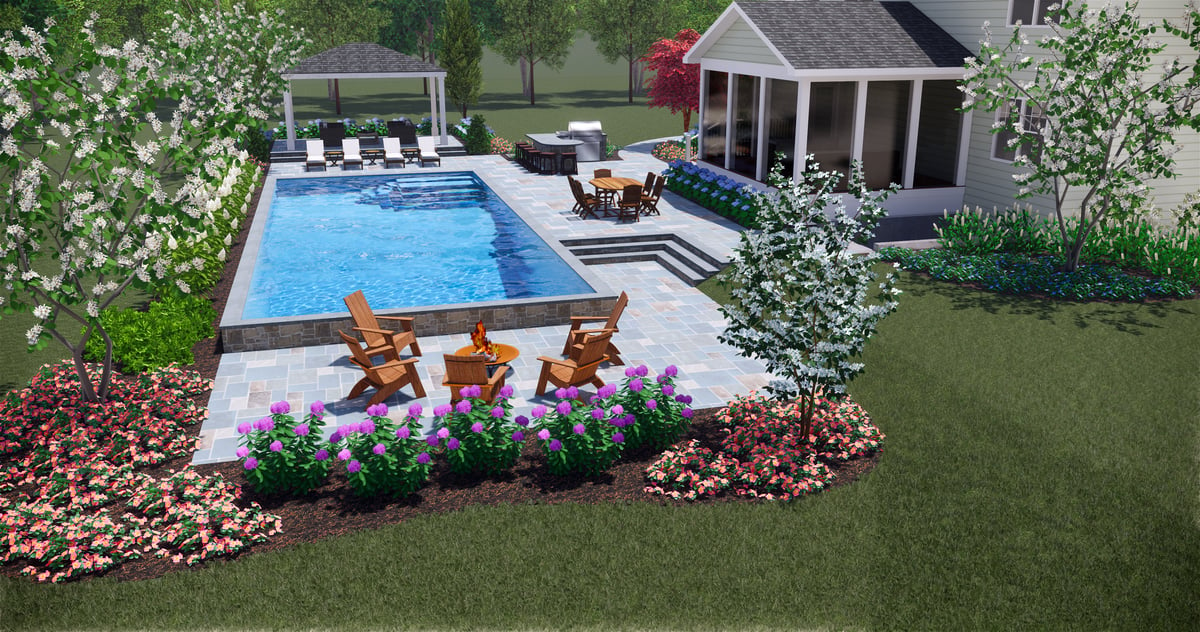 A designer is also going to think about how the areas around the pool will be navigated. They'll design it in a way that people won't feel the need to walk through grass in order to get to the pool. With a thoughtful design in regard to foot traffic and adding necessary steps and walkways, you can avoid wet feet tracking grass clippings into your pool.
A designer with experience in maintenance will even consider how maintaining the space will work in the future. How easy will it be to maneuver a mower or trimmer around the pool and what can be done from a design perspective to help? A designer might also think about planning for gates or will consider other accessibility concerns. Whether it's wheelbarrows with mulch or plant material that you need to transport to the backyard, you'll need to have access for landscapers to get onto your property and maintain your space.
All of this can directly impact your experience at the pool. After all, keeping the space looking its best is an important element of your overall enjoyment.
This even includes the impact that pool water can have on your lawn during a process such as winterization, where you need to drain some of the pool. The pool chemicals or even just oversaturation can harm the lawn. But a pool designer will consider this and understand how winterization can be achieved with minimal harm. It could be a rock area intentionally designed for drainage. Or, it could even be a matter of hooking up a hose to the backwash/waste connection on the pool filter and running that water out in a more desirable location.
A Truly Comprehensive Perspective
When it comes to pools and lawns, the best way to truly get the best of both worlds, without any problems, is to work with a company that can offer a comprehensive perspective.
Here's what we mean.
Lawn companies will complain about drained pools damaging the grass. A lot of landscape companies really have no idea about pools. Many of them do not get into designing and building pools so while they may know which plants would look great on your property, they may not be taking the pool into account. Pool companies often do not offer many options for landscaping. They just want to build your pool and move on to their next project. They certainly aren't worrying about how your pool is going to be maintained over time.
This is why it can be beneficial to work with a company like Rock Water Farm that not only designs and builds pools but also designs and builds landscapes—and then maintains them, too
A Seamless Transition
At Rock Water Farm, we can design your pool and landscape, build it, and then provide the maintenance. It allows for a much more seamless experience than hiring a pool builder and then a landscaper and then a lawn care company, for the ongoing care of your grass.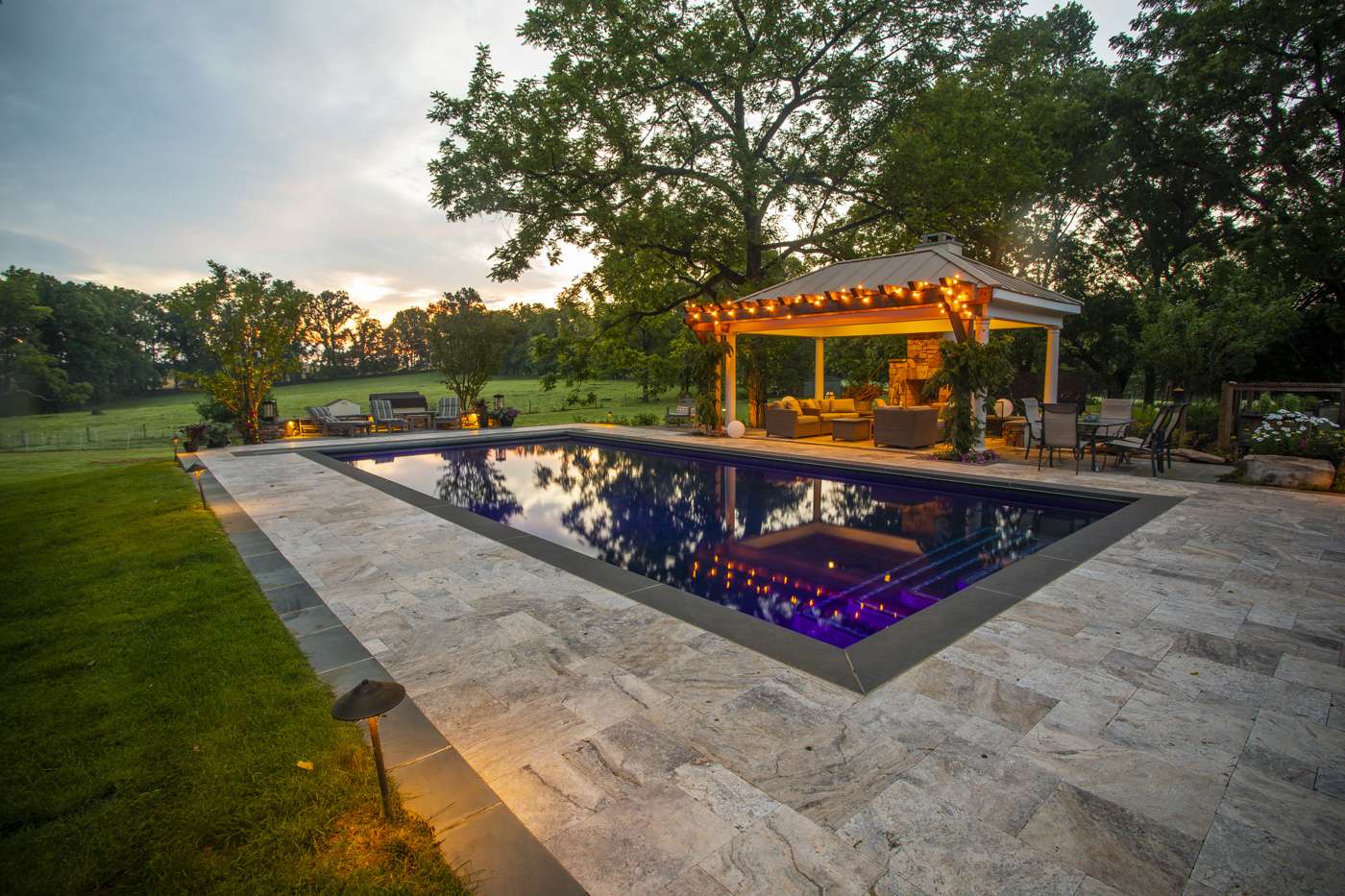 We handle it all.
That also means we're paying special attention with our maintenance services to ensure that your property continues to look and perform its best. It may be simple things but they make a big difference. For instance, we're making sure grass is blown away from the pool and the pool deck. We're making sure fertilizer products or other debris are not ending up in your pool area, either. No matter what we're working on, we are taking special care to ensure that you continue to love your space because it functions as it should and looks beautiful, too.
When you work with a company that not only handles designing and installing the pool but is also skilled at building complete outdoor living areas with hardscaping and landscaping, and can transition into maintaining these spaces, then you can feel confident that you're going to get the total package, without the worries.
That means that grass ending up in the pool will not even be a concern on your radar. Similarly, you won't have to worry that having a pool means you can never have a nice lawn.
With the right choices, in the end, you can truly have it all.
Are you ready to find a pool designer and builder in Haymarket, Gainesville, or Warrenton, VA that can not only design and build your pool and landscape but maintain it too? If so, talk to an expert, choose a solution that rocks, and get ready to see your dreams become a reality.