Posted by

Todd Thomasson on Jun 29, 2020 10:00:00 AM
If you've been dreaming about installing a pool, then you're probably looking for pool ideas to get a sense of what might work best in your backyard. You want to make sure that you're creating a space that can be enjoyed to the fullest.

That's why we invite you to take a little tour through the pool picture ideas we've gathered after years of designing and building custom swimming pools.

Of course, we know your pool will be unlike any other. After all, even with all the swimming pools that we've created over the years, no two are ever alike. We just don't do cookie-cutter designs. As you browse our photos you'll see that each pool is unique.

But looking through pool pictures can give you ideas to start custom creating your own design for your Ashburn, Aldie, or Leesburg, VA home. You might like a feature from one pool or a design element from another—and that's how the process begins. Picking and choosing what you like, and what works best within your space, is how you will ultimately come up with the dream pool that's going to take your backyard to a whole new level.
Pool Pictures of Amazing Pool Features
Anyone can have a pool in their backyard but it's the pool features that truly make a pool unique and fully enjoyable. Pool features help contribute to that "vacation feeling" that your pool can create in your backyard.

There are many different options when it comes to adding features. Let's look at a few that stand out.
An Infinity Edge
An infinity edge pool (sometimes referred to as a "vanishing edge") is a swimming pool where water flows over one or more of the edges creating a visual effect of water with no boundary. You often see this feature at high-end resorts but you can create it in your own backyard.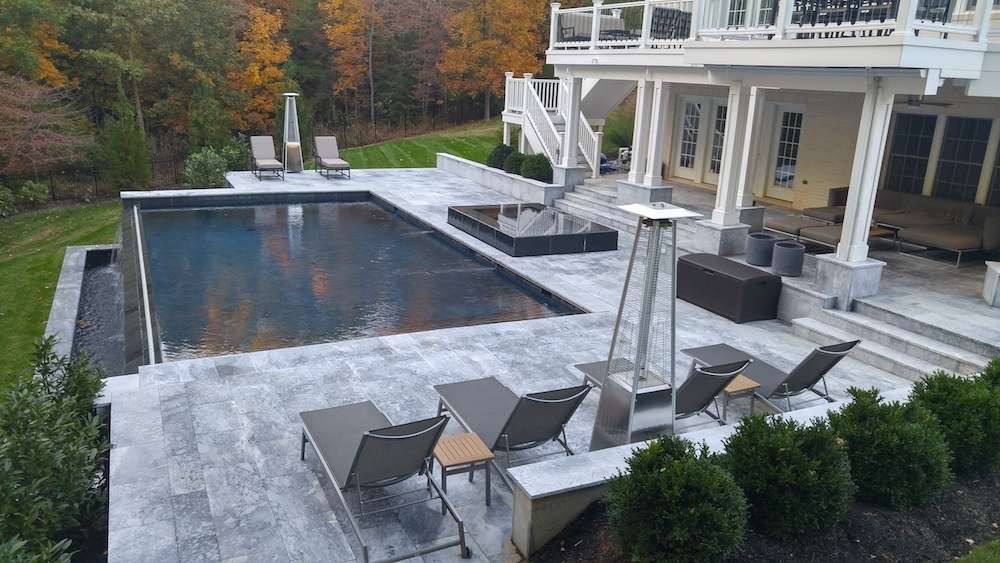 An infinity edge pool creates the illusion of "no edge" because the walls slope downward, away from the pool. This forms a waterfall over the edge. The water falls into a catch pool or basin below.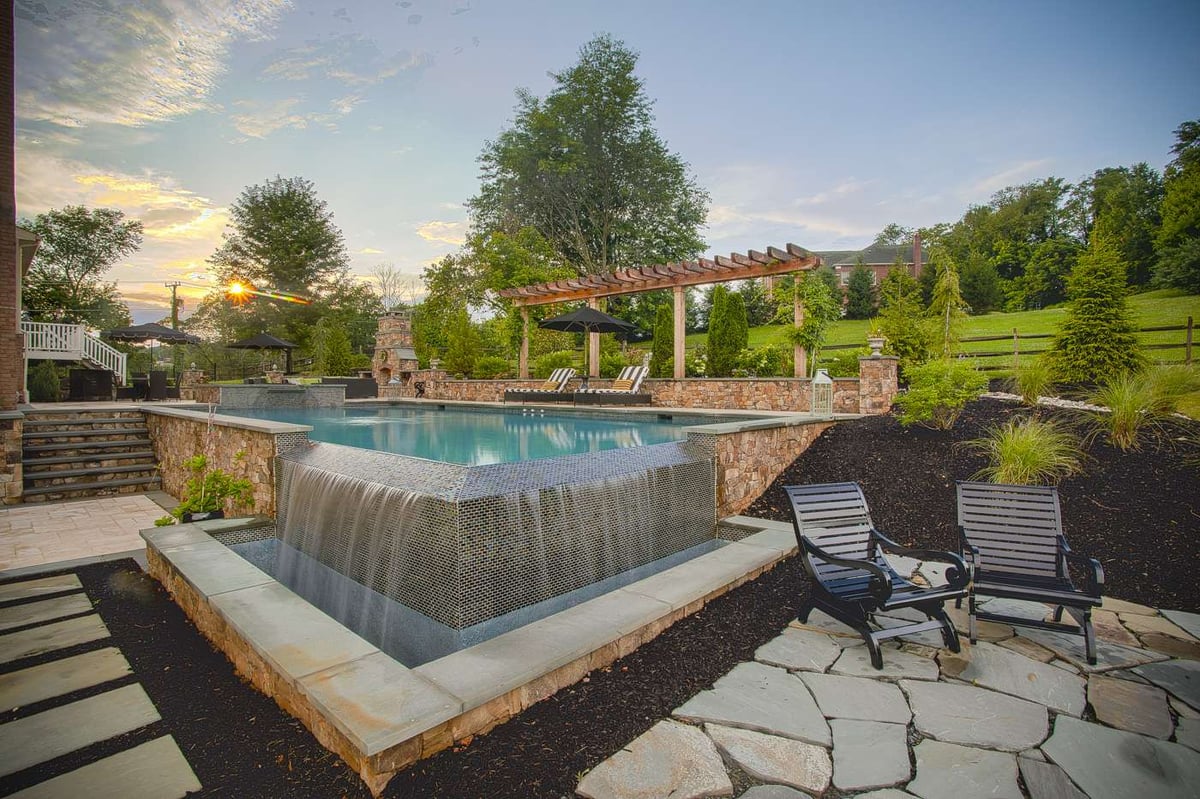 This is a feature that you might be particularly interested in if your property sits on a hill or a cliffside where you want to maximize that "million dollar view." It's a luxury that can make a spectacular addition and take your yard to a whole new level.
Landscape and Pool Lighting
Whether you envision you and your family and friends taking regular night swims or you just want to be able to sit out there and enjoy a drink or dinner with the beauty of your poolscape lit up, adding lighting can be a valuable addition.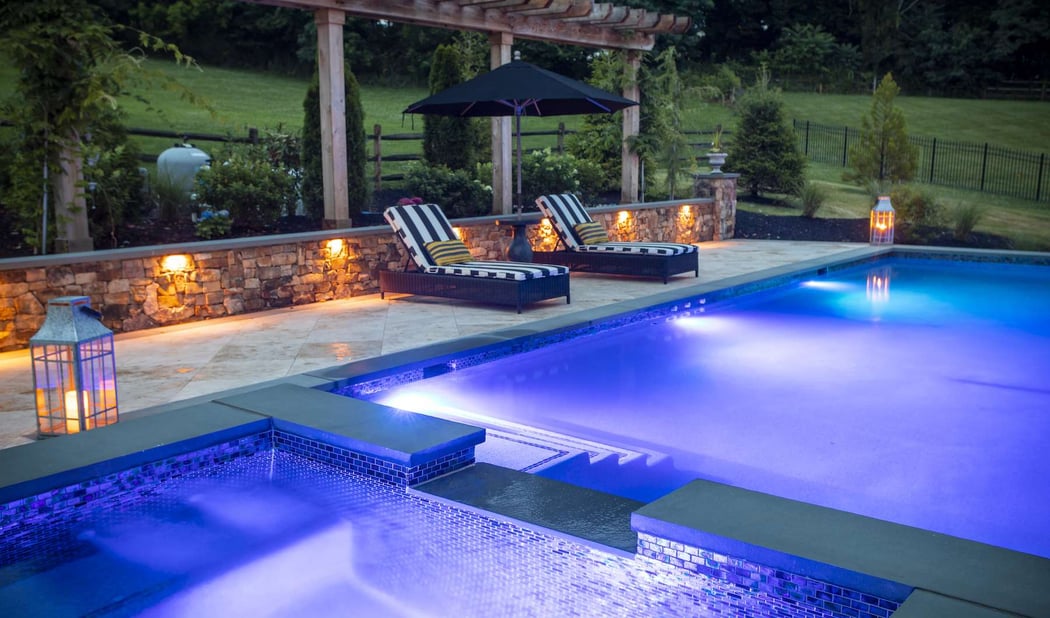 Landscape lighting can be used to softly uplight some of the beautiful plants or trees around your pool for a beautiful nightscape. Soft lighting offers just enough lighting to illuminate your space without drawing in a bunch of unwanted pests like cheap spotlights would.

Lighting up walkways and steps is also a "must" around your pool so that you can safely navigate these areas in the dark.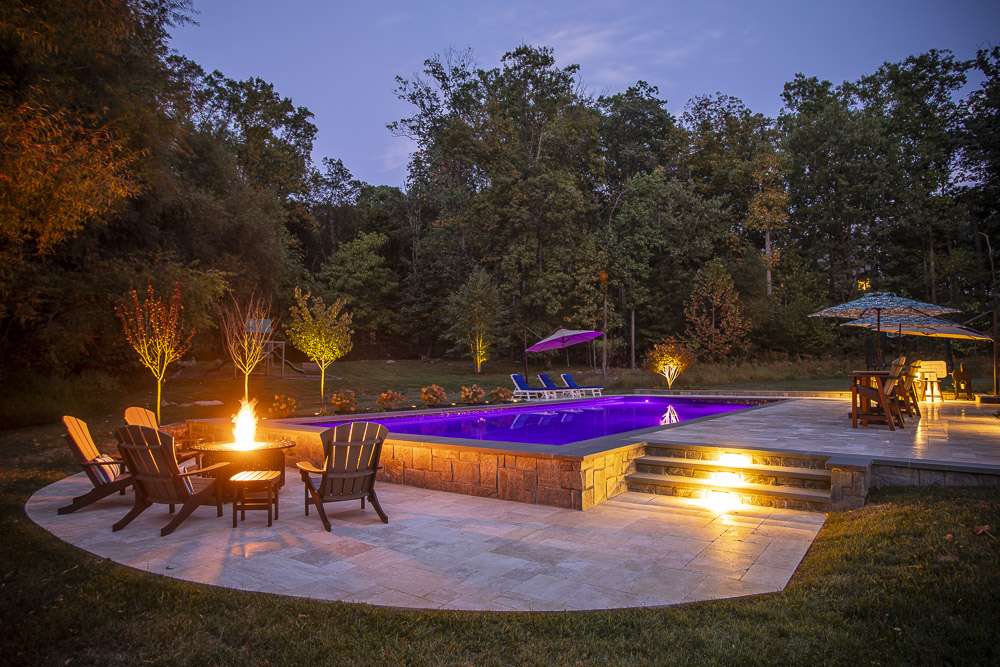 Of course, you should not forget to also light up the pool itself! A pool can be lit with gorgeous color-changing LED bulbs that make it a true showpiece after the sun goes down.
A Pool Patio
The hardscape area around the pool and the adjoining patio also contribute significantly to the overall look and functionality of your pool area. You want more than a cheap and standard concrete patio. Poured and stamped concrete is inexpensive and easy to install but it comes with a lot of downsides. Plus, it's probably not what you picture when you think of that "dream pool" you have in mind.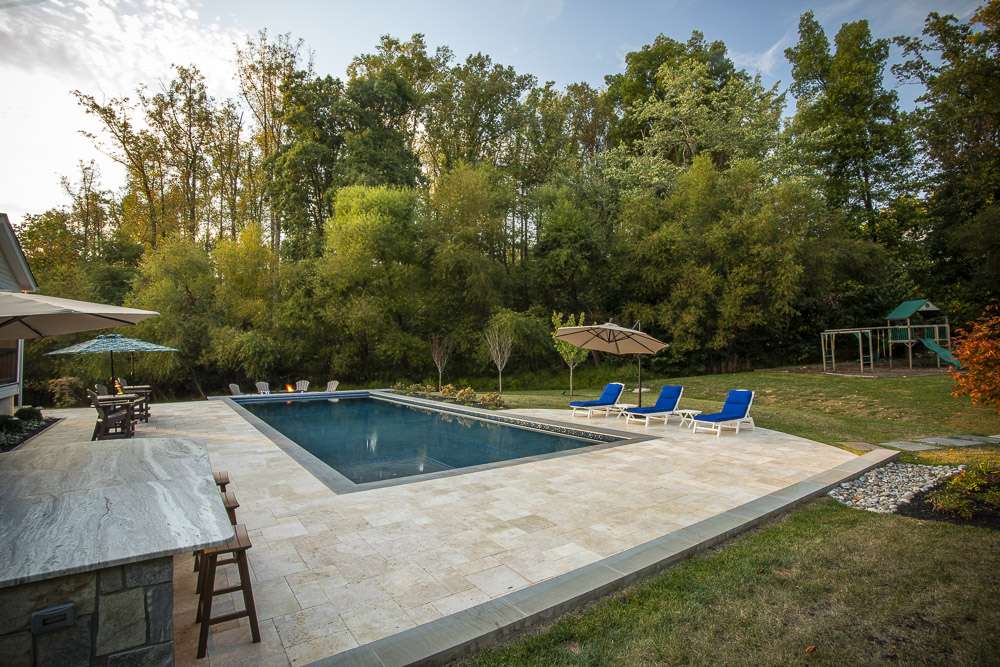 We believe that natural stone is the best pool patio material. Specifically, travertine makes an excellent choice. It does not get slippery when wet, stays cool underfoot, and is highly durable. It's also gorgeous and opens up the possibility for many creative designs.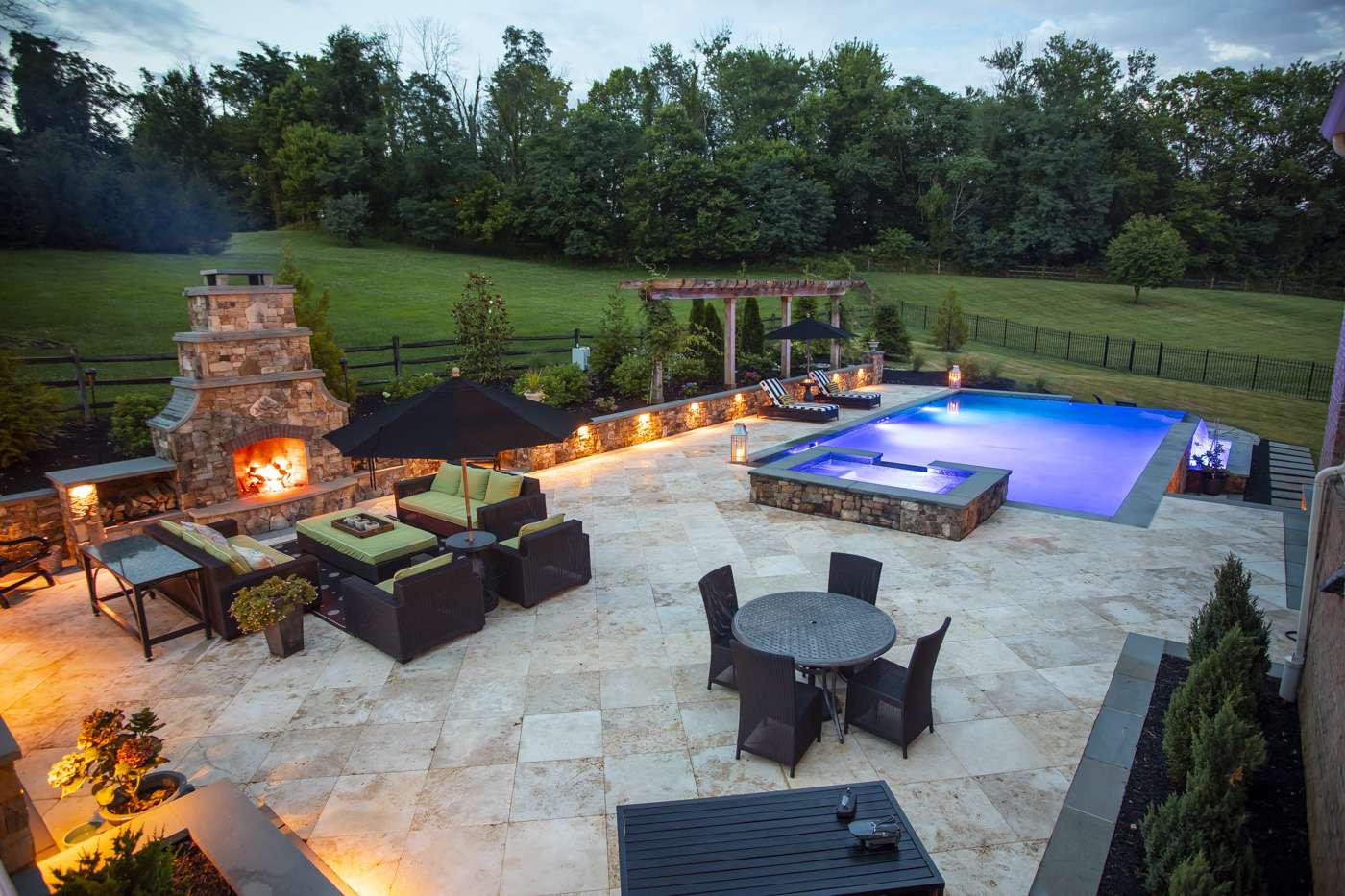 A Pavilion or a Pergola
Adding a structure to your pool area is another way to really take it to that next level. A pergola has an open roof allowing you to see the layered beams. It can make an architectural statement while also providing some shade. A pavilion, on the other hand, is like a house with no walls. It has a roof and can even have a finished ceiling if you wish.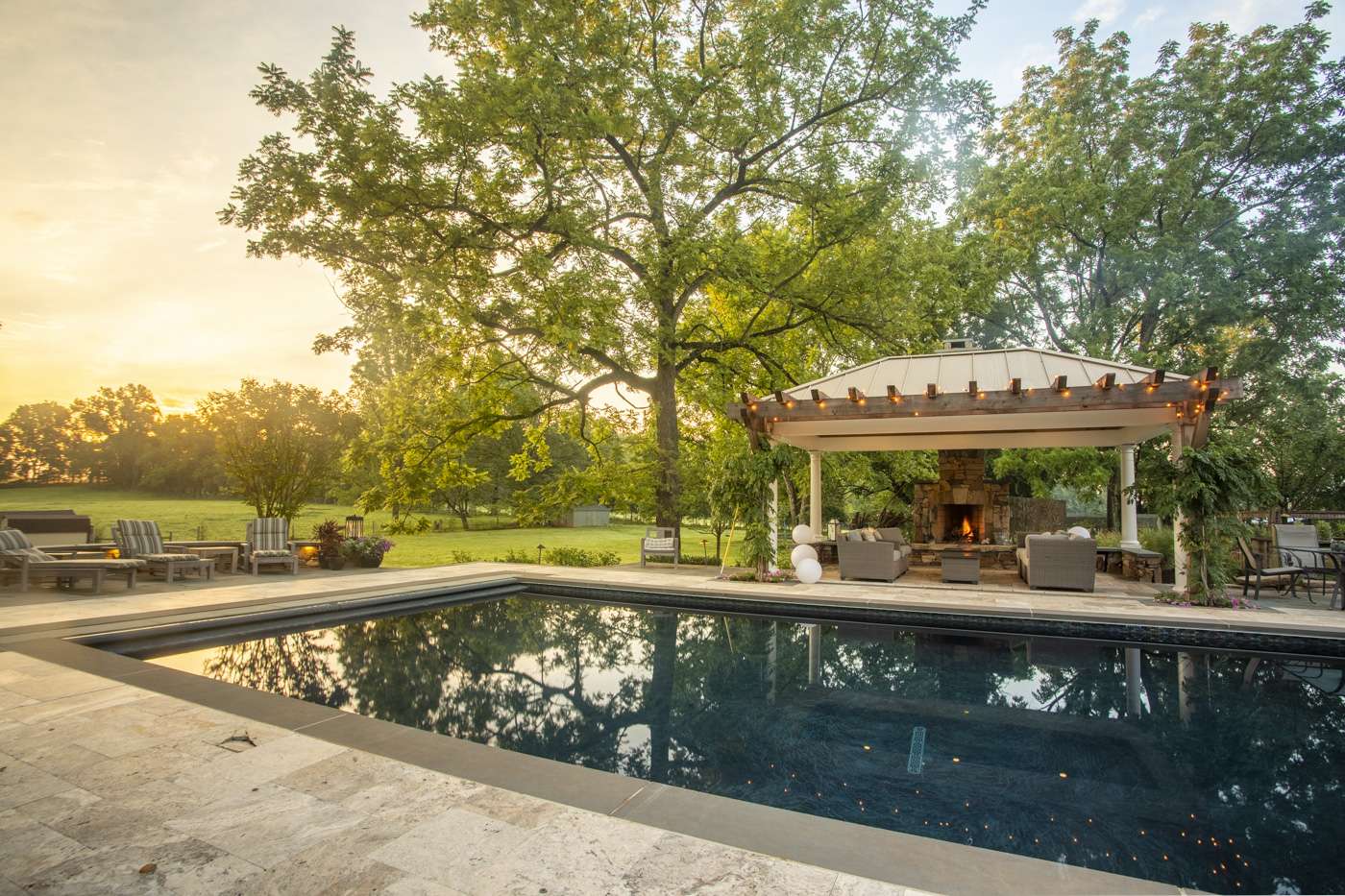 There are many features that you can add to a pool pavilion to enhance that space even further. With various features, it really does become like an outdoor room.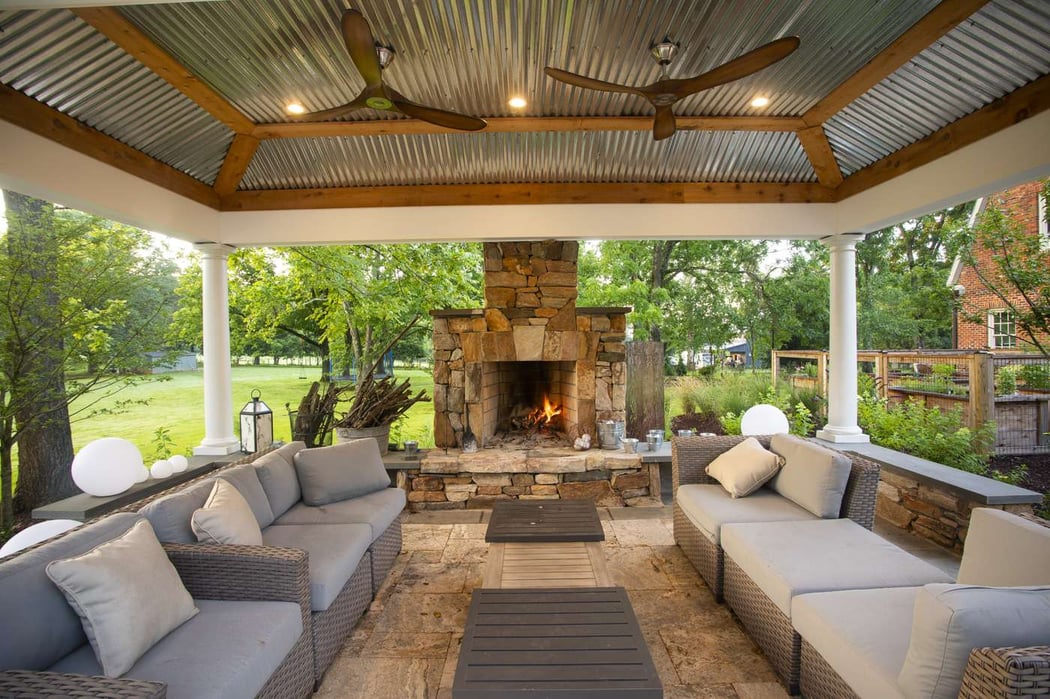 Honestly, the sky's the limit with pavilion features—you could even go as far as adding a bathroom with plumbing to make a true "pool house," so that nobody ever has to go inside.

Here are some other ideas.
An outdoor fireplace
Storage space for towels, snacks, sunscreen, pool toys, and more
Audio/visual capabilities
Outdoor ceiling fans
Wi-Fi access
Sun shades
Outlets
Steps for a multi-level space
You might also want to add an outdoor kitchen, which would allow you to not only have some dining space but an area to prepare meals, too. We'll talk about that point next.
Outdoor Kitchens
Adding an outdoor kitchen adjacent to your pool area can increase the enjoyment and the use of your outdoor area. Instead of having to run back and forth from the kitchen to prepare meals and to bring food and snacks outside, you can do everything right there. You'll also want to make sure you leave plenty of space to store ice-cold beverages!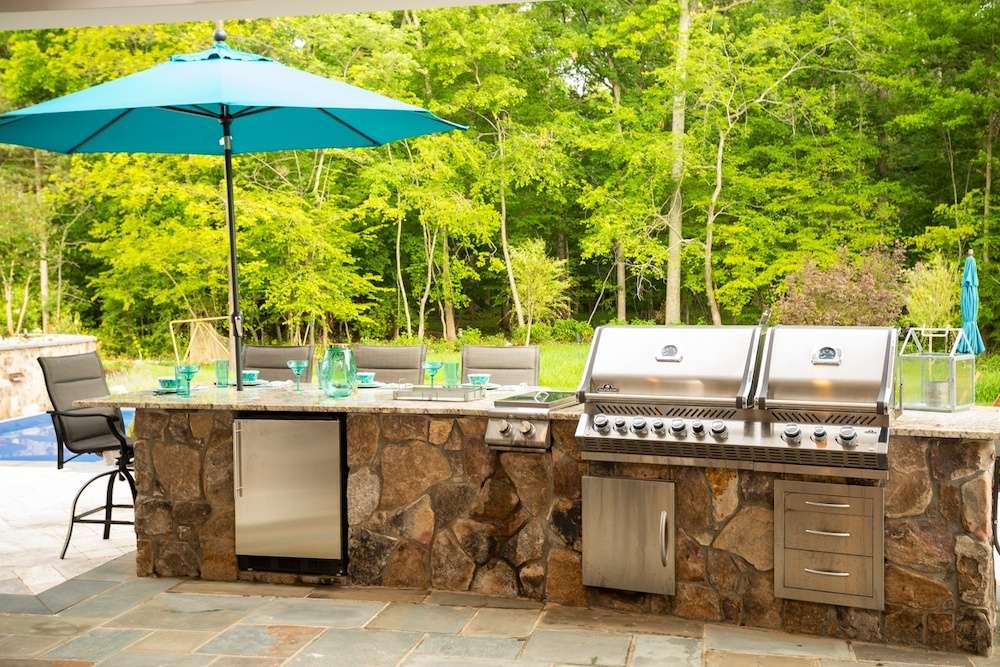 Some of the more popular outdoor kitchen features include some of the following.
Built-in grills with countertop space
Power burners
Smokers
Pizza ovens
Refrigerators and freezers
Sinks
Dishwashers
Cabinets
Drawers
Fire Features or Water Features
Adding fire or water features around your pool is another way to make it have that resort-like feel. Fire features like fire pits and outdoor fireplaces become gathering spots when not in the pool. They also throw light and heat that can be enjoyed after the sun goes down. They add a major ambiance and wow factor.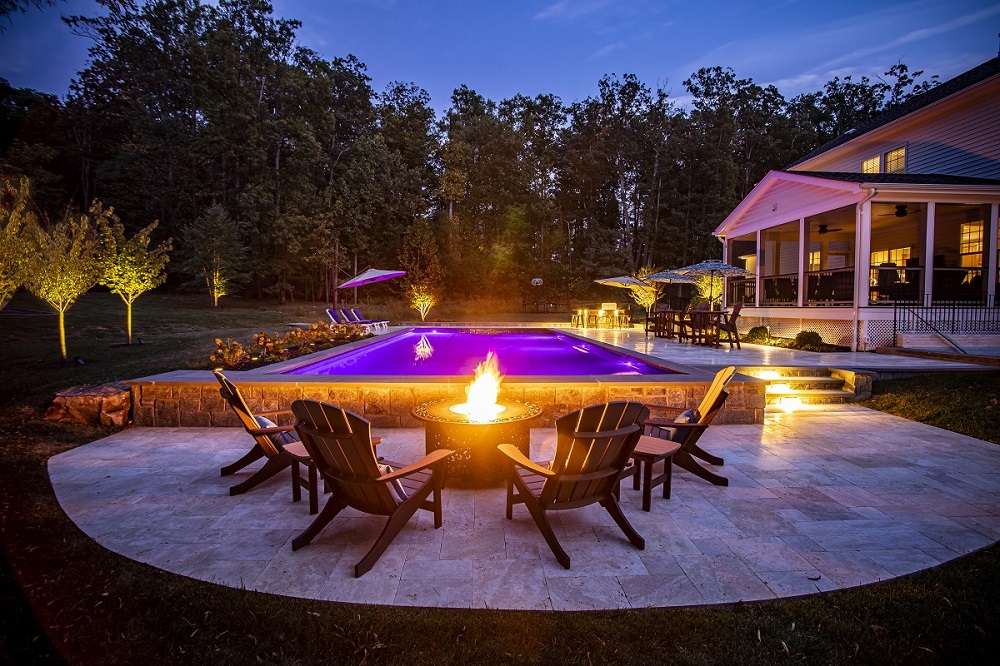 Similarly, water features also contribute to that resort feel. They are visually beautiful while also adding the sound of running water, which people love. Whether you want a water feature near your pool or you're thinking about adding a waterfall or fountains in your pool, these features can go a long way in making your pool one-of-a-kind.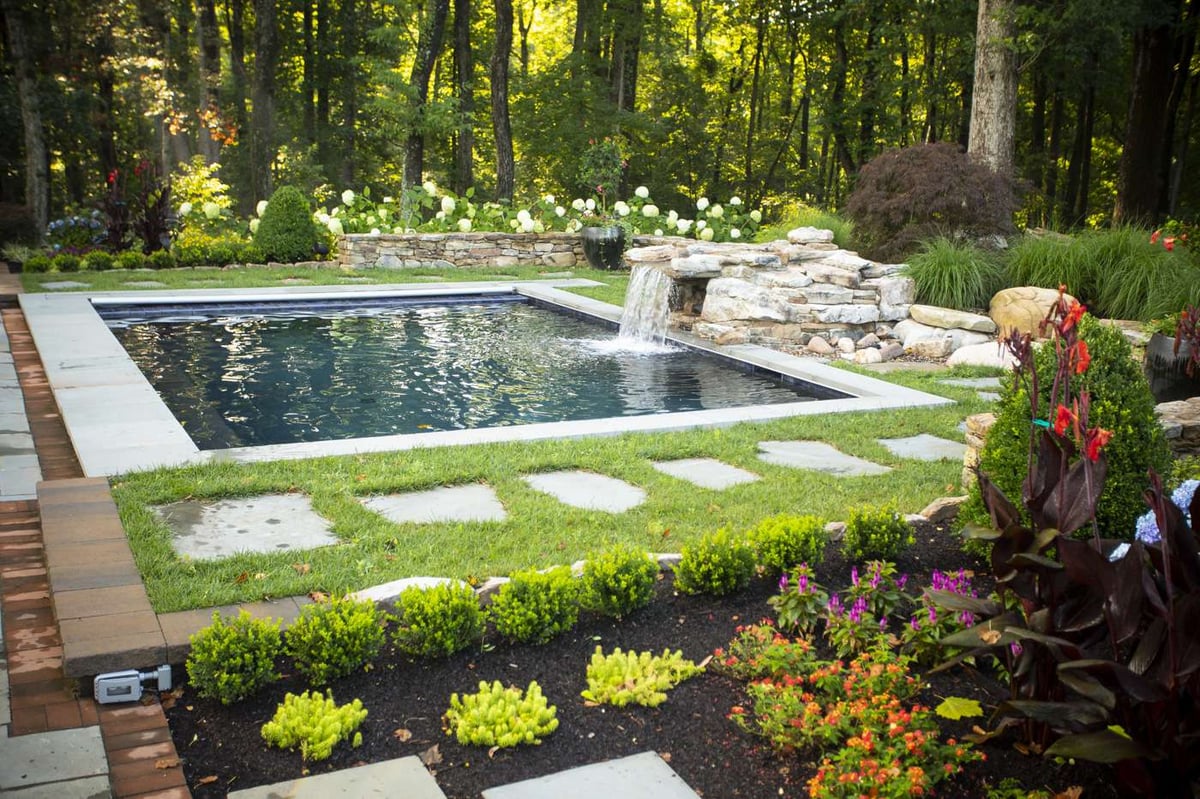 Swim Jets for Swimming in Place
Whether you don't have the room for a big pool for lap swimming, or you just want to dedicate a small section of your pool to exercise so that the rest can simultaneously be used by your family for fun, swimming jets can achieve this!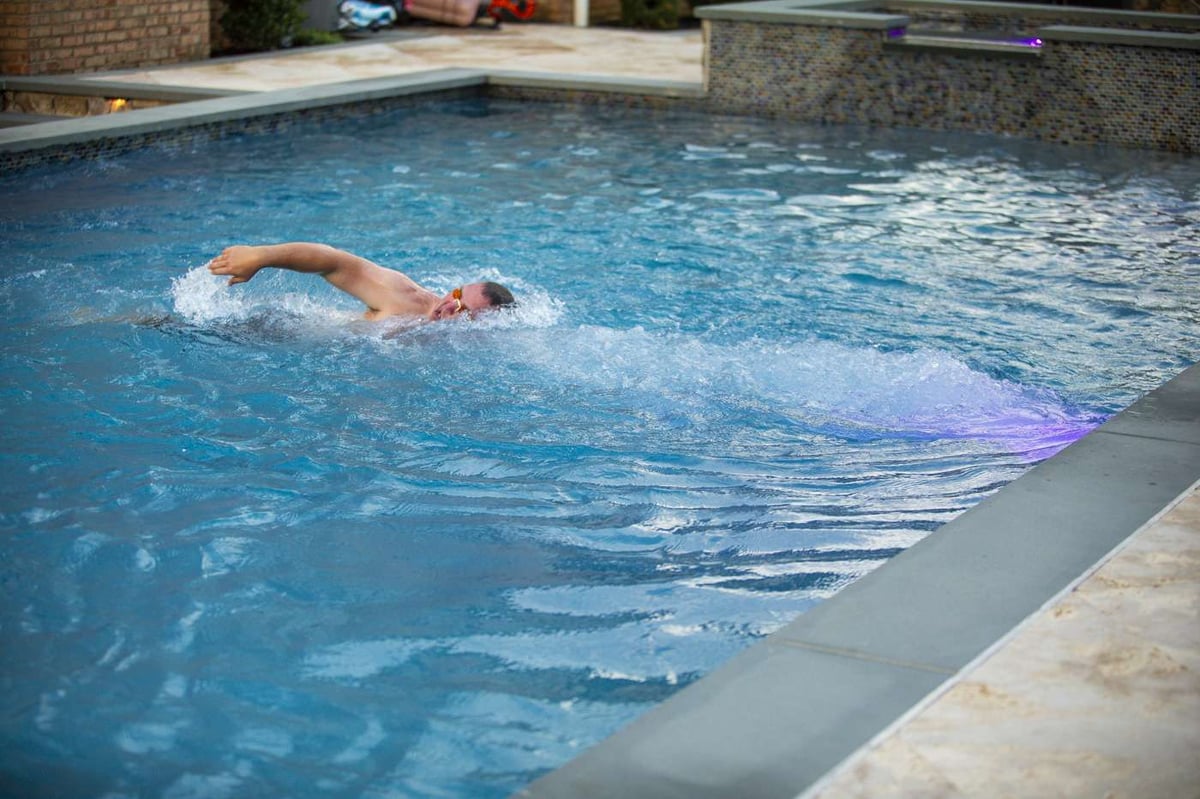 Built-in Tanning Ledges
Tanning ledges, or "sun shelves" as they are sometimes called, are another option that people like. These "bump-out" areas can be great for little kids to play in shallow water while the big kids swim. They are also a great space for adults to lounge. If designed large enough, you can set up lounge chairs on a tanning ledge and have your ankles in the water while reading a book or watching the family swim. Some homeowners also want to add an umbrella holder so that they can relax in the shade while still being "in" the pool.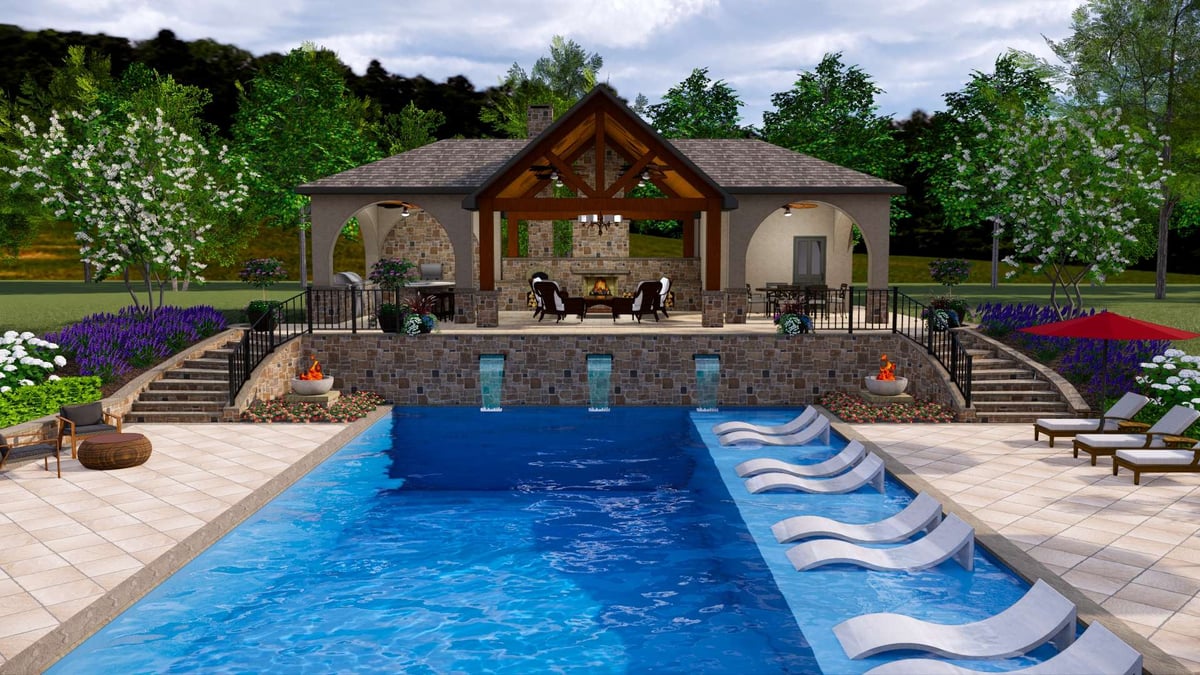 Adjacent Spas
Spa areas are also a popular addition, giving a space to relax and unwind after a swim—or while watching the kids play in the pool. Just like the pool, your spa can be custom-designed in any shape or style that suits your needs and complements the adjacent pool.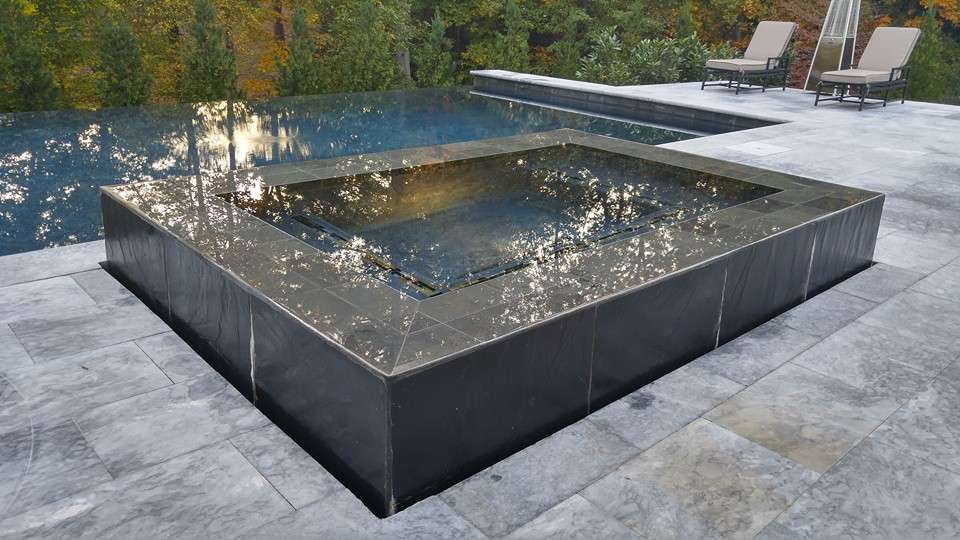 Pool Pictures of Gorgeous Pool Landscaping
Hopefully, those pool ideas for features give you plenty of food for thought on how you can enhance your pool design. Of course, you also want to put some thought into the landscaping around your pool as this goes a long way in making the entire space aesthetically beautiful and fully enjoyable.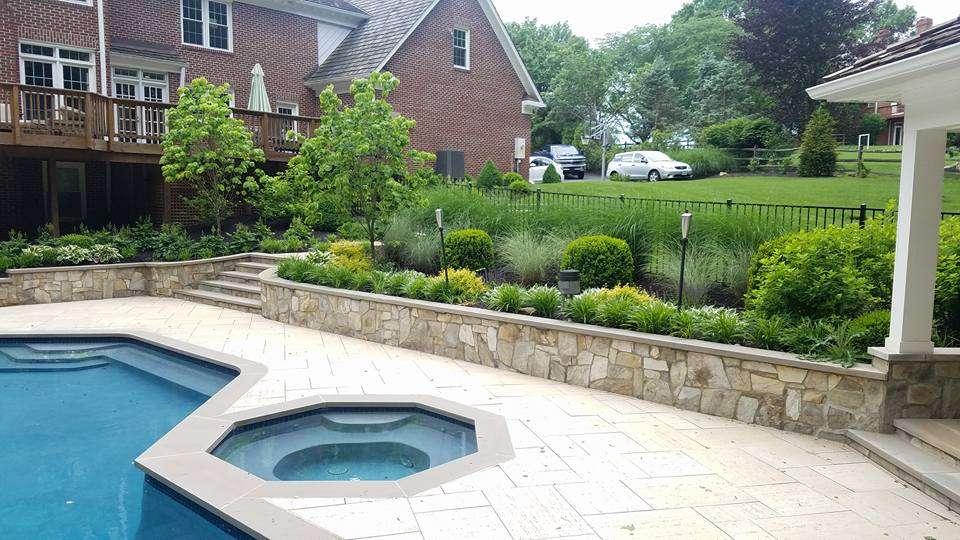 It's important to choose plantings that are going to meet your specific wants and needs, like providing year-round interest or even helping with privacy screening. But you want to be careful not to choose the wrong plant material which could negatively impact your space. Plants that drop fruit or debris and will stain your patio or constantly end up in your pool can be a major annoyance.

Plus, some plantings are going to provide too much shade when what you really want is sun. Or maybe, you want plants that will provide shade in certain areas where you plan to lounge. All of this can be achieved with the right pool planting choices.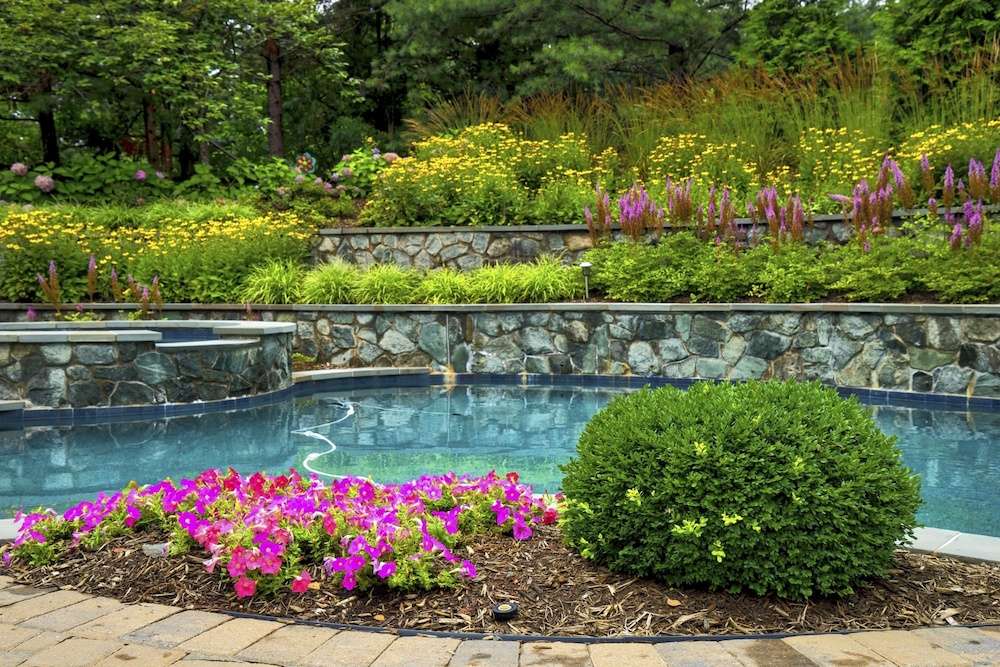 There's more involved in choosing the perfect poolside plants than people often realize. Aesthetics is obviously a huge part of it. You want the plants to look beautiful and be something you can enjoy while you're lounging and swimming in the space. But you may also want those plants to meet some of your functional needs and be "wise choices" that won't negatively impact your space in any way.
Pool Pictures of Pool Material Choices
When it comes to customizing your pool exactly the way you want it, you'll also need to make pool material choices that can set it apart and make it stunning in the process. Everything from the pool plaster to the "jewels" of the pool (the tile accents) can be upgraded to top-notch material choices.

Obviously, your personal preferences will play heavily into your choices. But sometimes the site calls for certain material choices.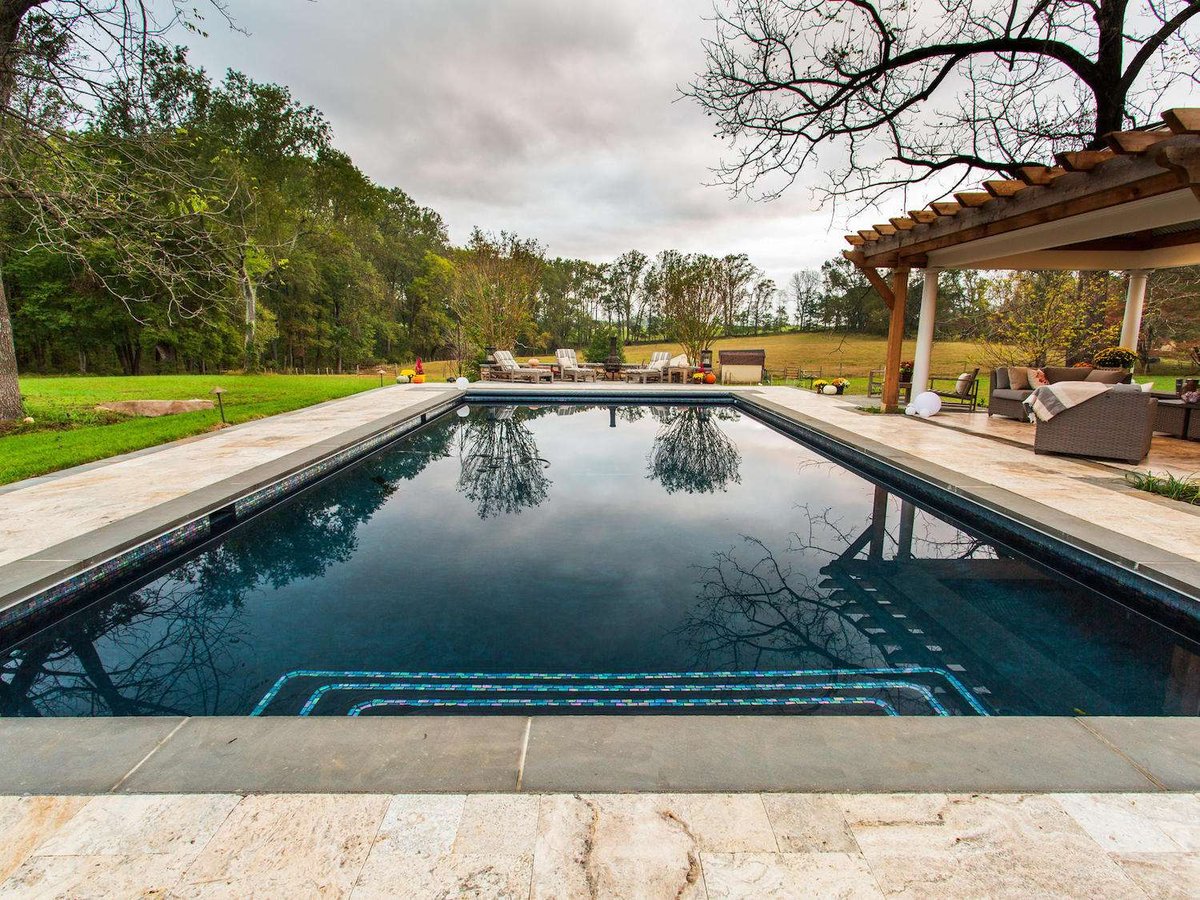 This Warrenton, VA pool is a great example of unique material choices that suited the natural landscape. The homeowners chose a black plaster to help prevent the pool from looking out of place with the farmside surroundings. Bright turquoise waters would have looked out of place in the countryside setting.
Finding Swimming Pool Contractors in Ashburn, Aldie, or Leesburg, VA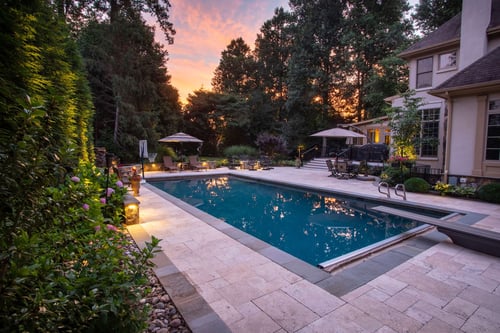 While you have plenty of choices for pool builders in this region, the fact is, complex outdoor living areas (like the one you want to create) should not be left to just any old builder. You want to find a pool contractor who is not only accustomed to building dream pools but who can give you the "whole package," with the complete outdoor living space that you want to accompany it.

Here at Rock Water Farm, we understand that every single detail of your project matters. When we're finished with your pool, we want you to be happy with everything about it. We want it to become a space where you and your family create lifetime memories.

Ultimately, that means taking your pool ideas and making them a reality in a way that works for your space with no problems. By choosing to work with a company that will think of all your needs, when your outdoor living space is done being built, it will be truly complete.

Are you ready to find a pool contractor in Ashburn, Aldie, or Leesburg, VA that can take your pool dreams and make them a reality? If so, talk to an expert, choose a solution that rocks, and get ready to see those dreams start to take shape.