Posted by

Todd Thomasson on Aug 18, 2020 8:17:00 AM
Having a swimming pool might be part of your backyard dreams. But if you have a sloped property or a home situated on a hill, you might be wondering if it's even possible. Can your swimming pool dreams still come true if your yard isn't completely flat?
We'll get right to it. Yes, building a pool on a slope is definitely possible, though it can come with some additional challenges.
In this article we'll shed some more insight into what's involved with building a pool on a sloped yard, including some ways that you can actually use this situation to your advantage.
Solutions for Building a Pool on a Slope
There are a few different ways that you can address a slope on your property in order to level the area and install a pool. If your slope is minimal, it can pretty easily be fixed with construction equipment and grading. Most yards are not perfectly level.
However, if you have a noticeable or significant slope in your yard, then grading is not going to be enough. Fortunately, there are some other solutions that can be utilized the address the issue.
Here are a few important considerations to keep in mind.
Retaining Walls
Retaining walls can work with your grading efforts to help hold back any potential erosion. Although retaining walls serve a highly functional purpose, they can actually add a lot of interest to your pool area. Instead of just being a plain space, they now provide some visual appeal and also serve as ledges for extra seating or as a spot to place to set food or towels.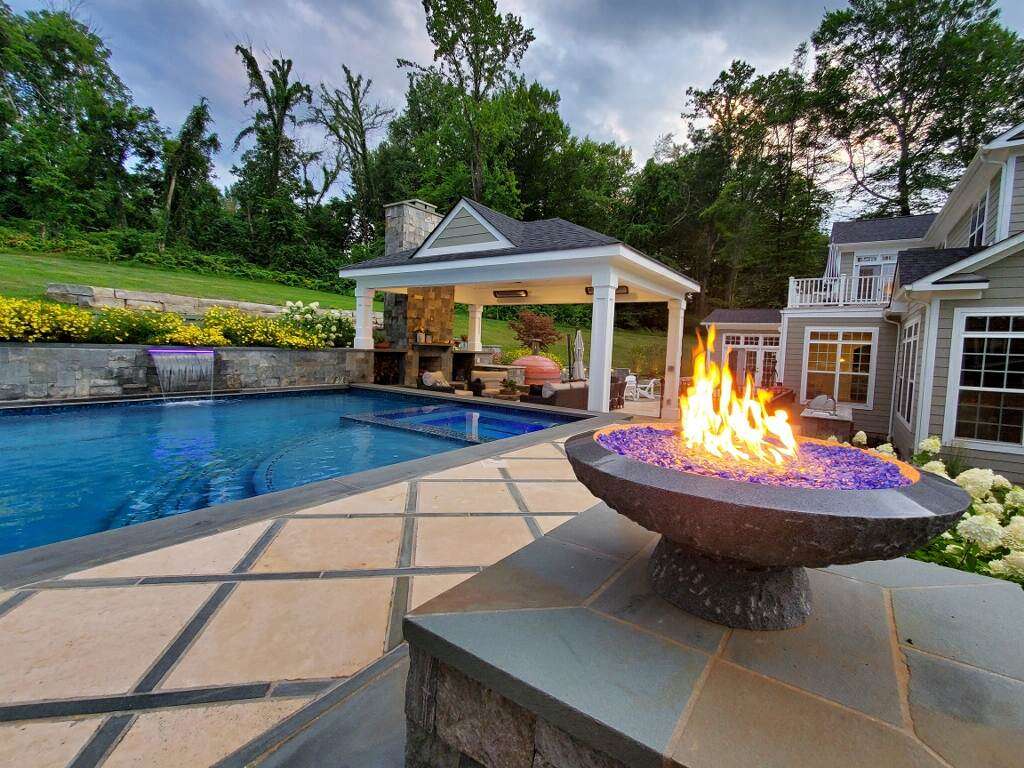 Retaining walls might also add a sense of privacy to your space. While they are obviously there to address your slope, you can see how a retaining wall can be an appreciated addition.
Terracing
When building a pool on a hill, there can also be an opportunity for terracing. To terrace a slope, you create not one but a series of retaining walls built into the hillside with each area leveled off. If you live somewhere that has a really big hill or slope, this might be an option to create some aesthetic appeal. Terracing creates a sort of "step down" effect in which you have multiple individual gardens.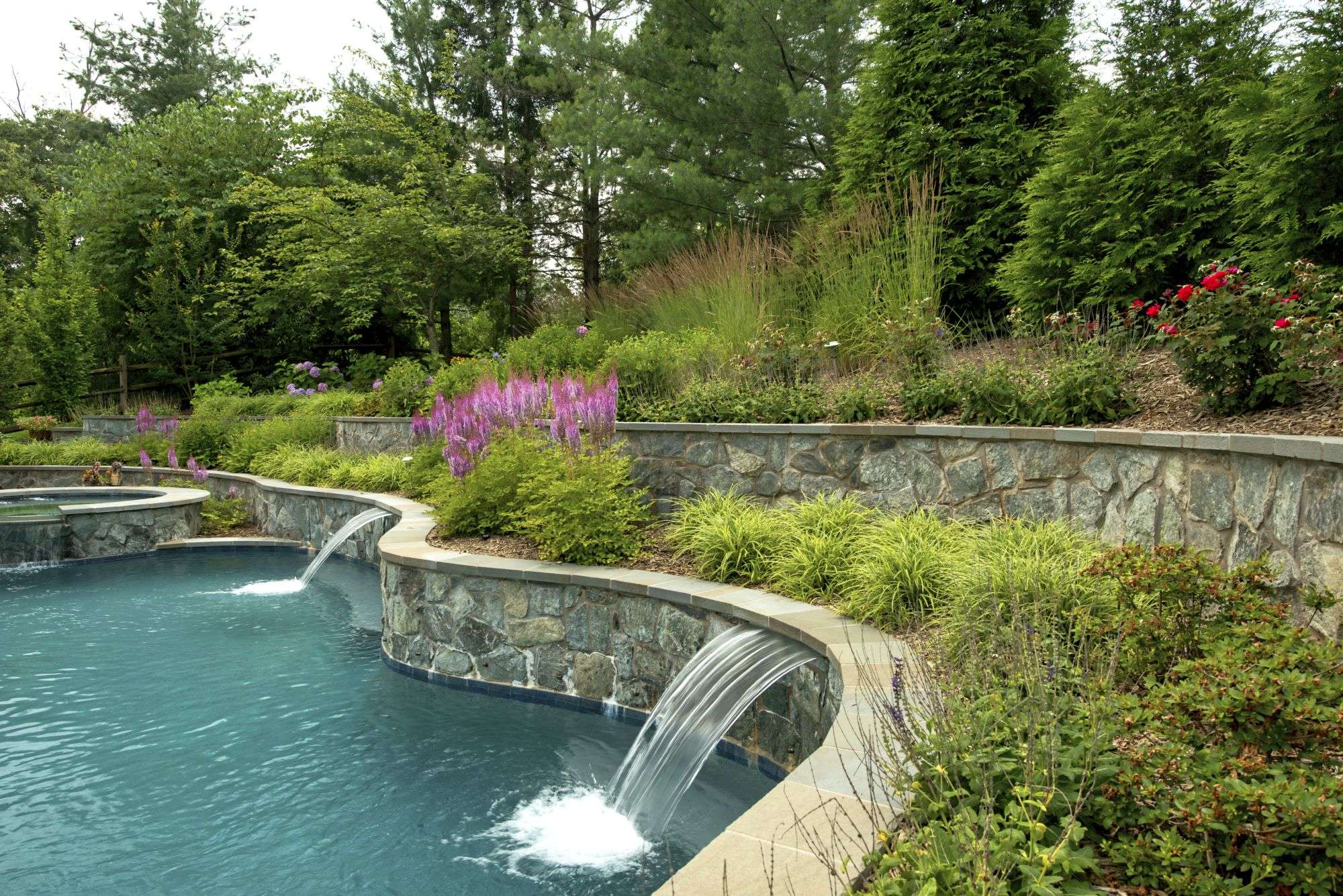 There's no question that creates a lot of visual interest. The pool might be at the top of the terraced hill, or it might be at the bottom. But the walls will break up and soften the slope and the flowers will add stunning color.
Beyond the visual effects, terracing, also has the functional benefit of preventing erosion by shortening the long slopes into a series of step-like areas. This helps to eliminate runoff and avoid erosion.
If your pool is at the bottom of the terraced area, the last thing that you want is a rainstorm causing a mudslide into your pool. The terraced areas can help work to capture that water and allow it to percolate into the garden areas.
Drainage
As we started to discuss above, making sure that water from storms is accounted for in the pool building process is absolutely imperative. Water can become a powerful force that can do a lot of damage if not addressed appropriately.
Each situation is completely unique and will have to be assessed by a landscape professional to determine the best drainage solutions. The idea is to direct water runoff away from your pool area so that you don't end up with any muddy water washing into your pool. Water runoff can also drag debris into your pool and quickly become a nightmare situation during a bad storm.
Working with the Slope for Spectacular Features when Building a Pool on a Hill
Although you might see building a pool on a slope as a problem, there are some ways that we can really use it to your advantage. As we mentioned, terracing and retaining walls can be aesthetic additions even though their main purpose is to serve a functional goal. These are both great examples of making the most out of what you might view as a "problem" or a challenge.
But we can go even further than that and really use the slope to an advantage by creating multi-level areas, creating a swim-up bar area, or adding an infinity edge.
Let's look at these 3 possibilities.
Multi-Level Patio Areas
When we're working on a property that's already sloped, we like to think about the ways in which we can maximize the use of the slope. It's not always possible to just level everything out (particularly when it's a steep slope), nor do we necessarily want to. A sloped yard can be challenging to work with but it can also present the opportunity for some really unique additions.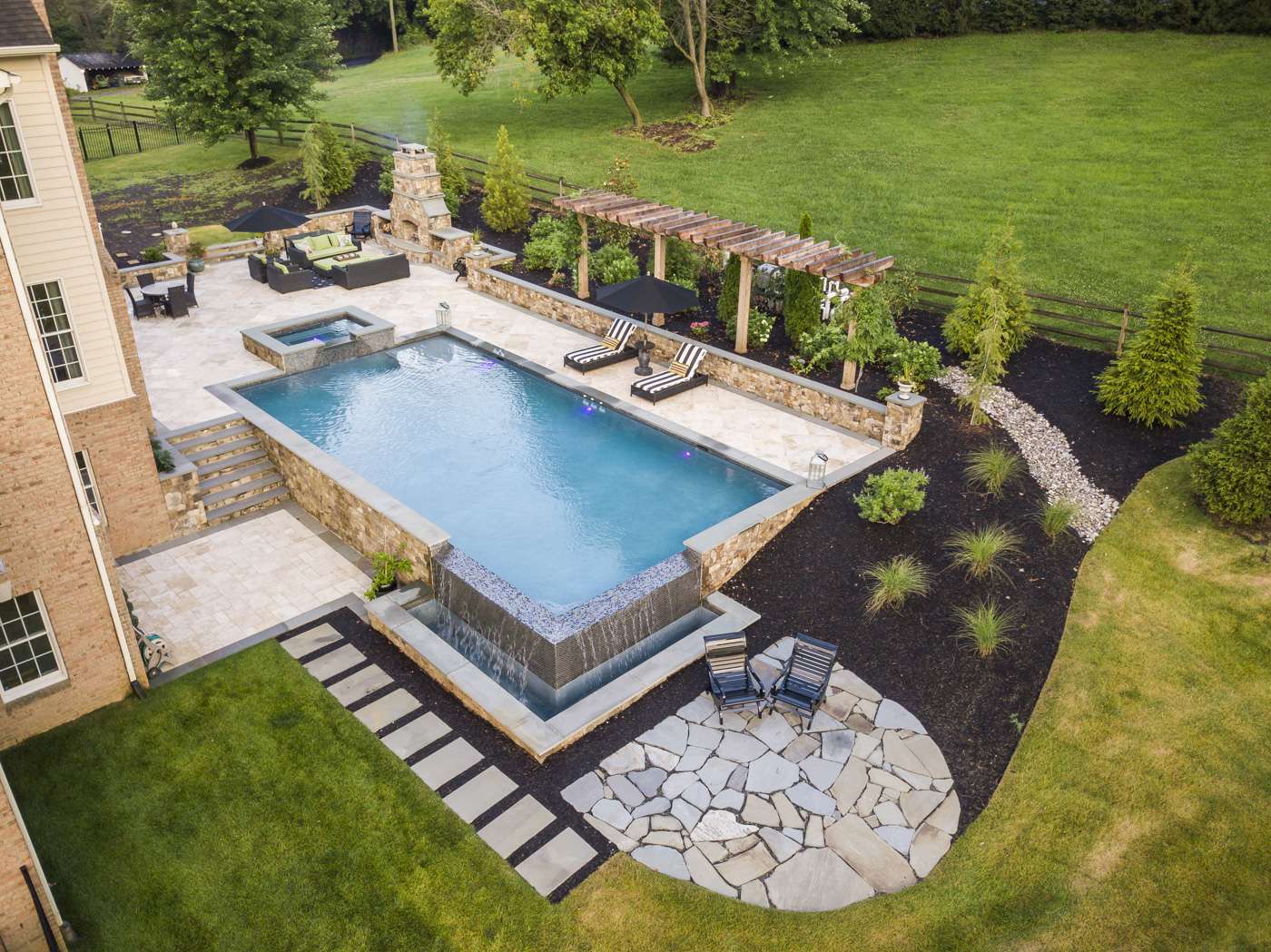 Multi-level patio areas can really add a lot of interest to your space. These areas can be connected by steps with some landscaping amongst them. While it inevitably creates some more engineering challenges and can cost more, some people also like the final look a lot more than one big flat space.
A Swim-Up Bar
Another way that we can really use a slope to our advantage and go even further with those multi-level patio areas is to add a swim-up bar. One of your multi-level patio areas can be a kitchen complete with a bar top. On the land side, the bar can have stools where you and guests can watch the swimmers. But on the water side, you can also incorporate built-in seats right into the pool where swimmers can sit on the other end.
This can be as complex or as simple as you wish. If you're looking for a full-blown kitchen with all of the bells and whistles, you might want to make it a covered area. Or, you can stick with just a bar with seating on either side and maybe a built-in refrigerator so there's always cold drinks to be served.
An Infinity Edge
Another really great way to work with a slope is to incorporate an infinity edge into your pool. An infinity edge creates the impression of water with no boundaries. It will appear as though the water just "drops off" at the edge of your pool—and if your pool is at the edge of a hill, this can be even more dramatic.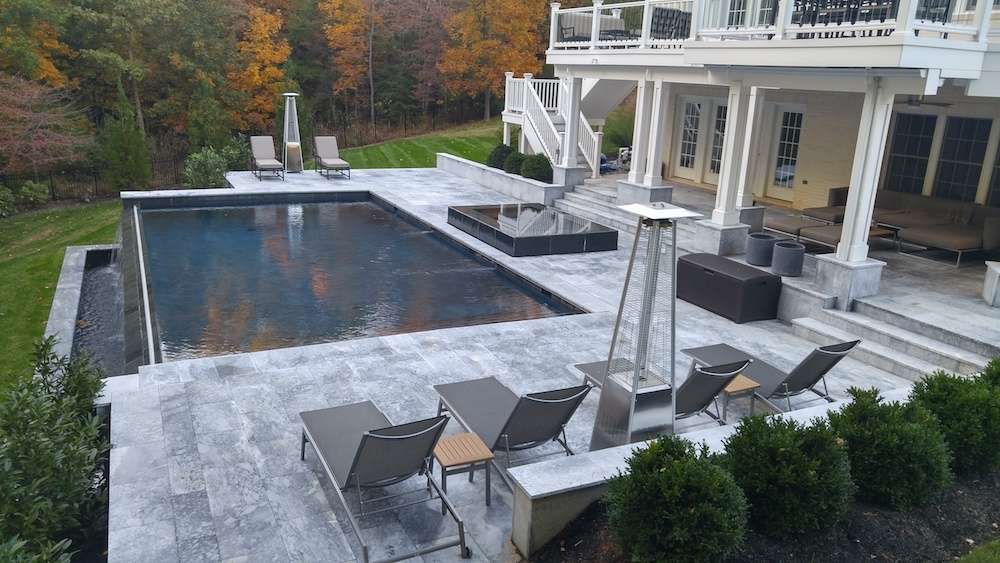 One thing that we usually tell homeowners when we are building a pool on a slope and they are considering an infinity edge, is that we are already "part way there in the process." A lot of times when we are working with a client that wants an infinity edge we have to cut that slope into the property to create it. But if the slope is already there, we can work with it and shave off at least some of the cost.
That's not to say that there still won't be additional costs involved in adding an infinity edge. Obviously there is extra engineering and additional structures involved. The way that an infinity edge works is that the walls are sloped downward to create the illusion of water dropping off. But the water is really falling into an additional catch pool below. This basin sits beneath the edge and the water it catches is pumped back into the main pool. All of that comes at an extra expense from having a regular edge pool but you have to consider the way in which this feature will truly take your pool to the next level.
An infinity edge is a feature usually synonymous with a luxury resort and will really make your pool spectacular. If you have a Million Dollar View to showcase at the edge of a hill or a cliff, it might be worth investing a little more into your pool to get the most out of it.
Building a Pool on a Slope with Swimming Pool Experts in Great Falls, VA
With the extra engineering—and ingenuity—that is involved with working on a slope, it's important that you choose the right swimming pool builders who are truly up to the task. There are many pool builders who are focused on building a cookie-cutter pool that is quick to install so that they can move quickly from one job to another.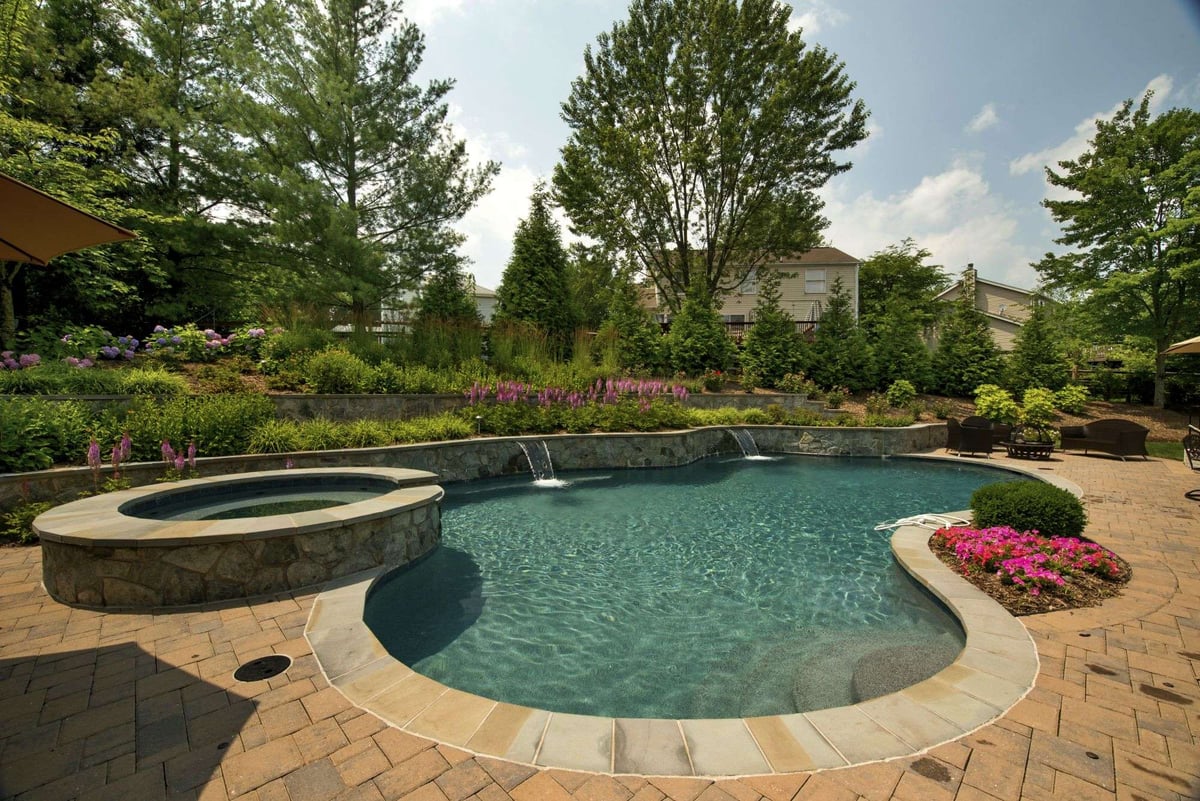 In fact, there are plenty of pool builders who might not even want to tackle building a pool on a slope because it's beyond their design and engineering capabilities.
But we believe that you deserve to have the swimming pool of your dreams with any challenges being overcome in a way that benefits you most. In fact, we feel you ought to be able to have a swimming pool that uses the slope on your property to your advantage—so that you have a pool which is truly spectacular.
At Rock Water Farm, we have experience and knowledge designing and installing pools on slopes—as well as complete pool spaces. After all, you want your space as a whole to meet all of your wants and needs. We're in the business of creating backyard paradises for our customers that include not only a pool but also all of the important features that should go along with it.
At the end of the day, your backyard pool is going to be a place of enjoyment and lifelong memories that you'll cherish forever. You shouldn't have to let a hill or a slope stand in the way of that. The fact is, you can have the pool of your dreams.
Are you ready to find a pool builder in Great Falls, VA who can build a swimming pool on a slope in your backyard? If so, talk to an expert, choose a solution that rocks, and get ready to see those dreams take shape!