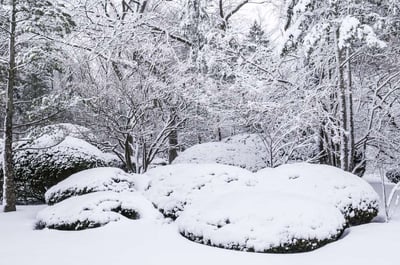 Winter, spring, summer, or fall, you want an impressive landscape no matter what the season. But every time winter rolls through, you feel as though your landscape becomes dull and lackluster. Your boring landscape coupled with the gray skies and the chilly weather seems to make the season feel as though it's trudging along slower than ever. You want to liven things up!
While you're uncertain what changes you can make in your landscape, it would be nice to add year-round interest and appeal so that when Old Man Winter strikes, you'll be ready.
The truth is, there's no reason your winter landscape has to be boring. In fact, there are plenty of winter landscaping ideas that can add interest and appeal to your yard.
The biggest key to some of the beautiful winter landscape design ideas comes down to choosing the right winter landscaping plants, within a thoughtful design. This will ensure that your landscape is anything but "blah."
1. Incorporate Needled Evergreens for Year-Round Greenery
Valued for their year-round beauty, needled evergreens can add both texture and color to a drab winter landscape. Needled evergreens can have blue, green, or even yellow needles that can add a lot of interest.
The Eastern White Pine, for example, is a magnificent tree with beautiful bright green needles. While some consider it messy in terms of dropping needles or its cones, it can make a big statement in a bleak winter landscape. Spruce and fir trees, with their shorter needles, are another attractive option blending different shades of greens and even blue tones.
There are also needled evergreen shrub options you might consider as well. Some types of arborvitae, yews, and cypress are also good options. Then there are also dwarf versions of needled trees which can offer some excellent vertical, ornamental accents. Some options include the dwarf pines, spruces, hemlocks, and cypresses.
2. Don't Forget About Broadleaf Evergreen Varieties
While evergreens are often thought of in terms of the needle-bearing varieties, evergreen shrubs also include broadleaf varieties like boxwoods, hollies, some forms of laurels, and rhododendrons. These plants have year-round lush greenery and also bloom in other parts of the year, giving them a wide variety of interest and appeal, regardless of the season.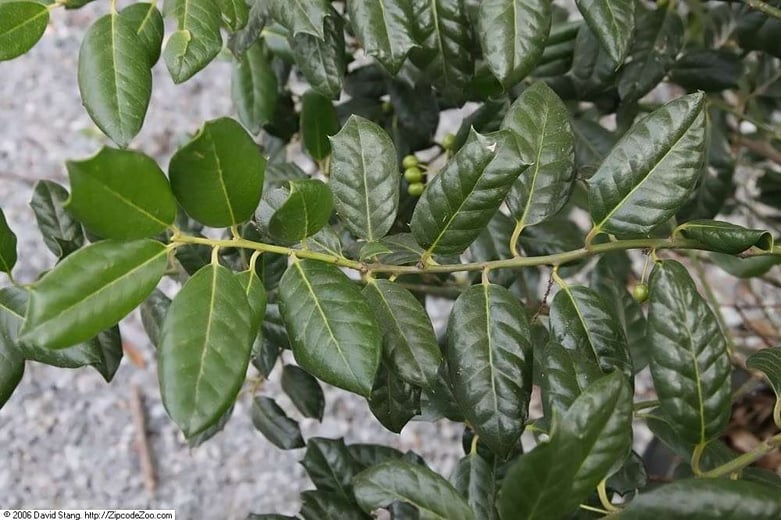 There are also some great broadleaf tree varieties of hollies and Southern Magnolia, which hold their leaves in the winter. There are many colors, and textures, as well as varying shades of green that can add a lot of interest in the winter and throughout the remainder of the year.
3. Get the Best of Both Worlds With Semi-Evergreens
Plants that briefly shed their foliage in winter but rejuvenate quickly, or those that only shed some of their foliage, are sometimes referred to as semi-evergreen. For instance, Nandina varieties are able to retain a good fraction of their leaves or even hold their flowers later and are therefore considered semi-evergreen. They can also turn colors. The Blush Pink™ Nandina, for instance, turns pink, or even red, during colder months, adding a pop of color that looks beautiful as an accent to your winter landscape.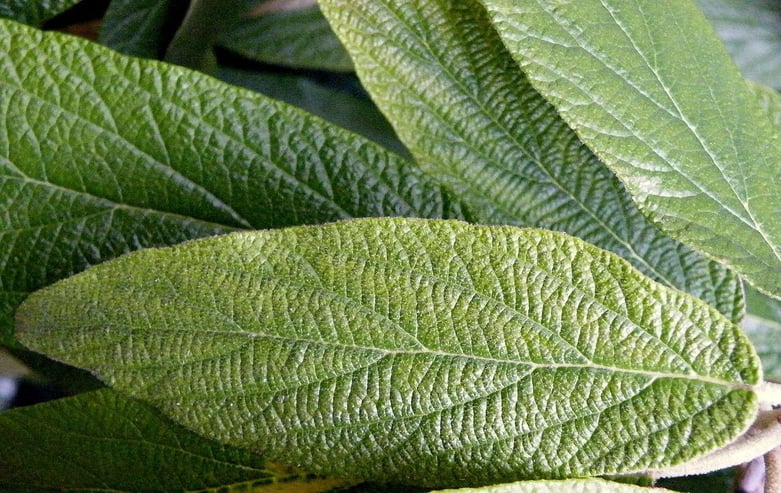 Some Viburnum varieties, such as Leatherleaf, are also semi-evergreen. This shrub has a blue-green appearance and is coarsely textured, hence its name. There are also some species of Azalea that are semi-evergreen.
4. Plants With Fruit Add More Appeal
Some winter landscaping plants produce berries and other fruit that hangs on, even in the winter. Fruit can be anywhere from oranges to yellows or reds. One such option is the flowering crabapple trees such as Harvest Gold Crabapple. What makes this particular tree uniquely beautiful is the fact that it produces attractive yellow fruit that can really brighten up a landscape.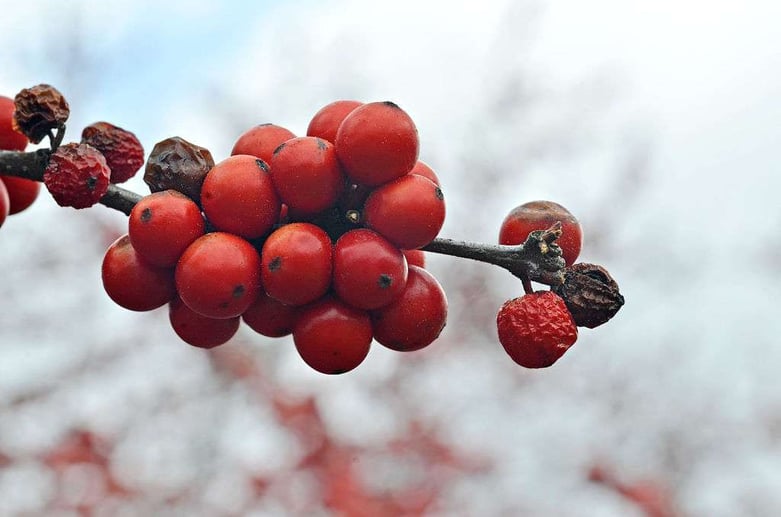 Varieties of holly, such as Viburnum and Coral Berry, also make nice, colorful options. Winterberry hollies, which are in the shrub category, lose their leaves but retain their berries, making for a beautiful display, especially against the backdrop of needled evergreens or atop snow cover. In addition, Winter King Hawthorn, which is a small tree that produces bright red berries, is another great choice.
5. Beautiful Bark Adds Interest
The bark or even "bark habits" on certain trees can add some appeal to your winter landscape, as well. Plants with exfoliating bark, such as the Paperbark Maple, create a unique look. As the cinnamon-colored bark on this tree begins to peel, it reveals new bark underneath, creating a lot of visual interest.
Bark with larger spots is another great way to add some color and texture to your landscape. Bark can actually be quite colorful. Londonplane trees have an interesting bark that can be olive, tan, and white. And Red Twig Dogwood can add a real burst of color with this shrub's bright red branches, whereas Yellow Twig Dogwood has stand-out yellow branches.
6. Incorporate Witch Hazel for the Wow Factor
A plant that flowers in winter may sound like a misnomer but there is a plant that can bring you some winter flowers. Witch hazel is a flowering shrub that will still hold onto its blazing yellow flowers, even into the late winter.
Sometimes referred to as the "Queen of Winter," witch hazel is not only a brilliant color but known to have a pleasant citrus smell. Adding this to your landscape can really brighten things up on those dreary winter days.
7. Add Some Ornamental Grasses
Ornamental grasses can be another valuable addition to your winter landscape by adding texture and even some color. Shades of bronze, gold, russet, and tan can liven up your landscape when incorporated throughout the space. When planted in close proximity to evergreens, ornamental grasses can add some nice contrast.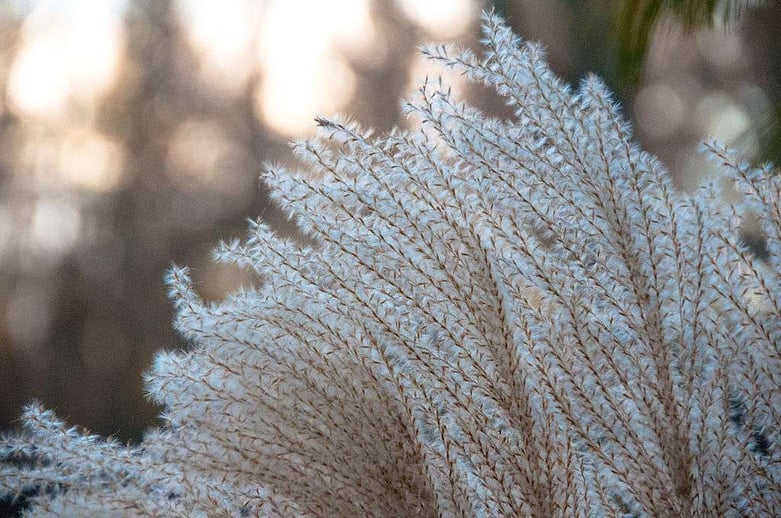 The look of tall grasses rustling in the winter breeze can also add some active interest and sound to an otherwise quiet landscape. However, be aware that too much wind can cause them to break off and blow around. Choosing to leave ornamental grasses up over winter may mean a little bit of extra clean-up come spring.
Choose a Company that Values Design for All the Seasons
An interesting winter landscape doesn't happen by chance. It's thanks to the knowledge and skill of a landscape design professional who knows a lot about winter landscape plants and their best placement.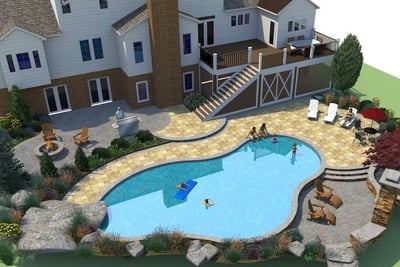 For instance, are some of these winter landscape plants placed near a window or other areas where they can be regularly viewed? Does the landscape design incorporate a good mix of plants so that the landscape is well-balanced? A thoughtful approach to landscaping means thinking about what your landscape is going to look like all year round, not just during the blooming season. Achieving this comes down to the landscape company that you choose.
There is no reason why you have to let Old Man Winter get you down. By looking beyond the average landscape company, which is only thinking about your landscape during the flowering season, you can have a yard that has year-round appeal. Your wise choice means you'll get more than just the standard treatment of a landscape that's really only impressive a few months out of the year.
If you're looking for a landscape company that will help you with winter landscape ideas then we are here to help. There is absolutely no reason a winter landscape has to be boring. By working together on a great design, you can have an appealing landscape all year long.
If you're ready for a more appealing landscape and want to learn about our landscape design services in Ashburn, Aldie, or Leesburg, VA, request a free consultation. Let us create a timeless design, and get ready to be able to enjoy your property no matter what the season.
Image Sources: concolor fir, Nellie Stevens holly, leatherleaf viburnum, winterberry holly, paperbark maple, witch hazel, ornamental grass,