Adding a swimming pool is one of the most exciting additions a homeowner can make to their backyard. It's one that has the power to truly transform the space from ordinary to extraordinary. Suddenly you and your family want to spend all of your free time in your backyard.
Whether you are ready to dive right in or you're still just testing the waters, you may be wondering what your options are and what sort of choices you might face as you move forward with this exciting project.
We understand that even beginning the process of having a pool designed and installed can feel overwhelming. It's a large investment and you're concerned about making wise choices every step of the way. This is something that we often hear from homeowners. They wish they understood a little bit more about what's involved and what sort of decisions they'll have to make along the way.
That's exactly why we've put together this guide. You shouldn't have to search in a bunch of different places to find all of the information you need. This guide has it all in one place to make it as easy and pain-free as possible. After all, this is an exciting time and the process should be enjoyable and fun. Let's get started!
Table of Contents
Types of Pools
One of the first big decisions that you will face is what "type" of pool you want. The pool that is best for you will depend on factors such as your budget, how long you'll be in the home, and your expectations for the completed project.
Inground vs. Above-Ground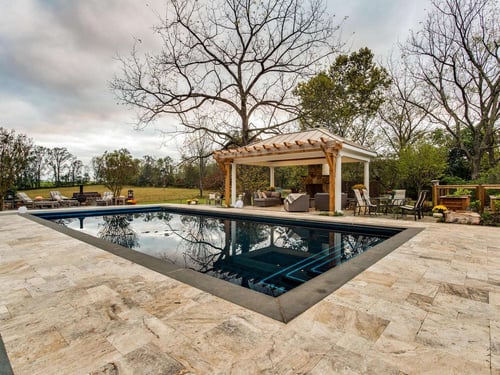 The two main pool types would be inground or above-ground pools. The main benefit of choosing above-ground as opposed to inground is cost. Above-ground pools can be installed quickly and cheaply. If you know you're only going to be in your home for a few years before moving then perhaps you might consider one, just to give your family a place to swim for the "time being."
Rock Water Farm does not install above-ground pools. In fact, many homeowners who choose an above-ground pool simply buy one at a big box store and put it together themselves, though some pool companies do offer above-ground pool installation.
It's important to recognize that many Homeowner Associations will not allow an above-ground pool. If you live in an HOA, this might not even be an option.
If you're looking for a long-term solution that will transform your yard into a backyard oasis, then an inground pool is going to be your best choice. Aesthetically, above-ground pools can't even compare to an inground pool. Above-ground pools are often thought of as eyesores that "stick out" on a property. They may serve a function of allowing people to go swimming (though many aren't even big enough to do that comfortably) but they don't necessarily look very nice to achieve that goal.
With an inground pool, you get the best of all worlds. You get an aesthetically appealing addition to your property that enhances its overall look while also giving your family a place to swim and enjoy the water.
With an inground pool, the contractors have excavated an opening for your pool to be poured so that it is easily accessible to surfaces like a patio or a nearby lawn. Inground pools are much more luxurious and appealing for this reason. They become part of the landscape and create more of an oasis and a "vacation feeling" than an above-ground pool ever could. This is even truer when surrounding landscaping and features are also added to the pool area. For these reasons, inground pools add value to a property in a way that above-ground pools never could.
For the purposes of this guide, we will assume that you're interested in the better choice—investing in an inground pool. Therefore the rest of this guide will only discuss inground pool options.
Pool Shape or Style
Another factor of "pool type" is the style of the pool that you choose. This will depend on factors such as your personal design preferences, your home's architectural style, and the rest of your landscaping.
While some homeowners prefer a more natural, flowing look to their pool (with some curves), others prefer the more modern, straight-line look of a linear pool. All of this can be customized exactly to your wants and needs with a custom gunite pool as opposed to a prefabricated one (we'll discuss this in more detail, later in this guide).
An Infinity Edge Pool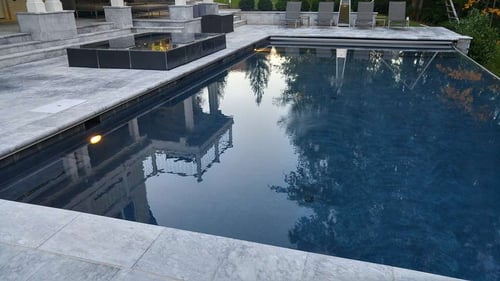 Another inground pool type is an infinity edge pool. An infinity edge pool (also sometimes referred to as a "vanishing edge" or a "negative edge") is a swimming pool where the water flows over one or more edge producing a visual effect of water with no boundary. They're often seen at high-end resorts.
An infinity edge pool is able to create this illusion since its walls slope downward away from the pool. This forms a waterfall over the edge. The water falls into a catch pool below, which is a basin that sits beneath the edge. This water is pumped back into the main pool. It's a highly desired but costly feature.
Choosing an infinity edge can take your pool to the next level in terms of its looks as well as your enjoyment of it—particularly if you have a property situated on a hill or a cliffside that overlooks a spectacular view. However, it's also an expensive feature and can add around 20 to 50 percent of the overall cost of the pool on average (sometimes even more). As with any decision when it comes to your pool, you'll have to determine how much personal value this feature adds to your project and whether it is worth it for you.
Pool Material Choices
There are three common material choices for an inground pool that are offered in Northern Virginia. These include fiberglass, vinyl liner, and gunite. The material from which your pool is constructed is obviously an important decision and you want to invest your money wisely so let's take a closer look at each one.
Fiberglass
A fiberglass pool is constructed in a factory or warehouse. The process utilizes a mold in which the fiberglass is shaped. For this reason, it is also often called a "prefabricated pool." It will then be shipped on a truck to your home and installed in the excavated hole. A fiberglass pool has a smooth surface, though some would say it is too "slippery." This may be a matter of personal preference.
Vinyl Liner
A vinyl liner pool features a sheet of vinyl between the water and the pool structure. Vinyl liners typically lock their top edge, called a bead, into a track located on the bottom of the coping. Underneath the liner is a sand or cement-like floor, depending upon what is used for the structure.
Gunite (Our Recommendation)
Gunite pools use a rebar framework that is sprayed with a concrete and sand mixture—a process that is performed completely on site which is why this type of pool is also referred to as "custom built." This spraying method is preferable over a traditional poured concrete pool that requires a wooden framework to hold the shape of the basin.
Due to its high level of durability, swimming pools that are built from gunite are truly built to last.
Because of the fact that it's constructed on site, the design possibilities for a gunite pool are only limited by your imagination. That means you can get incredibly creative with the shape and any features that you decide to include such as built-in rock formations or waterfalls. You are also not limited in colors of finishes. If you want something outside of the norm or super custom, then gunite is the way to go.
(Back to the Table of Contents)
Planning & Timelines for Your Pool's Design & Construction
It's quite common for homeowners to ask how long does it take to build a pool? While there are a number of different factors that can impact the timeline, we can at least walk you through an average timeline for how long it would take Rock Water Farm to build a pool.
Keep in mind that since we only install gunite pools that this timeline will be based upon that.
1. Completing the Pool Design (2 to 4 weeks or more)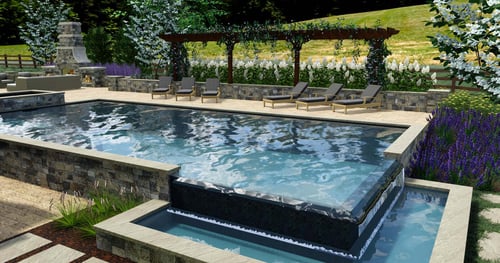 The entire process of adding a swimming pool to your backyard begins with a design—a step that is much more involved than a lot of homeowners initially realize and that we'll talk about more in depth, shortly. A lot of homeowners underestimate the huge number of decisions that have to be made in the design phase. While the timeline to turn a design around is typically 2 to 4 weeks for the professional, a lot of times there is some back and forth before the design is truly finalized. Much of this will come down to how quickly you can make those decisions.
2. Consulting with an Engineer (1 to 2 weeks)
Once you've signed the contract and we have the finalized design, we pass the design off to an engineer for approval. This is an important step in the timeline for building a pool as it will ensure that the design is structurally sound and ready to move toward construction.
3. The Permitting Process (2 to 3 weeks or more)
The exact timeline for the permitting process may differ based on your local government and how fast they push papers. For a lot of localities, if you have a septic system, the permitting also has to go through the health department, too.
However, the more meticulous that your designer and engineer are, the easier this process is for municipalities. A less-experienced or detail-oriented company could miss something important, sending the design back into revision and setting the project back several weeks. That's why it's so important to hire someone who knows what they're doing.
4. Excavation and Spraying the Gunite (2 weeks or more)
Once the permits are approved, it's time to excavate and install rebar which are the steel reinforcing rods that help hold the structure of your pool. Throughout this entire process, there will be inspections performed, as well. When the rebar is in place, we can begin to spray the gunite.
5. Allowing the Gunite to Cure (4 weeks)
Once the gunite has been sprayed, it must sit for 4 weeks before the plaster can be applied. Plaster is the smooth finish applied overtop of the gunite that forms the surface of the pool that you actually see. Before that can be completed, the gunite must fully cure.
During this time, other elements of your complete outdoor living area can be built including the surrounding pool patio and its additional features.
6. Customizations, Finishing Touches (2 weeks or more)
Once the gunite is dry we apply the plaster and other finishing touches to your pool. Pool plaster is your waterproof layer. It serves to protect the pool shell and steel, and gives a smooth, luminescent layer that's easy to keep clean.
Total Time to Design & Build a Pool
What does that all add up to? From the time that we start digging until the time you can jump into your pool, it's an average minimum of 2 months. But that's assuming there are no unforeseen circumstances. The fact is, sometimes we do come across a problem we never could have anticipated such as buried debris in your yard or a hold-up with the local township on permitting. Sometimes even weather plays a role. But the goal is to always keep the project moving forward.
(Back to the Table of Contents)
The Importance of the Pool Design
We mentioned we'd come back to discuss the design phase in more detail as we believe it just may be the most important step of the entire process. After all, it is the design that will dictate the pool's construction and what it will look like upon completion.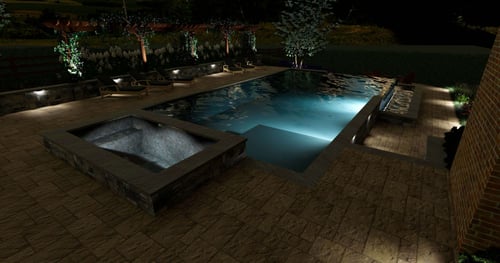 This is why you should know that not all pool area designs (and not all designers) are created equal. While many landscape contractors and pool builders work with 2D renderings that offer an overhead vantage point of your pool design, if you truly want to be able to immerse yourself in what your new space will look like, then you want a company that offers 3D design.
The best way to think of 3D design is that it brings a project to life before it's actually built. You'll be able to see exactly what it's going to look like and even virtually tour the space as it's shown on a computer screen.
When it comes to a space as important as your new pool area, you're going to want this capability. It will help you make decisions as you move closer toward finalizing your ideal pool design.
A Word about the Pool Design Meetings
Speaking of finalizing the pool design, as we mentioned, the design process often involves some "back and forth" between the homeowners and the company designing the pool. This is normal as homeowners seek to be certain they've created the pool that they truly desire.
However, you don't want the back and forth to go on too long as you obviously want to get your new pool underway.
That's why it's important to mention that design meetings should take place with all of the household decision-makers present. The last thing that you'd want is the design to be held up because of failing to be on the same page. There are dozens upon dozens of directions that could be taken on everything from size, shape, materials, and even features of the pool. We don't want to complete a design only to find out it's not what everyone wants and have to start over.
(Back to the Table of Contents)
Pool Construction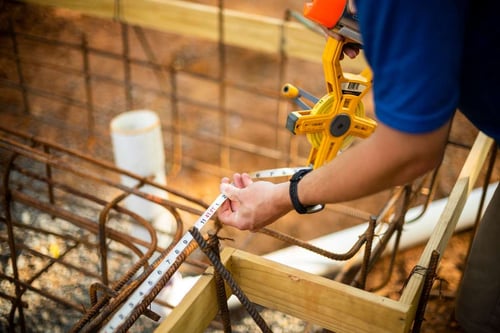 Understanding the construction phase of your pool will help give you an idea of what to expect once the process begins. Since Rock Water Farms installs custom gunite pools, we'll focus on explaining that process to you.
When building a gunite pool, pool companies in Ashburn, Aldie, and Leesburg, VA will start off by excavating a large hole. During the excavation phase, any trees, shrubs, and other existing ground obstructions will need to be cleared from that area. Once the excavation is complete, the pool's plumbing is installed.
Next up, comes the steel placement of the pool's structure. Gunite pools use a rebar framework grid (steel reinforcing rods) as the support structure inside of the excavated area. This will serve as the backbone of your swimming pool.
Once that structure is built, it's time to spray the gunite. The gunite mixture is a mix of cement and sand that is sprayed over the entire rebar support structure. The gunite will be smoothed out and then set to completely dry before a smooth finish is applied to the rough surface to complete the process.
(Back to the Table of Contents)
Landscaping Around Your Pool
The landscaping around your pool, including plantings and landscape beds, is so important to the overall look of the space. After all, you want your pool environment to feel like a paradise so that it's a space you never want to leave. Attractive plantings play an enormous role in that effort.
Making Wise Plant Selections
Of course, with the wrong choices made in pool plantings, you could negatively impact your experience. For instance, installing high maintenance trees or shrubs that require a lot of care—or those that drop a lot of debris that could wind up in your pool—could easily end up giving you more hassle than enjoyment.
Choosing plant material around your pool should be done with care. Your pool/landscape designer should be thinking about the following factors as they guide you in making the best choices:
Maintenance level
Environmental conditions
Full size at maturity
Sun and shade patterns
Roots
Keeping these factors in mind will help as you choose plants that aren't going to ultimately become problematic or fail to perform well in the space.
Boosting Aesthetic Appeal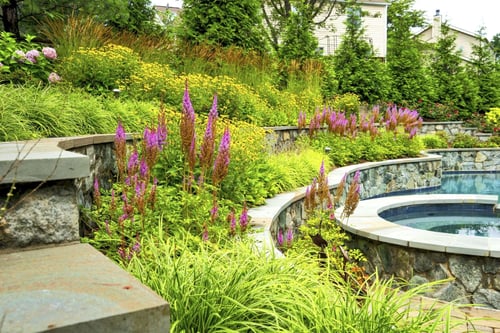 Since a big factor in landscaping around your pool is boosting its aesthetics, you need to be cognizant of the design and how it's going to impact your space. It's important to note that there is quite a bit of variation when it comes to bloom time. Considering the fact that you want to have visual interest from May through September (or maybe even longer if you have a pool heater or hot tub and use your pool area through the fall), you need to consider when plants will be blooming.
This is also important when it comes to placement. You don't want one area of the poolscape to bloom at a time. Instead, a good designer will think about evenly and purposefully choosing plants for all areas so that there is always attractive blooming occurring throughout the entire space.
Some blooming plants to consider adding around your pool include the following:
Styrax
Hydrangea
Viburnum
Dogwood varieties
Vitex
Purple Coneflower
Shasta Daisy
Catmint
Adding Privacy Plantings Around Your Pool
Another huge benefit to plant material around a pool is the fact that it can help you create some privacy screening. Of course, this comes down to proper design. While you may be inclined to think that tall trees or shrubs are the best screens (and they certainly can be helpful), it's actually more about how plants are laid out that helps create a visual barrier. Sometimes trees and shrubs that are wide or dense can act as the best screens. It all depends on your specific property. The design should be customized for your needs.
Some plants to consider using as privacy screens include some of the following:
Viburnum
Green Giant Arborvitae
Hornbeam
Cryptomeria
(Back to the Table of Contents)
Pool Essentials that Shouldn't be "Extras"
When you think of your swimming pool, chances are you imagine an entire pool area—not just the pool itself. You imagine lounging on your pool patio, cooking burgers in your nearby outdoor kitchen, and maybe dining in your adjacent pavilion.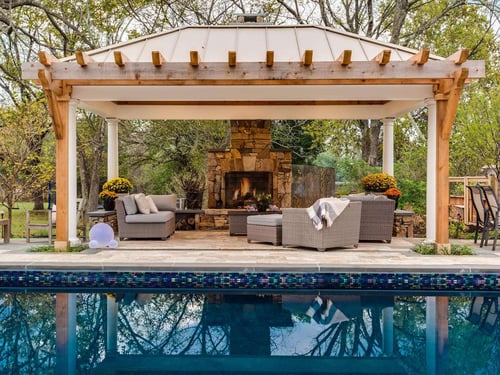 However, when you work with a pool company that only builds pools, then all of those features suddenly become "extras" that require you to hire a landscape design/build company that can add them (and hope that the initial pool design wasn't counterintuitive to adding them in later).
We believe that these features are actually pool essentials that should be part of the complete pool area from day one so that you can truly enjoy your space to the fullest. It makes the most sense to include these elements in the initial design so that you can be certain that everything is going to come together the way you want it to in the end.
Of course, some of these features aren't just about enjoyment, they're about functionality and aesthetics, too. Even features like retaining walls and site grading are things that could be left undone if you choose to work with a pool company that is only going to install your pool and move on.
The fact is, a pool builder is just focused on digging the hole for your pool and not how that hole is going to affect the rest of your property. For instance, improper grading can cause elements of the landscape such as mulch or mud to wash into the pool or onto the deck. You might require a retaining wall or new grading to adjust this problem—but a pool company may not be thinking beyond the pool.
When your pool is finished, you want it to truly be finished. You don't want to start all over with a new project and a new company. You want to be able to get out there and start enjoying every aspect of your new space.
That's why it makes sense to choose a company that can add features, including the following:
Pool patio
Outdoor kitchen
Landscape lighting
Pavilion or pergola
Retaining walls and site grading
Walkways and steps
Fire features
Pool plantings
Poolhouse
(Back to the Table of Contents)
Phasing Your Pool Project
Of course, sometimes your budget doesn't allow for you to add all of the features you desire at once. If that's the case, then you might be interested in phasing your pool project. By working with a landscape design/build firm that has the expertise and the capability to create a "master plan," then this can be achievable.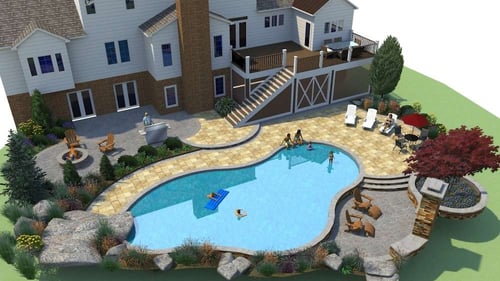 A phased pool project might start with the pool itself and the surrounding patio. During the time of this construction (phase one), we might also install footers for your future pavilion and run gas, plumbing, and electric lines for your future outdoor kitchen. These additional items might be built in one or two future phases over the years but because they were planned for now, you won't need to have your pool patio area re-dug up at a later date. That will save you both money and headaches.
On top of that, because these future projects were planned for in a master design, you can also feel confident that everything will look like it goes together. This is oftentimes where "future additions" go wrong. Each project looks like a totally new and separate project and the areas don't flow as though they were meant to go together.
Similarly, in the time leading up to the future additions, your project won't look incomplete, as though it's missing something. It will look like it was always meant to be this way and unless you tell friends and neighbors about your future plans to build an outdoor kitchen and pavilion, they won't know that your project isn't finished. This is important as you don't want to live with a project that looks "half-finished" for the years that you're waiting for the next phase to begin.
(Back to the Table of Contents)
How Much Does it Cost to Build a Pool?
When it comes to getting an idea of cost, you can easily find some numbers online. However, without context (that is, understanding exactly what you're getting for that price), an online search can be misleading.
For instance, an online search for the "average cost to install an inground pool in Northern Virginia," might land you on a figure like $50,000. But what exactly are you getting for $50,000? Most likely, a very small pool and absolutely no surrounding patio area or other amenities. The pool may even be constructed from an inferior product, such as being a vinyl-liner pool, at that price point.
The truth is, the starting point for a pool is closer to $100,000, and even that is leaving out some of the features that most of our clients desire. At Rock Water Farm, we install full-size custom (gunite) pools (on average around 20 by 40 feet). Most of our clients want features like we've mentioned earlier. That brings our average pool cost to the $120,000 to $250,000 range.
You must keep in mind that the pools we are installing are never just a pool. We are installing an entire pool area that will become your family's backyard oasis. That's obviously going to make us cost more than the pool company that just installs a cheap pool and moves on.
Actually, failing to have features added or at least planned for at the time of the pool's construction can end up costing you more in the long run. Oftentimes once the pool is complete, homeowners realize that the space needs so much more to be the backyard living area they'd dreamed about. When adding those features in after the fact, the cost may skyrocket and require re-digging up the area and beginning construction all over again. That cheap pool is suddenly costing a lot more than had you just planned for those items in the original design.
(Back to the Table of Contents)
Types of Pool Companies in Northern Virginia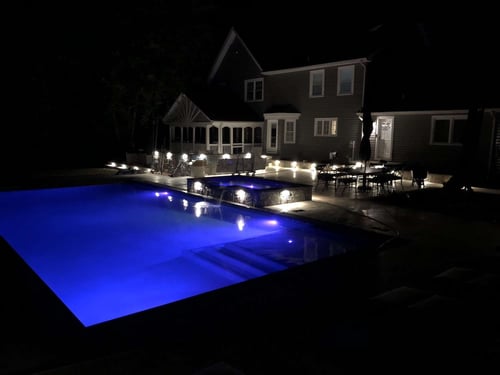 When it comes to who will build your pool, you have options. This includes working with a pool builder that exclusively handles pools or working with a landscape company that installs pools but also designs and builds landscape features. The biggest difference between the two is what they're capable of performing.
A lot of pool companies are aggressive about getting the sale of your pool, plunking in a concrete patio, and moving on to the next job as soon as they can. The pool building season in our region is short and understandably they want to sell as many jobs as they can.
But a pool builder like this is only focused on the pool itself—something that we refer to as "tunnel vision." With their sole focus being on the pool, they might fail to include some of the important features that we've previously discussed in this guide.
If you really want the full package—the backyard that has the outdoor kitchen under a pavilion, beautiful plantings, and a highly functional patio surrounding your pool—then you need to consider working with a company that has a landscape design expert on staff. That is, a company that not only knows how to design and install pools but knows how to work with entire landscapes. While it will be an important feature, in the end, your pool is only one aspect of your entire landscape.
(Back to the Table of Contents)
How to Choose the Best Pool Contractor in Northern Virginia
As with any other project that you hire a professional for, you want to feel confident that you've made a good choice. After all, a pool is no small investment and you want to be sure that the project will be completed exactly as you desire.
But how do you go about comparing one pool contractor to the next?
As with your search for any great professional or service, the internet is going to be a helpful tool. Take the time to perform your research so that you can narrow down your choices.
We recommend that you look at some of the following factors.
Pool Contractor Websites
Taking time to check out various pool contractors' websites can be incredibly helpful in getting to know more about them. But make sure you go beyond just their "About Us" page and delve deeper into the content they offer.
Do they have a blog that includes meaningful and useful content about pools and the features around them?
Do they offer special content, such as this guide, that can assist pool buyers in making decisions?
Do they have lots of photos and examples of past pool projects?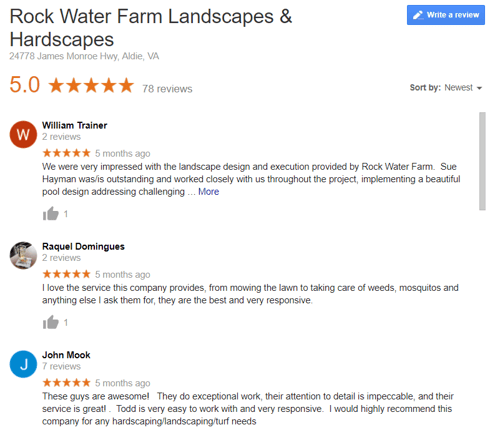 This should help give you an idea of their level of expertise. You want to find a pool company that has built many different pools over the years and can offer you lots of ideas and examples. Of course, you don't want to choose a company that only seems to build one type of pool over and over again. You want to find a company that can design and build the custom poolscape that you're truly after. The information on their website can help you determine this.
Pool Contractor Reviews
Of course, it always helps to hear what others have to say as well. Take time to read through the reviews that others have posted about the companies you're pursuing. You should look at third-party review sites like Google and Facebook and see what others have to say about this company you're considering.
Ready to Take the Plunge?
This is an exciting time for you and your family as your research is bringing you one step closer to the pool of your dreams. There's obviously a lot to think about (and a lot of important decisions to make) but putting in the time to ensure that you're making wise choices will pay off when you ultimately wind up with the pool that you truly desire instead of one that falls short.
While it is our hope that this guide will have covered a large majority of the questions that you may have had and helped you better understand what's involved in starting a pool project, we also know that you may have more questions.
At Rock Water Farm we are here to help.
As you move closer and closer to making your pool dreams a reality, we are available to be your guide. With a knowledgeable guide leading your pool creation experience, you'll be able to feel confident that your dream will come to fruition exactly as you've dreamed—or perhaps even better.
If you'd like to discuss adding a pool or poolscape to your Ashburn, Aldie, or Leesburg, VA backyard, talk to an expert, choose a solution that rocks, and then get ready to see your dream come to life.
(Back to the Table of Contents)
Not quite ready for a Pool Design Consultation? We have one more helpful resource, the Pool Planning Worksheet for you to view, print, or download.