The Pool Planning Worksheet
Ask the Right Questions & Get Answers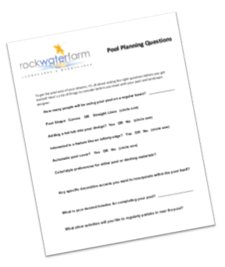 We hope you enjoyed the Pool Planning Guide. Want to start exploring what your new pool could look like?
The next step would be to explore the list of the most important questions to ask so you can get the pool of your dreams.
Please fill out the form on this page and you'll be redirected to a PDF of this planning worksheet. You can view, print, or download it.
We'll also email you a copy of the PDF so you can access it later and will also provide you with some more useful tips, pool pictures, and more!