Although it had a large and impressive yard, this Loudoun County, VA property in Willowsford, lacked functionality. Besides a few steps leading to the backyard, there was nothing there but lawn.
Starting from a blank slate always allows for the possibility of going in many different directions but the starting point is always the homeowners' wants and needs.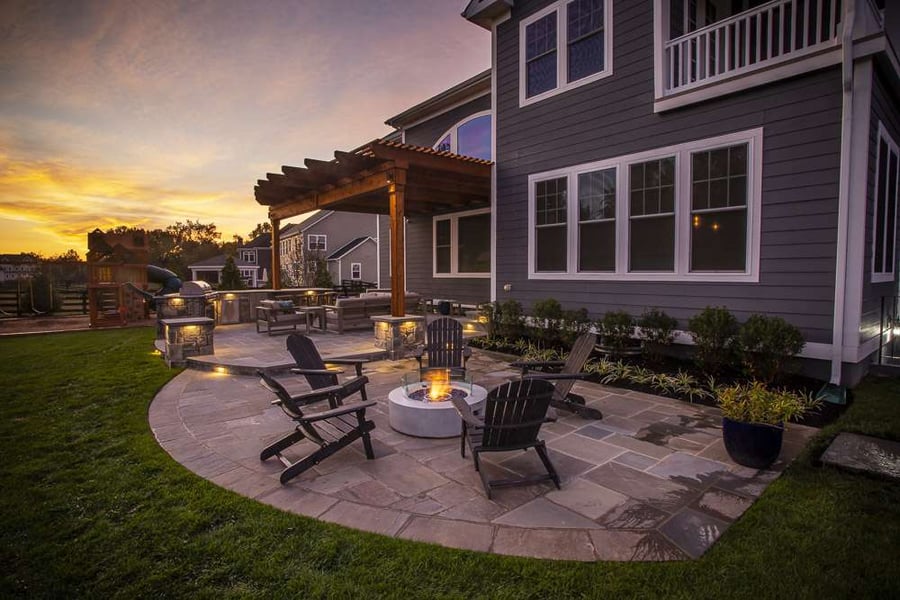 What do they envision for this space?
How will they use it?
Who will be using it?
Answering questions like these begins an in-depth landscape design process that allows us to take our clients' ideas and make them a reality.
One such story is the tale of a backyard transformation for one of our long-time clients.
Since the homeowners had children and liked to entertain a lot, these were two key starting points for this particular landscape design Loudoun County, VA. The idea was to create an outdoor living space that not only the whole family could use, but that could serve as a great entertainment destination when company came over.
A Spacious Patio and Pergola
Adding a large hardscaped patio was essential in terms of giving these homeowners the entertaining space that they desired. The patio is built from natural stone, a material that we work with almost exclusively given how much value it adds to a project. In this particular case, we used flagstone.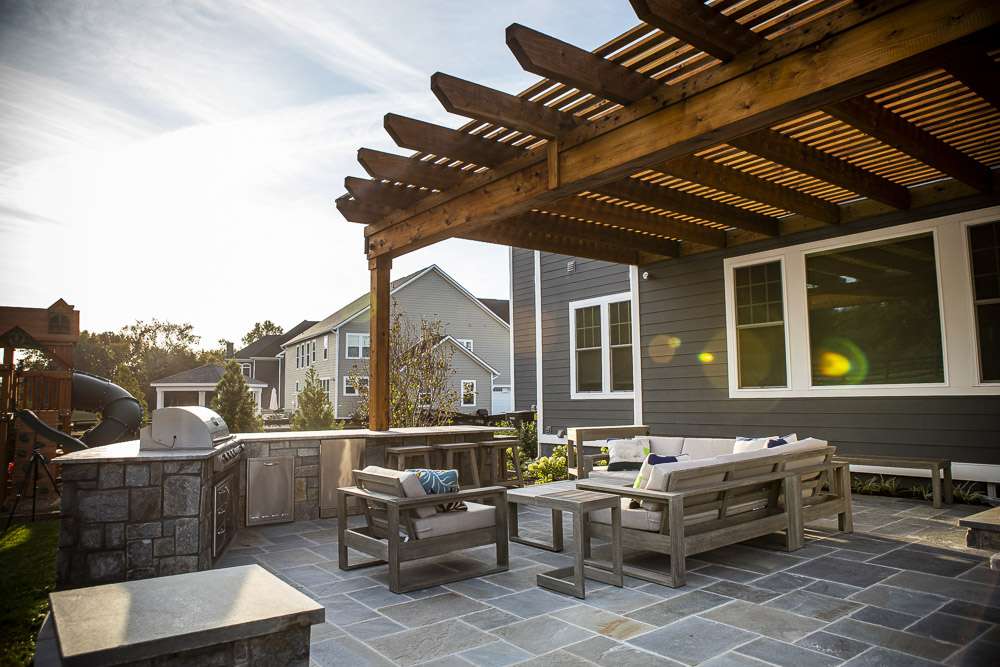 The homeowners also decided that it would be beneficial to cover the patio in order to create shade and make the space fully usable, even on hot summer days. However, because of the large windows on the home (which were part of the two-story living room), constructing a roof was not possible. Instead, we were able to add a pergola.
The pergola is solid cedar with four-inch-thick engineered beams that allowed us to build it using only two posts. This keeps the space very open and allows the homeowners to have a nice, full view of their yard without obstruction.
Paying Attention to Scale
This is no small feature, either. The pergola is an impressive 24-feet across!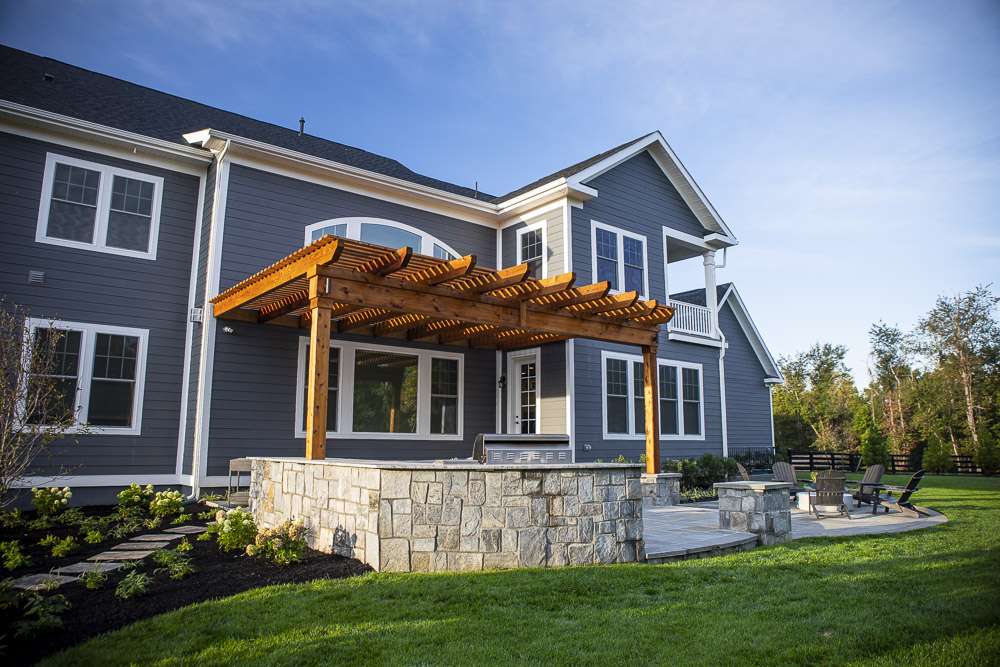 It's larger size is important (and intentional) given the scale of this project as a whole. With such a large yard (and now a large patio area) it didn't make sense to have a tiny pergola. It would look out of place and not serve much purpose.
You would think that all Loudoun County landscaping companies would pay attention to these types of details but chances are, you've probably seen a patio that was designed too tiny for a space, making it look out of place. Designing and building "to scale" is a really important aspect of any landscape project.
Filtered Light
In addition, beyond its beauty, there's no question that the pergola achieves the functional benefits that the homeowners were after. Because the pergola slats were designed and built so close together, it really does provide a lot of great shade—though enough light is filtered through to be able to fully enjoy being in the outdoor light.
Essentially, it gives the best of both worlds!
An Impressive Outdoor Kitchen
Another great aspect of this landscape design in Loudoun County, VA is the outdoor kitchen. It has everything that the homeowners could need to prepare meals outdoors. That includes a built-in grill with countertops, a built-in refrigerator, a built-in trash can, and of course, outdoor landscape lighting so that the cooking can be done in the evening hours, too.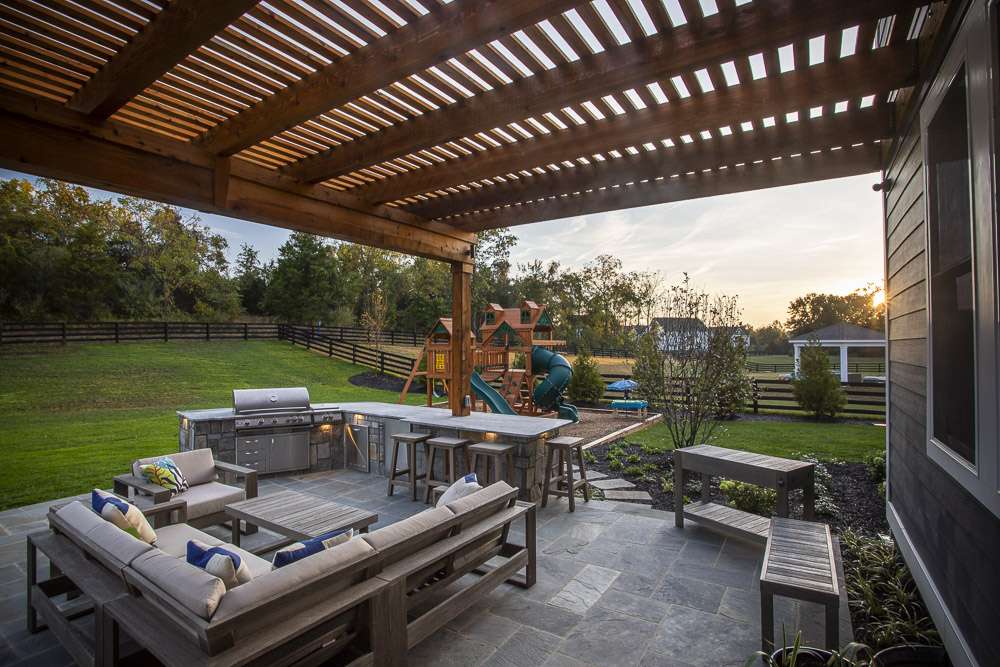 The design also features ample seating space. This includes an "eat-at-countertop" within the kitchen design itself, as well as two separate lounge areas—one with cushioned seating and a second one over by a gas-powered fire pit.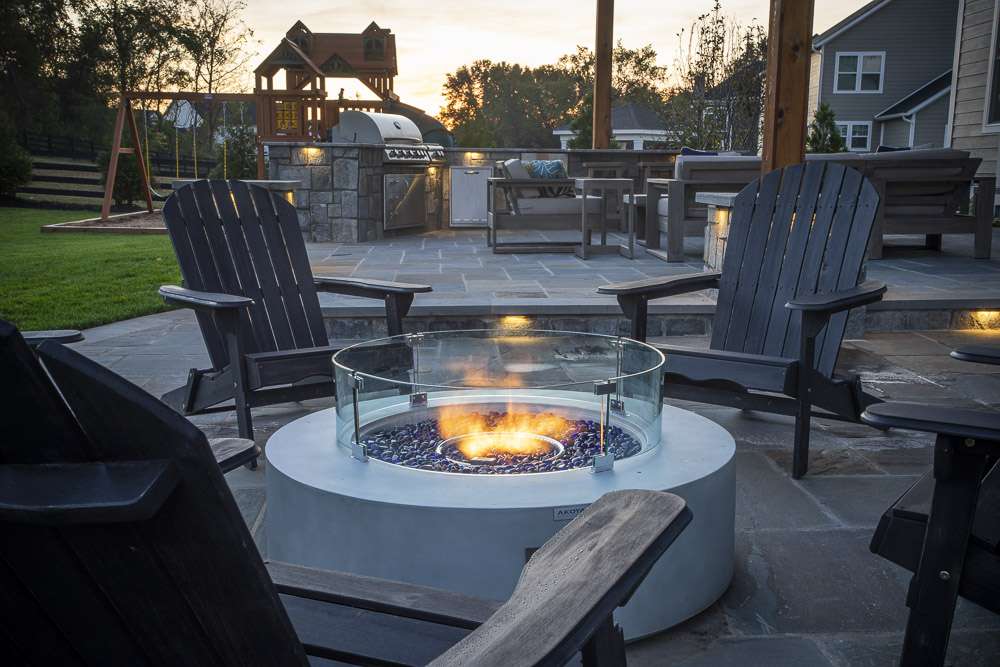 Out in the Yard
Since the homeowners have young children, they were also adding a playground to their property and desired a landscaped transitional space over to that area. We designed and built an attractive stepping stone path through a mulched area in which we also installed a variety of perennials that will provide some interest and color. This really dresses up the space while also providing the functional purpose of giving the kids a direct path over to their play set.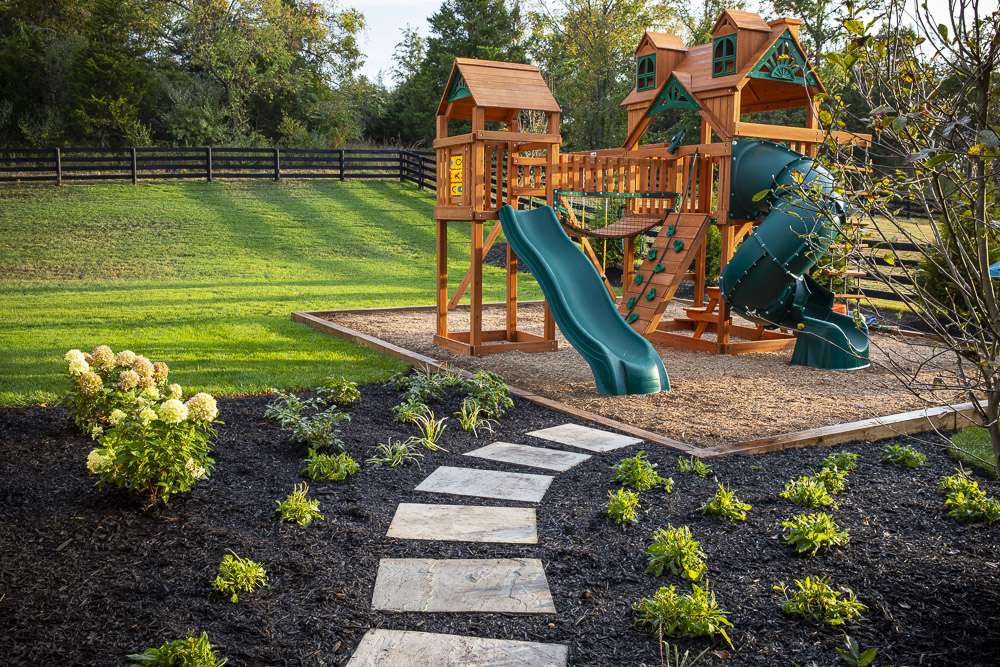 Of course, there's a nice clear view of the playground area from the patio thanks go the open space design. Now, when the homeowners entertain, the kids can have their own space but the adults can still maintain a close eye.
Phasing for the Future
Although you would never know it because this project looks like it's finished as is, this is actually phase one of a two-phase project.
Phase two is a future swimming pool.
Phasing is a great way to budget for a large-scale landscaping project by having it built over time. But it can't be achieved the right way unless you work with a master plan from the very beginning. Otherwise, you risk it looking phased (or "pieced together").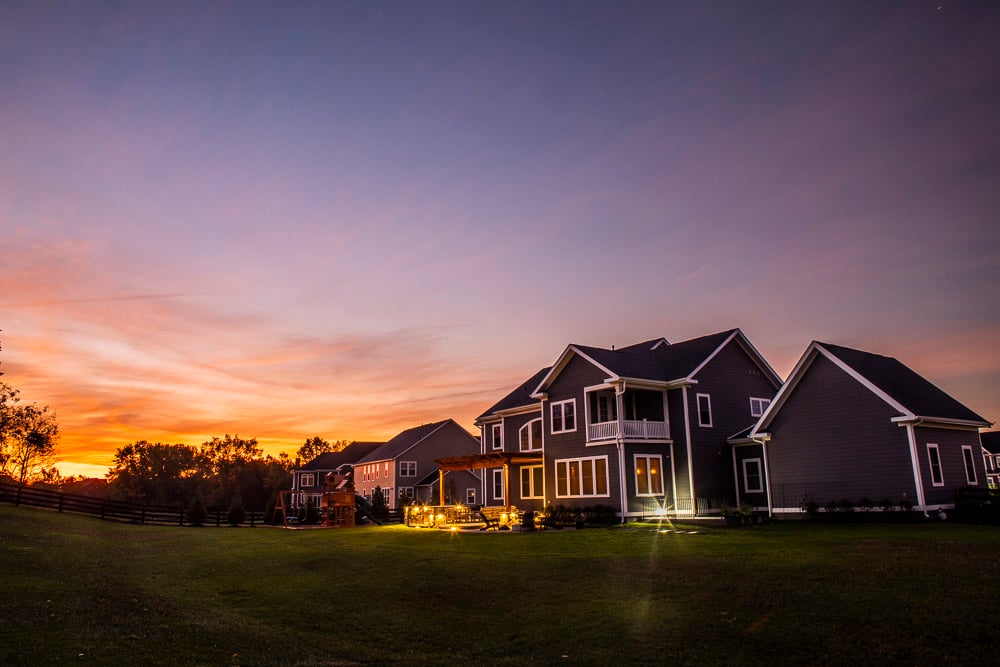 Instead, working from a plan in which you know where each and every item within the landscape is going can ensure that it all comes together in the best way possible. It also allows you to plan space-wise. After all, what could be worse than finding out that you don't have the right amount of room for your swimming pool because it wasn't planned for appropriately?
Working with Loudoun County Landscaping Companies
In order to get the results that these homeowners desired, they knew that working with a great landscaping company would be a key to their success. There are a lot of companies that build patios that end up being cookie-cutter designs but they wanted something original.
Along with that, these homeowners knew that with the future addition of a swimming pool, they needed to work with a company that had strong landscape design abilities (and also would know how to appropriately phase a project).
These homeowners knew that their choice matters. And yours does, too!
Making the right choice amongst Loudoun County landscaping companies can be the difference between a project that meets all of your wants and needs and one that falls short of what you desired. Fortunately, for these Willowsford homeowners, making a wise choice has lead to them being able to enjoy their new backyard to the fullest.
Are you ready to find an expert who will bring your ideas for your Ashburn, Aldie, Leesburg, or Willowsford home to life? If so, talk to an expert, choose a solution that rocks, and get ready to see those dreams become a reality.