Posted by

Todd Thomasson on Jan 20, 2021 8:43:19 AM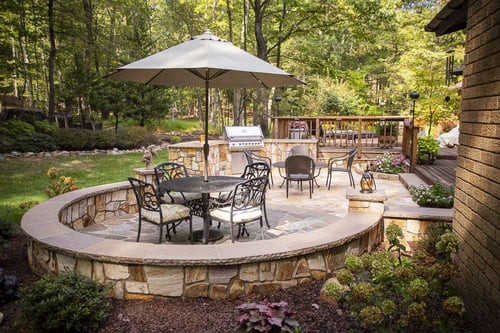 As you plan the landscape design for your outdoor living area, you'll find that the so-called "little details" are not so little after all. In fact, every single detail of your project truly matters if you want to have a space that you can use and enjoy to the fullest.

Of those details, seat walls are an important consideration.

A seat wall is a short wall that is purposefully designed so that it can also be used for seating. It can be a great way to double the value of a retaining wall that you already need for erosion purposes. But seat walls can also solely be built for aesthetics and for seating (even if a retaining wall isn't functionally needed).

Although it might appear like one of those seemingly small details, a seat wall can be an incredibly welcomed addition to your outdoor living area, helping you to use and to enjoy your space more fully.

Here are some important landscape design ideas to keep in mind if you're considering a seat wall for your Great Falls, Ashburn, Or Leesburg, VA home.
Best Uses for a Seat Wall
As we've mentioned, a seat wall can be a great opportunity to "double the value" of a retaining wall. Retaining walls can often be a necessity to control erosion. Even a gradual slope in your yard could lead to washouts of your landscaping. A retaining wall works by holding back that erosion. They are often used in conjunction with grading.

Many times, that retaining wall can also be used for seating if it's in a hang-out area such as near or around a patio or near a pool.

But, some homeowners want a seat wall even if they don't have the erosion control needs. A short wall around a patio can be a great way to add "overflow seating" if you're hosting an event and all of the chairs or couches are being used. In fact, seat walls can be a really great way to add more sitting room without the need for adding more furniture (which might be a necessity in a small space). In this way, they can be a really great way to increase the number of people you can entertain in your space!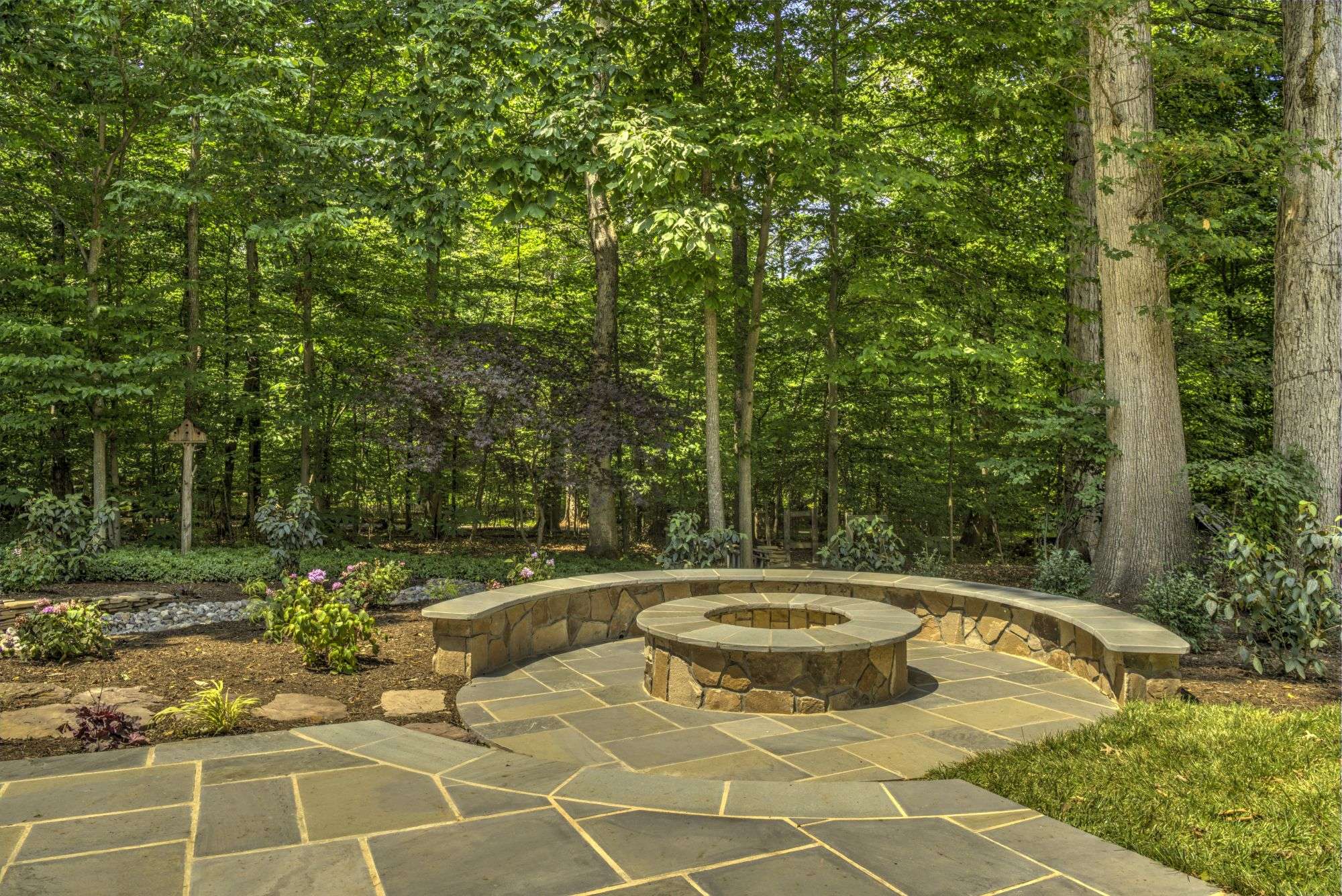 We find that homeowners also like the idea that a seating wall can play a role in defining a patio. A rounded wall around part of the patio can help make that spot feel a little bit more intimate and cozy—like it's its own little "room." Since so many homeowners love the idea of a "multi-room" outdoor living area, this is an important detail.

Many times when we have these rounded bump-outs with seat walls, it also naturally becomes the ideal spot for a built-in fire pit. The seat wall provides extra seating around the fire pit and, again, helps to define that spot from other areas. Perhaps you have one area on the patio where guests will dine. Then, this bump-out because a cozy place to move to for after-dinner drinks around the fire.

We've even made a fire feature part of a seat wall by incorporating an outdoor fireplace into the wall itself. This really helps to make the fireplace an integrated element.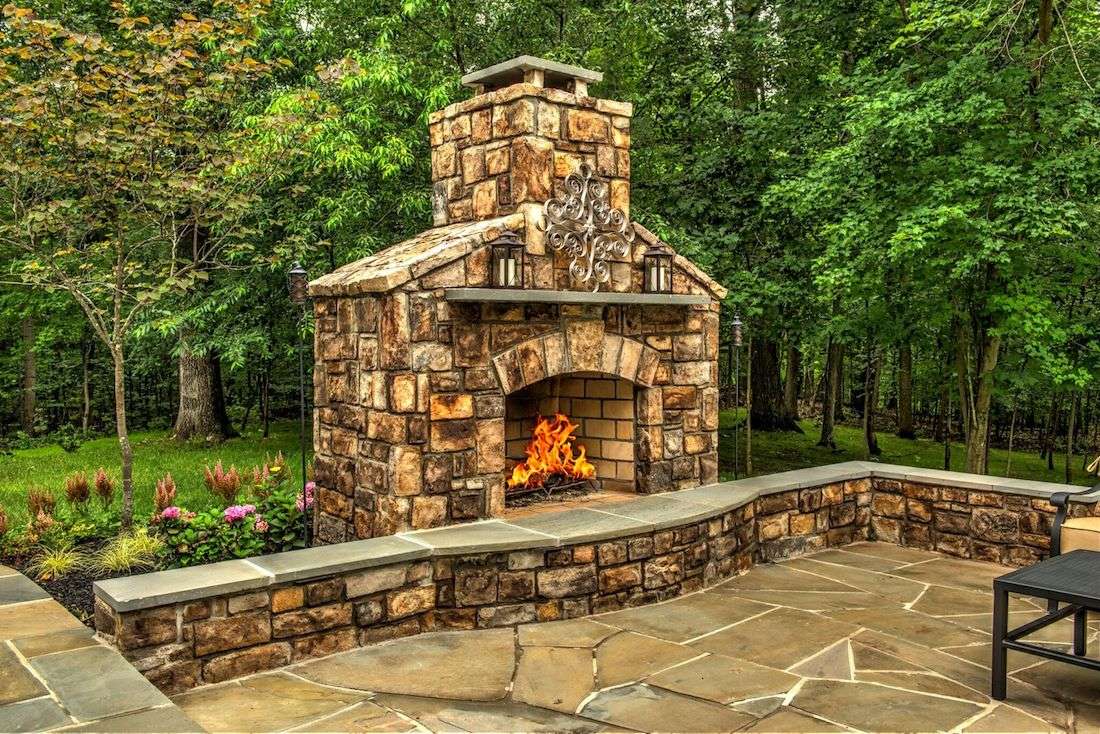 Important Considerations for Your Seat Wall
To make your seat wall even more functional and aesthetically pleasing, here are a few landscape design ideas to keep in mind.
Add Lighting
Incorporating lighting into your seat wall can be both a functional and an aesthetic addition. Landscape lighting obviously plays a valuable role in making a space more useable by providing light when the sun goes down. You want people to feel safe as they're navigating the area where the seat wall is situated.

But lighting around a seat wall looks great, too. It makes the area even more inviting.
Incorporate Wood Storage
If you have a wood-burning fire feature and require wood storage, a seat wall could potentially pose an opportunity to be a place for built-in storage. Instead of having a pile of wood sitting on your patio, which could be an eyesore and also take up room, this can be a way to store it more discreetly!
Consider the Seat Wall Height
Of course, if you want to ensure that people can comfortably sit on your seat wall, you'll want to make sure that your landscape designer is considering the optimal height. Generally speaking, the ideal seat wall height is usually somewhere between 18 and 2 inches, including capstones, but this can vary based upon your specific needs and your design as a whole.

You just want to be sure that your landscape designer is taking it into account so that it's a comfortable sitting height for your family and friends. The last thing that you'd ever want is to be unhappy with the seat wall because it feels awkward! Then it completely defeats its functional value.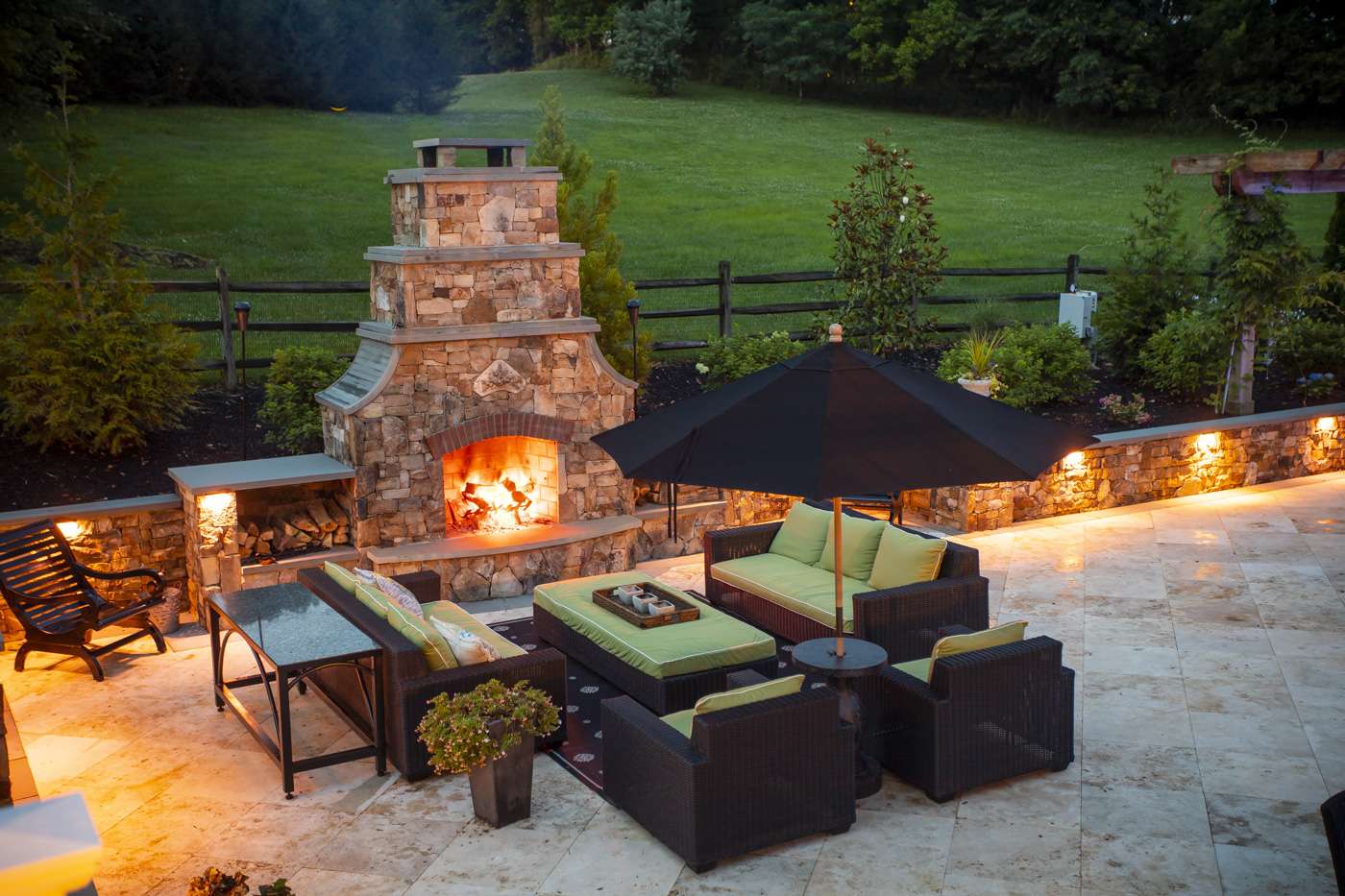 Think about Multiple Walls
A sloped property can sometimes require more than one retaining wall for erosion control purposes. If that's the case, you won't necessarily need each wall to become a seat wall. You might have some lower walls specifically for erosion control (but would be too short to sit on) and some mid-level walls that could also function for seating.

Of course, you want them all to look good together, from an aesthetics point of view. They should flow seamlessly in the design.

This is all something that your landscape designer should be thinking through (while looking at the big picture). There will certainly be areas where it doesn't make sense for people to sit or maybe where you don't want them to sit. By taking all of that into account during the design process, you ultimately control the "finished product" of how traffic will flow in your space and where people will find a seat.
Add Landscaping Around or Near a Seat Wall
The landscaped areas near or around your hardscape areas can also go a really long way in adding some color and also "softening" the overall look. Just keep in mind that smart plant choices are really important near hardscaping. The last thing that you'd want to do is choose a plant with invasive roots that could start causing trouble beneath your seat wall or patio.

You would also want to avoid plants with thorns near a seat wall since this will only end up snagging clothes or scratching the people sitting there. You might also want to think about keeping plants that attract bees away from the seating wall.

There is often more that goes into plant choices than people think, but a landscape designer can help you make the best selections.
Dress Up Your Seat Wall
While this isn't part of the landscape design process, we also wanted to offer a tip of dressing up your seat wall and making it more comfortable with cushions, pillows, or even blankets. This is something that we've seen homeowners do once their landscape project was finished and we can see how it helps "complete" the look of the space. It can add color and also make it cozier to sit there!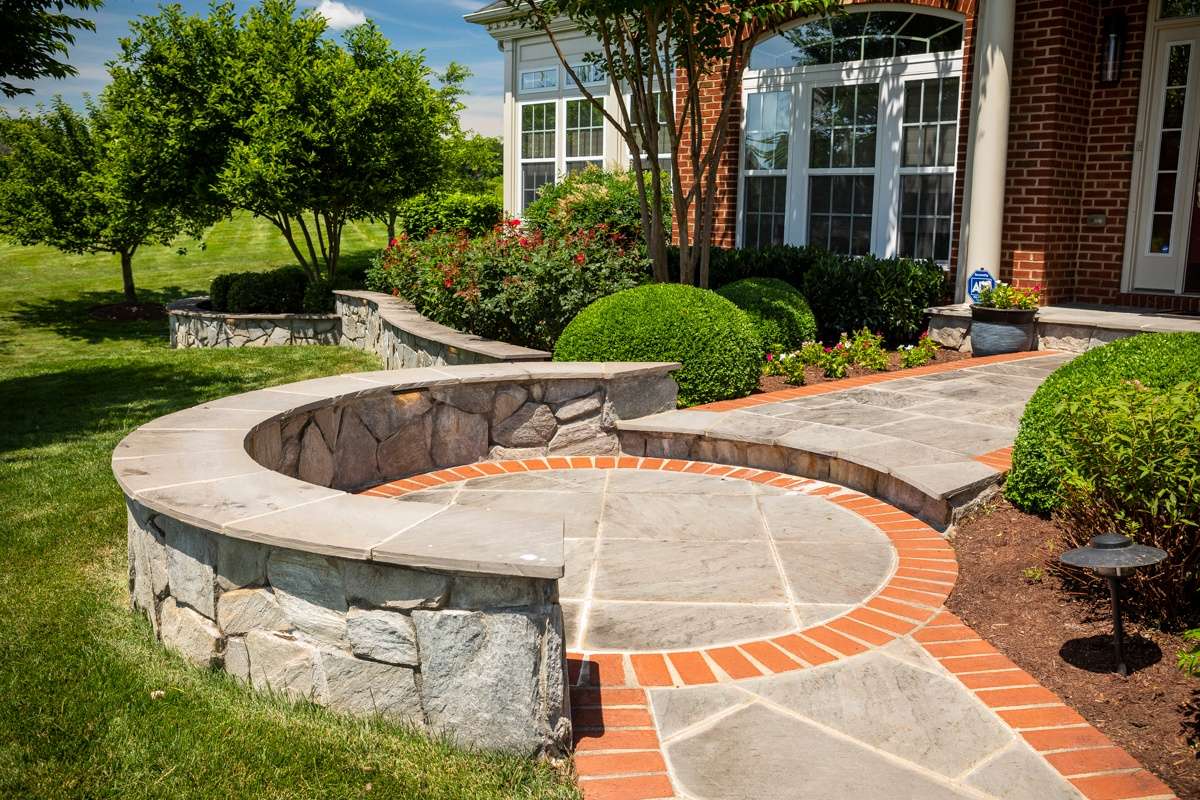 Working with a Landscape Pro with Seat Wall Experience
While you might think that a seat wall is a relatively simple hardscaping project, it can be more complicated than you might realize. The last thing that you'd ever want is for a seat wall to structurally fail as this can create not only a headache but a legitimate danger on your property.

If a seat wall is serving a purpose as both a place to sit as well as a retaining wall, it must not only be able to hold up to people sitting on it but be able to withstand the erosion that it is holding back. If it's not built properly, it might fail.

This is why it's so important to hire a landscape professional who has the experience and does not cut corners such as failing to excavate properly or to address drainage concerns. If drainage is not addressed, water can build up behind the wall and start causing it to lean. Over time, it might even start to fall.

We've also seen contractors cut corners by using cheap materials. This can have an impact on the aesthetic and the performance of your wall.

The bottom line is that when a wall isn't built the right way, or when cheap products are used to build it, it can be incredibly detrimental. It's simply not an area where you want to compromise. On top of all of that, you also want to make sure that your seat wall looks good in the landscape design as a whole. You want it incorporated in a way where it's a truly decorative addition, not an eyesore!

All of this boils down to your smart choice in a landscape professional who has an eye for design and a lot of experience building outdoor living areas with seat walls.

Using a talented landscape designer who can make sure that all of these considerations are taken into account will help give you confidence that you're getting the full value out of your investment. At Rock Water Farm, it is our mission to help make your backyard dreams come true in a way that you'll be able to truly love (and use) to the full extent. There should not be a single detail overlooked! When it comes to your outdoor living area, we understand that every detail really does matter.

If you're ready to create an outdoor living area with a seat wall at your Great Falls, Ashburn, or Leesburg, VA home, talk to an expert, choose a solution that rocks, and get ready to enjoy your property to the fullest!