Posted by

Todd Thomasson on Sep 24, 2020 10:38:00 AM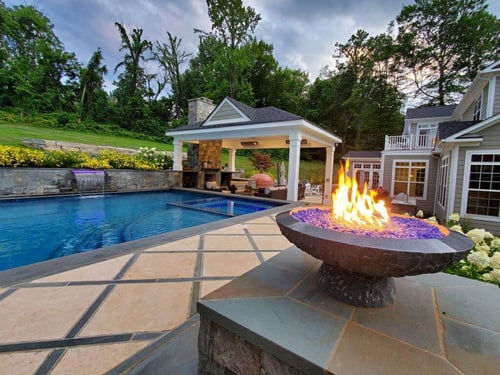 Are you thinking about having a backyard wedding? Here in scenic Ashburn, Leesburg, and Great Falls, VA, backyard weddings have been an ongoing trend. Many people prefer the intimate nature of a backyard wedding and the ability to have so much control over what's going on.

If you're thinking about having a wedding in your backyard, then you might be looking for some backyard wedding landscaping ideas.

Over the years, we've had a number of clients contact us about backyard wedding landscaping and we've worked on a variety of projects. So, we have lots of ideas as well as tips to keep in mind as you plan.

We want to impart some of what we've learned in order to help you make wise choices for your special day. Getting a yard ready for a wedding can be incredibly exciting.
What's in Your Background Will Be In Your Photos Forever
One of the great joys of wedding photography is its ability to capture your special memories and "freeze time." But when you think about getting that perfect shot, you have to keep in mind that whatever is in the background is going to be in those special photos forever.

Many years from now, when you're perusing those photos, you don't want to be cringing because you had a messy landscape cluttering your photos.

That's why it's important to not only pay attention to the immediate area where you may be hosting a wedding and reception, but also any areas that will show up in your photographs. Make sure that your landscape is cleaned up and that you have a spot to take those picturesque images.

Maybe it means having a seasonal flower installation completed in a plant bed that you're going to leave there. This is a great opportunity to add some beauty to your backyard that you'll be able to enjoy forever. Or, maybe you don't want to make a permanent installation and want to have some container gardens created which can be moved anywhere on your property.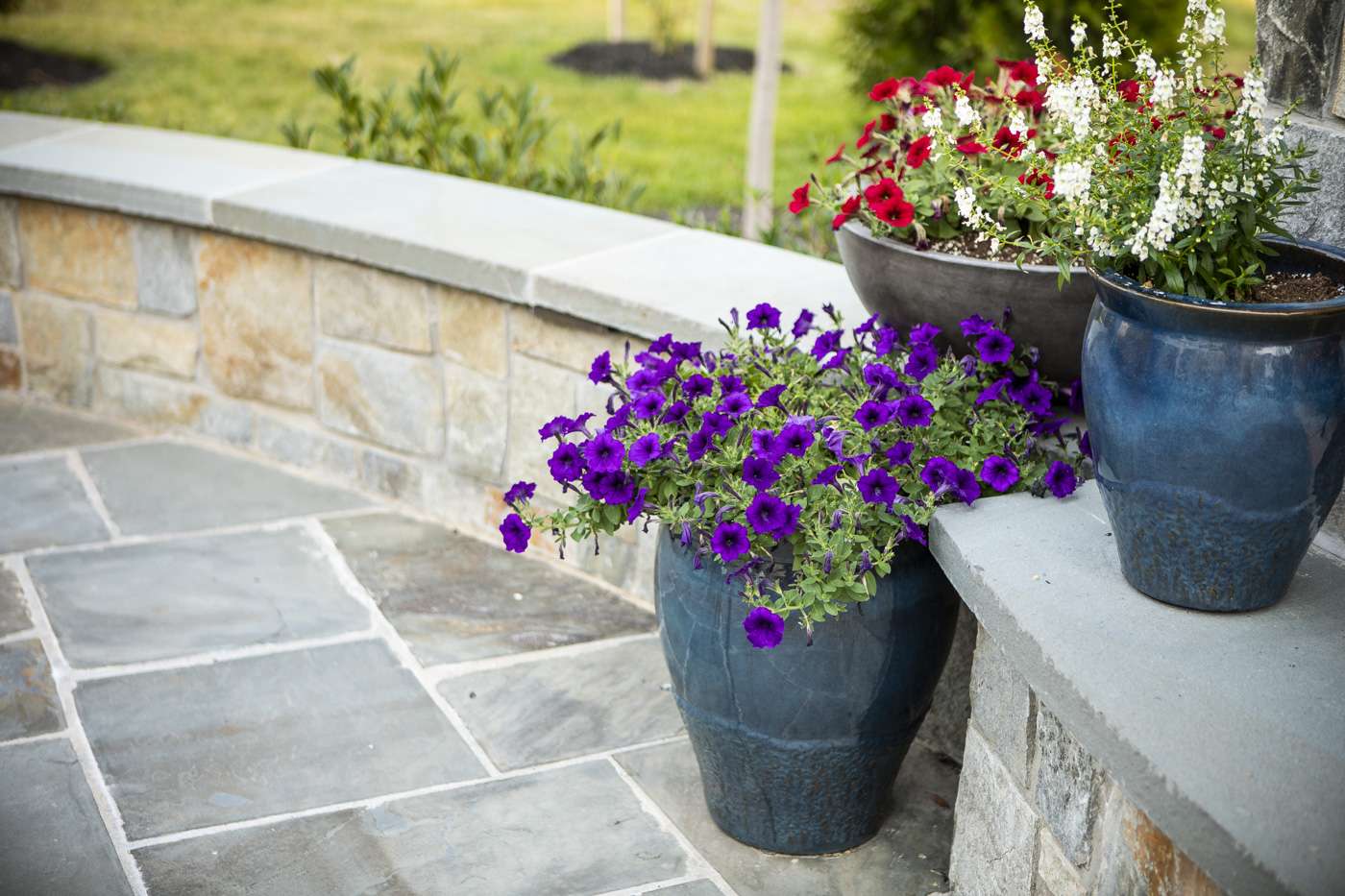 Ornamental trees and shrubs can also make lovely backgrounds for photography but might need to be cleaned up and pruned in order to look their best. The last thing that you want is to have a messy background. But even worse, you really don't want your blooming tree or shrub to fail to bloom because it was pruned improperly. When pruning mistakes are made, you can actually ruin a plant's ability to bloom for a season. If you were counting on those blooms for a background, that can be detrimental.
You Can Add Touches of your Wedding Colors to the Backyard Wedding Landscaping Design
As you think about plant choices for your backyard wedding (including what's going to appear in the photos), you might want to consider your wedding colors. There are so many wonderful ways to incorporate color into the landscape design with different plants.

Many plants have colorful blooms and foliage which can be matched to your wedding colors for an enhanced experience both in-person and in your photos. This might be accomplished with a seasonal installation primarily made up of annuals. This will give you one-time blooms.

But, if you install perennials with your wedding colors, those flowers will keep coming back and provide you with a special, ongoing reminder of the wedding day.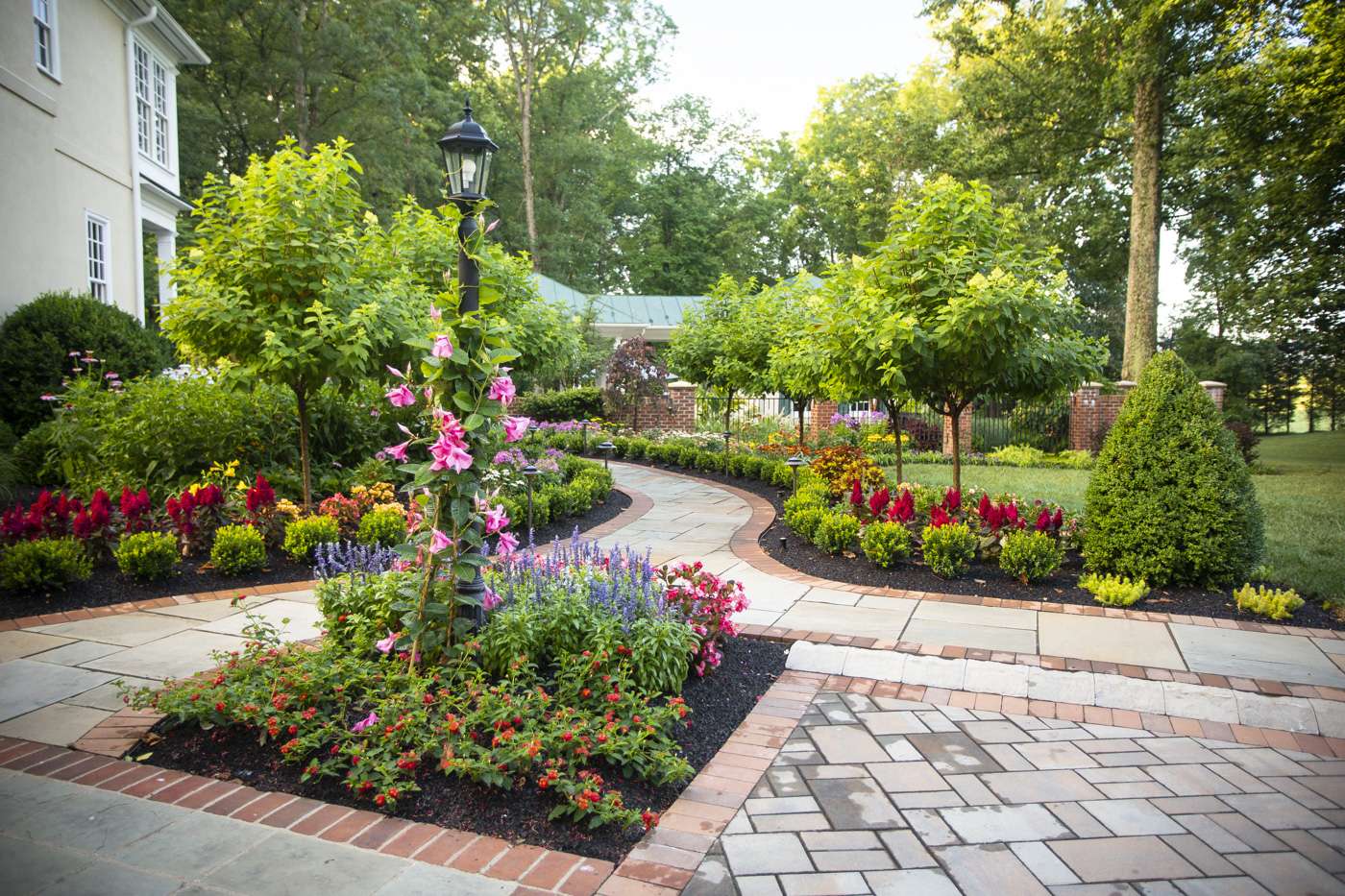 Don't Forget Hardscaping for Your Backyard Wedding Landscaping Plans
Over the years, we've designed and built a number of patios for backyard weddings. Even though a wedding might be the catalyst for you to go through with a patio build, you gain the benefit of having that hardscape space forever. This is a major gain as hardscaping in the backyard adds tremendous value.

Sometimes the patio is thought of as the area for the bride and groom to stand as they give their vows. The guests can be set up in chairs on the lawn. Or, sometimes, homeowners want a large patio where they can place tables for a reception.

It's all going to come down to your specific wants and needs. Your wedding plans as well as your future use of the patio should both be taken into consideration to create a design that will meet your needs now and in the future.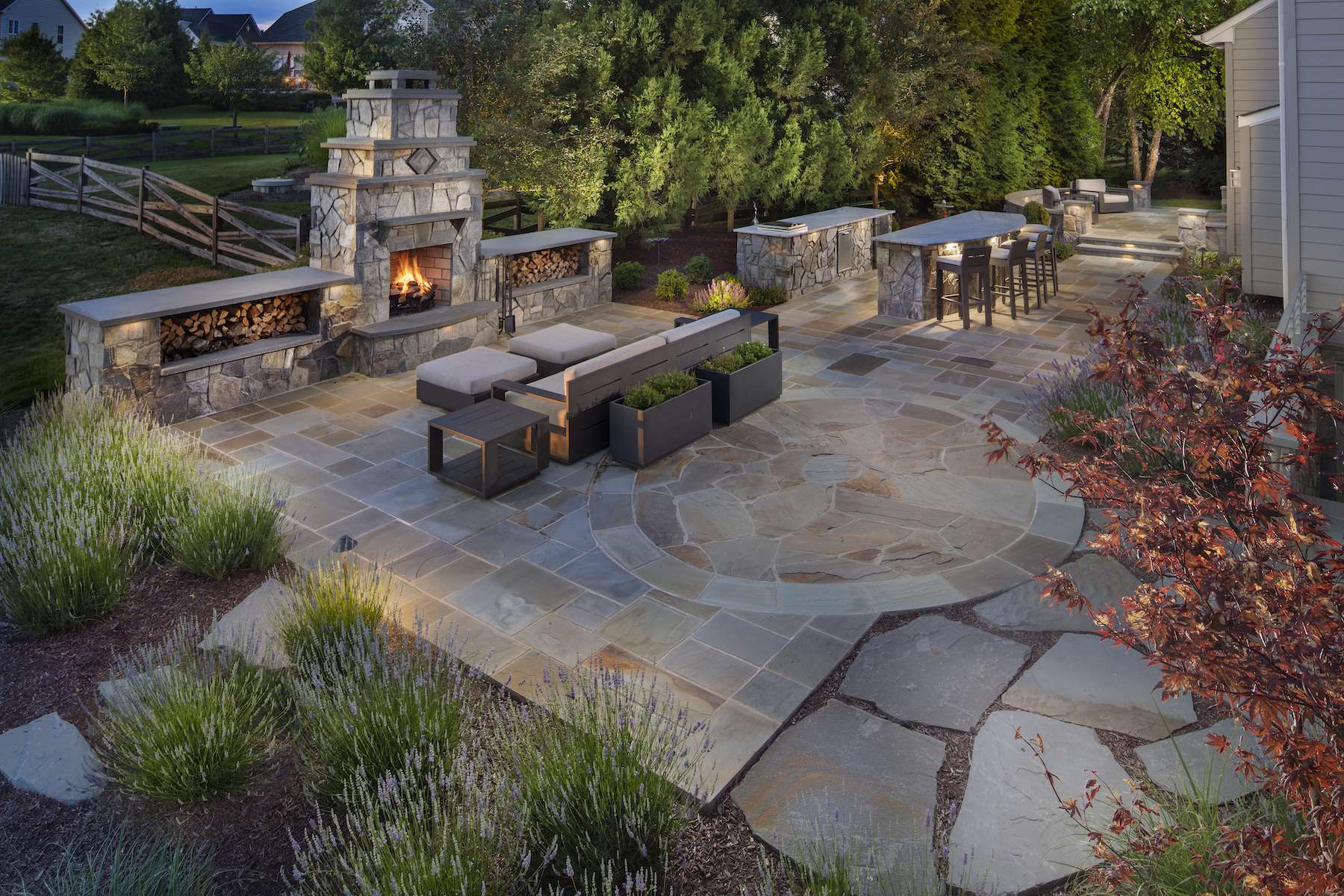 Beyond a patio, hardscaping might also include walkways or steps (if you have a sloped property that needs to be more easily traversed). The idea is to make sure that your entire landscape is well-connected so that it can be easy to move around. This will be important not only for your big day, but for using your entire landscape to the fullest in the future.
Consider Different Outdoor Rooms for Different Purposes
When you think of how a wedding and reception plays out, you know that there are different "events" often in different areas of a venue. There might be the wedding in one location, the cocktail hour in another, and the reception in yet another spot. Maybe there is even an "after-party" location.

You can create the same experience in a backyard by creating different "outdoor rooms." This is how people also want their outdoor living areas designed so that they have different spaces for different purposes.

For instance, if you're having the wedding on the lawn, then perhaps you'll be having cocktails over in a bar area you have set up in a different area. Next, you might be having dinner on the patio. Finally, perhaps you'll want all of your guests to move over to the outdoor fireplace area which is cozier and more intimate, for some after-dinner drinks.

Having these different spaces will benefit you later by giving you a total outdoor living space where you can entertain in many different ways.
Consider the Long-Term Benefits
Over the years, we have worked with a number of clients who had the end goal of having a backyard landscape design completed in time for a wedding. These folks decided to spend the money that they would have spent on a professional venue on creating a spectacular backyard that they'd also be able to enjoy in the future.

After all, one of the biggest benefits of backyard wedding landscaping is the fact that you get to keep the backyard.

That means that when the wedding is over, you still have a beautiful backyard to enjoy for years to come. Whether you are hosting a family member's wedding, or your own, you now have an amazing space that not only holds special memories but can be enjoyed for future events. That might just be a cozy dinner with just your immediate family but it could also be a baby shower, a graduation, a birthday party, or more. With your beautiful space completed, the possibilities for the future are now endless.

In fact, even if your future does include selling your home down the road, you've now made it much more valuable. Imagine when a buyer looks at your home with its beautiful outdoor living space and compares it to another home in your neighborhood that doesn't have such an area. It's an easy choice! With so many home buyers specifically seeking outdoor living spaces, you'll be able to get more money out of your home in the future.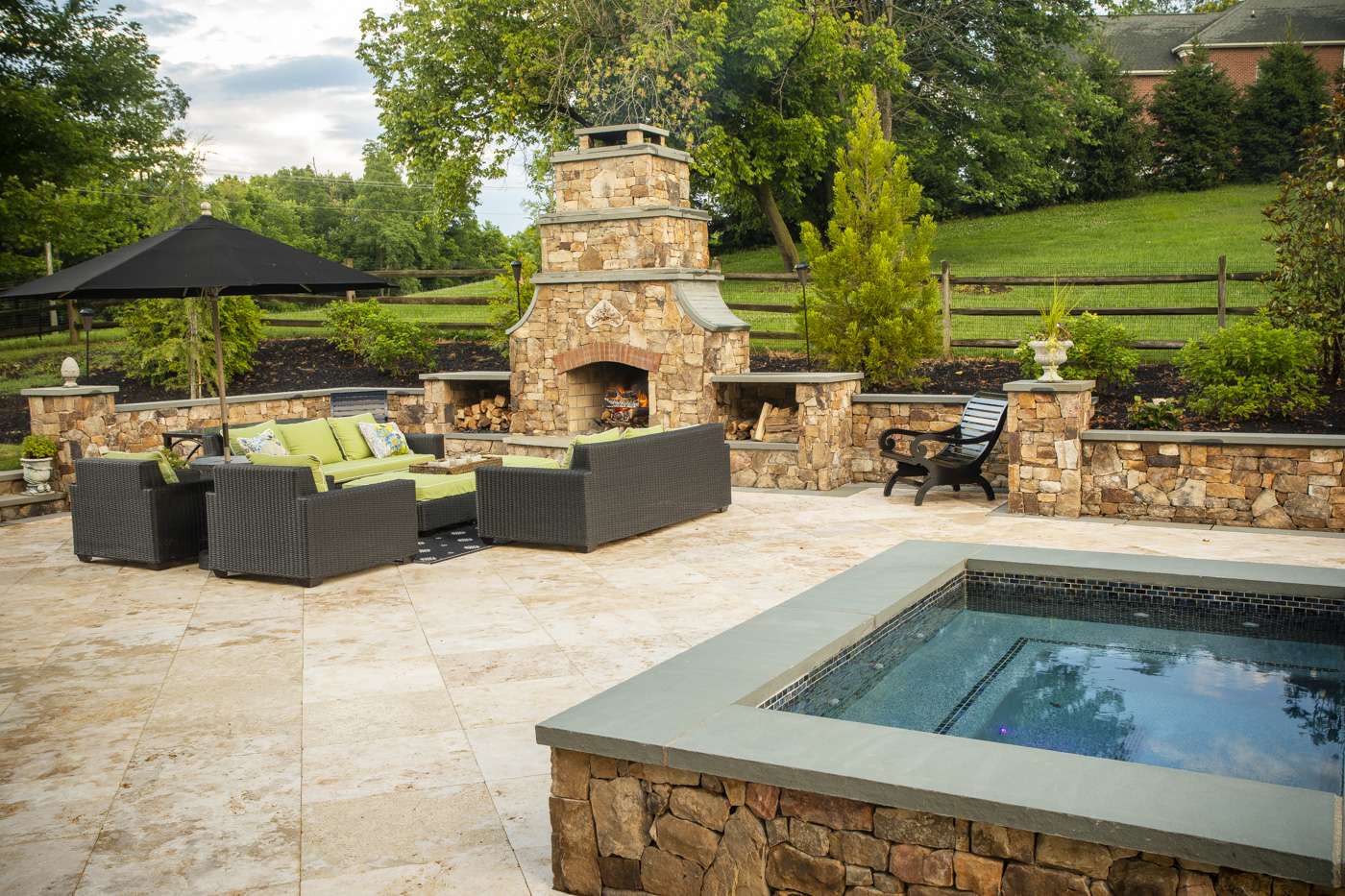 Choose a Landscape Designer Who Can Work with Your Wedding Timeline
Most people plan their weddings with 6 to 18 months lead time, which is plenty of time to have an outdoor living area designed and built. But, you still want to make sure that you choose a landscape professional who can work with your timeline. That means choosing someone who is reliable and who you feel confident won't leave you hanging when your special day is riding on the completion of this space.

At Rock Water Farm, we have worked with many different deadlines. We have had clients who had to have their backyard completed in time for their wedding—or for other important dates like a graduation party or a huge birthday event. You can count on us to provide an honest timeline for the completion of your space and to follow through on meeting deadlines.

We know that there are sometimes unavoidable hold-ups. Permits sometimes take a while to push through or an unforeseen issue arises when we start digging. But we also account for these possible issues by working with realistic timelines and not promising deadlines we can't accomplish.

When something as special as your wedding (or a family member's wedding) is at stake, we understand you're looking for a landscape professional you can count on. That's exactly what we can offer.

The truth is, when it comes to something as valuable as your outdoor living space—one that is to be enjoyed for years to come (long after the wedding has ended), you can't leave anything to chance. You want to be able to feel fully confident that your ideas are coming to life as you dreamed they would.

That means working with a landscape designer you can trust to be your guide, every step of the way.

By forming a partnership with us and working together, you can be on your way to creating a landscape where your wedding dreams and future plans can all come to fruition.

If you're ready to begin a great landscape design experience for your Ashburn, Aldie, or Leesburg, VA home, talk to an expert, choose a solution that rocks, and then get ready to see your dream truly take shape!