Posted by

Todd Thomasson on May 8, 2022 9:30:00 AM
When it comes to making special memories and enjoying your backyard to the fullest, privacy is important. But that doesn't necessarily mean you want a fence. While fences can be a helpful addition in many ways, some homeowners feel they "box in" the yard and some don't like the look.
For these reasons (and perhaps others of your own), you might be looking for ways to create privacy without a fence.

This is important as you should be able to enjoy time outside without constantly feeling like you are on display. Plus, even if you love your neighbors, you don't necessarily want to have a conversation with them every time that you are outside. You might just want to relax or enjoy some family time.

We hear you and fortunately, there are a lot of effective solutions for landscaping to block neighbors, which do not involve a fence.

Here are a few ideas to create privacy without a fence in your Northern Virginia backyard.
How to Landscape Your Backyard for Privacy
When it comes to selecting and installing plants with the purpose of landscaping to block neighbors, it's all about two key factors: Plant type and plant location.

Let's look at both.
Choosing Plants for Privacy
As you might have guessed, the size of the plant can be one important factor in planting for privacy. If you are looking to provide a privacy screen with plants, you may need to look at plants (like trees and shrubs) that grow relatively tall.

Some shrubs can grow as tall as 15 feet and can actually be a better choice than trees because they are more compact and dense in nature.
That brings us to another important point, which is when looking at how to landscape a backyard for privacy, you also want to look at the density and thickness of the plant. In other words, a plant that you can't really "see-through" easily.

Various forms of arborvitae are often used for this very reason. The Green Giant Arborvitae is a very popular choice for this purpose. Thick and dense can also help with creating a sound barrier by screening out sounds.

Plants that grow relatively quickly are also important when landscaping to block neighbors. After all, you don't want it to take years for your solution to become effective for privacy purposes.
Choosing Plant Location for Privacy
Of course, height or even overall size isn't always everything when it comes to screening. It really depends upon what you're trying to screen.

This is why you want to work with a landscape professional who is going to consider all of the various vantage points (both for neighbors being able to see into your yard, and you being able to see into neighbors' yards).

This is where plant location comes into play.

Depending upon what you are screening, medium-sized plants can be highly effective. For instance, if you are screening around a pool, when people are inside of the pool, they will be below ground level. That's why ornamental grasses often make a good privacy addition around a swimming pool even though they aren't excessively tall.
Ornamental grasses can also make a great addition in between trees and shrubs, to fill in gaps. It's an added bonus that ornamental grasses are available in a variety of textures and colors and they can grow rapidly.

Another point with location is that plants don't necessarily have to be lined up in a row. Homeowners often want to try and create a "wall" and assume the plants must all be lined up side-by-side. But this isn't always the most attractive option.

Instead, staggering plants in a strategic way can still help you to create the privacy you're looking for but in a more appealing layout.
Use Structures to Create Privacy Without a Fence
When it comes to how to landscape a backyard for privacy, you can also utilize the structures that are being incorporated into your landscape design to create privacy.

Physical structures like a pergola or pavilion, a pool house, or even an outdoor fireplace, can go a really long way in blocking views and screening-in an area.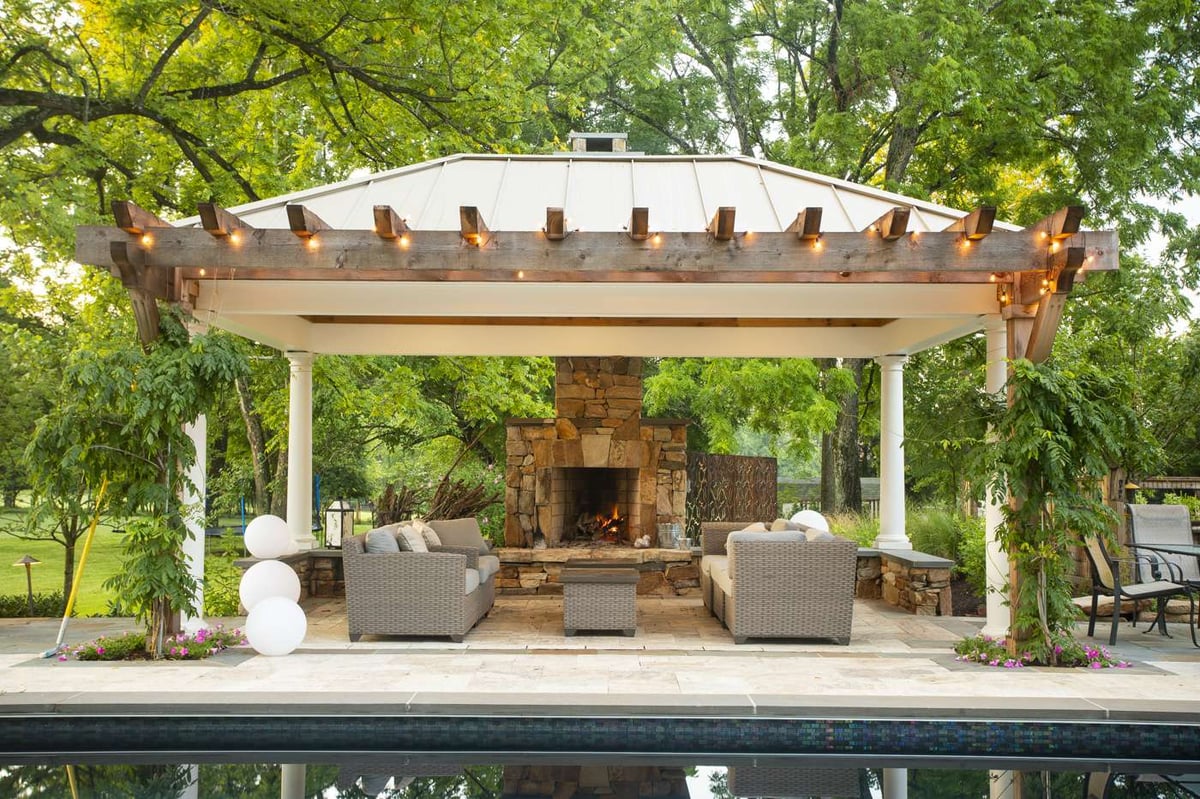 In fact, you can even go as far as adding screens to a pergola or pavilion area to create more of an "outdoor room."

A lot of this does come down to the location.

Instead of just plunking these structures anywhere on the property, your landscape designer should be putting thought into where they can be designed and built so that they also serve a dual purpose of helping your family enjoy time outside but also creating privacy.

For instance, a tall fireplace could absolutely screen out a neighbor's view of you and your family enjoying some lounge time in the backyard.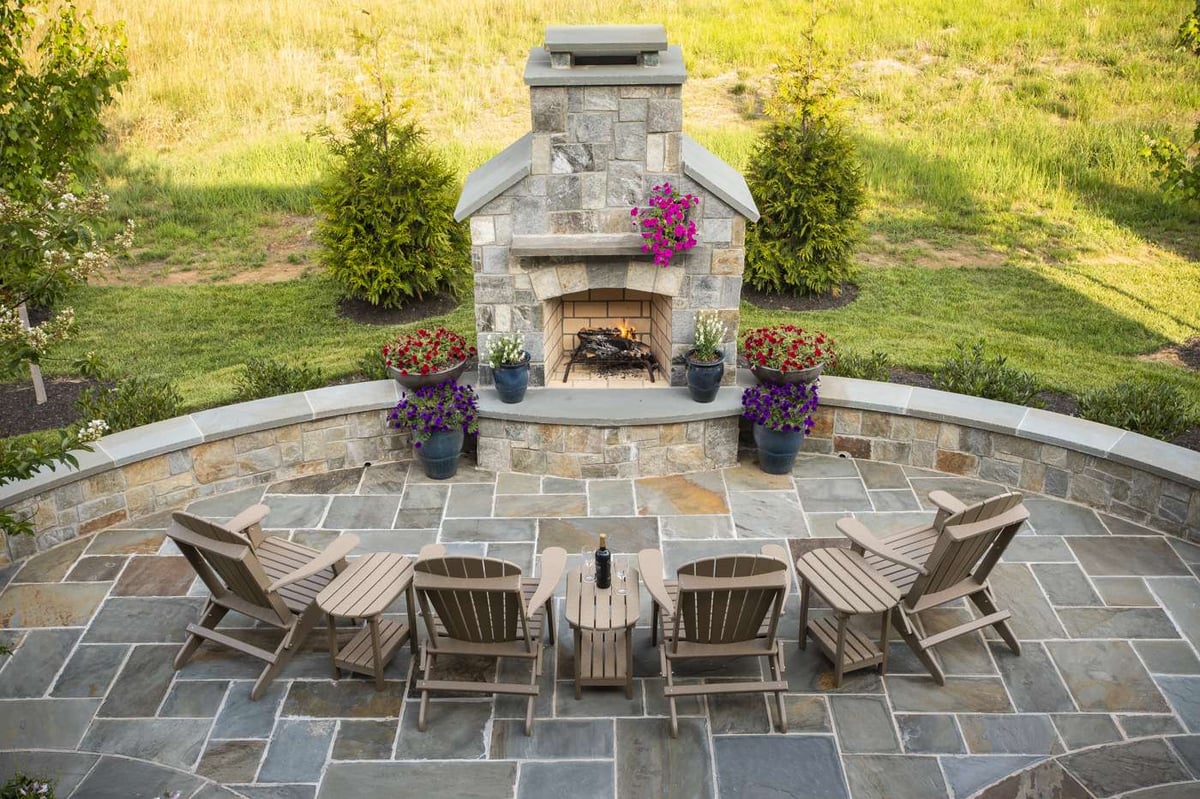 It all boils down to a thoughtful landscape design.

Of course, you also don't need to entirely rule out fencing. We have had some clients incorporate a fence in part of their yard without fencing-in the entire property. This is a way to have the best of both worlds. You have less fence to maintain and don't "box" your yard in, but you solve a privacy issue in a spot where it's difficult to get good screening.

By incorporating plant material around the fence, you can help to make it more natural and blend into the overall design.
Finding a Landscaper in Northern Virginia to Create Backyard Privacy Without a Fence
At the end of the day, there are definitely multiple ways in which you can create backyard privacy without a fence but a lot of it comes down to choosing a landscaping partner who is going to help you come up with a great design.

There is a lot more to it than just lining up some trees and shrubs.

You want a landscape designer who will think outside of the box and help to employ a solution that is both effective and beautiful.

The fact is, every yard is different, and coming up with the solution that is best for your property will take some thought and attention to detail. You want to ensure that you are getting the best possible results for your specific needs.

At Rock Water Farm, we can help walk you through some of the ideas for landscaping to block neighbors which do not involve a fence (or maybe only involve a partial fence). You can choose the ideas that work best for your needs and still give you a landscape design that you love.

After all, we know that you've invested a lot in your backyard and you want to be able to enjoy it to the fullest. We can help you to achieve backyard privacy without a fence and in a way that you can appreciate.

If you'd like to get started on a landscape design for your Ashburn, Aldie, or Leesburg, VA property, talk to an expert, choose a solution that rocks, and then get ready to enjoy your property to the fullest.