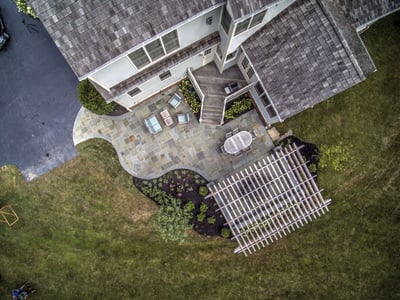 There are a lot of things that you love about your backyard—your trees and shrubs, your patio, and your manicured lawn—to name a few. And there are a lot of activities you enjoy doing out there. Whether it's dining al fresco on your patio, or even just playing a game of catch with your kids, you love spending time outside.
What you don't love is your neighbors being able to read your every expression and see everything that you do. You also wish you could block that eyesore in another neighbor's yard. While you know you want some privacy, you really don't want to add a fence.
Fortunately, there are some great backyard fence alternatives that will give you the screening that you require without the need for a fence. While a lot of homeowners assume a fence is the best way to create some privacy (even if they don't really want one), the truth is that there are a lot more options for screening with plant material.
Trees and shrubs can do a tremendous job of creating privacy and you don't have to deal with the limited height of a fence—which won't do much to screen out your neighbor's view from an upper-level deck or window of the home. They could just see right over the fence.
Finding a landscape company that has a strong eye for design and a lot of experience executing on it, will help you to develop some backyard privacy solutions that will work for you.
Backyard Privacy Plant Ideas
There are some important questions to talk over with a landscape designer before determining the best backyard privacy solutions for your property. Some examples include:
Are you screening out a neighbor's view into your yard or an eyesore in their yard?
Are you trying to create privacy on all sides of the home?
Do you need year-round screening or just during the growing season?
Are you near a highway or road and also trying to create a sound barrier?
Are you screening out an upper-level view into your yard?
Do you need some width for your screening needs or is it all height?
Everyone's needs are different and therefore the solutions will vary. Border trees and shrubs can make an excellent privacy screening option. But instead of planting them in a row to create a sort of "wall," as many think that's what they should do, consider some groupings that will look more aesthetically appealing. Clusters of plant material can also be more effective in screening.
Your landscape designer should also consider how tall you need your backyard privacy trees and plants in order to choose the best variety. Even if you need to screen at a decent height, you don't necessarily require a tree. Some shrubs grow 8 to 15 feet tall.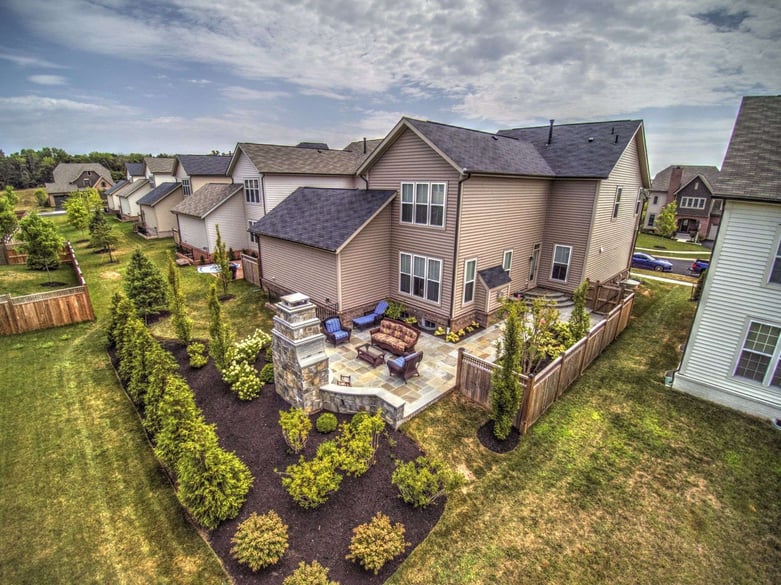 The positioning of the plant material is also important. As mentioned, a lot of people assume that in order to create privacy they must create a border—you often see this as a row of arborvitae along the property edge. There's no question that arborvitae can be a great backyard privacy plant, but they're not your only option. And you can create something more aesthetically appealing and more creative than just a row of plants.
In fact, planting closer to your patio, or the area you're looking to screen, can actually be more effective than planting farther way (such as around the property border). Planting raised beds or certain trees or shrubs close to your secluded area can absolutely create a screening effect more rapidly.
More
Backyard Privacy Solutions
Of course, backyard privacy plants don't have to be your only option. You can create privacy with a fencing/screen and plant combination. Instead of a big plant-wall across the entire property border you can do a mix of the two options. Splitting up some fencing with some plant material can also be a lot more aesthetically appealing. Plus, it's less fence that you have to maintain.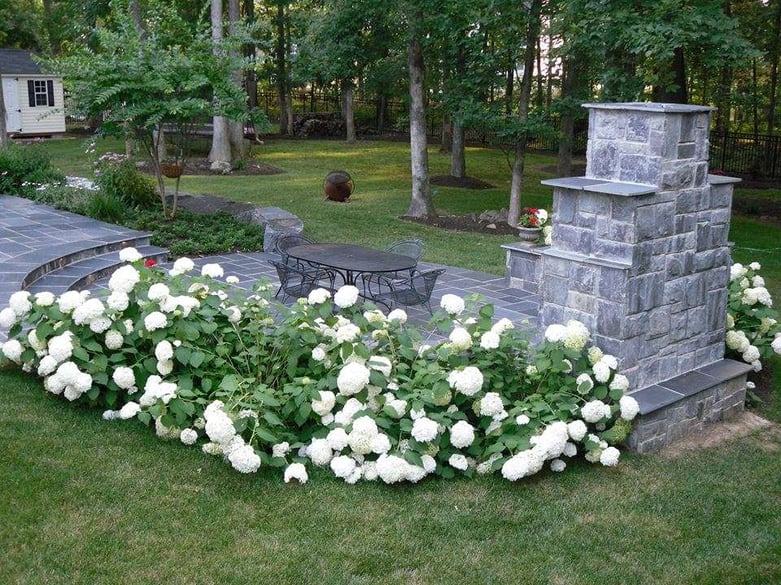 Physical structures that you have built on your property can also go a long way in creating privacy—assuming that screening is taken into account during their construction. A good landscape designer will know that using a wall of your pavilion, for instance, to block the neighbor's view of your family enjoying a meal, is an excellent and purposeful use. Pergolas with drop-down screens or shades can also serve the same purpose. Even a backyard fireplace or a pool house can be designed to be positioned in a way that that they create some screening.
These are all factors that go into a good design and is an important reason to choose a landscape contractor who has a lot of experience in designing complete backyard living areas.
Finding a
Backyard Privacy Screen
That Works for You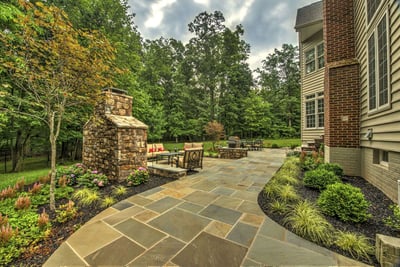 Every yard is different and requires a custom solution. Working with a landscape designer who is willing to think outside of the box will help ensure that you get the best possible solution for your specific needs.
By choosing to work with Rock Water Farm, we can help walk you through some of the possible ideas that most homeowners—and even a lot of contractors—wouldn't have considered. We've designed and installed many outdoor living projects and understand your desire for privacy. That's why we have a variety of possible solutions that will help you to achieve your goal.
You've invested a lot in your backyard and you want to enjoy it to the fullest. Whether it's sharing that family meal or making special memories with the kids, you deserve to have that private time. We can work with you to make it happen.
If you'd like to talk to us about privacy screening for your home in Ashburn, Aldie, Leesburg, VA, or their surrounding areas, contact us for a free consultation or give us a call at 703-327-1636 so we can chat.