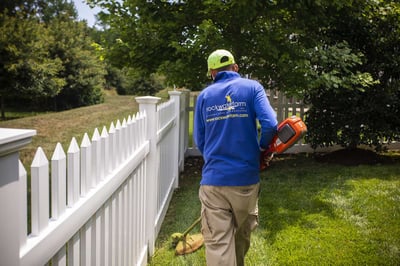 If you're looking to hire a South Riding, VA landscaping company, you might have already realized just how many landscapers there are to choose from. While searching for the right company can be a lot of work, it's worth it so that you ultimately end up with the best service.
The last thing that you want is to end up back at square one looking for a landscaper because your original choice didn't work out.
Having been in business since 2005 and quite active in the community, we have been able to get to know our competition. We are not naive and recognize that when searching for South Riding, VA landscaping companies, Rock Water Farm is amongst many that you are potentially considering. There are many reputable companies providing landscaping services here and we are proud to be amongst some great competition.
Of course, not all companies are created equally and we believe it's important for South Riding, VA homeowners to be able to tell the difference between some of the excellent companies that set a benchmark—and some of the average companies that could end up falling short of your needs.
That's why we've actually begun some of the research for you and rounded up a list of some of the South Riding, VA landscaping companies that you might want to consider.
1. Rodriguez Landscaping Services
This locally owned and operated family business was founded in 2014 by Carlos Rodriguez. Their services include weekly mowing, yard clean-ups, mulch installations, and leaf removal.
2. Living Colour Landscaping
Living Colour was founded in 1985 and offers landscape design and installation; landscape maintenance; and also interior plant care. Their landscape maintenance services include mowing, pruning, turf care, aeration, and more.
3. Meadows Farms Nurseries & Landscape
According to their website, Meadows Farms, Inc. is one of the largest independently owned nursery and garden centers in the country, with 20 retail locations, employing over 750 employees. Along with that, they have a landscaping division that has 39 landscape designers and more than 70 landscape maintenance crews.
4. Rock Water Farm
Of course, we hope that you might also include Rock Water Farm on your list of the best South Riding, VA landscaping companies.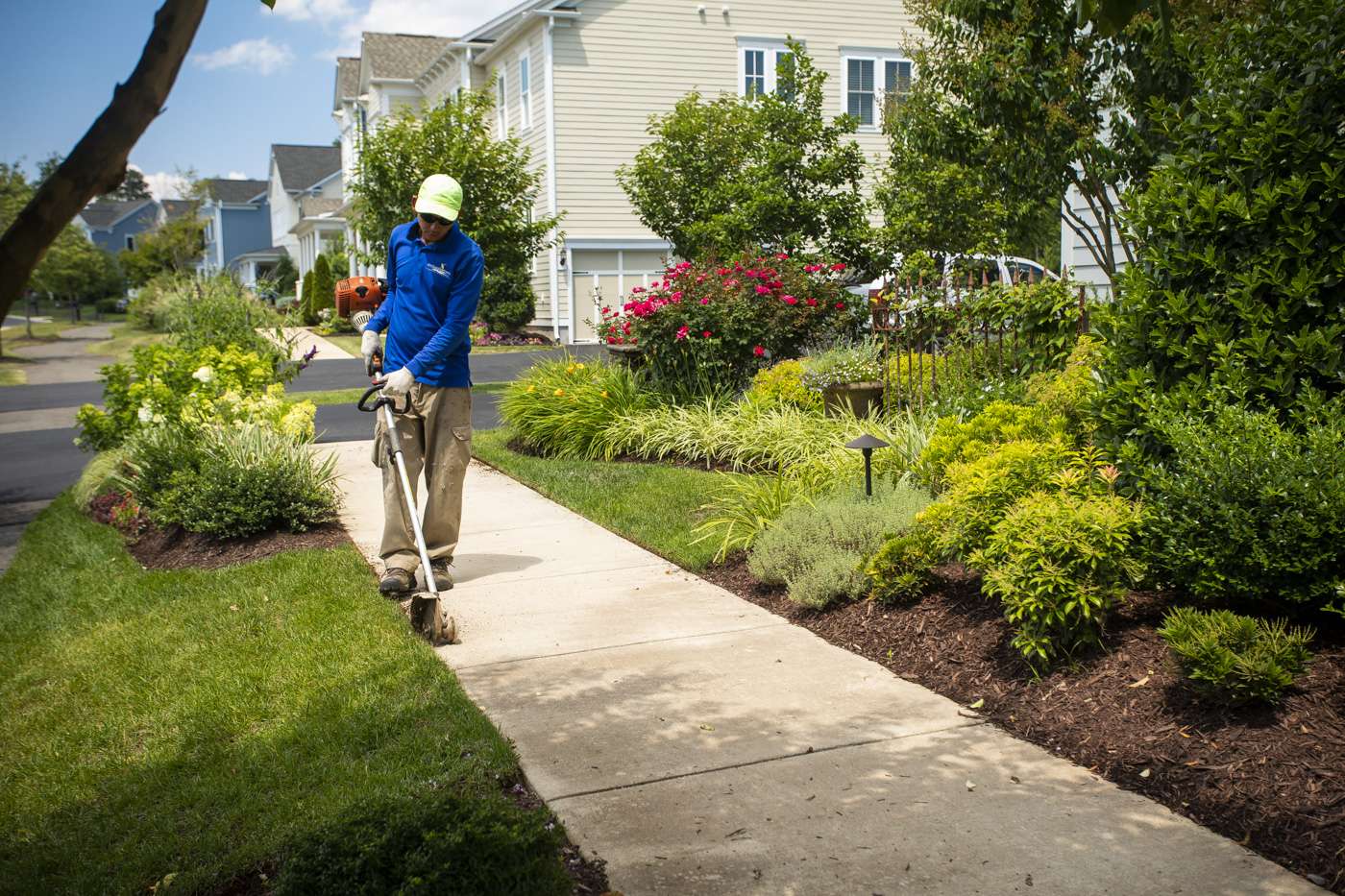 Like some of these other companies, we are locally owned and operated and feel a deep sense of commitment to our community. We are a full-service landscape maintenance and design/build company.
Customized South Riding, VA Landscaping
At Rock Water Farm, we take a highly customized approach to landscape maintenance. While a lot of companies offer packaged maintenance programs, when we prepare a proposal, all of our services are offered as a la carte options. That's because we don't want to just push services on you. We prefer to educate our clients, having them ask questions about what each service is and why they might need it. We always want our clients to understand what we're doing (and what we're not doing) on their property. Working together, we will find the best program for you with the services you need most.
Building Ongoing Relationships
While we perform similar maintenance services as some of these other companies, one area where we tend to stand out is in our relationships with our customers. We are not a "mow, blow, and go" type of company. Building ongoing relationships is a top priority for us. We don't want to just come to your house, perform a service, and leave. We want to get to know you and do what it takes to meet your needs.
Exuding Professionalism
We also take professionalism quite seriously. We keep our vehicles and our equipment in top condition as we know they are a reflection of our company. Our crews know that we hold them to a high standard and they don't disappoint when it comes to meeting that standard. They wear uniforms and always have a professional attitude.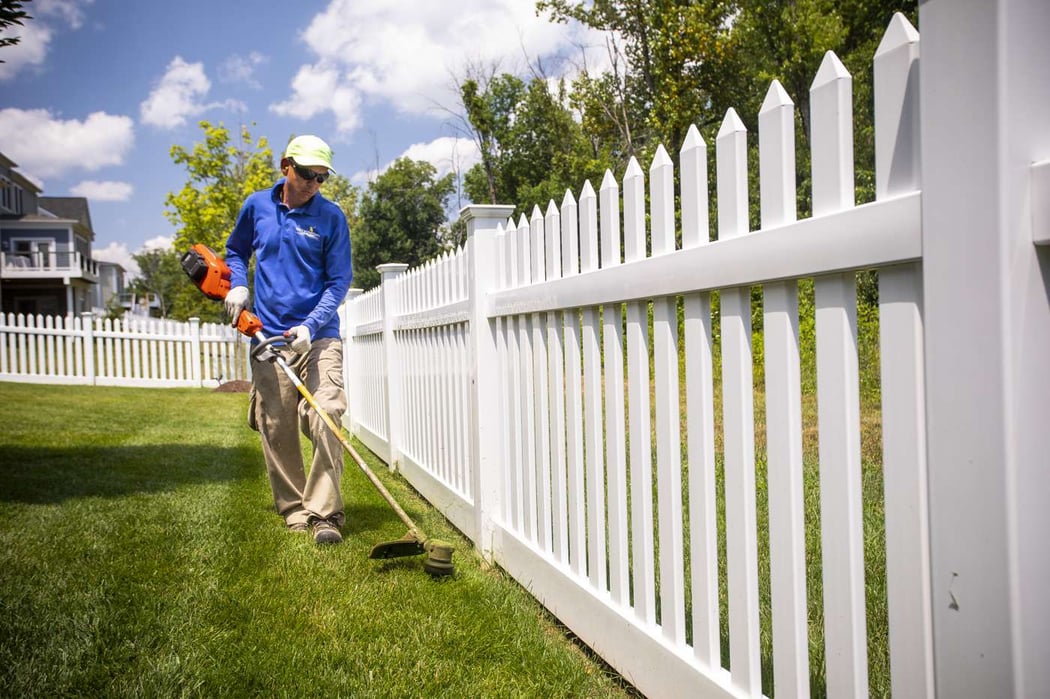 All of these factors contribute to our business reputation and we care about upholding that image in the community.
Able to Meet All of Your Landscape Needs
We have a comprehensive list of services that we offer and are therefore able to fully meet all of your needs. Of course, this includes robust landscape maintenance offerings. But we do also offer design/build services should those needs arise, now or in the future. Whether you might need a small hardscaping project or the installation of some new plant beds, we can tackle those types of projects, too.
Digging Deeper into South Riding, VA Landscaping Research
As you narrow your options you should spend time on the websites of any company that you might be considering and get to know them a little more. It always helps to spend time on the "About Us" page any time that you are visiting a potential company's website as this is a great way to get to know their story.
You can also check to see if the companies you're considering offer free client resources such as a blog in which they post helpful articles or even guides or tipsheets that provide added support. These types of resources demonstrate that a company is truly committed to helping their clients.
Exploring Reviews
In addition, you can also take a look at third-party review sites, such as Google Reviews, to see how past and present clients rate these companies. These ratings are performed on a 5-star scale with the opportunity for clients to also leave comments about the company they're rating.
Ideally, you want to narrow your options to companies with 4.5 stars or higher, if you're truly looking for the "best of the best." Keep in mind that it becomes harder to maintain a higher rating with more reviewers. Therefore, both stars and the number of reviews matter.
Let's take a look at the reviews for these 4 companies we're comparing.
Rodriguez Landscaping Services Google Reviews
4.8 stars based on 31 reviews
Living Colour Landscaping Google Reviews
5.0 stars based on 1 review
Meadows Farms Nurseries & Landscape (Warrenton, VA location)
4.7 stars based on 44 reviews
Rock Water Farm
Choosing the Best Landscaping Company in South Riding, VA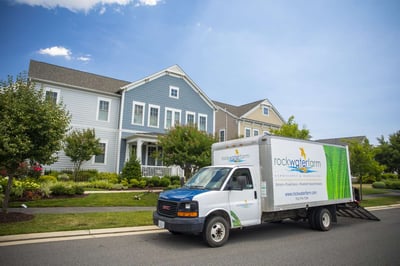 While going through this process can be a lot of work on the front end, it will also save you time in the long run by not having to return to researching companies after you end up dissatisfied with your results. Plus, nobody wants to go through the frustration of being unhappy with their landscaping after they've invested in professional services.
You deserve better than that.
As you do your research and narrow down your options, we hope that you'll consider Rock Water Farm for your ongoing landscape maintenance service needs at your South Riding, VA home.
We are ready to take your call and answer your questions. We have worked incredibly hard to be at the top of our game and continuously strive to improve in order to be the best for our clients.
We would be grateful for the opportunity to provide you with the same high level of attention and care that has helped us grow over the years.
If you are ready to choose us for your landscaping needs at your South Riding, VA home, talk to an expert, choose a solution that rocks, and then enjoy your yard and relax.