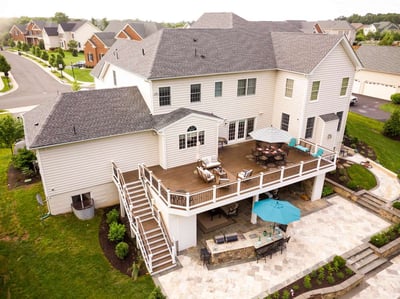 Work hard, play hard is the mantra of this hard-working family who enjoys spending their weekends entertaining guests with some good food and drinks. It wouldn't be uncommon to find 30 or 40 guests over on any given weekend—oftentimes friends from the close-knit neighborhood. On top of that, these homeowners love hosting their annual family reunion of 100+ guests each year.
Of course, in order to accommodate such large groups at the level of entertainment the family has come to be known for, they needed the right space. A landscape design for their Haymarket, VA home included a massive deck, a covered patio area beneath it, and a state-of-the-art outdoor kitchen. These additions truly allowed these homeowners to extend their living space to the outdoors in a big way.
A BIG Custom Deck
One of the biggest mistakes we see with decks in Haymarket, VA, as well as other areas in Northern Virginia, is when homeowners opt for a tiny deck. It happens all of the time. Instead of capitalizing on the space they have available, they build a small deck that can't fit more than a grill and a small dining table, at best. A deck like this is even awkward to walk around because it feels like you're in a cramped and tight space.
That's not what this family wanted.
They had previously lived in what they thought was their "forever home," so they knew what they liked out of a home and a yard. That included a large deck. After finding this Haymarket home and deciding to move, the family knew they wanted to add a huge deck for the ultimate entertaining experience.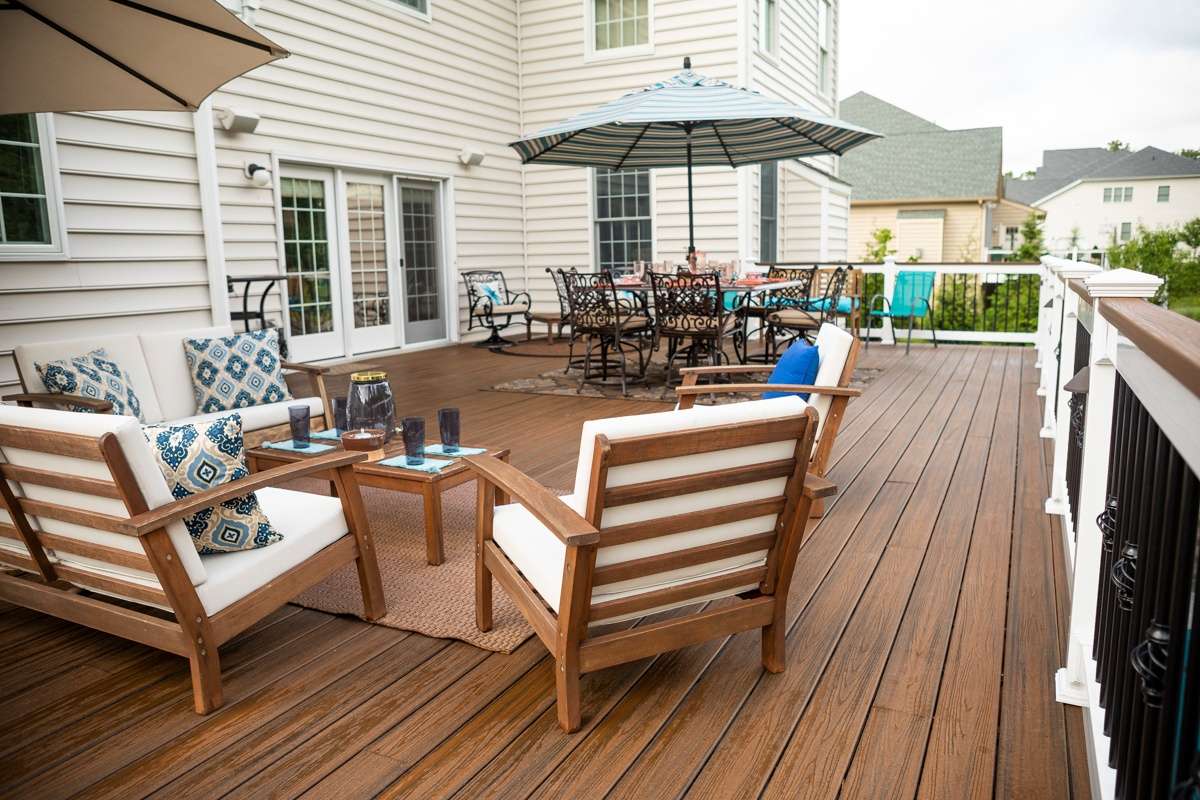 The deck is large enough to easily accommodate 3 individual entertainment areas. It is built from Trex, a composite decking material that is an excellent wood alternative to traditional pressure-treated lumber. This low-maintenance, high-performance material can withstand harsh weather and doesn't require periodic staining. The family chose a darker hardwood style for a classic look.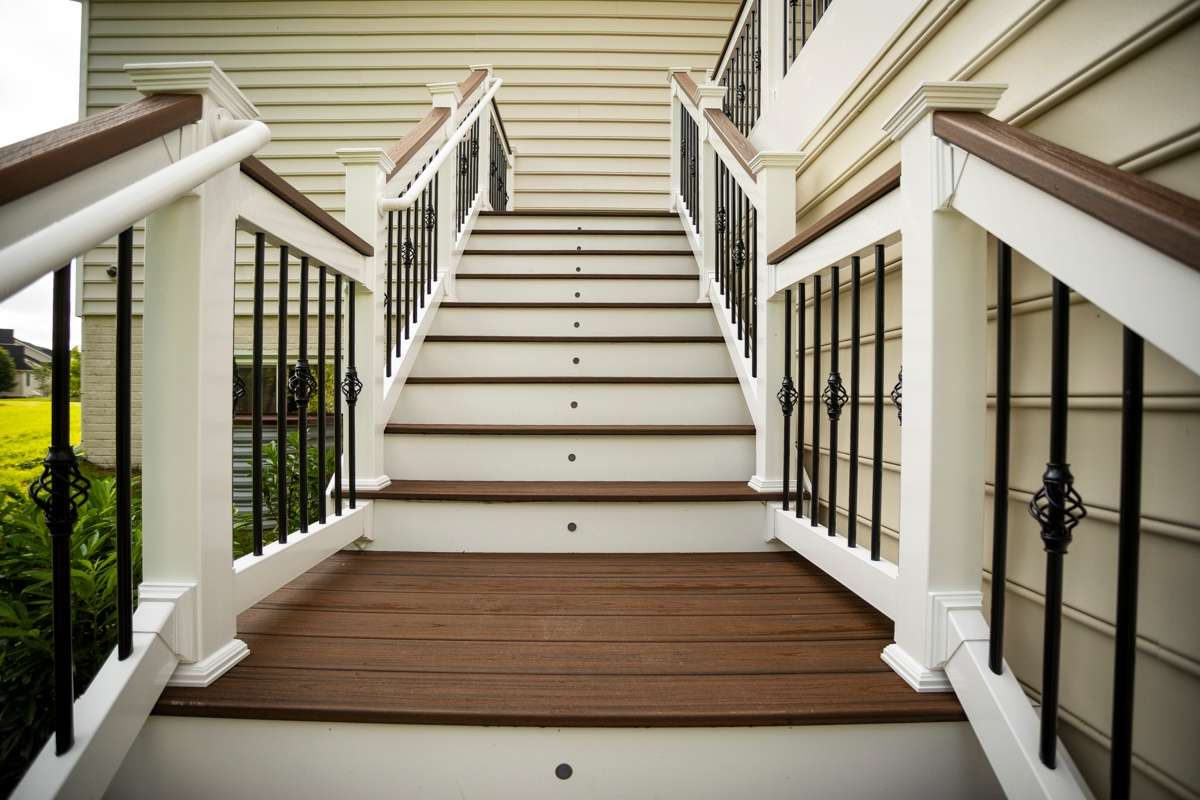 Considering the size of the deck and how much railing was needed, we incorporated a decorative element in order to break up the monotony. The use of "basket balusters" on every two railing spindles adds a unique look. In addition, the choice of thin, black rail helps keep the space feeling open and airy so that guests can still enjoy the gorgeous backyard view while socializing on the deck.
In addition, the deck also has LED lighting incorporated throughout. This ensures that the family can continue to enjoy their space, well into the evening hours. With proper lighting, there's no reason to end the party just because the sun goes down!
A Weather-Defying Patio Design
The other benefit of adding this huge deck was that it allowed for a covered patio space underneath. Utilizing an under deck drainage system, the space beneath the deck was made weather-proof so that the party can carry on outdoors, even in the rain. The under-deck patio area includes a PVC trim ceiling with recessed lights, and even outdoor fans. The flooring of the patio is beautiful, natural flagstone.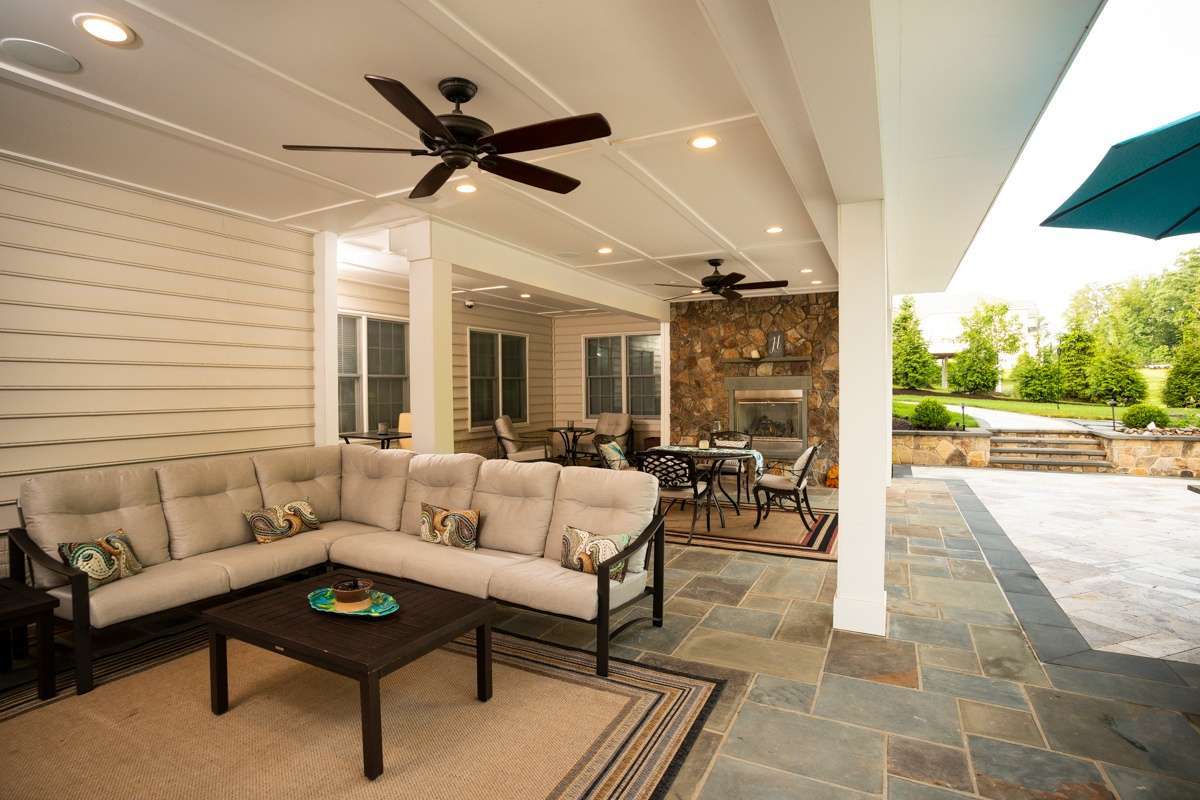 The patio also incorporates a gorgeous, remote-controlled outdoor fireplace that kicks out some serious heat, allowing guests to enjoy the space even during the colder months.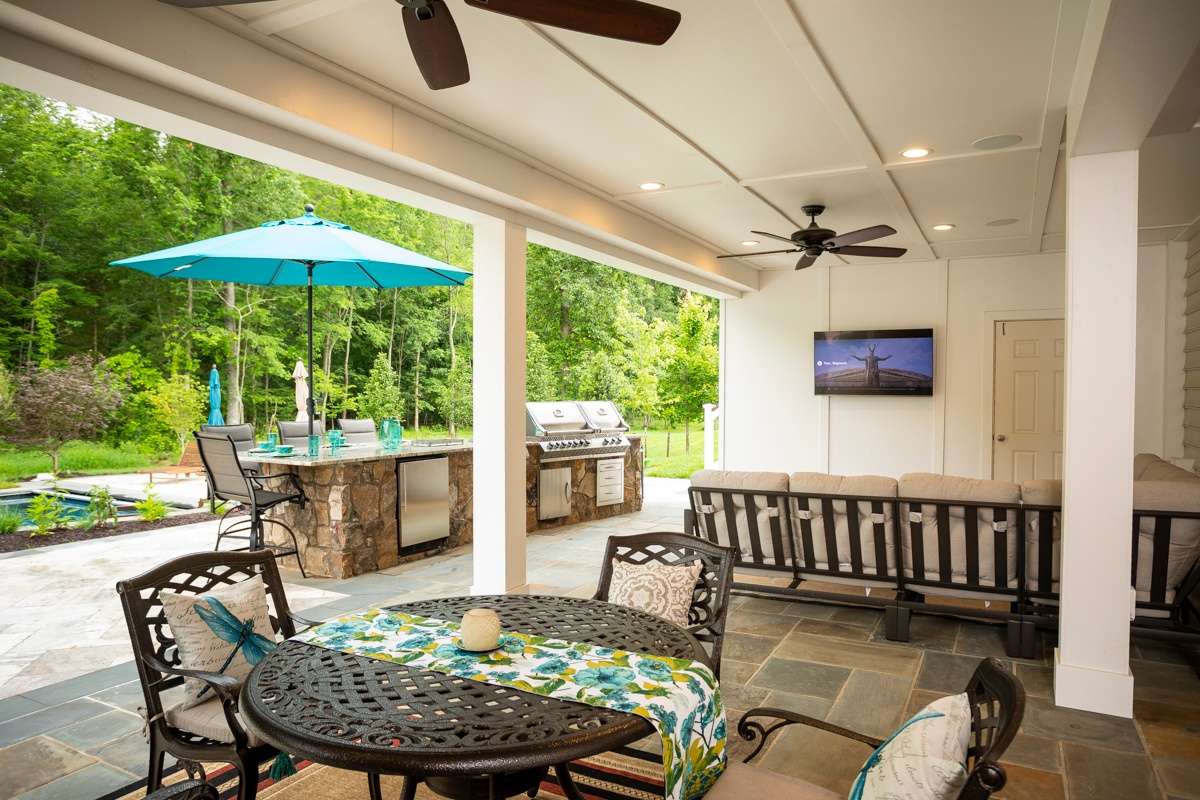 The covered patio area includes multiple entertainment zones such as a sitting area with a flat-screen television, a lounge area with the outdoor fireplace, and of course, the nearby outdoor kitchen. There is ample room for guests to spread out and stay dry, even during inclement weather.
An Outdoor Kitchen Built for Entertaining
The outdoor kitchen of this landscape design in Haymarket, VA is another element that truly wows. With all of the cooking and entertaining that the family does, a double grill was a nice feature to facilitate large meals cooked all at once. One of the two Napoleon brand grills features some exciting add-ons such as a rotisserie, infrared technology, and a searer for cooking steaks to the perfect temperature.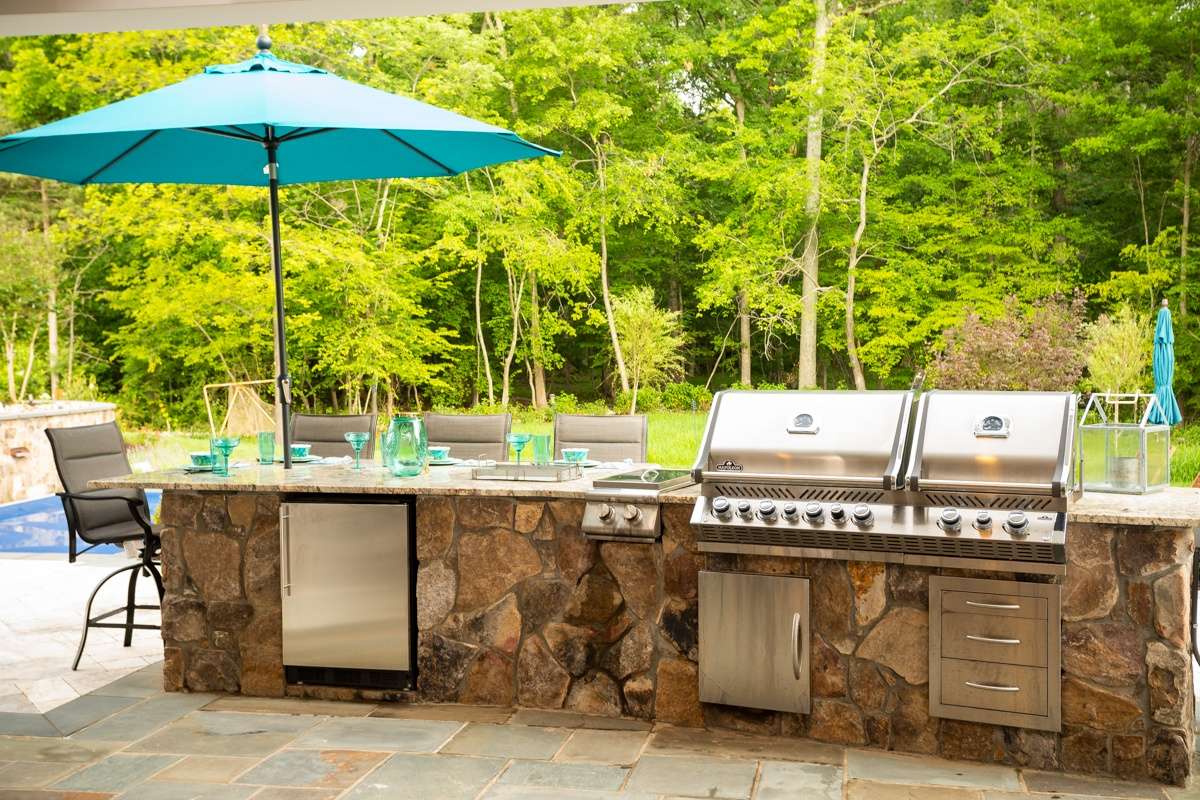 In addition to the double grill, there is also a double burner for boiling large pots of water for crab legs or corn. The kitchen also features a refrigerator so that beverages can always be kept cold, and plenty of storage space for cooking utensils and other important kitchen gadgets.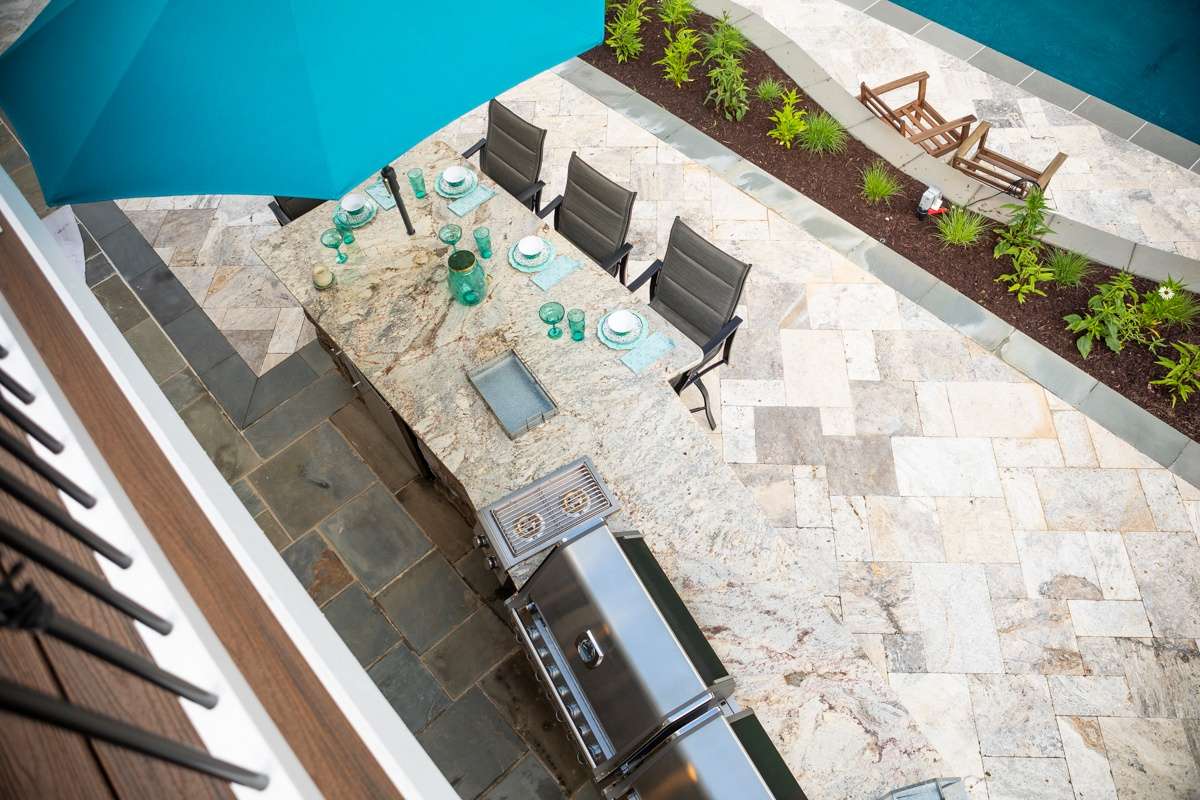 Since the family does like to cook as part of the entertainment of their guests, we incorporated a beautiful granite countertop into the kitchen design not only for prep space but also for seating (and dining) space. The countertop overhang creates a bar type of area where guests can socialize with the chef while their steaks are seared to perfection. An umbrella stand built right into the countertop allows for shade when it's necessary on a hot day. There is also plenty of strategically placed LED lighting throughout the kitchen in order to ensure the space is well-lit in the evening hours.
A Custom
Landscape Design in Haymarket, VA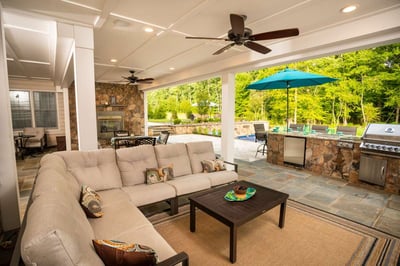 What made this project so successful was that every aspect of it was customized to the family's exact wants and needs. That's how we operate for any landscape design that we create in Northern Virginia. Whether it's a deck, a patio, or a complete outdoor living area, the project is going to be custom designed and built. We don't build cookie-cutter decks or patios. We start from scratch on every single project.
For this family, paying attention to exactly what they wanted—including how they like to entertain—was key to bringing this backyard space to life.
For this project, accommodating a large number of guests with well-flowing entertainment areas that transitioned seamlessly from one to the next was key. With this design, they could have a lot of people, be spread out, and all have a good time. They can feel as though they're not on top of each other or cramped but that they're all part of one big party.
These were the factors that were important to this family—but to another family, there may be an entirely different goal in mind. No matter what the project, we design to our clients' specific wants and needs, every single time.
Whether it's a deck, patio, pool, or a complete outdoor living area, if you'd like to discuss how we can bring your backyard dreams to life for your Ashburn, Aldie, Leesburg, or Haymarket, VA home, talk to an expert, choose a solution that rocks, and then get ready to see your dream come to life.