LANDSCAPING SERVICES
The home you live in expands well past its four walls. Here at Rock Water Farm Landscapes & Hardscapes, we put the "living" in outdoor living areas. As landscapers in Aldie, VA we have served our community as well as the surrounding vicinities of Ashburn and Leesburg. Our goal is to create and maintain one-of-a-kind outdoor spaces that serve as the backdrop of your life's great moments.
Loudoun County's Landscaping Experts
Since 2005, our team of experts have designed stunning outdoor spaces including such items as patios, walkways, outdoor kitchens, fireplaces and fire pits, pergolas and multi-seasonal interest planting areas, and more.
Whether you are starting from scratch, or have an established property in Ashburn, Aldie or Leesburg, VA that you need maintained, our landscaping services can meet your property's unique needs. Our company offers a full array of both landscape design and installation and landscape maintenance services.
The landscaping services we provide include:
A Leader Among Landscaping Companies in Ashburn, Aldie and Leesburg VA
There are dozens of choices in our area when choosing a landscaping company. The task could seem daunting, but we assure you that the time you spend researching will not only set your mind at ease, but also ensure that you are placing your trust appropriately.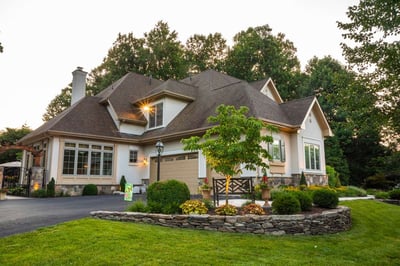 Here at Rock Water Farm Landscapes & Hardscapes we pride ourselves in not cutting corners, doing the job right, and making sure our many customers have plenty of great things to say about the landscaping services we provide for them.
Need to see for yourself? Take a few moments and visit the various pages here on our website where we detail these services. Or, check out a few pictures of landscaping projects we've completed in the gallery below.
But don't just take our word for it, check out our Google reviews too! We have over 60 great testimonials of how much our customers in Ashburn, Aldie and Leesburg, Haymarket and Great Falls, VA love us. And that's what we're all about, delighting people just like you! Contact us when you're ready to talk about your project.