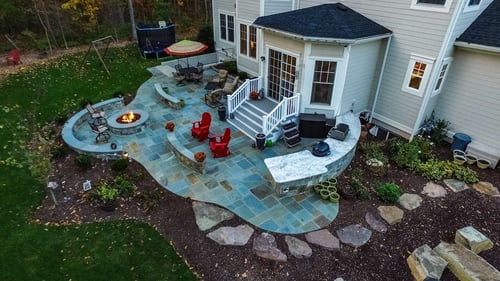 There's nothing quite like spending time outside—assuming you have the right space for it. After all, homeowners don't just want a yard, they want a yard they can actually use. Adding hardscaped areas is one of the best ways to get more usable space out of a backyard.
On any project, the main objective is to encourage people to spend more time outside with highly functional spaces that meet all of their needs. It's not uncommon for homeowners to wonder how they can incorporate a backyard that fulfills everyone's interests.
That's exactly what one Willowsford, VA family wanted to do when they decided to expand their partial patio. The existing patio was small and had an odd layout. It also wasn't meeting the various needs of the entire family. They wanted to be able to prepare and cook more meals outside, have ample space for entertaining, and also give the children a place to play safely nearby. Overall, they wanted the space to be more enjoyable and more usable. As it previously existed, they hardly used it.
In order to solve these problems, the family knew they needed to find the right Willowsford, VA landscaping company to give them the family-friendly patio they desired in order to spend more time outside. They were looking for a company that could not only make their space more functional but could do so in a way that would seamlessly blend the family's existing patio with the newer section.
That search led them to Rock Water Farm. The family knew our propensity for working with natural stone as well as our ability to work on full-scale landscape projects with all of the added comforts an outdoor space has to offer.
Adding Amenities to a
Willowsford, VA Landscaping
Project
With the goal of being able to give the family more opportunities to spend time outside, there were a lot of needs to be met. That's because each member of the family had their own desires when it came to using the space.
Let's take a look at each of the added areas that have enhanced this patio.
A Custom Outdoor Kitchen
The family has a ceramic smoker that they like for smoking meat and making big dinners. In fact, the father is an avid cooker and prepares a lot of the family meals at home.
However, they didn't just want the smoker to sit on the patio but wanted it to be built into a big counter space that provided lots of prep area, alongside a more traditional grill (giving them both options for cooking). They also desired an overhang space at the end of the countertop so that family members and guests could sit at outdoor kitchen while he cooked.
Family-Safe Fire Pit
In addition to the countertop and grill space, the family was also looking for a built-in, gas-powered fire pit as another gathering space for family and friends. With young kids, gas power is a safer option since once it's off, it's not going to stay warm for long like a smoldering, wood-burning fire feature.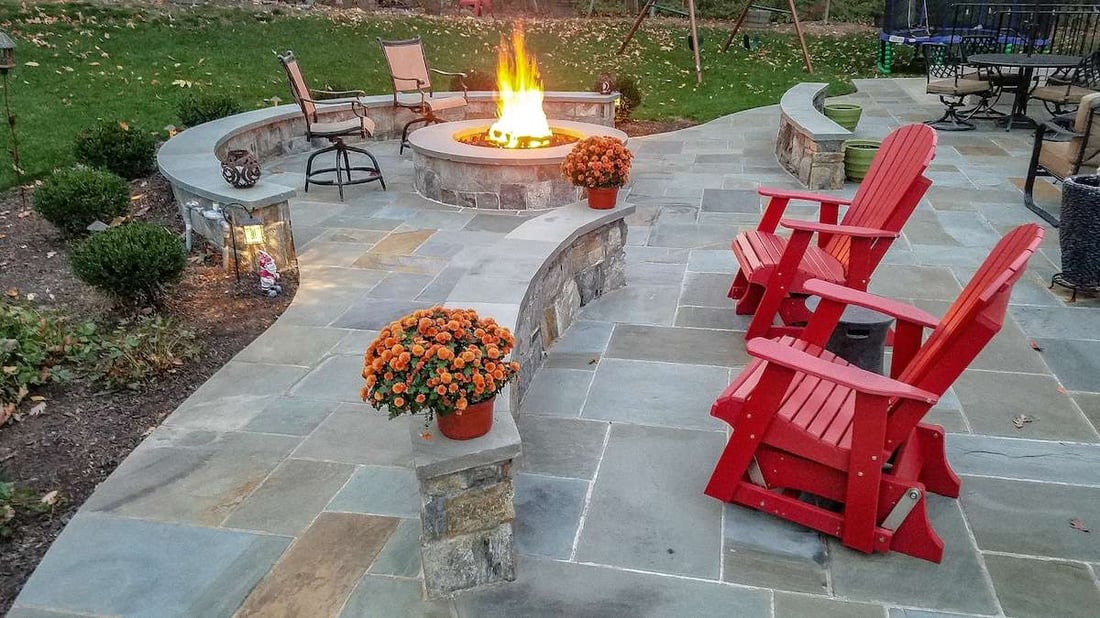 Landscaping and a Unique Playground
The family was also looking for some surrounding landscaping for both aesthetic purposes as well as some privacy screening. The objective was to screen out some of the neighbors' view, giving them more privacy as they enjoyed time as a family or with their guests.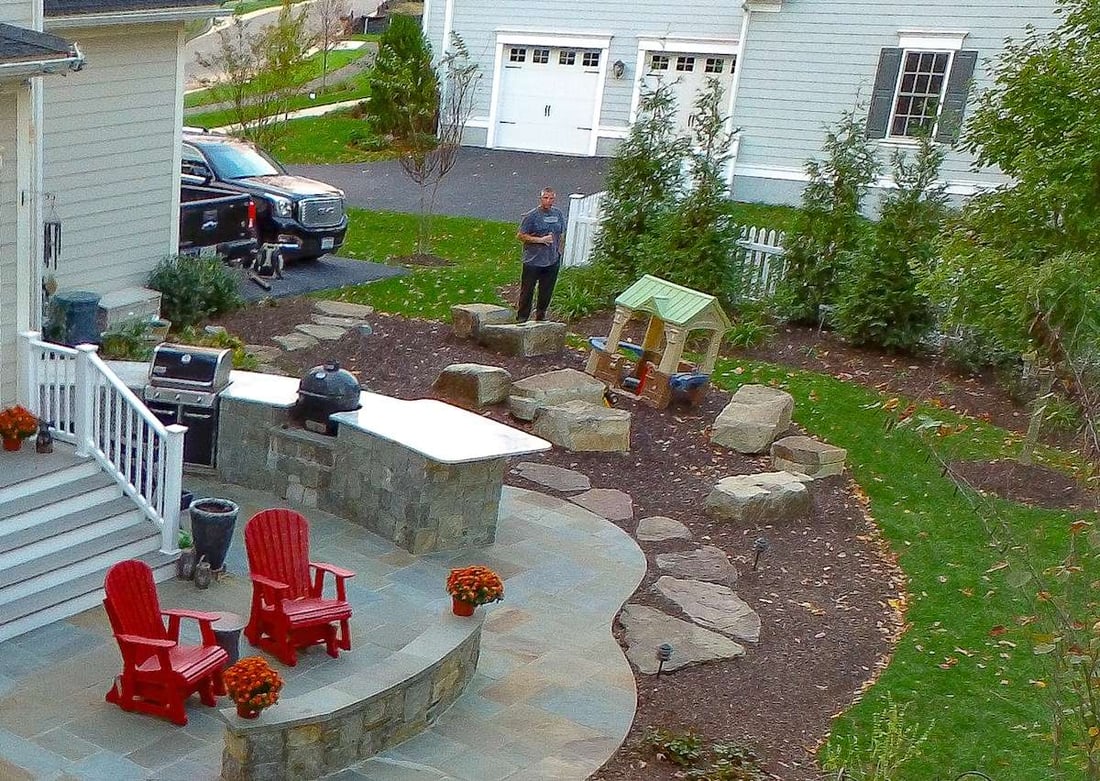 As an added touch, we built a "natural playground" area as part of this Willowsford, VA landscaping project that the family's son enjoys. Some boulders and mulching near his playhouse have added not only an interesting look to the space but also an area where he loves to climb and explore. Mulching with some colorful flowers for aesthetics, as well as some clean edging, was also done around the patio for added appeal.
Lots of Seating
The family also wanted a lot of seating space so we extended the existing patio to be quite expansive. This allowed them plenty of room to have a separate dining area as well as a lounging area for family and guests to spread out.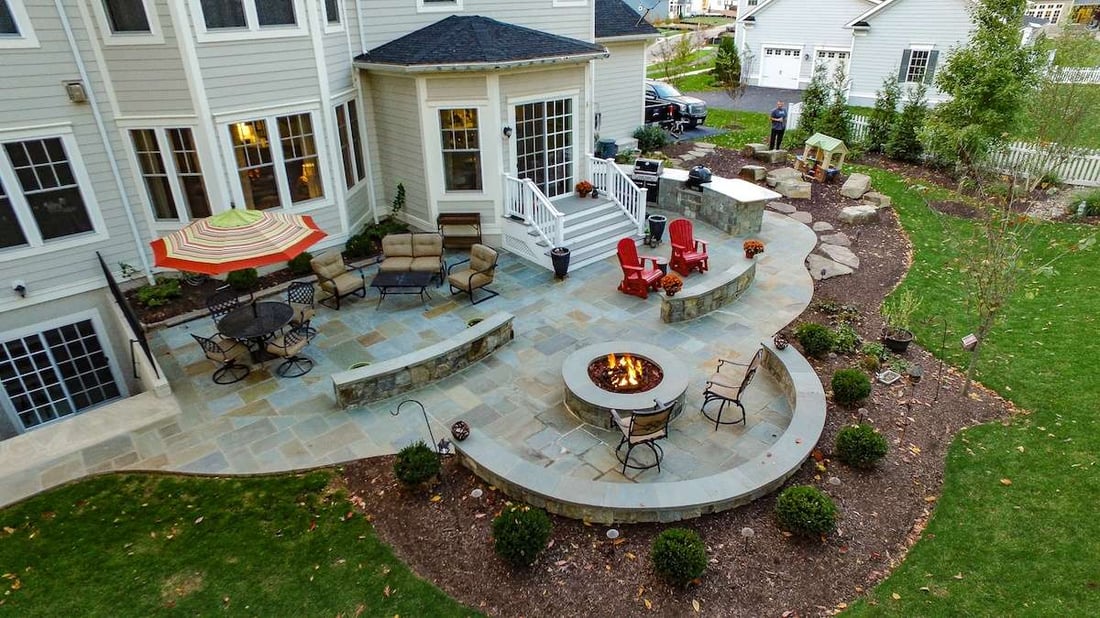 Blending the Old with the New on this
Willowsford, VA Landscaping
Project
Of course, one of the biggest objectives was to make use of the existing patio rather than tear it out and start from scratch. The family wanted to blend their existing flagstone patio with the new addition in a way that made it look as though it's always been there.
Blending two projects is a skill that comes with experience. So often when you drive around and look at Willowsford, VA landscaping projects, as well as others in the area, you can tell when a patio has been added on. When landscape design projects do not blend well, they will forever appear as though they are two entirely separate spaces. But the family wanted to ensure there was a seamless blend so that the finished project was just one, big, family-friendly space.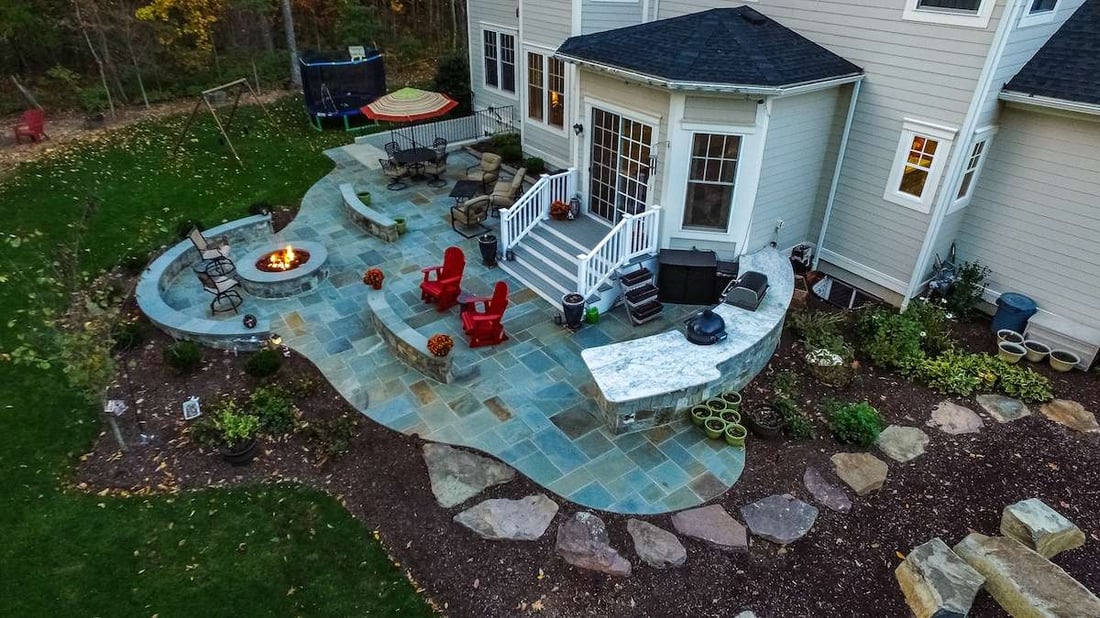 When blending two projects, it's important that the layout works, otherwise, it will look as though the new addition was just slapped on. This can impact the flow of the space which in turn, impacts usability. Whenever expanding upon an existing project, it's vital that you look at all the possibilities for how you can expand, and choose the layout that looks most natural with the space. This will ensure that it not only looks like one big project but also helps with functionality.
Choosing the Right Company for Your Project
When it comes to Willowsford, VA landscaping companies, you have a lot of choices but not every company is going to come with the skills and expertise to think your project through from start to finish in a way that ensures it's what you truly want and need. In addition, not every company has the skill or ability to work with natural stone or to add additional features (like outdoor kitchens, fire features, and more) that make the space truly complete.
With something as important as your backyard, and getting everything out of it that you can, choosing wisely is vital. Make sure you select a company that is going to be able to create a space that truly matches the specific wants and needs that you (and your family) have. You want a great designer that can see your vision through to the very end. Investing in a great company will be worth it by ending up with a project that you truly love.
If you'd like to start a conversation about your Ashburn, Aldie, Leesburg, or Willowsford, VA landscaping project, contact us for a free consultation or give us a call at 703-327-1636 so we can chat more about it.