Posted by

Todd Thomasson on Jan 17, 2022 10:56:28 AM
Mulching is one of those landscaping services that have an instantaneous effect. After mulching is completed, your landscape has gotten an instant makeover! Even if you're not having new plant material installed, it still makes a big impact.
That being said, mulching isn't exactly rocket science, and any landscaping company that claims it is—is making exaggerated claims. Even so, there are some really good reasons to hire a professional for mulching services in Northern Virginia including the fact that there can be mulching mistakes made in the process. It may not be rocket science, but there's a bit more to it than homeowners tend to realize.

In this article, we're addressing the common question: Are professional mulching services worth the cost?

We really respect that you want to make a smart choice and that you don't want to pay for a service that you could handle on your own. That's why we want to help set you up for success before you make that decision.
Why Hire Someone to Mulch in Northern Virginia?
For a lot of homeowners, mulching seems as simple as buying some bags (or having bulk mulch delivered), and spending a weekend spreading it in your plant beds. While you could certainly do that, here are a few reasons to consider why you would hire a professional for mulching services instead.
Your Time is Valuable
First and foremost, we want to say that we know your time is precious and that alone is a good reason to hire someone to handle mulching for you. When you hire someone to mulch, you free up your time to do things you enjoy more.

After all, you work hard all week and chances are, you don't really feel like spending your weekend buying and spreading mulch. Oftentimes, homeowners think mulching will be a quick chore and it ends up being more time-consuming and laborious than they imagined.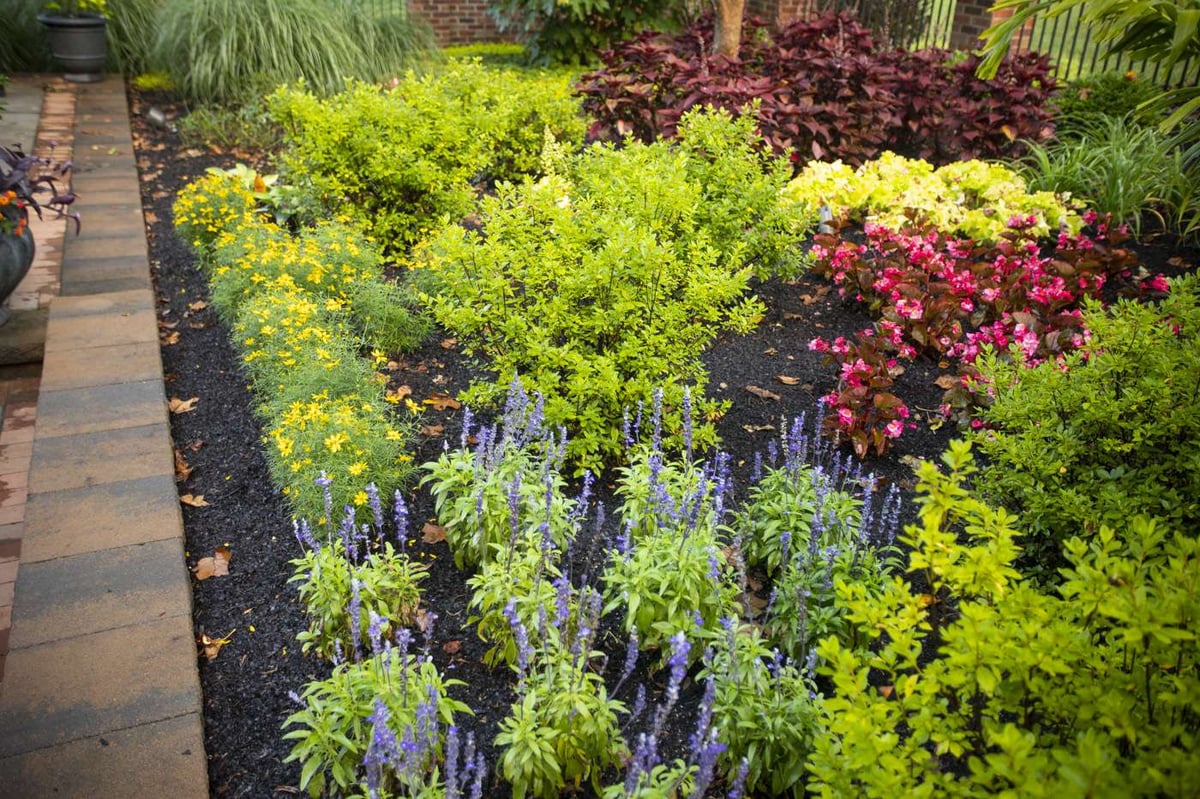 Not only do you have to go pick up bags or schedule a delivery, but you also have to find time to perform all of the work. If you hire a professional for mulching services you can take back your free time for something that you would rather do.

Before we move on from this point, let's also talk about the fact that mulching can be difficult labor and isn't exactly an enjoyable task for many. Lugging around bags of mulch or pushing a heavy wheelbarrow can be tough work.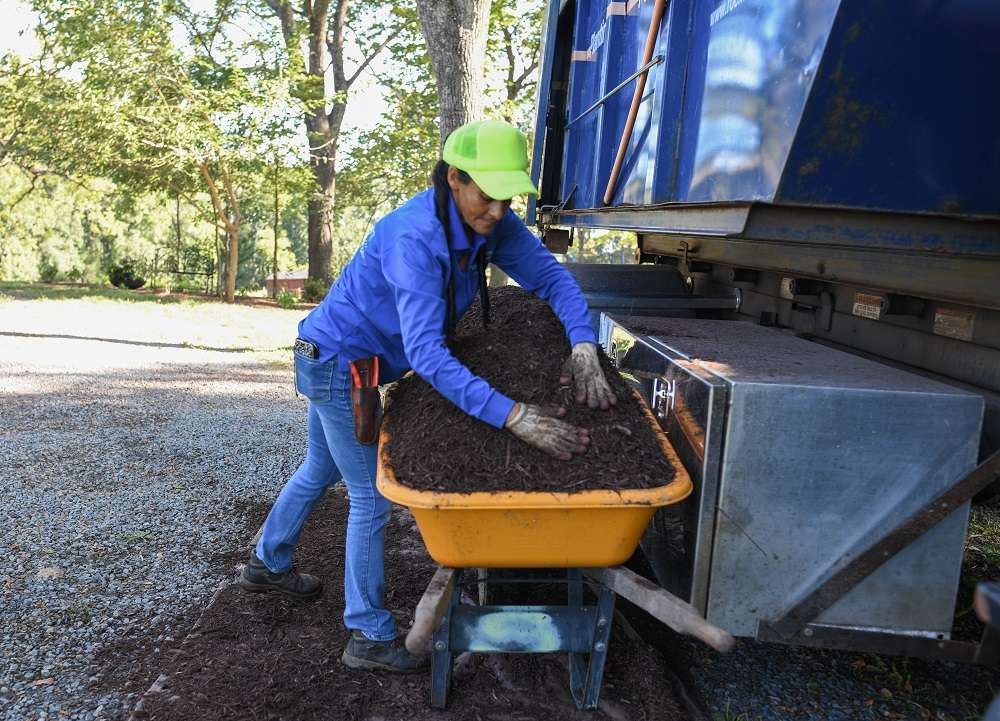 We have heard from many homeowners who finally decided to hire a professional for mulching services that they appreciated not having to do the strenuous work and potentially hurt their back.
You Can Avoid Mulching Mistakes
As we mentioned, we're certainly not trying to claim that mulching is rocket science. But it is a bit more involved than homeowners tend to realize.

The entire process should start with bed prep, which is a step that a lot of homeowners just skip as they dump the mulch out. But when you hire a professional, they'll make sure your bed is prepped ahead of mulching.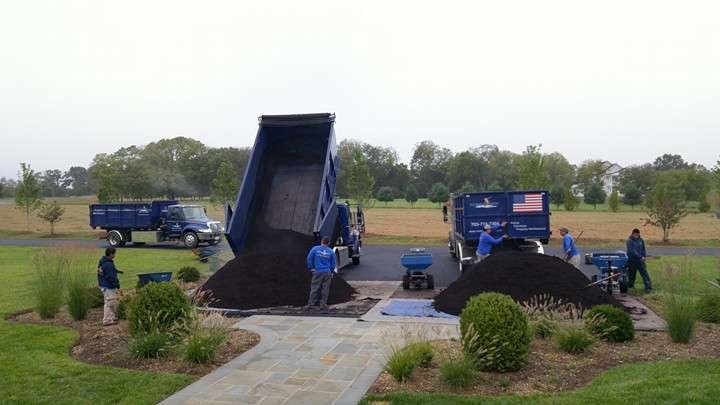 Then, the process moves into mulch installation. Properly mulching means applying the proper amount and spreading it evenly across the bed. But too often, we see homeowners or even other "pros" over-mulching landscape beds.

Unfortunately, hastily dumping too much mulch can bury the root systems of your plants and deprive them from much-needed oxygen within the soil. This will eventually smother and kill the plant.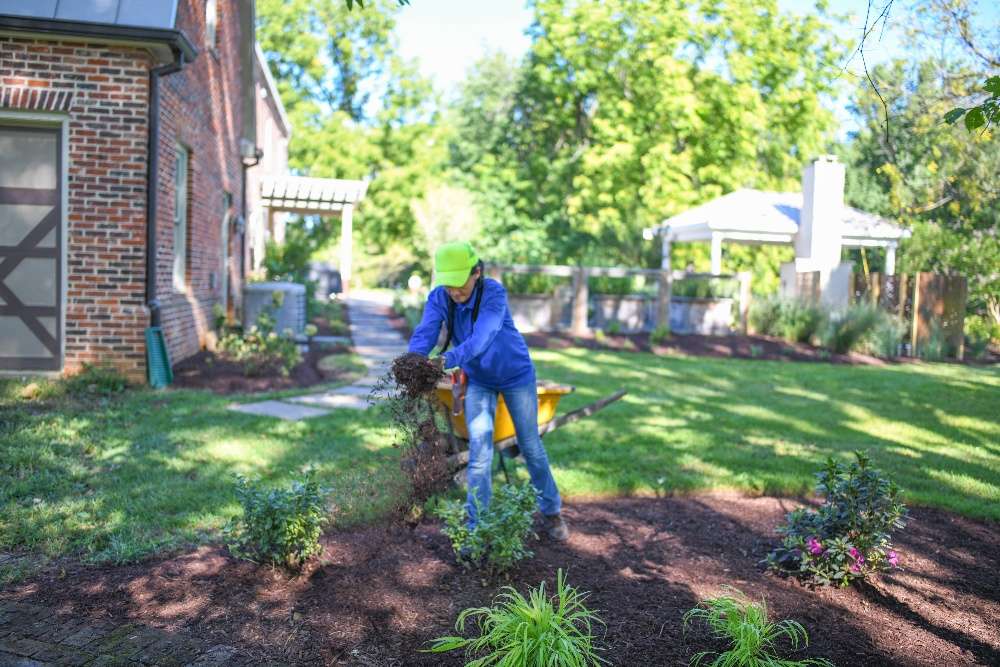 We recommend a two- to four-inch layer of mulch for the optimal conditions.

Another common mulching mistake we see made by homeowners and supposed "pros" alike is the creation of mulch volcanoes.

This occurs when deep layers of mulch are piled up against the trunk of your trees. You've probably seen it done—or maybe even done it yourself. But this is not the proper way to mulch a tree.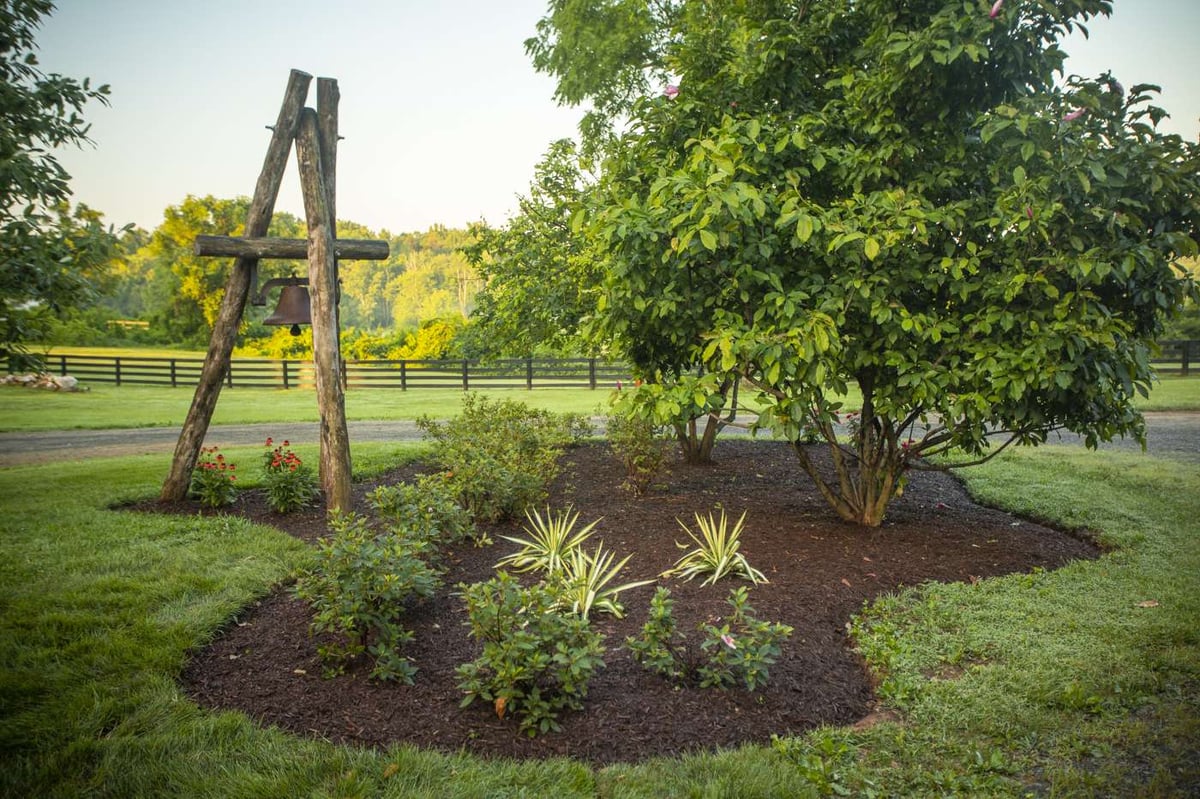 In fact, mulch volcanoes not only suffocate roots (leading to the tree's slow decline) but also encourage pests, such as voles, to burrow in. Mulch should be tapered down so that no mulch is actually touching the tree trunk above where it visibly flares out.
You'll Get the Highest Quality Mulch
When you hire a professional for mulching services, you also end up getting a higher quality mulch product. This is more important than people tend to realize.

In fact, we know that many people assume "mulch is mulch." But this couldn't be further from the truth. There can be a high degree of quality variation from one mulch to another and this is going to have a major impact on your results. In fact, a subpar mulch can also introduce problems to your plant beds.
Before you can understand the importance of choosing a high-quality mulch, you must first understand that mulching is important for reasons beyond aesthetics.

Here are some of the benefits of mulch beyond just the "looks."
Mulch also provides functional benefits such as helping your plants to retain moisture and regulating soil temperatures. In the fall and winter, mulch can help to insulate your plants' roots from the extreme cold and wind, which can be damaging.
Another benefit to mulch is that it will decompose over time and add nutrients to your soil. While some people like the look of landscaping stone, rock does not decompose or add nutrients into the soil.
Lastly, mulch also has the added benefit of helping to suppress weed growth within your plant beds. It can be difficult for weeds to break through that layer of mulch, making it a valuable way to keep weeds at bay.
Unfortunately, a low-quality product, like those sometimes sold at bulk mulch locations or even bagged mulch, won't have all of the same benefits. In a worst-case scenario, we've even heard of mulch being made from cheap recycled sources like ground-up pallets or two-by-fours. This means that mulch could have rotten wood or nails in it!
We've even heard of mulches with ground-up plant material, including weeds. This means you could be introducing unwanted plants into your beds!
When you hire a professional for mulching services, you want to make sure that they are using a high-quality mulch (as even some "pros" try to get away with the cheap stuff).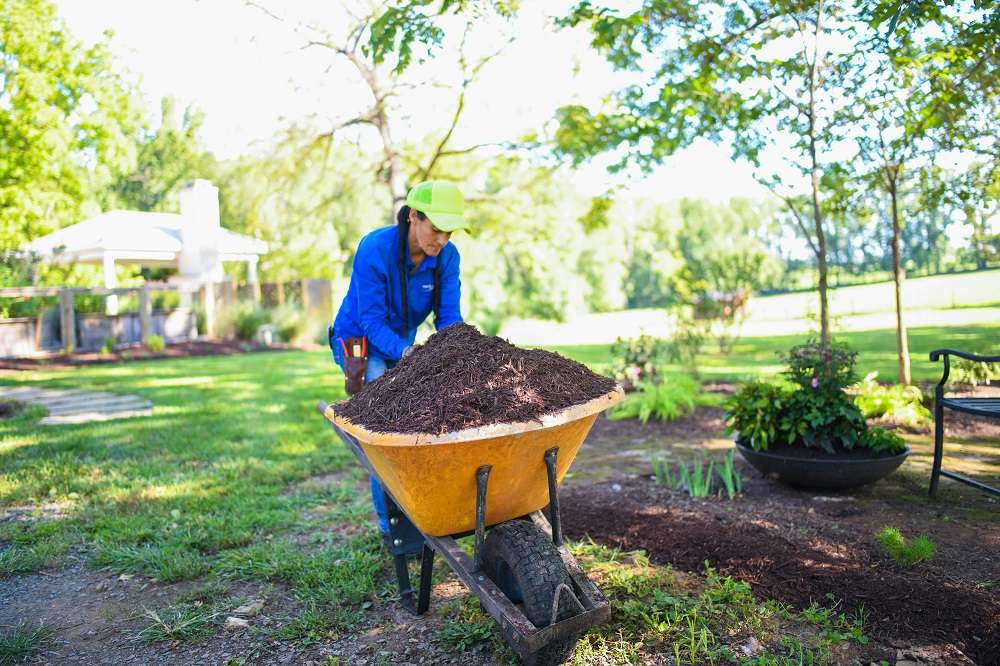 At Rock Water Farm, we are using virgin hardwood bark mulch. Using virgin timber means that it's never been used for anything else. With the use of a hardwood mulch, the product also absorbs dye better, giving you that rich deep color that you seek in a great-looking mulch.
As far as the dye used, we also want to point out that our manufacturer is using a computer-controlled, automated process to add that color. It's not a guessing game like you'd see with some poor-quality mulches that struggle to achieve optimal color. It's a very exact process using a food-grade dye, which is an important factor in terms of safety.
We know that you have kids and pets that may be around your mulch bed and you want to be confident that the product used is safe.
You'll Get Superior Results
All of these points add up to getting superior results when you hire a professional for mulching services.

With a higher quality mulch, installed properly, the finished result is just going to look better. It will be spread evenly, smoothed out, and look thoughtfully installed (not "dumped").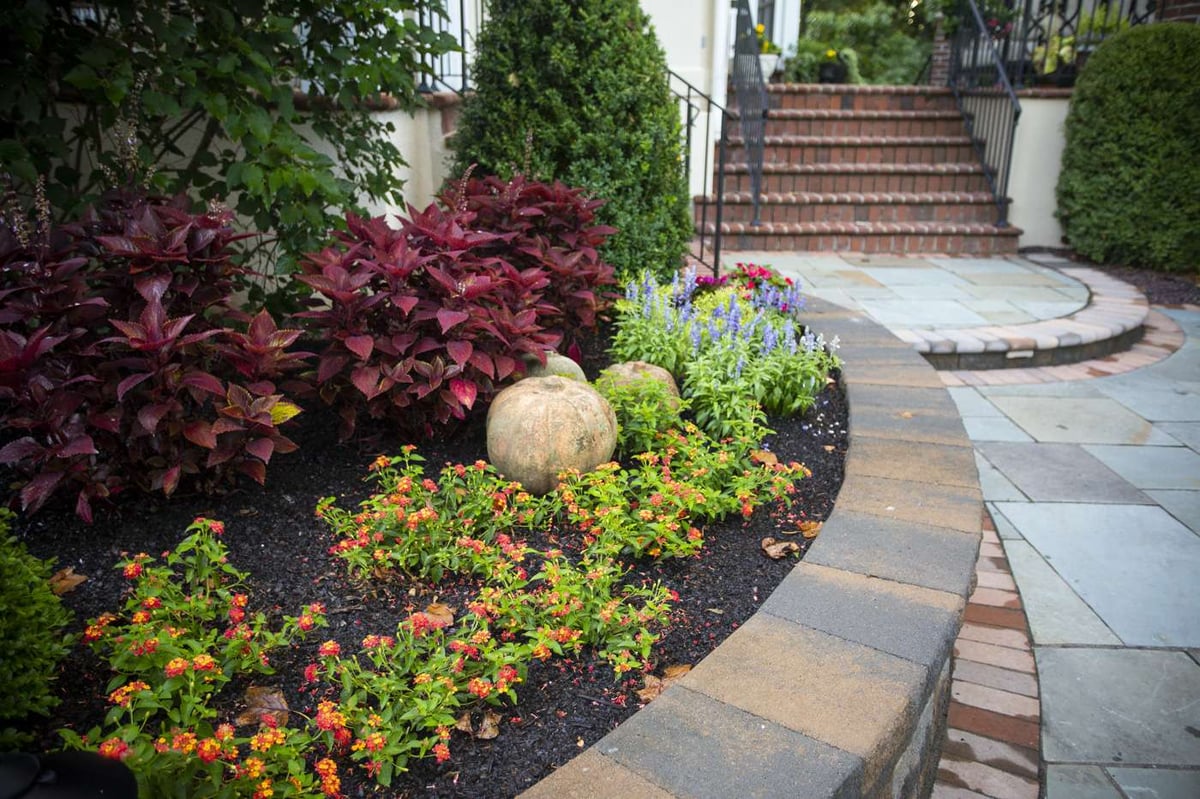 Along with that, you'll also get a professional edge, which will truly finish off the look. A natural edge, cut into the soil by a professional is a nice way to get a clean separation of your lawn and your plant beds.

A natural edge can be hand-cut with an edging spade or cut into the soil using a piece of machinery. With a natural edge, you can mow safely over it without risking damage like you would with the cheap plastic edging that some people use. While it will have to be maintained, a natural edge is also a nice, aesthetic addition to your landscape.
Hiring Landscape Maintenance Services in Northern Virginia
At Rock Water Farm, mulching is one of many landscape maintenance services that we offer to help keep properties looking their best.

If you'd rather not have to deal with all the hassles and headaches associated with mulching, then you might want to consider bringing in a pro. We can not only take care of your mulching but other landscaping services that you might need to help ensure your property is truly in its best condition.

At the end of the day, when you make the decision to hire a professional for mulching services you are making an investment in your property. You'll not only take back your weekend and your free time, but you'll be setting yourself up to be the envy of the neighborhood.

Are you ready to have a property that you are proud of at your Haymarket, Gainesville, or Round Hill, VA home? If so, talk to an expert, choose a solution that rocks, and get ready to see your dreams begin to take shape!