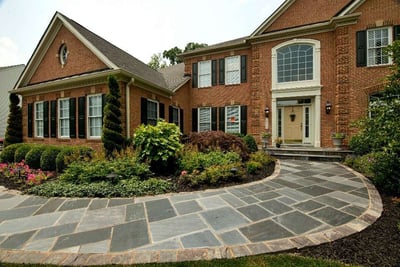 When you and your guests pull up to your home are you greeted by a beautiful and welcoming front landscaping design? Are there colorful plants, an attractive walkway, and a nice front porch with rocking chairs beckoning you to come have a seat and to stay a while?
Or is it dull and boring? Or even worse, is it out of control? Are there overgrown shrubs that are spilling onto your walkway, a monochromatic color scheme, and do you ever wonder if that one thing is a weed or a plant (because you don't remember planting it)?
We know that front yard landscaping might not be as exciting as the backyard full with outdoor kitchens, pools, and pergolas, but it is not something to be ignored. People tend to get really excited about creating their dream backyard that they let the front yard go untouched.
But front landscaping is just as important, if not more so, than the back. It has a direct impact on the value of your home and it can set the tone for your entire property. If you have a home that falls more into the second nightmarish scenario which we described, then you know that you need to improve your front landscape design.
But, you may be worried that you might choose the wrong solution, or provider, and wind up with an even worse (or more unmanageable) front yard than what you have now. You'd like to find a solution that truly solves your concerns and gives you a beautiful front yard you can be proud of.
Front Landscaping Plants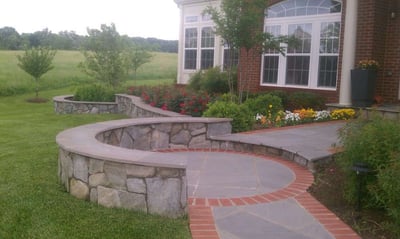 A good place to start is with plants. Plants are obviously an integral part of your front yard landscaping and choosing wisely when it comes to plant material is important. A common mistake that is often made in front yard landscaping is that homeowners get really caught up in one single type of plant and they go wild with it.
For instance, it's common that you might see a whole bunch of evergreens in a front yard. The problem is that there is little interest in this type of design. You want some variety of the plant types you use, that way you have variety in color and texture, too.
Here are a few plants that could work well with a front landscaping design:
Hydrangea

Azalea

Boxwood varieties

Hosta

Knockout Roses
And here are some that you should avoid (namely because of their ability to be invasive or to quickly get out of control):
Bamboo

English Ivy

Leafy Spurge
Front Yard Landscaping Ideas:
Do's and Don'ts
Regardless of exactly what plants you end up using, there are some rules of thumb to follow as you plan your front yard landscaping. Keeping these in mind will help boost your curb appeal.
DO Think about Balance
Although a very formal house with symmetrical features might warrant symmetry in its landscape design, most houses are not setup this way. But you should at least keep balance in mind as you plan your front landscape ideas. Just don't go overboard.
While we're not saying that if you plant five boxwoods on one side, you must have five on the other, there should at least be a fairly balanced look to the space. You want something that is pleasing to the eye.
DO Think about Layering
While you want some balance to your overall design, you don't necessarily want everything to be exactly the same heights. Layering different plant material into your front yard can really go a long way in creating visual interest. Choose plant material of different heights to create a lot of visual appeal. When everything is the exact same height it's simply not pleasing to the eye. Plus with layers, you can see all the plants in the beds, as the shorter varieties are arranged in front.
DO Think about Curves
How often do you see a front landscaping design that has a long row of flowers or shrubs, all in a straight line? If you like a more formal style, then you probably do like a linear look. But don't overlook the value that some curves can add to your front yard landscaping.
Instead of just a single line of plants, all in a straight row, think of big, arching beds that are curved and that provide a lot of different texture and color. Curved beds, and other similar groupings of plants, help to soften the cold, rigid lines of houses and blend the structure into a less-than-perfect natural setting.
DO Upgrade Your Front Porch
A lot of homeowners think about spending time outside in terms of their backyard but a beautiful front porch allows you to spend more time out front. We have had clients who like watching their children shoot hoops or use sidewalk chalk in the driveway or who just enjoy sitting outside to socialize with neighbors. Adding or expanding your front porch can make that possible.
A composite type of wood for a front porch is a good choice that is not a ton of maintenance. A Natural stone masonry patio would also work well. The surrounding masonry near your front porch also matters. Steps, entry pillars, or even boulders are all elements that can go a long way in making your front entrance a lot more impressive.
Keeping your porch cleaned off and adding some bursts of colorful flowers in some bright containers can also go a very long way in making it "pop" and creating a front porch that is incredibly welcoming to friends and family.
DO Make it Welcoming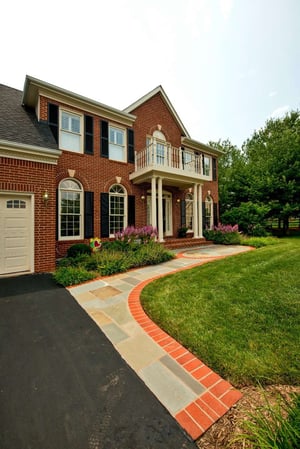 Speaking of welcoming, that's really what a front yard is all about. There are a few more ways that your front landscaping design can be more welcoming. For one, it can be colorful. As we mentioned, a lot of homeowners get caught up with one type of plant, such as an evergreen, and that's all they have installed. But think color! Choose some flowering shrubs such as buttonbush or hydrangea that will add some seasonal color, blooming at different times.
Another important way to make your front yard landscaping welcoming is to ensure that that you can actually see the front door from the street or the driveway. Don't let your hedges and shrubs become so overgrown that they take over your front yard and hide your door. A hidden front door is also a security risk. A police officer or neighbor couldn't see someone trying to break into your home if your front porch or front door are totally hidden.
Finally, you can also upgrade your walkway. A contractor's grade poured concrete walkway, which is what most homes have, may serve the purpose of getting you from point A to point B, but it's certainly not adding any visual appeal to your front yard landscaping.
We believe that walkways hold a lot of value and there are many stone walkway ideas that are much more aesthetically appealing to the overall look of your front yard. Don't let your walkway be an afterthought when it can hold a lot of value to your property.
DON'T Plant Something Huge (Even if it's Small Now)
A lot of homeowners make this mistake without even realizing it. They plant a tree or shrub that is small now and they don't research the size that it will be in the future. You don't want an enormous evergreen that is going to one day reach 40-feet-tall to take over your entire front landscaping.
You must also consider proper spacing in terms of width. When you plant trees and shrubs too close together (without taking into account how much space they're going to need as they grow), they ultimately look all smashed together when they reach full size. This means when small, new plants are installed, there will be a good amount of space between them for a number of years as they mature.
DON'T Overdo Plantings in Walkway Beds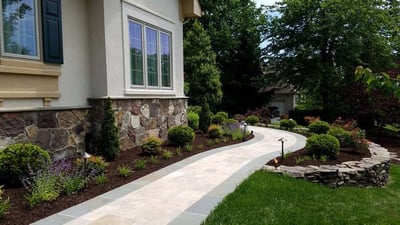 Having a lot of plant material in a bed that lines the walkway creates the possibility of plant life overgrowing their bed space and hiding part of your walkway. That looks messy and detracts from the walkway's purpose, which is to provide a clear path to the front door. If you do choose to have beds lining your walkways then just make sure you keep up with maintaining them.
Also, do not plant something prickly along your walkway that could potentially scrape you or guests as you walk by.
DON'T Forget About the Middle of Your Yard
Another common mistake we see in front yard landscaping is that all of the landscaping is done close to the house, and the rest of the yard is ignored. That can give a really "flat" or "2-D" look. Pick a couple of trees to plant near the middle of your yard to really add some depth and volume to the space. Trees can also serve the purpose of providing some shade in the front yard or can make a lovely focal point when connected to planting beds to form an island of vibrant colors and varied textures.
DON'T Forget to Add Landscape Lighting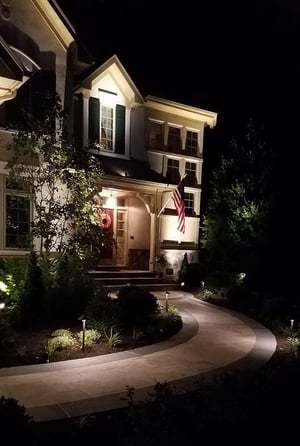 Landscape lighting is such a critical element of your overall landscape design but it's often overlooked. Uplighting your trees and shrubs, as well as some of the architectural features of your home, will make your front yard landscaping so much more impressive.
Plus, on top of making your front yard aesthetically appealing in the evening hours, landscape lighting will also add an element of safety and security. With your steps, walkway, and driveway better-lit, you reduce trip and fall hazards. Landscape lighting is also a way to deter theft. A thief is much more likely to move onto a poorly lit property than to try and break into a well-lit home.
Finding a
Front Yard Landscape Design
that Works For You
Every property is different and ultimately requires a unique solution. As you think about a front yard that is really going to meet your needs—making your home look truly different from all the others on the block and making it more enjoyable for you—you'll want to find the solutions that work best for your property.
There is definitely a lot of skill and landscape design expertise that goes into a thoughtful front yard. Plenty of landscape companies fall into the trap of some of the "Don'ts" that we talked about such as using boring plant material or only creating landscape beds in straight lines. If you want something truly unique, that makes your home stand out from every other home on the block, then you need a hire a landscape contractor that brings real design expertise to the table. You want to choose someone who will think outside of the box.
There is no reason you have to go on living with a boring front yard landscape. You can have something beautiful that will make your home unique. If you're looking for a landscape company that can help you to achieve that, then we are here to help. We can bring new life to your front yard in a way that will truly wow you and your whole neighborhood.
If you're ready for a front yard landscape that is going to turn heads and want to learn more about our landscape design services in Ashburn, Aldie, or Leesburg, VA, then request a free consultation. We'll help you create a front yard that you can be proud of.