Posted by

Todd Thomasson on Mar 18, 2022 3:41:00 PM
Controlling weeds in landscape beds can often feel like an uphill battle. If you've ever spent hours digging in your landscape beds to unearth pesky weeds—only to find new weeds emerge another day—then you also know how much frustration is associated with this kind of work at your property.
You want your plant beds to look their best but weeds creeping in can really take away from their appeal.
Of course, it doesn't take long for landscape bed weeds to spread and if you ignore them, you'll only end up with more. You might be surprised to learn that a single plant can put out thousands of seeds, some even propelling seeds 10 or more feet! Something as simple as a gust of wind can carry weed seeds from your neighbor's lawn into your plant beds and even birds can play a role in moving seeds around.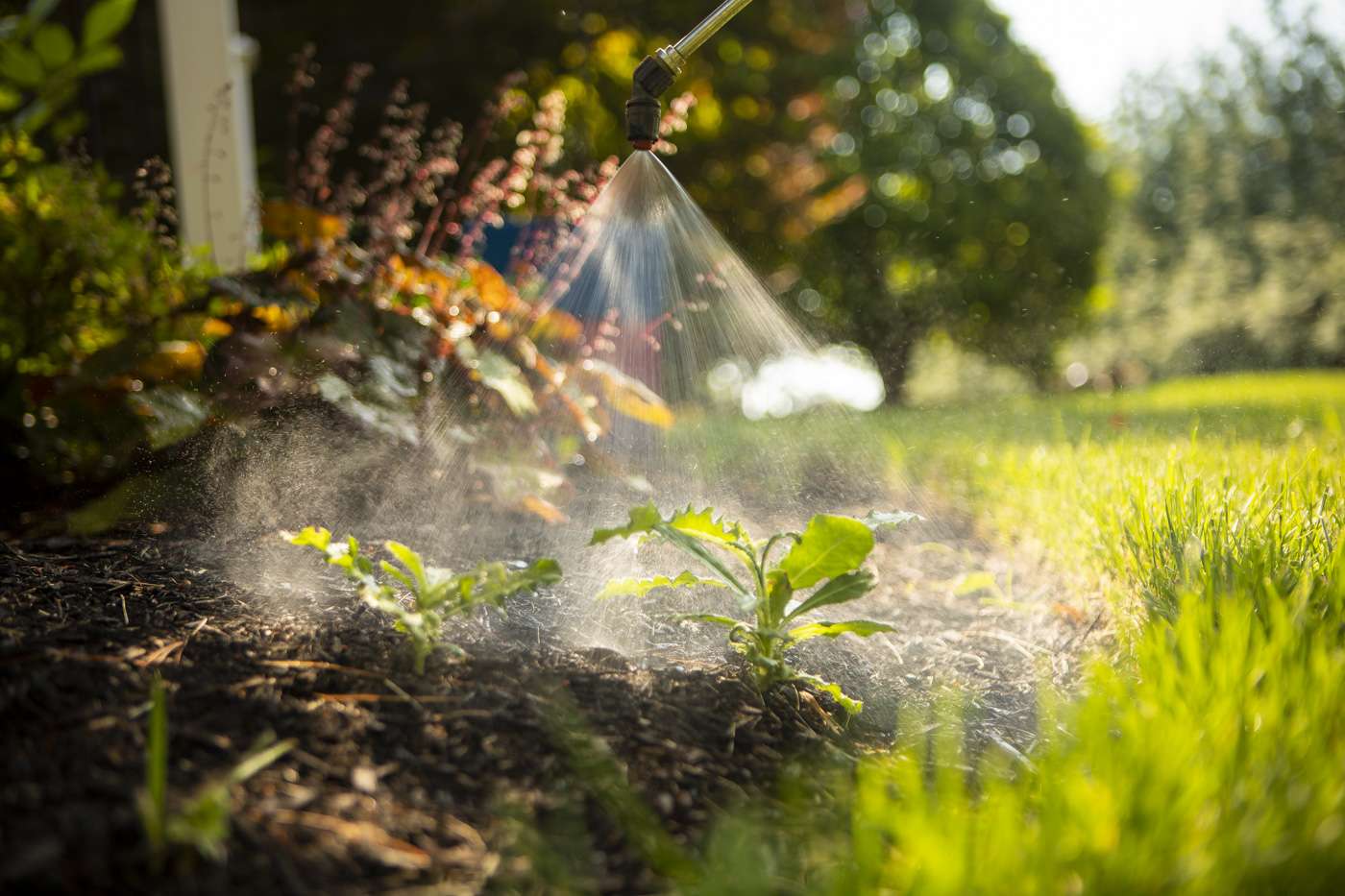 Unlike some of the plants you may have on your property, weeds don't take much nurturing or care to grow and thrive. All it takes is a little bit of sunlight and water for them to flourish. It almost feels like you can't win.
That's why you need to take action—and find a solution that will really work.
Weeds may be a common problem here in Northern Virginia, but there are ways that you can successfully address them. Here are some of our best pro tips to preventing weeds in landscape beds.
1. Identifying the Weeds in Landscape Beds is the First Step
Opportunistic weeds will pop up anywhere that they can. You'll not only find weeds in landscape beds, but also likely find weeds in landscape rock. In fact, the way that landscape rock heats up the soil can make it difficult for certain plants to thrive. But it often makes it more likely that weeds (which often love and thrive in heat) will pop up. You could very easily end up with a rock bed that has more weeds than plants.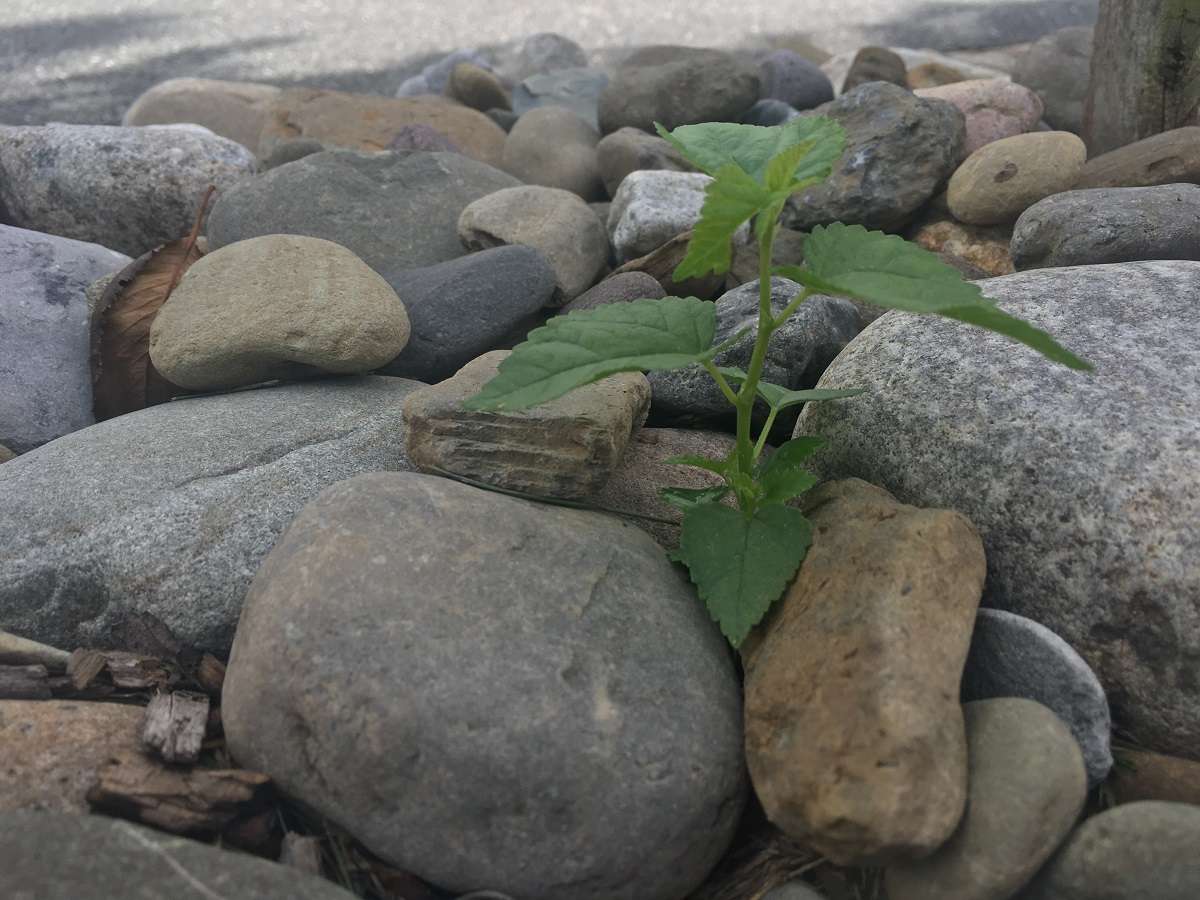 Knowing which specific weeds you're dealing with is the first step to successfully getting rid of them. While you might think "a weed is a weed," there are actually many different varieties. Because there are different landscape bed weed control methods for different types of weeds, you need to determine what's showing up in your plant beds.
We've previously written an article where we rounded up 12 of the most common weed types found in Northern Virginia. Although not a comprehensive list, it's a really good place to start as these are the weeds we see most often.
2. Hand-Pulling Weeds Can Sometimes Make Things Worse
When weeds are spotted in landscape beds, hand-pulling them usually seems like the best solution—and sometimes it can help. However, there are certain weed varieties that are actually stimulated to grow bigger and stronger when they are hand-pulled.
That means you could actually make your weed problem worse.
On top of that, hand-pulling weeds is usually not enough to keep up with weed control. It's not uncommon for pieces of roots to snap off underground and then the weed will just continue to regrow. The goal is always to pull the entire weed, root and all, but this isn't always possible. Many landscape bed weeds have deep roots but brittle stems, making them snap off easily.
Considering that weeds can also multiply rapidly, hand-pulling can easily become taxing and not a feasible way to address the problem. The best approach is to bring in a professional who can use commercial-grade weed control products that are safe for landscape beds.
While a professional landscaper might do a little bit of hand-pulling, depending on the weed type, using weed control products is typically the most effective way to kill weeds as the material translocates through it. It's important to note that is not just a blanket approach but rather a targeted one, where specific weeds are identified and sprayed.
3. Controlling Weeds in Landscape Beds Requires Pre-Emergents
While post-emergent weed control products are sprayed on weeds that have already popped up, the most effective approach will also target weeds before they're seen. It's easy to assume that what you can't see isn't a problem. But the truth is, weed growth begins long before the weeds actually become visible. Weed seeds can actually sit for years before just the right conditions cause them to start growing.
This is why effective weed control in landscape beds should also include the use of pre-emergent products that reduce the amount of germinating weeds from reaching the soil line. These types of products work by creating a barrier that inhibits germination. This means that one of the best methods of weed control can actually be to prevent those that are able to be prevented in the first place!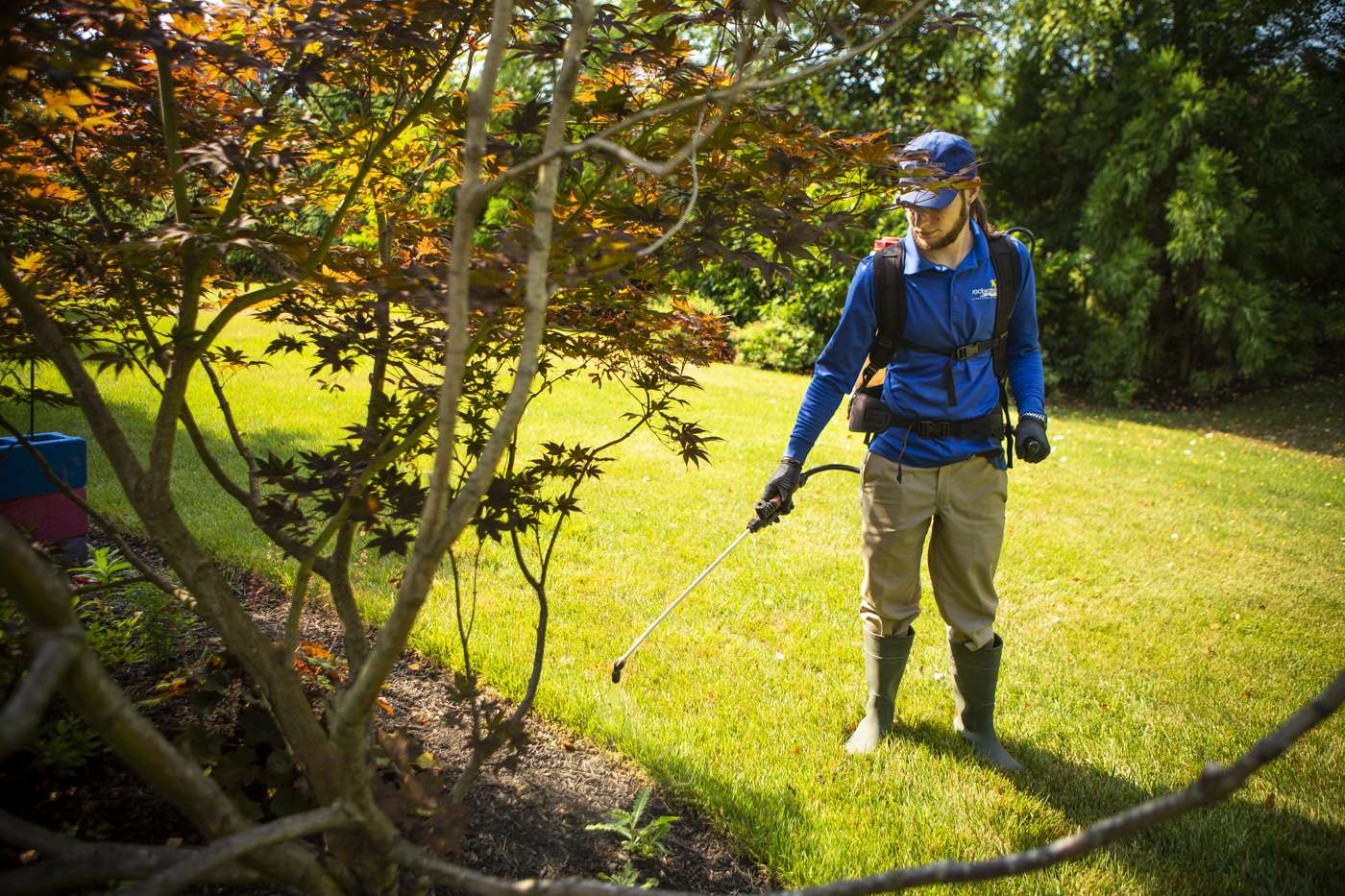 It should be noted that there are some weeds which do not spread by seed, so pre-emergents will be ineffective against them. Certain weeds are particularly frustrating (and sneaky) in that they can grow from tiny pieces of root, bulb, or stem that remain underground even after being hand pulled or dug out.
Of course, even for weeds that are spread by seed, utilizing pre-emergent properly means knowing when these products should be applied. There is a timeline that must be followed. Pre-emergent herbicides must be put down prior to germination or else these products simply won't work.
If you've missed the window for prevention one year, we can still address weeds in landscaping post-emergently and then also implement pre-emergent controls for the following year.
4. Mulching Can Help Suppress Weeds (But Should be Part of a Total Plan)
Another tip to keep in mind is that mulching can absolutely help have an impact on suppressing weeds, but you still want to prepare your plant beds properly (using pre-emergent weed controls prior to laying mulch).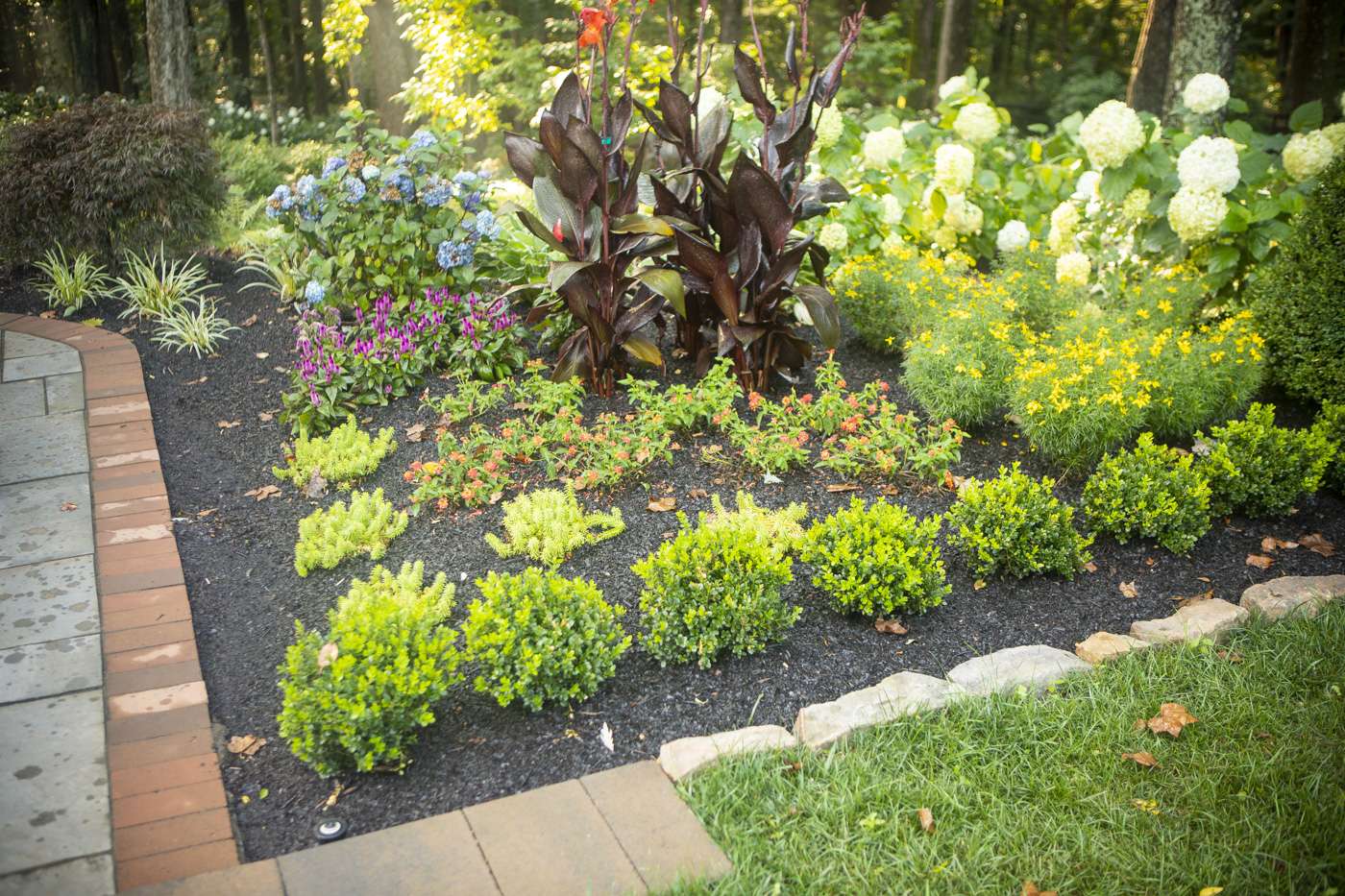 Throwing a bunch of mulch on top of weeds that are already there won't do much good, either. It's always best to have the plant beds weeded prior to a mulch installation.
Mulch is a weed suppressant in that it adds another layer that weeds must "break through." But you probably already know that there are plenty of aggressive weeds that can still push up and out of a layer of mulch. This is why mulch alone is not enough to address unwanted weed growth. The key is a comprehensive weed control approach that takes into consideration the entire lifecycle of the weed and uses pre-emergents on weeds that can be prevented.
5. Have a Year-Round Weed Control Plan
The final pro tip that we'd offer is to make sure that your landscape bed weed control plan is more than just a seasonal effort. There are different weeds that come with each different season. Although it's often the spring weeds that get the most attention, summer, fall, and even winter bring their own set of pesky invaders.
Because of this, it's really important that your weed control plan is year-round and focused on altering your approach based on the season (and the types of weeds that your property has for that season). It's important to remember that all properties are different!
It absolutely helps to have the eyes of a landscaping professional on your property who can recognize common weeds, correctly apply the weed control materials that are needed (at the proper time), and manage spot treatments when the need arises.
Work with a Pro to Eliminate Weed Worries
Weeds in landscaping are probably the last thing you want to have to worry about. You want to have a gorgeous landscape that gives off that "wow factor" but you have better things to be doing than spending your nights or your free weekends pulling weeds in your plant beds.
This is why turning to a professional who can handle weeding services for you as part of a comprehensive plan to care for your landscape is the ideal solution. With this annoying task handled for you, you're free to use your time the way you really want to, while still having a weed-free property that you can be proud to show off.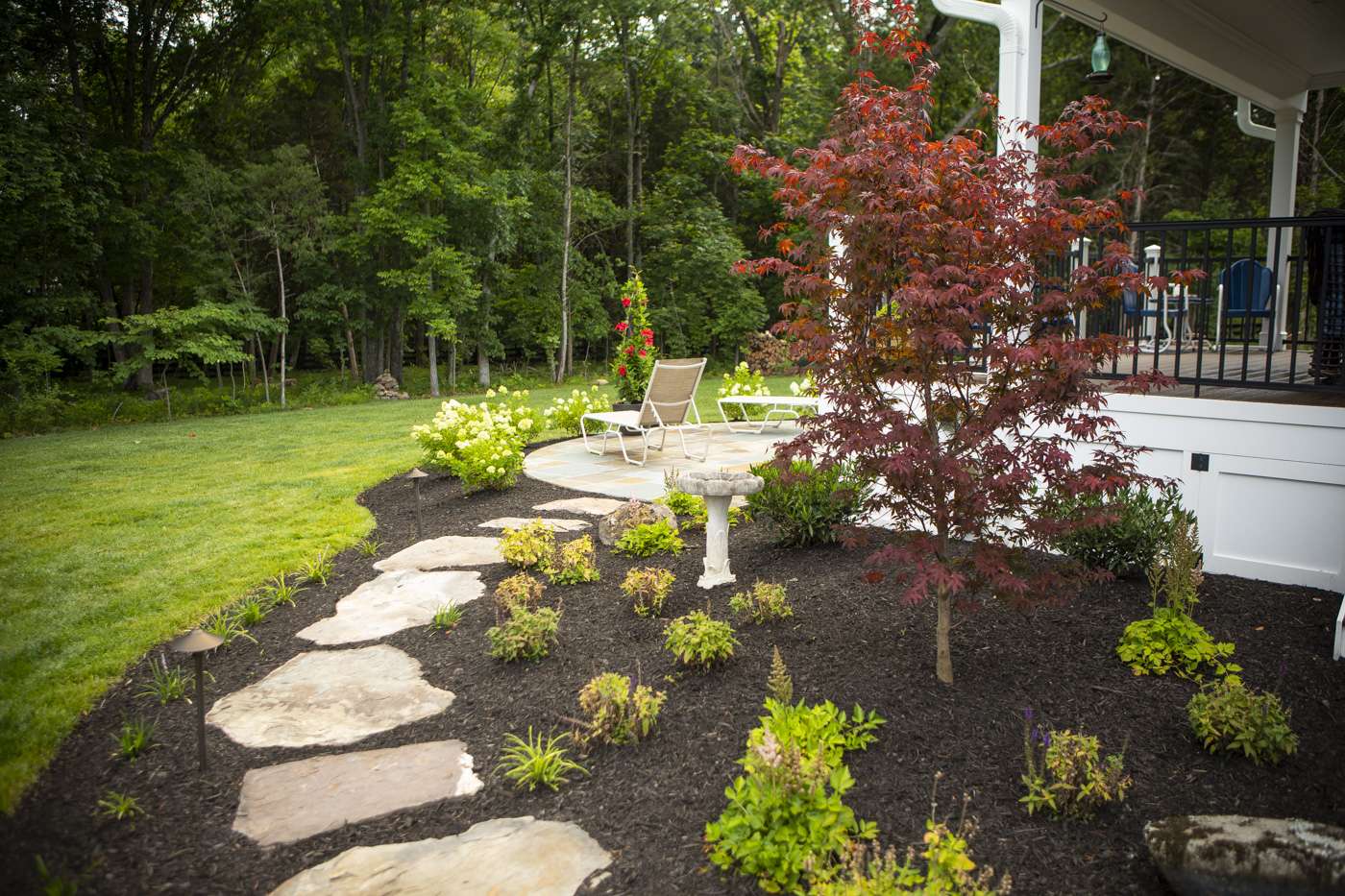 Of course, your property is made up of more than just plant beds.
You also have trees and shrubs, a lawn, and other aspects of your property that need care. That's why working with a landscape professional in Northern Virginia that offers a comprehensive list of services is beneficial. You don't want your plant beds to look great but your lawn to be full of weeds. On the same token, if your plant beds are free of weeds but your shrubs are a mess and in need of pruning, it's still going to be an eyesore.
You want to make sure that all of your landscaping needs are addressed so that you can truly appreciate your property for all its value. By finding a company that can offer it all, you can take away your worries and get back to enjoying (and using) your property more.
Choosing Rock Water Farm for Your Landscaping Needs in Northern Virginia
At Rock Water Farm, we offer a comprehensive list of services that not only includes landscape maintenance, but also design/build services, and more. That means we can help get your entire property look and perform its absolute best without any of the typical hassles and headaches you might equate with these tasks.
There's no question that weeds in landscaping can be a major source of frustration. But they don't have to continue to drive you crazy. By handing your landscape maintenance needs over to a professional, you won't have to spend any more time fretting that your landscaping looks subpar.
By leaving it all in the hands of a pro, you can put weeds out of your mind for good.
If you're ready to start getting the landscaping results you desire at your Ashburn, Aldie, Leesburg, or South Riding, VA home, talk to an expert, choose a solution that rocks, and get ready to reap the rewards.