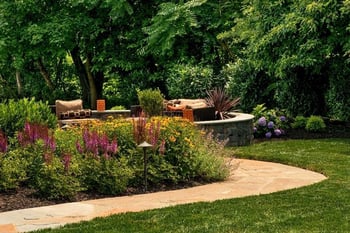 One of the biggest misconceptions about the companies offering landscaping maintenance services in Ashburn, Aldie, and Leesburg, VA is that they're all alike. On the surface these companies might appear similar or even offer many of the same services. But the truth is that there are a variety of factors that go into a company and its service offerings. This is why you'll find that prices can vary dramatically even within the same marketplace.
If you're considering hiring a company to perform landscape maintenance services for your Ashburn, Aldie, or Leesburg, VA home, we challenge you to dig deeper in your exploration of what's out there. Look beneath the surface to get to the bottom of what makes the companies you're comparing different.
While it can be time consuming to explore the differences, if you don't put in the research, the only real comparison you have to shop on is price. But simply opting for the lowest priced service can be a big mistake that you will come to regret.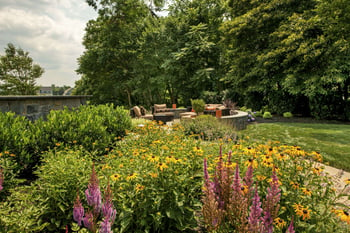 That's because another common misconception is that landscape maintenance is the less technical aspect of landscaping (as compared to something like designing and building a patio or outdoor kitchen, for example). But the fact is that many landscape maintenance services require training and skill to be performed correctly. Services that include professional grade product application can even require special licensure. Performing these services incorrectly can damage your lawn or even cause irreversible harm to your trees and shrubs.
There are a lot of companies in the Northern Virginia area and they're all quite different. Unfortunately many are fly-by-night businesses that won't end up being around for the long-haul. If you wind up with one of these companies, you could be left high and dry. That's why it is so important to research the companies you're choosing from.
We know that it may feel overwhelming to choose the best landscape maintenance service for your property when there are so many to choose from, but finding the right company will make a huge difference in the overall execution of the service as well as your overall satisfaction with how the job was done.
Reviewing
Landscape Maintenance Services in Ashburn, Aldie, and Leesburg, VA
Over the years we've gotten to know our competitors and have a good sense of some of the other companies in our area that offer similar landscape maintenance services that we do. Here are five of the well-known companies in our region.
American Lawn Brothers
This landscape maintenance company offers a full-range of services including scheduled mowing, bed design, seasonal clean-up, and plantings. They were founded by Ricky Hoybach in 1985 with a single customer and have grown from there.
Blue Sky Landscaping
Blue Sky Landscaping is a locally owned company that was founded in 1999. While they do some design/build work, their primary focus is landscape maintenance.
Cedar Run Landscape, Co.
Founded in 1996 by Daryl Schauss, Cedar Run seems to do a little bit of everything including both design/build work as well as landscape maintenance. Cedar Run serves both residential and commercial clients.
Pleasant Valley Landscapes
Established in 1990, Pleasant Valley Landscapes serves the Northern Virginia area and manages 7 to 10 crews for maintenance and installation work. Pleasant Valley believes in education and takes time to train their crews by attending industry seminars and participating in other educational opportunities.
Ultra Turf, Inc.
Ultra Turf is primarily a maintenance company though they now also perform some landscape design and installation services. Ultra Turf offers fertilization, weed control, insect management, and other lawn care services.
What Makes Rock Water Farm Landscapes & Hardscapes Different
While we certainly share a few similarities with some these other landscape maintenance services in Ashburn, Aldie, and Leesburg, VA, and we offer some of the same services, we also do some a number of things to set ourselves apart and provide a superior experience for our clients.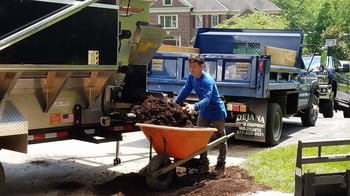 For one we take professionalism very seriously. We keep our vehicles and our equipment in top condition as we know they are a reflection of our company. Our crews know that we hold them to a high standard and they don't disappoint when it comes to meeting that standard. They wear uniforms and always have a professional attitude. All of these factors contribute to our business reputation and we care about upholding that image in the community.
We also take a highly customized approach to landscape maintenance. While a lot of companies offer packaged maintenance programs, when we prepare a proposal, all of our services are offered as a la carte options. That's because we don't want to just push services on you. We prefer to educate the our clients, having them ask questions about what each service is and why they might need it. We always want our clients to understand what we're doing (and what we're not doing) on their property. Working together, we will find the best program for you with the services you need most.
We are a comprehensive maintenance company meaning that we don't just "mow, blow and go" as a lot of companies offering landscape maintenance services in Ashburn, Aldie, and Leesburg, VA do. Building a relationship with the client is incredibly important to us. We don't want to just come to your house, perform a service, and leave. We want to get to know you and do what it takes to meet your needs.
In total, we offer 14 different landscape maintenance services in addition to our landscape design and installation services. But we also help our clients out on projects that come up as needed. For instance, we have clients who might call us when they're hosting a big party and ask us to get their landscape in shape with whatever it needs to look nice for a backyard event. Accommodating requests like this is part of the ongoing relationship we build with clients.
Choosing the Best
Landscape Maintenance Service for your Ashburn, Aldie or Leesburg, VA
Home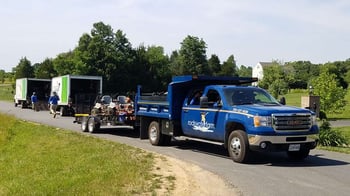 As you do your research and narrow down your options, we hope that you'll consider Rock Water Farm Landscapes & Hardscapes for your ongoing landscape maintenance service needs.
If we're on your shortlist for landscape maintenance companies, we welcome your questions so that you can find out more about us and what we do. We would be grateful for the opportunity to get to know you and how we can meet your needs.
If you're ready to contact Rock Water Farm for landscape maintenance services at your home in Ashburn, Aldie, Leesburg, VA or surrounding areas, contact us for a free consultation. Or just give us a call at 703-327-1636 and we'd be happy to answer any of your questions.