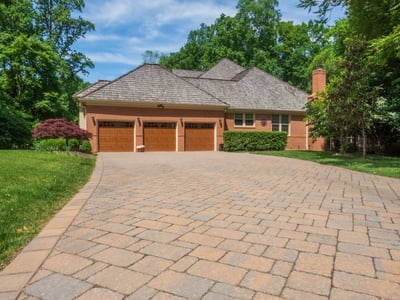 When it comes to entertaining and hosting others, even the front yard requires some thought. Considering the fact that this Great Falls, VA family enjoys entertaining and often has multiple cars parked in their driveway, they needed a bigger hardscaped space.
The decision to redesign (and ultimately widen) their driveway, also lead them to consider some unique options for hardscaping at their Great Falls, VA home. The result was an impressive aesthetic upgrade.
Rather than choosing another ordinary asphalt driveway—as they previously had—the homeowners decided to upgrade to a paver driveway. Considering the driveway is the first thing that most people see when they pull up to a home, it makes sense to increase the wow factor—and these homeowners certainly did just that. Since most of their guests enter through their garage, the driveway leading up to it is now incredibly impressive and welcoming, too.
Why Consider a Paver Driveway?
Like others who have gone through any renovation around their home, these homeowners spent time weighing their options. Ultimately, there were a few different benefits that led them to choose pavers.
Paver Options Abound
For one, the homeowners liked that they had options with everything from the color to the design. They began to see that there are so many ways to get creative with pavers. Though they didn't choose to do this, pavers allow the option to even add initials or a unique pattern. Pavers also allow you to create any number of different borders. These homeowners incorporated a simple but sophisticated border that delineated their driveway edge.
On the flip side, with asphalt, there is literally one color and no originality. Asphalt can look good when it is fresh and brand-new but in very little time at all, it starts to look dated and can require a fair amount of upkeep. It also doesn't look like anything special with a great-looking home. But a paver driveway can really "pop."
Long-Lasting Durability
Another benefit to installing a paver driveway that these homeowners considered is the fact that it's going to last longer. When pavers are installed properly, they do not require a lot of upkeep, though they should be periodically sealed to prevent stains from vehicles.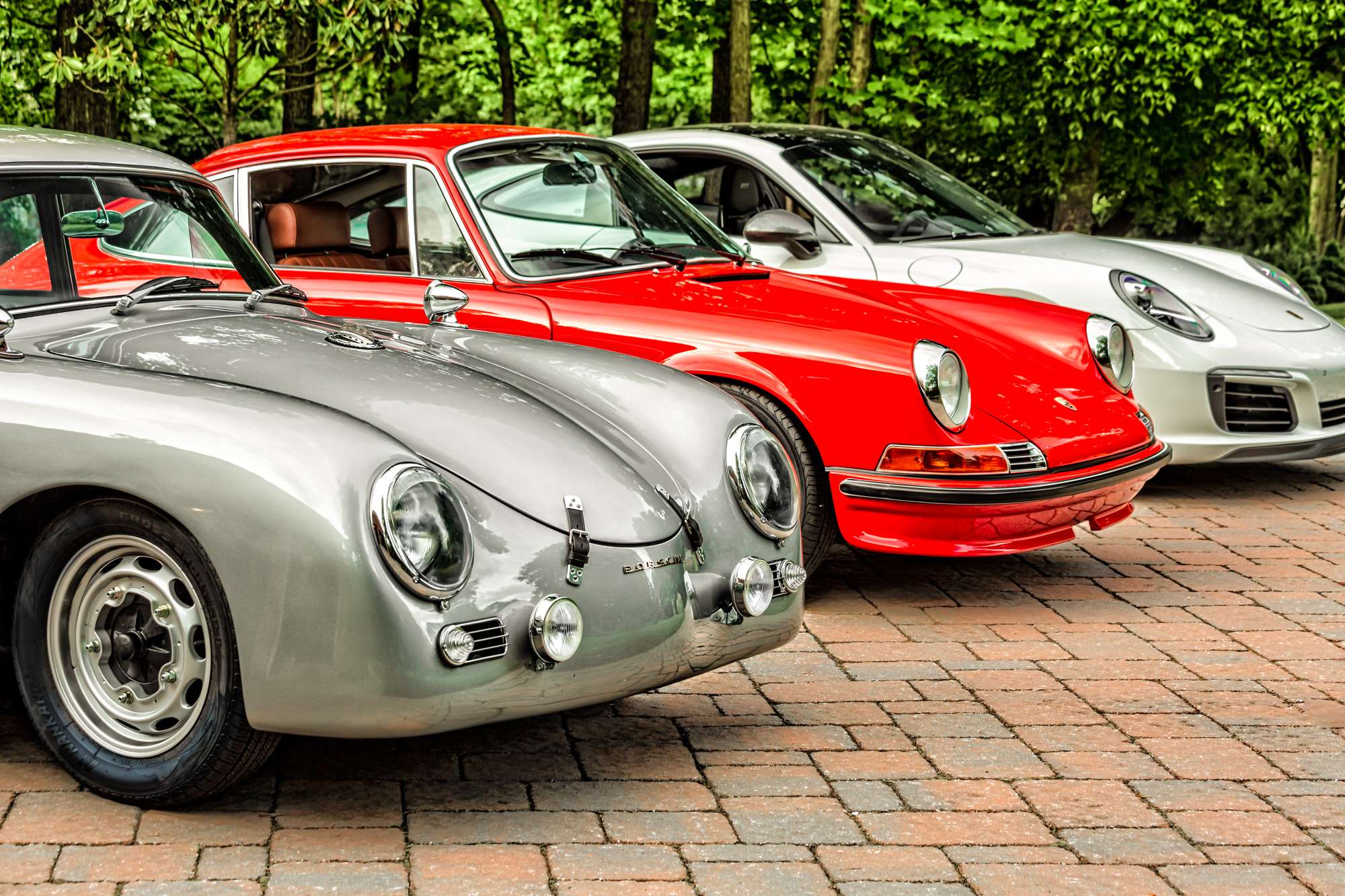 Asphalt generally needs more maintenance than pavers including services like crack sealing, seal coating, and patching (which is and always will be a highly noticeable repair). But pavers are beneficial in terms of their repair capabilities. If a paver becomes damaged, such as getting cracked or stained by accident, it can be removed and replaced—and your driveway can look like new again.
Working with a Great Falls, VA Landscape Design Company
In order to get the results that they wanted, this family chose a Great Falls, VA landscaping company instead of just going through the typical process with an a standard (asphalt) driveway company.
Obviously, that gave them the option of pavers. But because they were also looking at a redesign, they saw the value in working with a landscaping company that was well-experienced with design. This helped ensure that the new widened design worked logistically and aesthetically with the rest of the property.
Of course, not all Great Falls VA landscape contractors would necessarily be able to handle a project of this caliber and size. A Great Falls, VA hardscaping company that has only installed a few small, cookie-cutter patios simply might not have what it takes for a massive project like this.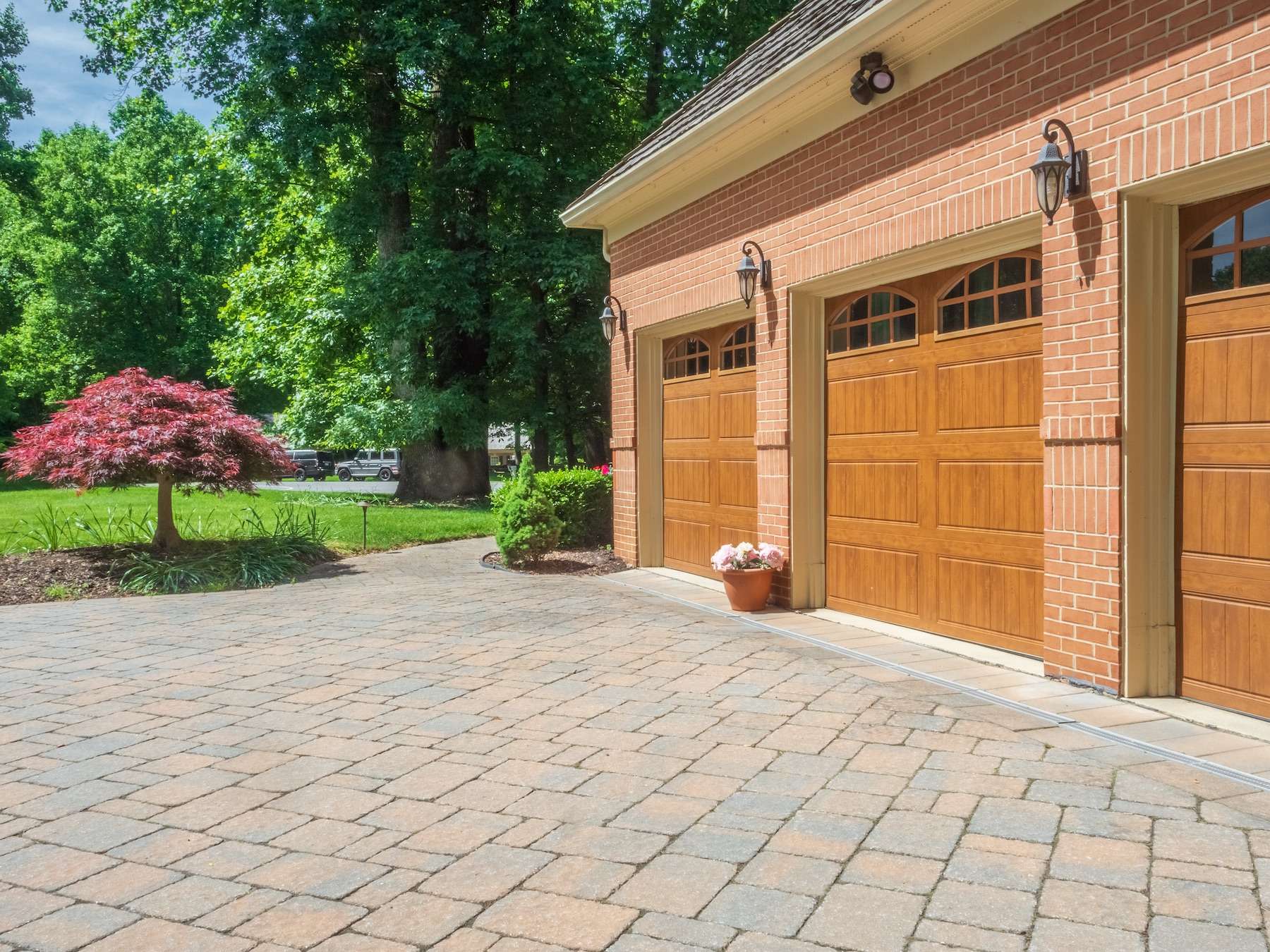 Although you might assume that installing a paver driveway is not much different from installing a paver patio, that isn't the case. The fact that cars will be driving over the paver driveway—not to mention steering and backing around—adds a level of complexity not present with a patio. You can't just choose any paver or lay it out in any way. There are some very specific choices to be made.
In addition, like patios, drainage is also an issue but may require different solutions in order to get drainage flowing in the proper direction. It is critical how the water is draining underneath the driveway. If this is completed wrong and there is water in the property that runs through the base, it could be a huge problem. Catch drains and pipes to redirect water can be installed under the driveway to prevent these concerns where appropriate.
This is why a professional who understands what's involved is key. A project of this size and scope simply shouldn't be left to chance.
A Word About Natural Stone
Though this family chose pavers, it's worth mentioning natural stone as an option as working with natural stone is always our preference for its durability (after all, it's literally stood the test of time) as well as the aesthetics. Truly nothing quite beats the beauty of natural stone. After all, so many different man-made pavers mimic the look of natural stone, so why not just choose the real thing if your budget will allow for it? Cost is, of course, the differentiating factor. Natural stone is going to cost more.
If you do choose natural stone, a cobblestone looks fantastic for a driveway. Again, this is such a popular choice that many man-made pavers mimic the look. But for an upgrade, you could choose the real thing.
A Driveway that Welcomes, Wows, and Just Works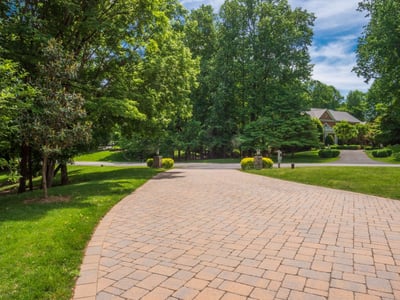 By incorporating a paver driveway into their front yard, this family made a powerful aesthetic impact on their curb appeal. Now, when guests pull up to their home, they not only feel that "wow factor" but they also feel greeted warmly, which was important to this Great Falls, VA family. And beyond the aesthetic appeal is an important functional impact. Both family members and guests now have ample space to park their cars in the driveway.
From the material choice down to the design, this paver driveway was a win all around and the homeowners couldn't be happier with the results.
Whether it's a paver or natural stone driveway or another project you have in mind, are you ready to bring your ideas to life at your Great Falls, Ashburn, Aldie, or Leesburg, VA home? If so, then talk to an expert, choose a solution that rocks, and get ready to see your dreams come to life.