If you're looking for a better lawn—one that you can really enjoy for its lush green beauty and that you know your neighbors will envy—then you may be looking for a lawn care company. After all, you may surmise that there's no better way to get fantastic results than to work with a professional who will not only have access to professional-grade products but will also know exactly what your lawn needs and when it needs it.
While the task at hand (finding a great lawn care company) may sound simple enough, when you begin to research companies in the Ashburn, Aldie, and Leesburg, VA area, chances are, you'll see just how many there are to choose from.
On that list will be companies both big and small. You'll likely see names you recognize and plenty that you don't. Ultimately coming to a decision on which company is best for you will mean narrowing your choices.
Since TruGreen in Sterling, VA is a name that Rock Water Farm often comes up against, we've performed some of the legwork for you. Let's take a look at the way in which this company compares to Rock Water Farm in order to make a fair comparison.
The Basics on TruGreen Sterling, VA
There's no question that TruGreen is a big name that most people know. In fact, it's not just recognized in Ashburn, Aldie, and Leesburg, VA, but across the country, as well. It's definitely hard to go far without seeing one of the TruGreen vehicles driving around.
That's because TruGreen is a national corporation and it services millions of customers across the country.
TruGreen Sterling, VA is one of the company's more than 200 branches nationwide. This particular branch is headquartered in Sterling and though they list different areas on their branch website, those are just part of the local branch's service area.
TruGreen Sterling VA vs. Rock Water Farm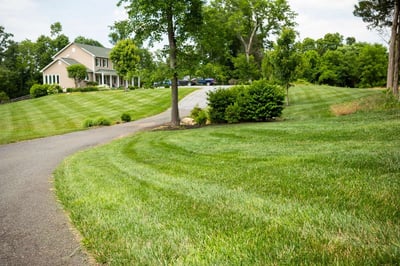 While there is a propensity to assume that all lawn care companies are similar, this couldn't be further from the truth. Lawn care is not as simple as some tend to think.
In fact, it requires training and skills to be performed correctly. Professional grade product application can even require special licensure. And just because two companies are working toward the same end goal and performing similar services, they'll likely have different ways that they go about achieving those goals—some being more effective than others.
As you compare TruGreen side-by-side with Rock Water Farm, you'll find quite a few differences that pop up. Let's explore them.
Comparing Size of Lawn Care Companies
The biggest difference that you'll likely notice right off the bat is the size difference between these two companies. The fact that TruGreen is an enormous national corporation and carries the power of that well-known name behind it is in stark contrast to a locally owned and operated, independent company like Rock Water Farm.
While Rock Water Farm may not be known on the national scale that TruGreen is, it is committed to its smaller service area (primarily Ashburn, Aldie, and Leesburg, VA and surrounding communities) and has become a recognized name within those communities. We think that being committed to a smaller service area allows us to really get to know our properties better. We're also very in tune with the regional needs. After all, we live and work here, too.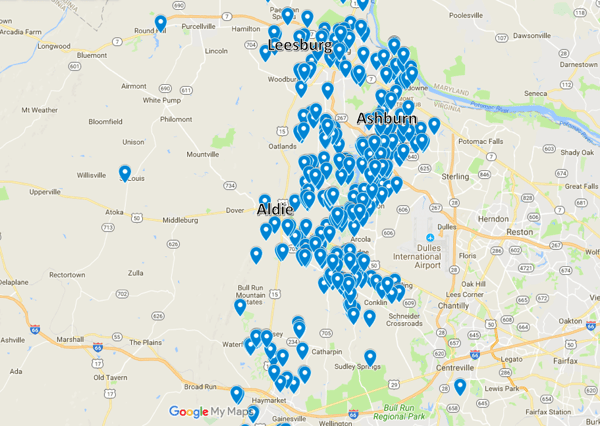 While there may be an inclination to choose the "name that you know," it's important to remember that name recognition does not automatically equate to better results. Before you choose that enormous, national lawn care company simply because you've heard of it, you should still research how that company is performing.
Are customers happy with their results? These facts matter more than the name.
Comparing Services
At a glance, the lawn care services that TruGreen and Rock Water Farm offer share some similarities. For instance, both offer lawn care and some pest control services.
But a big difference is that Rock Water Farm goes well beyond what TruGreen offers. For instance, TruGreen doesn't offer topdressing and could never fix major issues with soil in a lawn if it requires large equipment to add soil or perhaps to correct the grade. Another aspect of Rock Water Farm's lawn services is mowing, which TruGreen does not offer.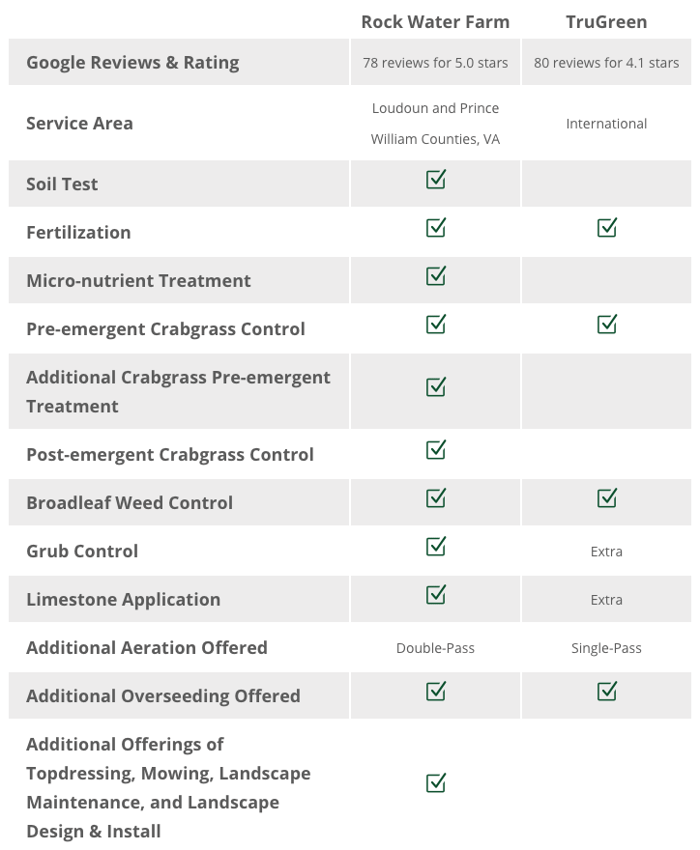 Since Rock Water Farm is also a comprehensive lawn and landscape company, it's a tremendous value-add for the client. For instance, if there is a trouble spot that is getting too much shade and not growing grass, it may need an alternative solution such as mulching or the addition of a plant bed. Of course, you'd have to go to an outside landscape company like Rock Water Farm anyhow to have that completed.
These types of issues are more common than people realize and they often end up using more than one company to do different services. But with Rock Water Farm, one company can handle it all. They can establish/build and maintain lawn and landscapes.
Following a System vs. Customizing a Plan
Like any national corporation with branches, TruGreen Sterling, VA has prescribed protocols that they are told they must follow.
This is quite different from Rock Water Farm, in which we take a customized approach to each property. We recognize that no two lawns are the same and that every lawn may have its own special needs. That's why we incorporate a soil test into every program that we offer. Every property can benefit from a soil test to inform us of exactly what is needed. We're not just "trying something to see if it works." We are developing a fully customized plan based on the science behind the soil tests that we run.
Comparing Lawn Care Prices
While you should never shop for lawn care on price alone, it's obviously a factor that you're going to consider as you compare lawn care companies.
We will tell you with no hesitation that TruGreen is going to be cheaper.
But we'd also advise you to think about why they may be cheaper. One reason that we suspect they're cheaper than Rock Water Farm is that they're not using the same products as us. There are different levels of quality when it comes to lawn care products. The higher quality the product, the better it usually works. But higher quality products naturally cost more.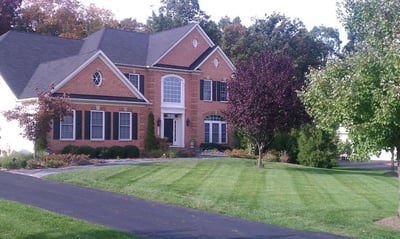 TruGreen also plays a strong marketing game when it comes to their pricing. They have been running the same pricing promotion for more than a decade, which is that the first visit is $29.95 for up to 5,000 square feet.
But this is a bit misleading as that is only the first visit. From there, an average visit might cost more like $50. According to the website, TruGreen's program includes 8 visits performed between February and December and it's a pay-per-visit structure.
Rock Water Farm is very upfront about pricing. We don't play games or use low-price hooks to try to gain your business (only to up-charge you later). You'll know exactly what you're getting for the dollars that you invest. There are no hidden fees or surprise costs later on. We also offer pricing to evenly distribute the costs per month (as opposed to "per visit"), which makes it easier for the customer.
At Rock Water Farm, we have three levels of programs at three tiers of pricing. These include the following:
Basic Lawn CareProgram
Starts at $45 per month

Includes soil test, multiple treatments of pre-emergent crabgrass control, five fertilizer applications, multi-seasonal weed control, grub control, limestone application, micro-nutrient treatments
Plus Lawn Care Program
Starts at $60 per month

Includes everything in the Basic Program plus double-pass core aeration and overseeding
Premiere Lawn Care Program
Starts at $175 per month

Includes everything in the Plus Program as well as weekly mowing
As you think about pricing, you should always think about what you're getting for your investment. It's always important to look at cost versus value. Don't just assume a "visit" is the same from one company to another.
Like everything in life, when it comes to lawn care, you get what you pay for. That means it may be worth investing a little bit more money for better quality service and results.
Looking at Online Reviews
Another helpful tool in your search for a lawn care company is to read online reviews. Hearing what others have to say about the lawn care companies you're considering can be a huge help in narrowing down your choices and ultimately making your decision. These are folks who have already used the service so it's a lot like looking into a crystal ball. They've already been where you are, chosen a company, and are now weighing in.
TruGreen Sterling VA Reviews
Google: 80 reviews, 4.1-stars
Facebook: Cannot find local branch listed individually
Rock Water Farm Reviews
Google: 78 reviews, 5.0-stars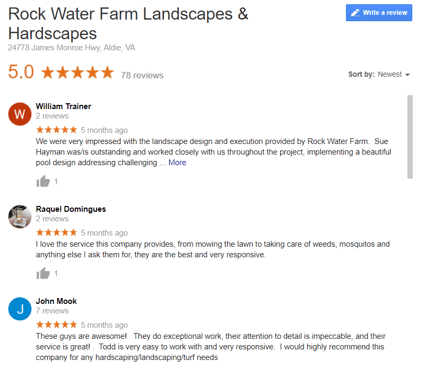 Facebook: 42 reviews, 4.7-stars
You may notice that all of these review sites use a star rating system, which remains the most popular way of evaluating services. If you're looking for the "best of the best," then you should be searching for companies that have at least a 4.5-star rating, and have at least several dozen reviews so that you're not just hearing the opinions of a handful of people.
You should also keep in mind that with a national company, like Trugreen, it can be quite difficult to evaluate local branches when they aren't clearly showing reviews for their individual branches on a non-biased, third-party review site like Google or Facebook.
Some companies, like TruGreen, host reviews on their own site but filter them to only show the best. While there's nothing wrong with listing testimonials on a website, it's important to recognize that it may not be the complete picture.
Making Your Educated Decision
You may be starting to think that choosing a lawn care company in Ashburn, Aldie, or Leesburg, VA is a lot more work than you expected. But it's worth it. The work that you put in on the front end will pay off when you receive the service and the results that you truly desire. There's nothing worse than investing time, effort, and money into a service that simply doesn't pan out. Then you're back to square one.
Instead of letting that happen, you can choose wisely in the first place and be on your way to the lawn that you truly desire. While choosing the right lawn care company is a big decision, you shouldn't stress, as we are here to help guide you through the process. You can count on us to be honest with you about what your lawn needs. We're not going to sell you something that it doesn't need or hit you with hidden costs at a later date.
By making the wise choice, you can work on building a long-term relationship with a local company with team members active the local community instead of a large national chain that will never truly get to know you or your lawn.
If you'd like to discuss lawn care services for your Ashburn, Aldie, or Leesburg, VA home, talk to an expert, choose a solution that rocks, and then get ready to see your lawn start looking and performing its best.