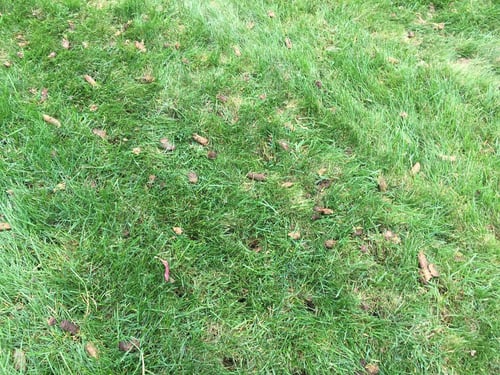 If you've ever wondered what the secret to an amazing lawn is, we're willing to divulge—it's lawn aeration combined with the value-add services of overseeding and topdressing.

We find that most of our clients already know that a lawn aeration service means making small holes by pulling small plugs throughout the yard. But a lot of people don't understand why they need it. Aeration is important because it allows more water, oxygen, and nutrients to penetrate the soil and get down to the root zone where they're needed most. Lawn aeration helps to relieve soil compaction and improve root development. As roots are able to grow deeper, the result is a thicker, healthier lawn.

If you've been searching for lawn aeration service near me, then you might be wondering what makes one company all that different from another.

That's why we want to equip you with the questions you can ask to separate the mediocre companies from the best. What you may not realize is that there are aspects of this service that can really differ from company to company and can end up impacting your results.

Here are 8 questions to ask.
1. How Many Passes Do You Perform?
While you might not think to ask a lawn aeration company how many passes they'll perform, this definitely makes a difference in your results.
At Rock Water Farm, we always do a double pass giving you the best possible results. But we find that a lot of our competitors do not perform a double pass. In fact, they'd probably rather you didn't know it makes a difference if they perform two passes as opposed to the typical single one.
2. Do I Need Overseeding at the Time of a Lawn Aeration Service?
Some people wonder whether it's important to perform aeration and overseeding together and the answer is definitely yes.

Without a doubt, the best time to seed the lawn is immediately following a lawn aeration service when the seeds can fall into the holes that we created in the lawn. This provides the optimal "seed to soil" contact that is needed for germination.
The best time to perform these services is in the fall. The autumn weather provides the ideal conditions for seed germination. The air is cooler but the ground is still warm. This increases the odds that your new grass will survive and mature.
3. What About Topdressing?
When it comes to truly getting the most out of a lawn aeration service, then you should absolutely not overlook topdressing. It's a service that homeowners don't always know about but it's truly part of the secret to a great lawn.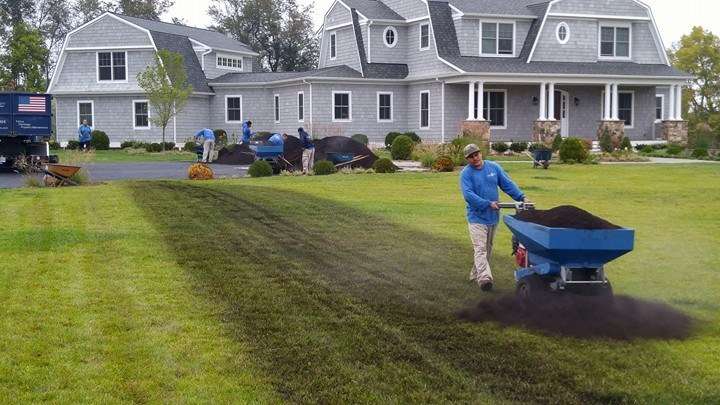 Topdressing might be thought of as a value-add that is going to enhance the impact of the aeration. After aeration and overseeding are complete, the lawn should be topdressed with a thin layer of compost. This allows it to fall into the holes that were just made. As the compost mixes with the clay, it helps create a better layer of topsoil by improving soil structure and microbial life.
4. How Do I Need to Water if I Seed?
Properly watering your lawn following a lawn aeration service is important.

In the time period immediately following aeration and overseeding, your goal is to keep the seeds moist, not sopping wet. It will likely take about 10-21 days after overseeding for germination to begin and the moist top 1" of soil will facilitate this growth.

So, how do you achieve this level of watering?

In order to keep the seed moist, but not soaked, you may need to water in short bursts. This could mean watering 2 to 3 times per day but doing so for a shorter period of time (15-20 minutes) in each location.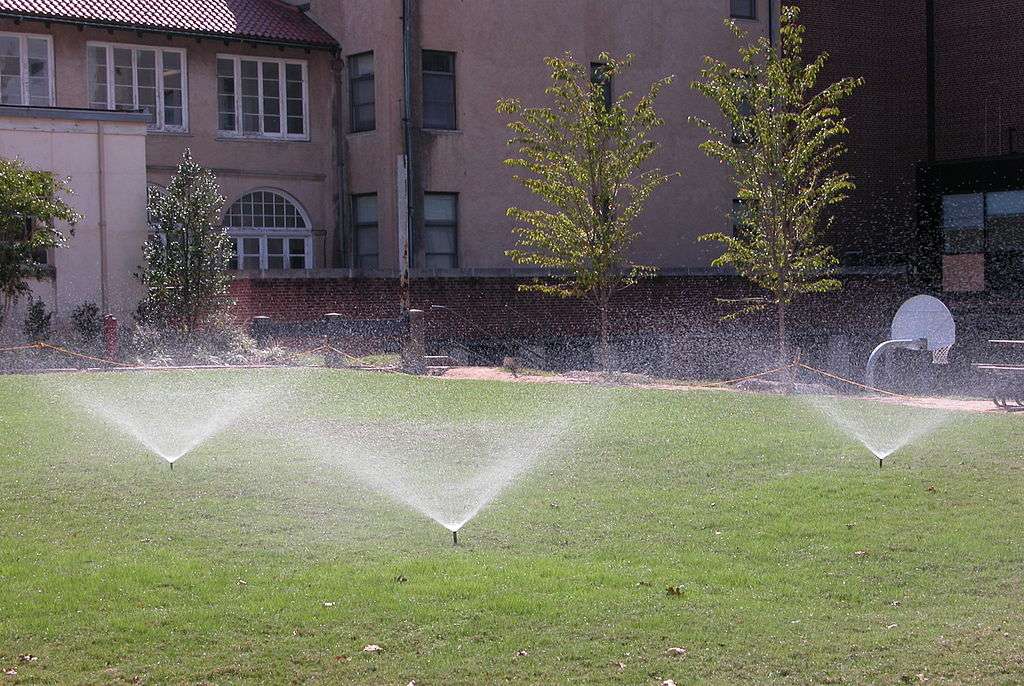 If you are not able to keep the soil moist, you run the risk of your new grass seeds failing to grow (or starting to germinate and then dying). This could be a waste of your investment in the service in the first place. Therefore, it's worth putting in the effort to water adequately.
5. What is the Cost of a Lawn Aeration Service?
Of course, you'll also want to know how much a lawn aeration service in South Riding, VA will cost. We find that a lot of homeowners expect that professional lawn aeration for their home is going to cost more than it really does.

At Rock Water Farm, a professional lawn aeration service starts at just $159, which includes overseeding. If you choose, you can also add a topdressing service to have even more success with your results.

Although some homeowners think they can tackle lawn aeration on their own to save some money, they sometimes learn the hard way that DIY aeration is not worth the hassle. After all, there's still a cost involved in renting an aerator and then you have to deal with all of the headaches that accompany performing this service on your own. Considering the fact that a DIY approach can lead to subpar results, a lot of homeowners end up just choosing the professional service.
6. How Often Should I Have my Lawn Aerated?
Timing is obviously important when it comes to successful aeration. As we mentioned, the best time to have this service performed is in the fall when the weather is optimal for new grass growth.

In terms of how often you should have this service completed, lawn aeration should be performed annually. This is because the clay-like soil in our region can become compacted quite easily. By having your lawn aerated each year, you'll be able to keep it in better shape and see greater success with other services you're having performed throughout the year like fertilization.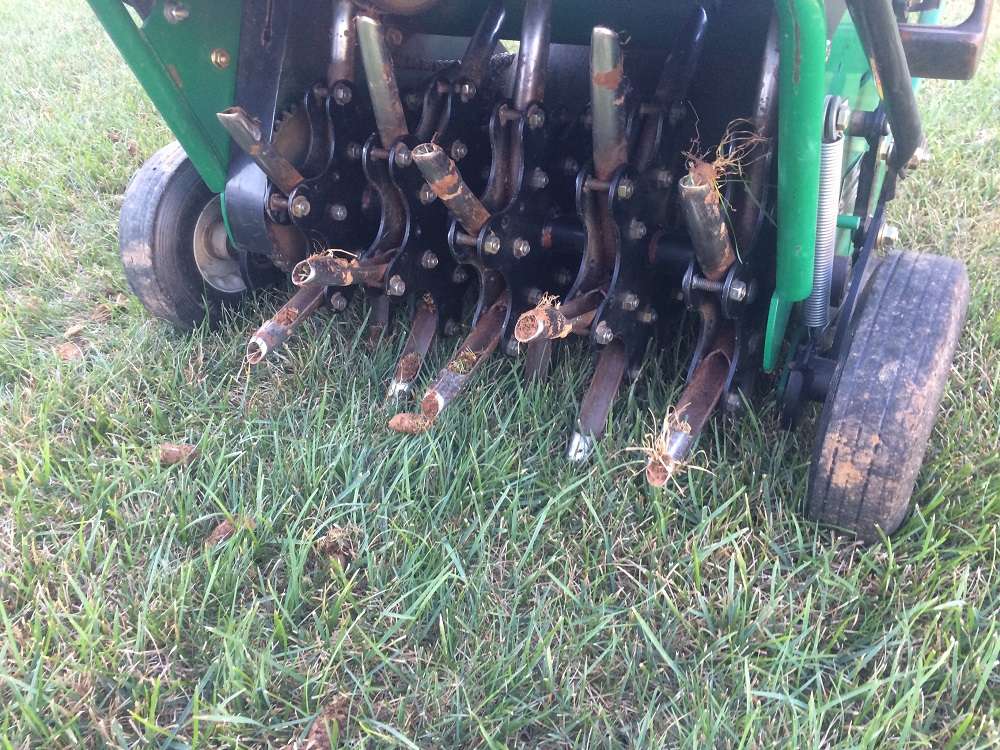 A lot of times homeowners do forget how much annual lawn aeration can impact their lawn care results. If you're investing in a professional lawn care program but not going the extra mile to also invest in aeration, you might not be getting as good results as you could be. When soil is compacted, products don't get absorbed and make their way to the roots the way they ought to. This can definitely have an impact on grass color, thickness, and overall health.

The truth is, even if your lawn is looking like it's in great shape, you should still aerate. Cool-season grasses will thin out during the summer when it will inevitably be drought-stressed at some point.

Even if your lawn came out on the other side of summer looking okay, it likely still experienced more stress than you may realize. If you skip this year's aeration service, by next summer, you're going to be able to tell. But aerating in the fall will help it to remain thick and better survive future stress.
7. What Kind of Results Can I Expect?
When performed properly, you can expect great results from a lawn aeration service. But keep in mind the success (or failure) of your new growth will be directly linked to the quality of the aeration service that you had performed. That means that if you push around a clunky old aerator or only perform a single pass, you can't expect anything too spectacular. However, if you have a double pass performed with top-of-the-line equipment, you'll see a real transformation in the appearance and health of your lawn.
8. How Can I Find the Best Lawn Aeration Service in South Riding, VA?
When it comes to finding a professional service, you probably already know there is no shortage of lawn aeration companies in our area. However, you want to find one that will get you the best results. As we've said, asking these questions will really help you to get a good sense of whether the company you're considering can truly achieve optimal results or whether you're going to be dissatisfied after they're finished.

With the Internet at your fingertips, you should also take time to research the companies you're considering by perusing their websites. While aeration really is the "secret sauce" to a great-looking lawn, it's still just one piece of a larger puzzle. You want to find a company that has a complete lawn care program that is going to give your lawn everything it needs. As you research companies, make sure you take a look at their lawn care programs as a whole.

Another helpful tool to narrow down the options is to use online reviews. Looking at third-party review sites, like Google Reviews, will provide some insight into what other clients (both past and present) have thought about that company you're considering.

When looking at reviews, consider both the number of stars and the number of reviewers (as the more reviewers you have, the more difficult it becomes to maintain a high rating). We advise looking for a company that has 4.5-stars or higher to truly find the best of the best.
Choosing Amongst Lawn Aeration Companies in South Riding, VA
While there are plenty of companies who would not want you to know this "inside scoop" including what questions to ask, at Rock Water Farm, we feel it's important to educate homeowners so that they can make wise choices. You deserve to know what this service is all about so that you know you're going to get the best results.

The bottom line? Aeration can be a fantastic service that can transform your lawn—if it's performed right. If you're going to invest in a professional aeration service in South Riding, VA, we advise that you ensure you're getting the most out of that investment by asking these questions of any company you're considering.

Doing so will help you choose a company that will go the extra mile with a double pass service and that offers other value-add services, like overseeding and topdressing, that will make the results of your aeration even better.

By making the choice to work with a company like this, you can feel confident that you're going to get the best possible results and that you'll have a lawn you can truly be proud of.

If you'd like to discuss lawn aeration services for your Ashburn, Aldie, or Leesburg, VA home, talk to an expert, choose a solution that rocks, and then get ready to see your property looking its best.