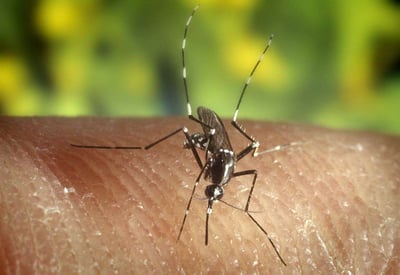 On the list of annoying backyard pests, mosquitoes and ticks top the rankings. After all, not only do bites from these pests cause an itchy reaction leading to welts, but their bites also come with the risk of disease—some of which can be deadly.
This can be incredibly frustrating when all you want to do is be able to enjoy your backyard. But instead, every time that you're outside, you have to worry about you or your family getting bit.
Fortunately, there are options. Spraying for ticks and mosquitoes can be an effective way to take back control of your yard and be able to start enjoying it again. However, it's important to recognize that not all tick and mosquito control options are created equally. We'll explore some of the options that are out there.
Is Spraying for Mosquitoes and Spraying for Ticks Safe?
One of the first questions that homeowners ask when considering spraying for ticks and mosquitoes is whether or not it's safe. Whether you have kids or pets, or you're just concerned for your own safety, you might have looked into natural solutions.
Fortunately, there is now an organic tick and mosquito spray solution that actually works. Comprised of organic cedar oil, our natural tick and mosquito control is completely harmless to people and pets while being highly effective against mosquitoes and ticks.
Of course, not all companies use organic products. Many companies that are spraying for ticks in the yard or spraying for mosquitoes are still utilizing chemicals. It's important to research what product a lawn care or pest control company is using before making a decision that you feel comfortable with for you and your family.
How Does Spraying for Ticks and Mosquitoes Work?
The method and timing of applications is another important factor in the overall success of a mosquito and tick control program. Most likely you will not find companies that come out as frequently. Most companies are visiting between 4 and 5 times and may not be as thorough in ensuring complete coverage and control.
In terms of thoroughness, you'll also find that we make sure to fully treat the whole property. Our first visit is a blanket treatment where we cover the entire property to make sure that we've gotten absolutely everything.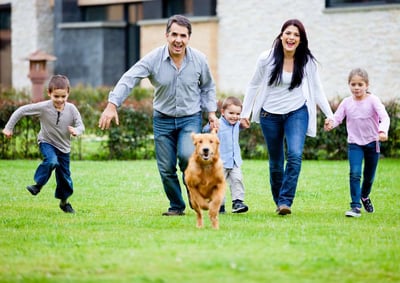 This is something that we can do because organic products are completely safe. However, other companies might not be able to fully treat all areas on your property with chemicals because they're not allowed to, by law. With an organic product we can even apply product near gardens or swing sets where pests are definitely hanging out—but so are you and your kids. You definitely want to ensure the product in these areas is safe.
After that, each of our subsequent visits will include spraying around the foundation of the house as well as any specific areas where these pests like to hang out such as wood piles, near the swing set, under your deck, or around your patio.
The exact plan will be customized based on your property. We'll also always spray around the perimeter of your property or the "edge habitat" which is a big hot spot, especially for ticks. That's because this is an area of the property where there is a lot of animal and rodent traffic (some of which may be bringing ticks onto your property in the first place). We begin these applications in April and typically spray every three weeks until November, essentially from frost to frost. It works out to 12 visits.
Of course, when you hire a professional to be spraying for mosquitoes in your yard or spraying for ticks, you want to make sure that you're covered for the entire season, even if those pests start appearing earlier than usual. That's why our proposal indicates that if it warms up early, we'll start early. We pay close attention to the weather and we start when the pests start. Some companies don't have the staff to make that possible if they make heavy layoffs during the offseason.
What Does Spraying for Ticks and Mosquitoes Cost?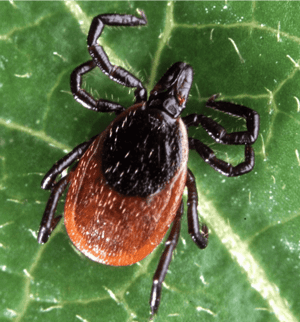 The cost of spraying for ticks and mosquitoes is another common question. The truth is, for the value that you receive in return, most homeowners say it is well worth the investment.
At Rock Water Farm, our organic mosquito and tick control starts at $59 per month. On average, we have found that we are generally around 10 percent less expensive than the competition.
Of course, we're not trying to be the cheapest in town. After all, we know that "cheap" in the customer's mind is often associated with cutting corners or less effective products—and oftentimes they're right.
However, when it comes to our price for spraying for ticks and mosquitoes, we're able to be more competitive than other companies for two key reasons, which we'll explain.
It's not our only service. We're not a stand-alone mosquito and tick control company. In fact, the majority of our pest control customers are already using us for other lawn and landscape services so we're already on their property regularly. That makes it easy for us to add mosquito and tick control as an add-on at a low cost. But even if you do hire us for pest control alone, we have enough additional work going at other properties that we can still pass those competitive prices on to you.
We keep it local. We're not trying to cover the entire region and become this massive pest control company and that also helps keep our costs down. We perform these services in a very specific area. It's another reason we're able to pass savings on to customers who only utilize us for mosquito and tick control since we don't have to drive incredibly far out of our way to offer those services.
Choosing a Company for Spraying Ticks and Mosquitoes
If you're ready to stop worrying about ticks and mosquitoes every time that you go outside, then now is the time to choose a company that will be able to put those fears to rest. That choice will allow you to take back your yard and start enjoying it to its fullest. You'll be thankful you did as you gain a sense of peace of mind that allows you to appreciate time outside more than ever before.
If you'd like to find out more about natural tick and mosquito control for your Ashburn, Aldie, or Leesburg, VA home, check out our program and pricing or call us at 703-423-0101.