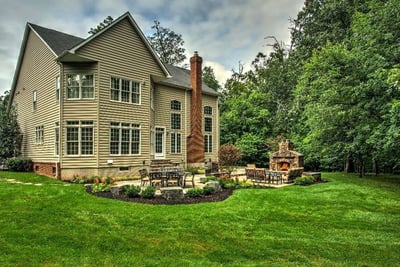 A well-cared-for lawn that is receiving everything it needs is typically also a lush and thriving lawn. It's a lawn that is so green it makes all the neighbors wish theirs looked that good!
While that sounds wonderful, and you'd like to have a lawn like that, the trouble is, it takes a lot of time and energy to reach that level. And chances are, you probably don't have the time needed to get your lawn in that kind of shape. These days, "free time" is something that very few people have.
After all, our days are busy. During the week that may mean a full work day followed by evening obligations (meetings, sports practices, or even social commitments). And weekends are often just as busy with games, social commitments, and family time. But even when they're not, most people don't want to use up the only free time they have by working in their yard.
There are simply better ways to use that precious free time than to spend it slaving away on your lawn.
Trying a DIY Approach
While time is obviously a critical factor, let's face the truth—even if you do spend your weekends working on your lawn, chances are it's never going to look quite as good as the lawn on your block that was professionally cared for. You could put in all of the free hours that you have and try to give your lawn everything that it needs, and it may still fall short for some of these possible reasons.
You don't have access to commercial-grade product and that stuff you bought at the local box store simply isn't as effective. You also don't really understand all you may want to about lawn care applications.
You only have the weekends to work in the yard but it rained the last two weekends and you're incredibly off schedule. But your lawn isn't so forgiving that you couldn't mow mid-week and it shows.
You think you're doing everything your lawn needs, but it still doesn't look that green. There could be a problem with your soil pH or something else going on below the surface that you possibly couldn't find out on your own.
And those are just a few examples. There are a lot of areas where things can go awry when you try to tackle lawn care on your own.
But How Much Does Lawn Care Cost?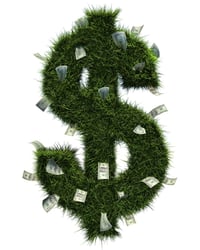 Even knowing that it's a time-consuming job, some homeowners still try the DIY approach in order to try and save some money. They don't often realize it can cost a lot more than they think. When you add up all of the equipment and product needed to try and produce a professional-looking lawn, it can get pretty pricey.
We find that most homeowners are surprised by lawn care prices when they break out what they're receiving for the dollars they invest. They find that they've gotten a lot more value than they anticipated.
Let's look more closely at our lawn care prices and packages for Ashburn, Aldie, and Leesburg, VA.
Three Levels of
Lawn Care Pricing
At Rock Water Farm, we offer three different levels of lawn care so that our customers have options. While most of our customers invest in the highest level (because they'd rather we handled all of their services, rather than just some), we still like to be able to offer all three tiers so that you can choose what is best for you.
Let's take a more in-depth look at these three levels of lawn care pricing packages.
1. The
Basic
Package (Starting at $45/month)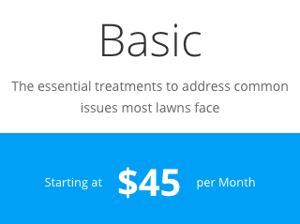 Even at the most minimal investment, your lawn is going to look professionally cared for and well-maintained.
At this basic level option, you'll receive the following essential services:
8 Professional Lawn Care Visits with Up to 16 Treatments
Our lawn care experts visit your home 8 times from early spring to early winter to deliver up to 16 different lawn care treatments, customized to what your lawn specifically needs.
This is where comparing lawn care programs from one lawn care company in Ashburn, Aldie, or Leesburg, VA gets tricky. Make sure that when you're looking at a 6,8, or whatever number "visit" program, you clearly understand what individual treatments are being performed.
Here's a list of the 16 specific treatments we utilize to improve lawns on any level of our lawn care programs: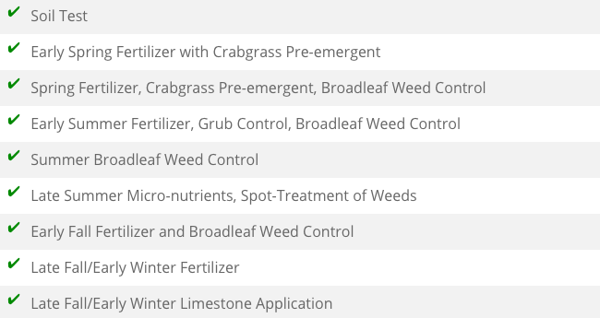 With all of these essential lawn care treatments, you'll be investing in a lawn that is both thicker and greener. And it will be healthier, too. Without having to worry about weeds taking over, you'll have a lawn that is the envy of the neighborhood.
2. The

Plus
Package (Starting at $60/month)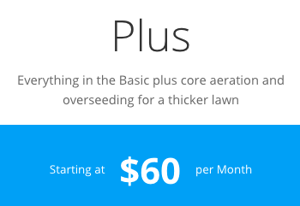 The Plus package includes all of the essential items in the Basic program, but also includes 2 more services geared specifically to improving your lawn's health and thickness.
Lawn Aeration
Lawn aeration involves making small holes throughout the yard by pulling soil plugs with a specialized piece of machinery. This is important because it allows more water, oxygen, and nutrients to penetrate the soil and get down to the root zone (which is exactly where it is needed).
On top of that, aeration also helps to relieve soil compaction and improve root development. When roots are able to grow deeper, it eventually results in a thicker lawn.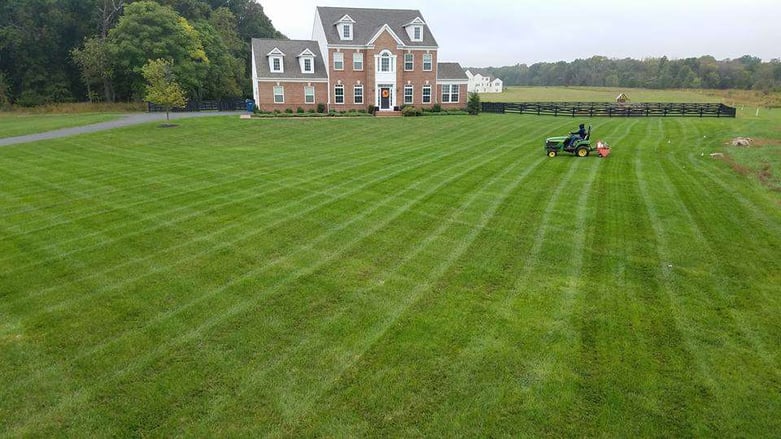 Lawn Seeding
Performed at the same time as aeration (as there will be better seed-to-soil contact), lawn seeding makes use of push spreaders that are correctly set to seed your lawn at five pounds per thousands square feet. Unlike the low-grade seed typically sold at box stores that is not always clean and often contains filler, we use the highest-rated and cleanest varieties of seed on the market.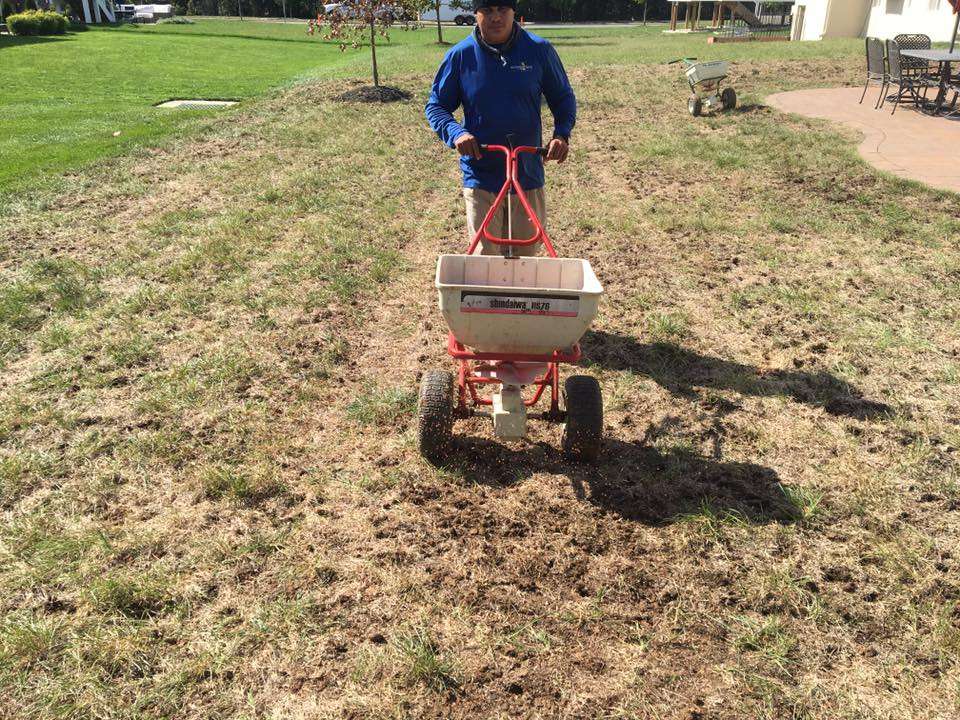 Specifically, we use top-rated blue-tag fescue, which is ideal for this region. The last thing that you want to do is pay for seed at a box store and fill your lawn with weeds, introduced by the filler. By doing so, you're just wasting even more of that precious free time you have because now you have to deal with getting rid of those additional weeds on top of all your other yard work chores.
3. The
Premier
Package (Starting at $175/month)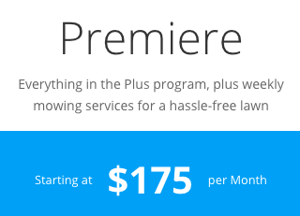 At the third tier of lawn care pricing, your lawn care investment will include everything in the Plus package as well as the added services of weekly mowing.
This valuable service brings the entire program full circle to give you a lawn that is virtually hands-off, so you can focus on just enjoying life instead of worrying about how to fit your lawn care tasks into your busy life.
Professional Mowing
With professional mowing, you can feel confident that your grass is mowed to the right height on a regular basis. That will include crisp lawn edges where the turf meets the pavement and landscape beds on your property. And any resulting debris will be neatly dealt with.
Investing in More Than Your Lawn
As you come to realize everything that goes into making a lawn lush and green, chances are, you'd rather leave all of that work in the hands of a professional. At Rock Water Farm, we have many landscape services beyond the ones mentioned in our lawn care packages, which will help keep your property neat and tidy or even improve it in other ways.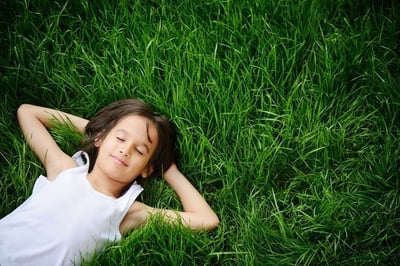 As we mentioned, if you truly delved into lawn care prices of doing it yourself (with the right equipment and products) you'd likely find it's not that much of a savings to just hire a professional. And with that comes the added benefit of someone who really knows what they're doing. By having someone who is professionally trained in lawn care handle it for you, you can feel confident that it's being done the right way and you're receiving the best results.
In other words, when you invest in professional lawn care, you're investing in peace of mind. You are taking the hassles and the headaches out of lawn care. You no longer have to worry about understanding when is the best time to put down seed or to apply certain products. All of those concerns are being handled by a pro.
Plus, you're taking back your time. You're saving those precious-few free hours you have in the evenings or on the weekends to do activities you'd rather be doing. You're reserving those hours to make memories with your family and friends. Time is something that we can't get back and it's important to invest it wisely.
By using professional lawn care services for your beautiful Ashburn, Aldie, or Leesburg, VA lawn, you're doing just that. You're investing your time—and your dollars—wisely. And that's a win for everyone.
If you'd like to find out more about our three lawn care options to find the lawn care prices and solutions that are right for your Ashburn, Aldie, or Leesburg, VA home, then request a free consultation and hand over your lawn care woes to us.