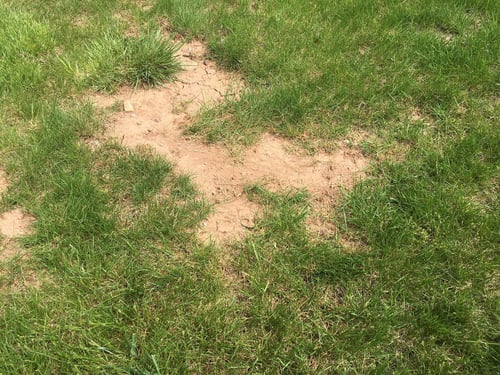 Do you find yourself lamenting over the state of your lawn? Whether it has thinned-out grass, brown spots, or totally bare areas, you might be feeling pretty frustrated.
Where can you even begin when things look so bad? It might feel like an impossible undertaking.
First and foremost, you should know that there are steps which can be taken to fix lawn patches, dead spots, and other concerns. That being said, you should also know that there is no "magic bullet" that's going to fix these problems overnight—unless you're willing to invest more substantially in a service like sodding (one that we'll discuss).
However, if you can trust the process and have some patience, you can have the lush, green lawn you desire.
Let's talk about the different ways that we can go about reaching that goal.
1. The Power Trio: Aeration, Overseeding, and Topdressing
When it comes to how to fix a lawn, aeration, overseeding, and topdressing are 3 of the most beneficial services that you can have performed—and yet, they are commonly overlooked. That's why we've nicknamed them the "secret" to a great lawn. We're certainly not trying to keep these services a secret but we often find that homeowners don't realize just how important they are. They assume it's something they can just skip over.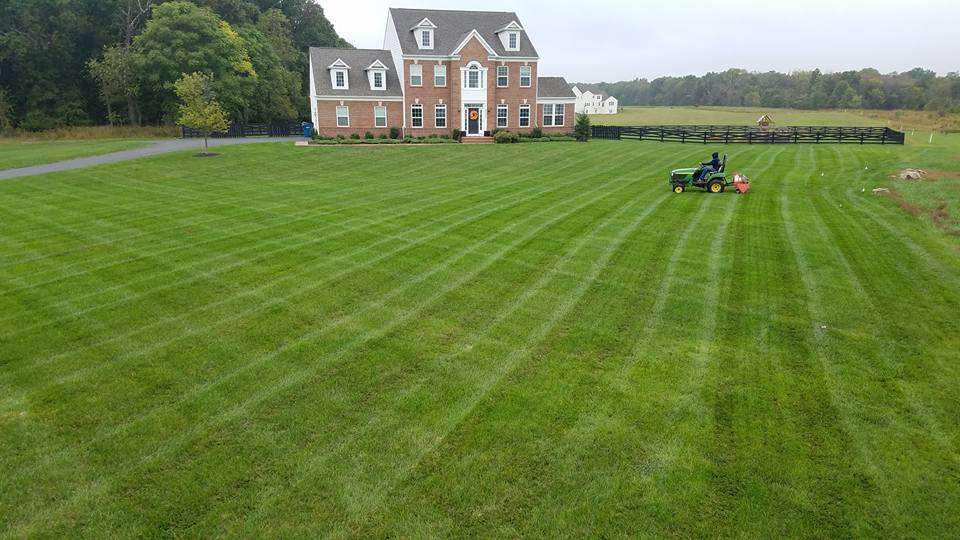 But if you really want to achieve fantastic results, you cannot ignore what these services have to offer. When combined, aeration, overseeding, and topdressing are one of the best ways to fix lawn dead spots. In fact, most homeowners are pretty amazed and how much their lawn "filled in" after having this powerful trio performed. That's why we recommend performing these services annually, each fall.
Let's take a brief look at what each has to offer individually and then you'll better understand how they can be combined to produce amazing results.
Lawn Aeration
Lawn aeration is the process of making small holes by pulling small plugs throughout the yard called "cores." These cores are then deposited on the grass where they are left to naturally breakdown. This natural decomposition process helps to loosen soil.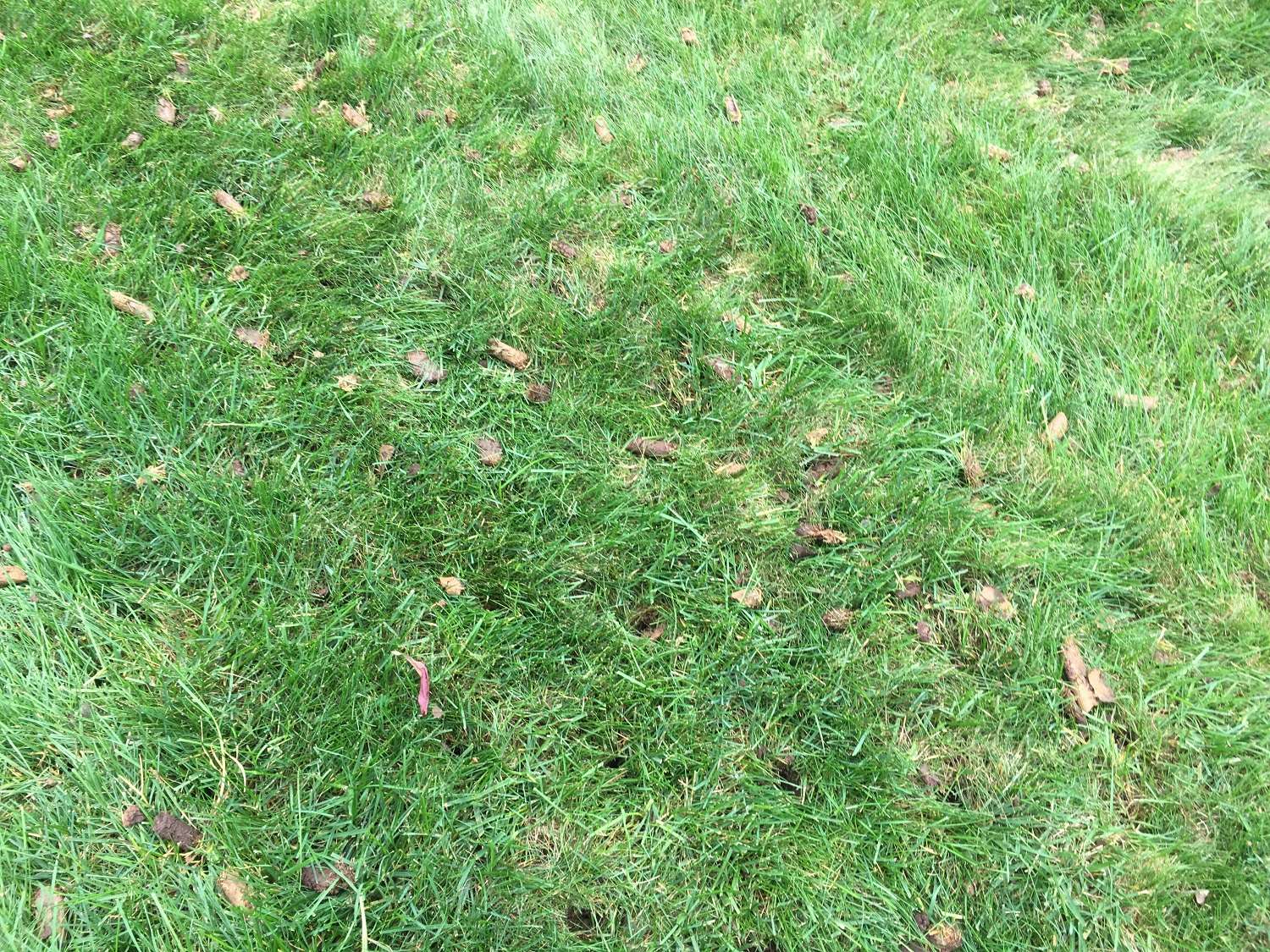 Lawn aeration is important because it allows more water, oxygen, and nutrients to penetrate the soil and get down to the root zone—where they're really needed. The process helps to relieve soil compaction and improve root development. As roots are able to grow deeper, the result is a thicker, healthier lawn.
Lawn Seeding
The best time to seed the lawn is immediately following lawn aeration when the seeds can fall into the holes that were created in the lawn. This creates the ideal seed-to-soil contact that is needed to support germination.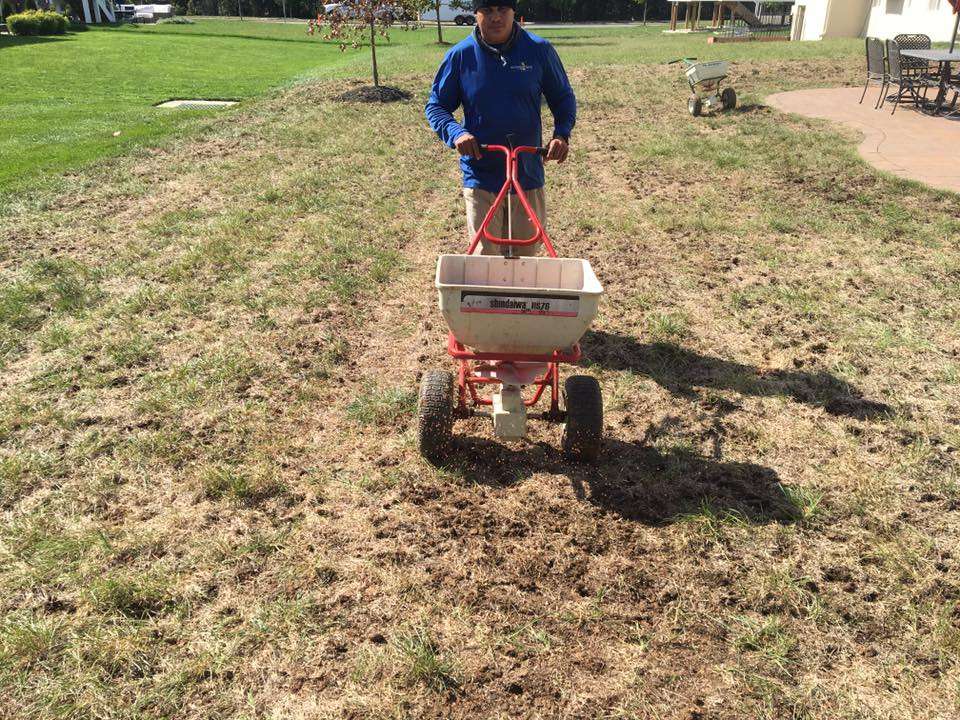 It's a service best performed in the fall. That's because the fall weather provides the ideal conditions for seed germination, increasing the odds that your new grass will survive and mature.
We've talked before about the importance of choosing the best seed for your lawn. While you can certainly pick up your own grass seed at the local big box store, the high-quality grass seed that a professional is going to use is going to produce much better results.
Topdressing
Finally, the lawn should be topdressed upon the completion of aeration and seeding as it's not nearly as beneficial to do when the holes are not already there. The idea is for the topdressing to mix with the existing clay soil. It will fall into the holes that were made and help create a better layer of topsoil by improving soil structure and microbial life.
2. Slice Seeding is an Option (But Not Often Needed)
In talking about the options of how to fix a lawn, we want to mention that slice seeding is another possible option, though it is not often that it's needed. In the vast majority of cases, aeration, overseeding and topdressing will do the trick.
However, if the lawn is in really terrible shape, slice seeding (also sometimes called "power seeding") can be performed. This is an intensive process that is performed on golf courses. It uses a piece of machinery to cut rows into the soil in order to plant seed.
Slice seeding is sometimes needed on a hill or slope, where it's too difficult to get a lawn aerator or where the seed won't stick. The grooves can help the seed to stay in place.
3. Grading and Seeding can also Address a Slope
If you're dealing with a gradually sloped property that experiences perpetual lawn trouble because of the hills, then grading and seeding is another option when it comes to how to fix a lawn. This service is typically performed with excavation equipment that will push around and till the existing soil to achieve the desired results.
This is not a common approach to an existing lawn and is generally reserved for new construction where the yard needs to be leveled out after building. However, if you're experiencing a significant grade fluctuation which is causing drainage issues, then regrading may be needed.
Keep in mind that this involves starting from scratch with brand-new grass seed so it can be a slow-go. It's not like you're waiting for grass seed to grow in the bare spots. You're waiting for the entire lawn to grow.
4. Sodding for an "Instant Lawn"
Sod is another option available to homeowners who don't have the patience to wait for a gradual lawn transformation. It involves bringing in pieces of grass (and its roots) that were harvested from a sod farm and installing them to create your new lawn.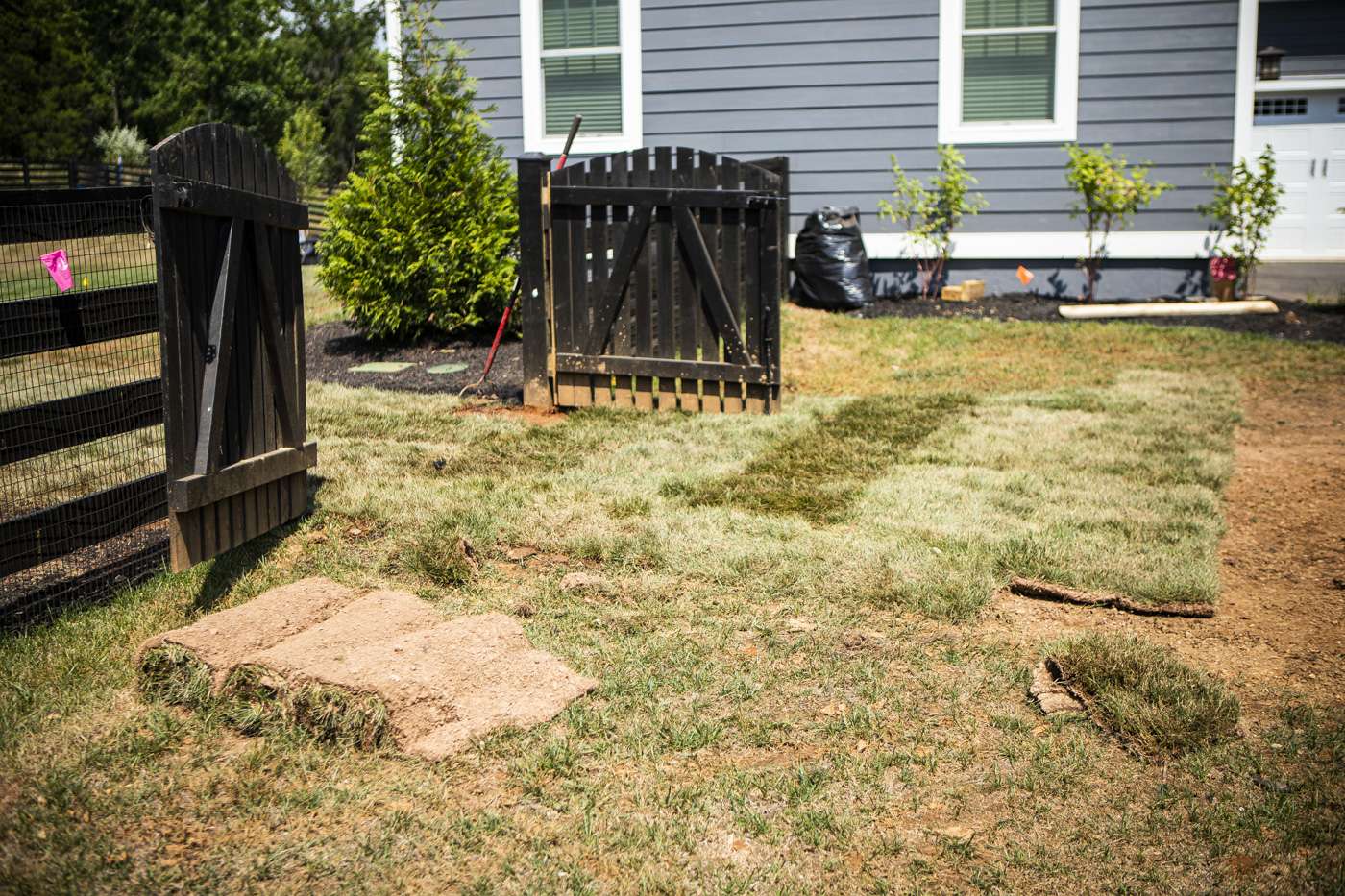 If you're at a point where you feel your lawn is in awful shape and you want to just start over, sod may be an option to consider.
When compared to aeration and overseeding, sod is significantly more costly. But it also means an "instant lawn" and for some homeowners, that can be worth the price. There's no other way to get instant gratification, if that's what you're looking for.
Maintaining Your Fixed Lawn
Once you've fixed your lawn, you obviously want to maintain it going forward. A lawn is something that needs ongoing care so we'd never recommend just having one of the services above performed and then letting your lawn go. If you want the lawn to continue to perform well, you need to maintain it with services like fertilization, weed control, limestone applications, and more. These are the types of services available in our lawn care programs.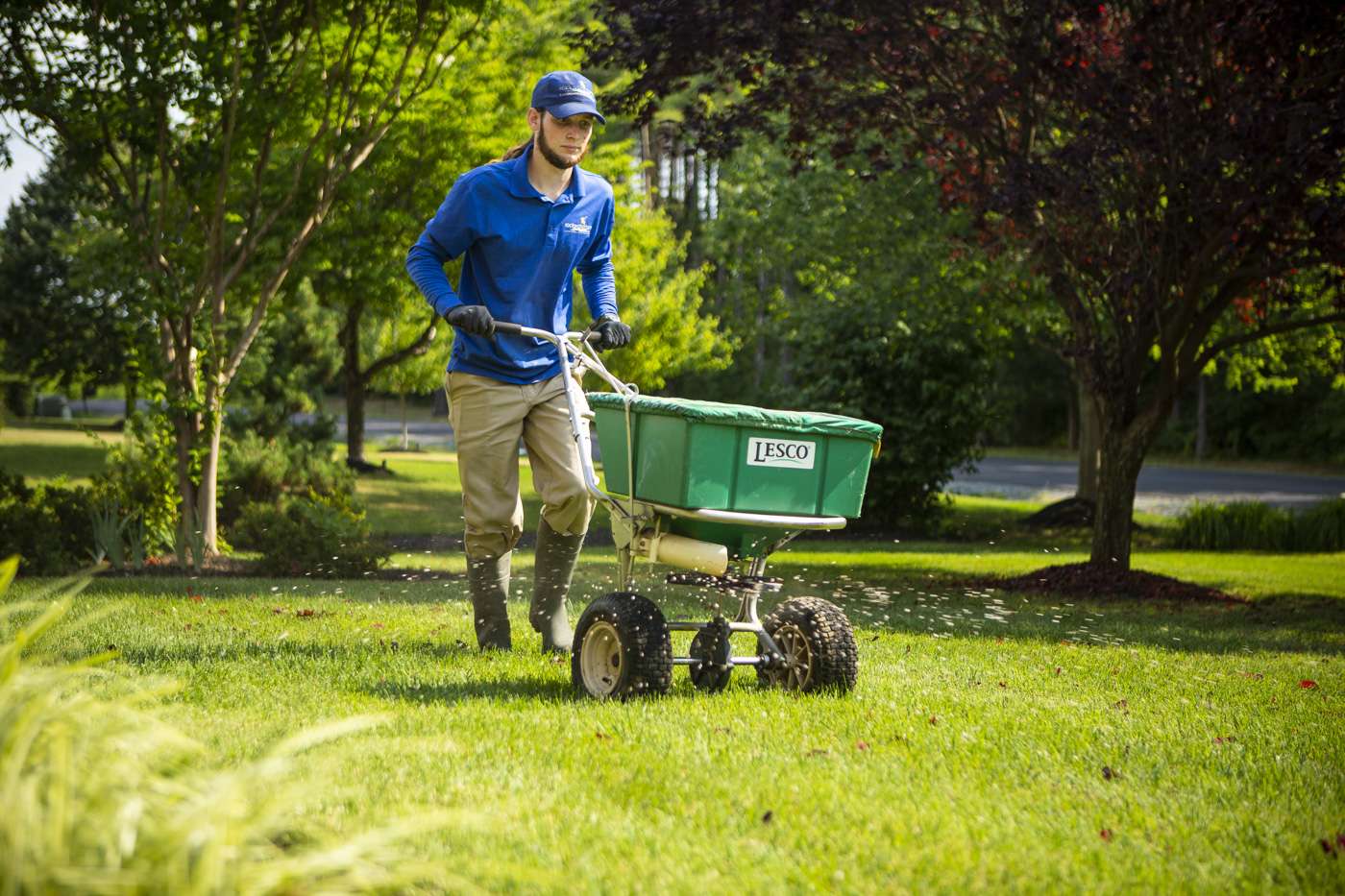 We also want to take some time to talk about lawn soil testing, which can also play a role in fixing some of the common lawn problems and may reveal why your lawn was thinning in the first place.
If you've read any of our blog articles before, you probably already know that the health of a lawn really depends upon what's happening beneath the surface. A lot of people are surprised to learn that soil health is the major controlling factor in how a lawn is going to perform. It's something that isn't always given much thought.
It's something that Rock Water Farm puts so much value in that we include it in all of our programs (while other companies use it as an add-on service or make you ask for it). We believe it's not possible to fix a lawn's problems if we don't know exactly what they are.
A lawn soil test is looking at soil pH as well as nutrient make-up, and it's bringing to light anything that might be missing. It's important to recognize that your soil health can vary dramatically from your neighbor's. In other words, you cannot assume that just because your neighbor has healthy soil that you do, too. Once a soil test is completed on your lawn, we can come up with a customized solution to your specific problems.
We've emphasized this in the past and want to bring it up again, while talking about fixing a struggling lawn: Our lawn care program will not be successful if your lawn's soil health is poor.
We absolutely must fix a soil problem before anything else can be successful. You can throw all the products that you want down on your lawn but if your soil remains in poor shape, it's not going to get you the results you want.
Making the Best Choice to Fix a Thin Lawn and Fill in Bare Spots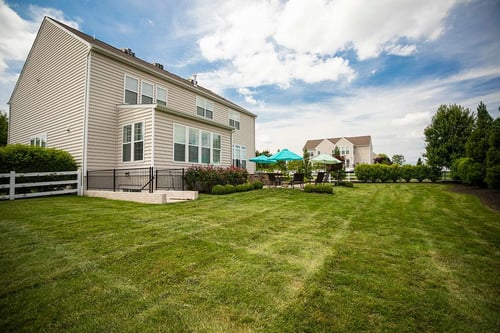 For the vast majority of lawns, aeration, overseeding, and topdressing are going to be an effective way to fix thin grass and fill in those bare spots. Unless you have the budget for sodding, a little bit of patience will go a long way in letting this powerful trio of services do its thing.
The good news is, a lot of homeowners think their lawns are in worse shape than they actually are. We're often met with disbelief that aeration, overseeding, and topdressing are going to truly fill in those bare patches.
We understand that you may be embarrassed and frustrated with the lawn that you are currently looking at. But the fact is, you can get it back on track to looking its best. We're here to help guide you toward the best choices so that you ultimately get the results you've been looking for.
If you're ready to effectively fix your lawn at your Haymarket, Gainesville, or Warrenton, VA home, talk to an expert, choose a solution that rocks, and get ready for a better lawn.