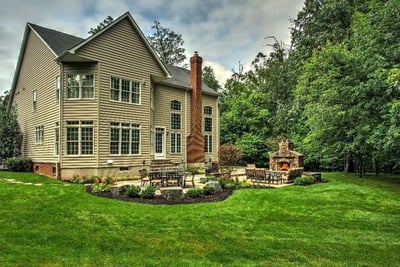 If you've never hired a lawn care service in Ashburn, Aldie, or Leesburg, VA, or any of its surrounding areas, then you most likely don't have any idea what to expect to pay. If you've started any initial research or asked for a few quotes you might be shocked just how much the cost of lawn care can vary from a few hundred dollars to several thousand per year.
It's admittedly confusing but lawn care is one of those services where there isn't a "set rate." That's because comparing two different lawn care companies is like comparing apples to oranges.
One of the reasons for this is because a number of different factors go into calculating lawn care costs. Everything from the training of the technicians to the actual products being put down on your lawn can cause the cost to vary. Before you understand what it is that goes into the cost a company is charging, it's impossible to compare them. There are valid reasons why one lawn care company in Ashburn, Aldie, or Leesburg, VA might charge more than another.
The key is to figure out what you get for the cost you're paying. There's no doubt that some companies offer more value than others. Let's explore what can affect the price.
The Cost of
Lawn Care in Ashburn, Aldie, or Leesburg, VA
As mentioned, in order to understand how much lawn care costs in Northern Virginia, you must first understand what goes into calculating that cost. There are quite a few factors that can contribute to lawn care costs, but let's take some time to explore the most prominent. These factors are some of the biggest reasons why cost varies so dramatically in our area.
Your Lawn's Size & Condition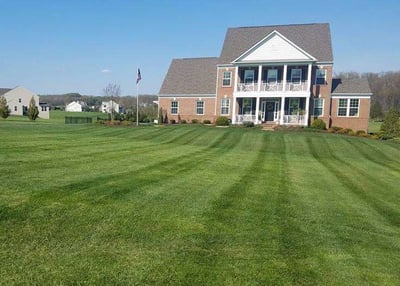 Every lawn is different in not only size, but in its overall condition. This is the primary factor that influences lawn care cost and prices in Ashburn, Aldie, Leesburg, VA and surrounding areas.
Our lawn care programs start at around $45/month, and there are 3 tiers of levels of service, all based on the size of your lawn.
Overhead Expenses
Every company is different when it comes to their overhead expenses but it's important to understand that there is a whole world behind the scenes that you don't see when lawn care technicians are on your property. For instance, though you obviously don't see them every time your lawn is serviced, there are people in the office who are managing customer relations, answering calls, and handling account needs.
The more robust a company, the more overhead they have. Obviously that one-man-and-a-truck operation that doesn't employ a lot of people isn't going to have a lot of overhead but he also won't have the support or communication that you might desire or expect from a lawn care service in Ashburn, Aldie, or Leesburg, VA.
Well-Paid Labor
It's very likely that a lawn care company that costs more may be paying their people better. Why should you care that employees are well paid? Well, it can definitely have a direct impact on you. Happier employees are better workers. In addition, well-paid employees want to keep working for the company so there is a lot of incentive for them to do a good job on your property.
Well-paid employees are also much less likely to leave the company. While the lawn care industry in general has a high turnover rate, you'll be able to spot a quality company by the fact that their people stick with them. This benefits you directly as your lawn care technician will truly get to know you and your property.
Well-Trained Labor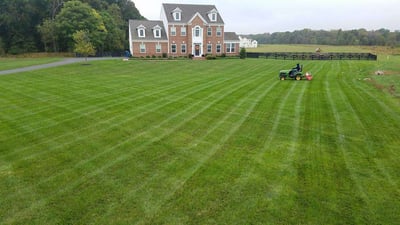 On top of paying its people well, a quality company will also put time and money into training its people well. Investing in ongoing training is no small expense but it directly benefits you by ensuring you have people on your property that know what they're doing. When working with professional grade products and equipment, that's important! The last thing you want is an untrained technician causing damage.
Proper Insurance
A quality lawn care company is going to be properly insured. That means that should an accident occur on your property you won't suddenly be left footing the bill because you hired an unlicensed and uninsured company to do the work.
Being properly insured is something else that isn't cheap but it's really a must-have when hiring a lawn care service in Ashburn, Aldie, or Leesburg, VA. Too often homeowners fail to ask the lawn care service they're hiring if they are properly insured or not and verify their insurance certificate. Unfortunately that could be a costly mistake on your end.
Material
Though it's something you may not have given much thought to, the fact is that different companies utilize different products as part of their services—and some cost more than others. A lawn care service might cost more because the company is utilizing high-quality professional grade product.
This obviously benefit the customer as the higher quality products work better. By paying a little bit more, you get a lot more value out of your investment with products that are highly effective.
Understanding the Value vs. the Cost of
Lawn Care in Ashburn, Aldie, or Leesburg, VA
Whether you had a perceived cost that you anticipated lawn care to be or you came into the search with no clue what to expect, you should come to term with a sense of what it is that you expect out of your investment. While some homeowners want an immaculate, golf-course-like lawn, others are happy with just getting rid of the bulk of their weeds. Understanding your expectations is important as you compare costs.
That's not to say that if you're part of the latter group—the group that just wants to get rid of most of the weeds—that you should opt for the cheapest service. You still want to receive high quality service for your investment.
After all, the most important thing to avoid when shopping for lawn care is to avoid shopping on price alone. As already explained, there are simply too many factors involved in lawn care prices to be able to compare them by price. If you simply choose the cheapest price, you can likely expect the cheapest service.
How Much Does Lawn Care Cost at Rock Water Farm?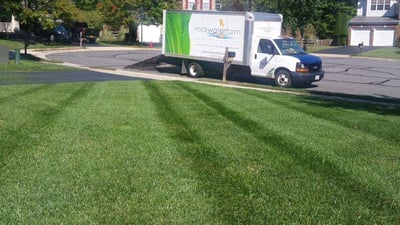 We can tell you now that we are not going to be the cheapest lawn care service in Ashburn, Aldie, or Leesburg, VA—nor do we want to be. We simply can't offer the high quality service that we want to offer without charging a fair price for our services. It's also why we are not solely a lawn mowing company.
While we offer mowing as a complement to other services, our customers must already be signed up for something else in order for us to also mow. We simply cannot sustain our overhead by offering mowing alone.
Our overhead is impacted because we do employ a whole team of quality workers both out in the field and back at the office. We also invest a lot in training our people and ensuring everyone is properly certified and insured. And, we pay our people well—offering them paid holidays and time off so that they are happy and quality workers when they're here with us.
While you might be tempted to look at how long a technician was on your property and then divide that time into what you paid, figuring out cost that way is missing the boat. You're not taking into account all of the behind-the-scenes factors that allow a lawn care company to offer the best possible service to their clients.
If you're simply looking at hourly cost for a service, then we aren't going to be the right for fit for you. But it's likely—since you've made it this far in the article—that you're someone who cares about value. You want to get the most out of your investment, and that's where we can help.
We are not volume-driven and we build long-lasting relationships with our clients. All of that equates to value. When you invest in lawn care with Rock Water Farm, you can expect that we will be there for you to meet all of your ongoing needs.
If you'd like to find out more about Rock Water Farm and what we charge for lawn care in Ashburn, Aldie Leesburg, VA or surrounding areas, contact us for a free consultation or give us a call at 703-327-1636 so that we can answer any of your questions.