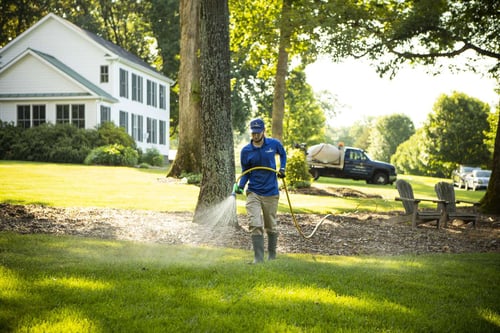 You want a lush green lawn and might be leaning toward using a professional lawn care service in Gainesville, Haymarket, or Warrenton (or other nearby Northern VA areas).
However, you don't have unlimited resources and might be wondering how much does lawn care cost?
You want to make a choice that will help you get the results you're after without spending more than you need to. After all, some initial might have revealed that lawn care prices can vary dramatically.
It might be surprising to you that lawn care costs can be so different from one lawn care company to the next but the fact is, comparing lawn care companies is like comparing apples to oranges. Everything from their strategic approach to the products that they utilize can differ and that can completely alter the price.
When it comes to evaluating lawn care prices in Gainesville, Haymarket, or Warrenton, VA, the key is to understand what you're getting for your investment.
What Goes Into Lawn Care Pricing?
First and foremost, it's important to fully understand that lawn care is one of those services that are not identical from company to company. Here are the factors that go into the cost (and which will differ depending upon the company that you choose).
Labor: The level of training of the technicians is definitely going to differ from company to company. You want a well-trained and highly experienced professional performing your services. But training and experience come at a price and you can expect to pay more for better-qualified labor.
Overhead: The cost of doing business is a factor that goes into what you pay. Obviously, that one-man-and-a-truck operation that doesn't employ a lot of people isn't going to have a lot of overhead but he also won't have the support or communication that you might desire or expect from a high-quality lawn care company.
Products: This is another major factor that impacts the cost of what you pay for lawn care. A company that uses higher quality lawn care products is going to be able to get you better results (such as superior weed control, as an example). But this, again, comes at a price. A company that charges less might be using low-quality products that aren't going to get you great results.
Insurance: A quality lawn care company is going to be properly insured. That means that should an accident occur on your property you won't suddenly be left footing the bill because you hired an unlicensed and uninsured company to do the work.
These are just some examples of the factors that go into the amount that any given company charges for their services. When comparing one company's cost to another, it's important to keep these points in mind so that you might be able to come to an understanding of what you are paying for.
These reasons above are why you cannot shop on price alone.
How Much Does Lawn Care Cost?
With that being said, you want to understand exactly what you will be paying for lawn care. We are always willing to be upfront about what we charge and don't feel that it should be any sort of big secret (or marketing gimmick) as you deserve to be able to make an educated decision about what is best for your property.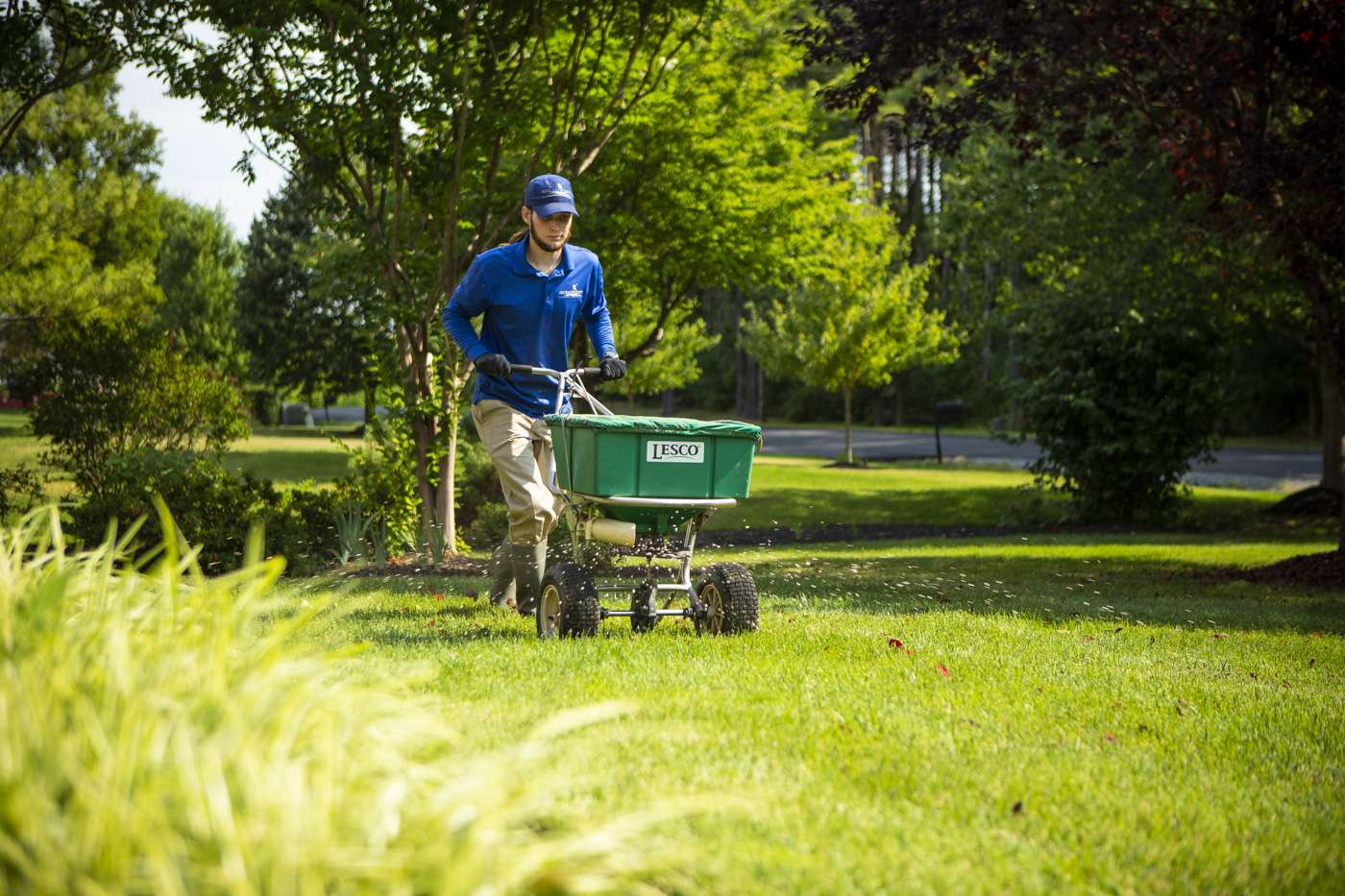 Our pricing is based off of the high expectations of our customers. In other words, our customers want to be able to feel confident that their lawn is receiving everything that it needs. That includes catching problems early, before they become serious. Of course, that takes a high level of care. When other companies pull a "bait-and-switch" approach, quoting you a low price for a program that does not fully address all of your needs, you are put at a disadvantage. That's because you ultimately end up having to pay more to fix those problems later on (which could have been prevented in the first place).
The Specifics of Rock Water Farm Pricing
At Rock Water Farm, we have three tiered levels of lawn care programs, each priced at a different starting point. We recognize that our clients' lawns are not all in the same condition and some may need more services than others.
Similarly, expectations can differ as well. Having three different program levels provides some flexibility with what we offer.
Our Basic Program starts at $49 per month and covers the most essential treatments needed to address the common issues that most lawns face. For a lot of homeowners, this program is enough to get their lawn to where they want it to be.
The Basic Program includes the following.
Soil Test
Early Spring Fertilizer with Crabgrass Pre-emergent
Spring Fertilizer, Crabgrass Pre-emergent, Broadleaf Weed Control
Early Summer Fertilizer, Grub Control, Broadleaf Weed Control
Summer Broadleaf Weed Control
Late Summer Micro-nutrients, Spot-Treatment of Weeds
Early Fall Fertilizer and Broadleaf Weed Control
Late Fall/Early Winter Fertilizer
Late Fall/Early Winter Limestone Application
The next step up from the Basic Program is the Plus Program. This program starts at $60 per month and includes everything in the Basic Program plus the following.
Also includes Double-Pass Core Aeration
Also includes Overseeding
Finally, we also have the Premier Program, which includes everything from the other two programs plus the following. This program starts at $175 per month.
Also includes weekly lawn mowing (approximately 34 per year)
What Makes Our Lawn Care Program Pricing Unique?
Now that you understand what factors into the pricing and what specific services are included, you might be interested in how Rock Water Farm differs from the competition.
Soil Testing
One of the biggest differentiators of our overall program structure is the fact that soil testing is included at each and every tier. This is such a valuable service, which we explain in much greater depth here, as it validates every single thing that we do.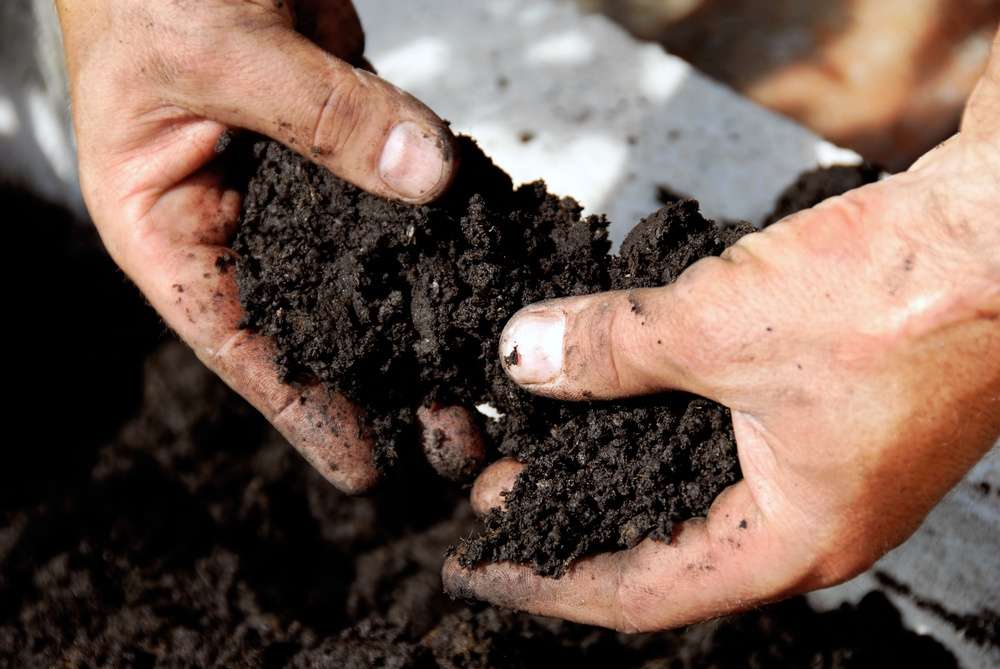 The fact is, a lot of companies talk about offering customized lawn care but if they aren't always included a soil test then it is no more than just talk. That's because a soil test tells us exactly what your lawn needs.
Tiered Program Options
Another thing that makes Rock Water Farm different from other lawn care companies is the fact that we do offer these tiered options. A lot of lawn care companies just have one choice and homeowners have to hope that it meets their needs, including their budget. But Rock Water Farm offers our three tiers of programming in order to be accommodating.
Payment Options
Another way that we are accommodating is by allowing for a monthly installment option if that's how our customers prefer to pay. There are a lot of inflexible companies that will only let customers pay when services are performed but we recognize that some of our customers prefer spreading those payments out over a monthly structure.
The Value-Add of Proper, Professional Mowing
Although this article is focused on lawn care treatments, the fact that we do also offer mowing services (if customers want them), is a significant "value-add" for many of our clients.
So often, homeowners have no idea just how much mowing can impact their lawn care results. But improper mowing can actually lead to significant problems such as discoloration or thinning. For this reason, having your lawn care company also perform your mowing can make good sense (and impact your results).
However, most of the large, national lawn care companies do not also offer mowing (nor do many of the regional lawn care companies). This is a problem as you can't be certain that your mowing company is not sabotaging the results of your lawn care company.
Choosing a Lawn Care Service in Gainesville, Haymarket, or Warrenton, VA
When it comes to lawn care cost, we are honest and upfront with our customers. If you are simply looking for the cheapest service in the area, then we are not going to be the right fit for you. But it's likely (since you have made it this far in the article) that you are someone who cares about value and understands that in order to get the best possible results, you may need to invest a little bit more.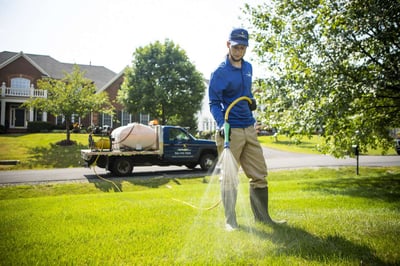 That is where we can help.
We are different from a lot of the lawn care companies in Gainesville, Haymarket, and Warrenton, VA as we are not volume-driven and we build long-lasting relationships with our clients. All of that equates to value and for getting the most out of your investment.
When you invest in lawn care with Rock Water Farm, you can expect that we will be there for you to meet all of your ongoing needs. And with the use of an annual soil test as a part of each of our programs, you can feel confident that you're getting customized lawn care which is designed to meet your property's exact needs.
If you're ready to start getting the lawn care results you desire at your Gainesville, Haymarket, or Warrenton, VA home, talk to an expert, choose a solution that rocks, and get ready to enjoy your lawn and relax.