Keeping your lawn looking its best requires a number of different lawn care services. One of the most important—that people often don't know about (or realize the importance)—is lawn aeration. Lawn aeration has been called the "secret to a great lawn" because of how much it does to help your lawn grow lush and thick. But it's not uncommon for homeowners to have a lot of questions about this service, including whether their lawn really needs it.

We'll aim to answer some of those questions and include some helpful information that can help you make the most out of lawn aeration for South Riding, VA.
What is Lawn Aeration?
Before we go any further, we want to explain what lawn aeration is as we often find that homeowners don't have a full understanding of the service.

Lawn aeration is a service performed with a piece of machinery called an aerator. The aerator pulls cores of soil from your lawn and deposits them on the surface where they'll naturally decompose. This natural decomposition along with the holes made in the soil help relieve compaction, which is incredibly common in South Riding, VA due to our clay soils. It allows more water, oxygen, and nutrients to penetrate deep into the soil as a result.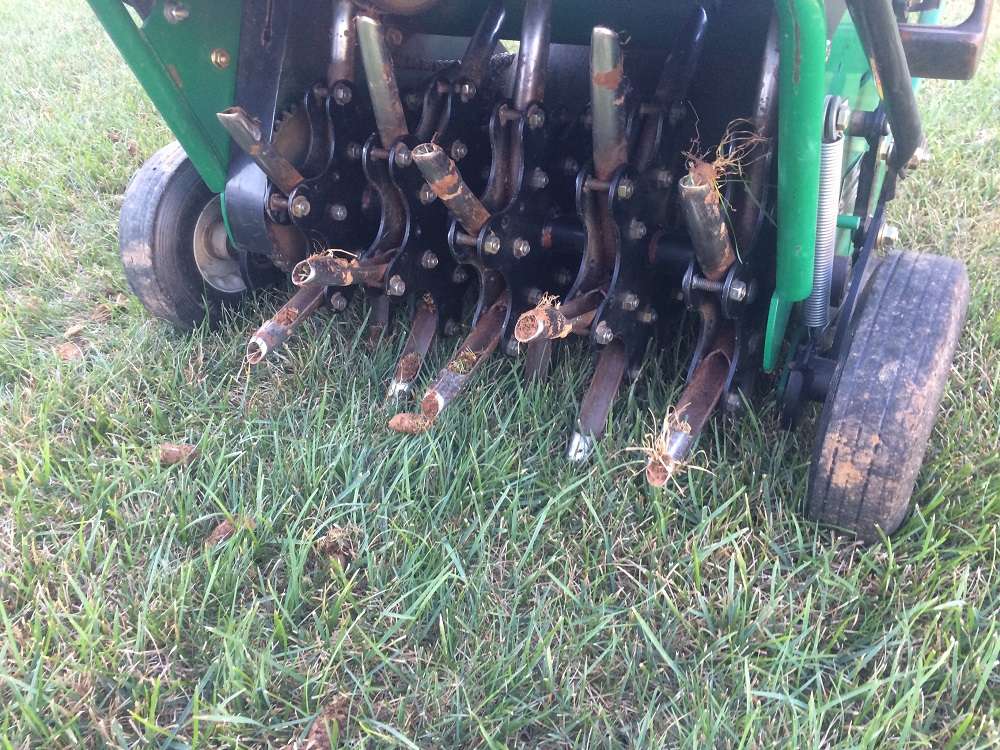 By reducing soil compaction, you are allowing your lawn to "breathe."

The benefit to helping your lawn to breathe is that it allows roots to grow deeper. In turn, you are rewarded with a greener, more vigorous, and overall healthier lawn.
Does my Lawn Need Aeration?
Even if you understand what lawn aeration is, you might be wondering if your lawn really needs it.

The answer is yes, unless you're okay with subpar results.

The truth is, your lawn is never going to be as good as it can be, unless you have it aerated. Our clay soils are going to hold you back.

Besides helping your lawn to grow deeper roots and therefore produce better results, there are also benefits to lawn aeration.
Breaking Up Thatch
Lawn aeration also goes a long way in helping to reduce thatch. Thatch, which is a naturally-occurring mixture of living and dead organic material that can build atop of the soil, can become a problem when it builds up more than a half inch. When that happens it can make the lawn more susceptible to problems like disease or pests. But, lawn aeration can help break up this layer.
Fewer Weeds
A well-aerated lawn is also less likely to be overtaken by weeds. That's because the best natural defense against weeds is a thick lawn that will choke out their growth. When you aerate, you allow your lawn to grow thick and defend itself from invaders. That's a huge benefit since many of the weeds in our region can be tough to get rid of. It's always best to discourage them from growing in the first place!
Better Results from Lawn Care Services
Another important benefit of lawn aeration is that it allows you to get better results from other lawn care services like fertilization treatments. Lawn aeration makes looser soil which makes those treatments more effective. The last thing you want is to pay for the application of lawn care products only to have them sit atop the soil and do no good.
How Often to Perform Lawn Aeration?
Due to the clay soil that is prevalent here in South Riding, VA, we recommend that lawn aeration be performed annually. The fall is the best time to aerate as this is also the time that we would perform overseeding. The fall weather provides the perfect growing conditions for seed germination, increasing the odds that your new grass will survive and mature.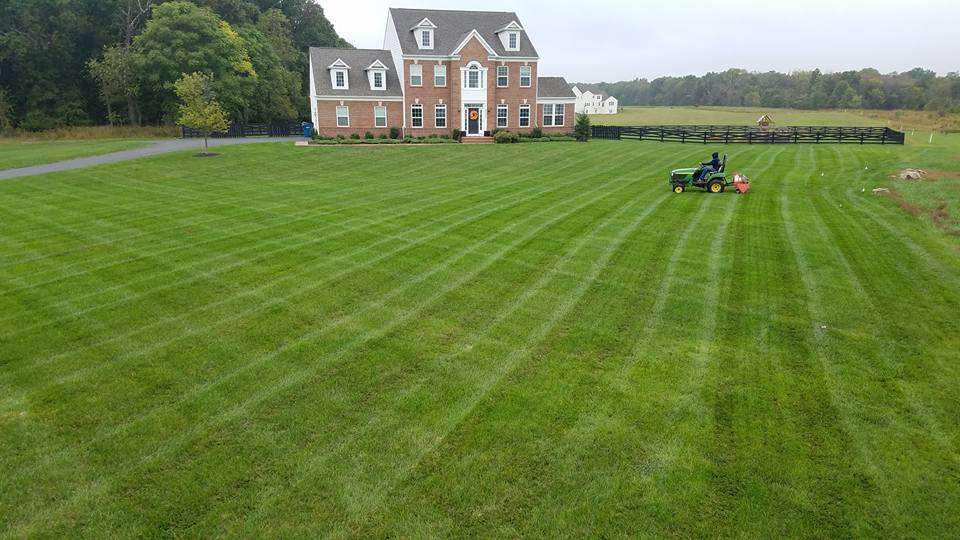 We perform lawn seeding immediately following aeration so that the seeds fall into the holes made during that service. This provides the ideal "seed-to-soil" contact that also helps grass grow.

We can follow that up by topdressing the lawn.

Topdressing is an important but often neglected service which helps produce a lush, green lawn. After aerating and overseeding, we apply a compost mixture that will also fall into the holes and mix with the clay soil. This helps create a better layer of topsoil by improving soil structure and microbial life.
Can I Perform DIY Lawn Aeration?
Now that you understand the benefits, you probably want to incorporate lawn aeration into your regular services. However, you might be wondering whether you can just do it yourself? You might assume that it will save you a lot of money to tackle this task on your own, but in reality, it's more difficult and potentially more costly than you may think.

Here are some important considerations to take into account before attempting to tackle this service on your own.
Subpar Equipment
Although you could certainly rent a lawn aerator on your own, it's important to recognize that rented equipment is going to be subpar to what a professional is utilizing. For one, keep in mind that hundreds of people before you have likely used that same piece of equipment. That means it's highly likely it's pretty "beat up." This could make the machine clunky to operate turning aeration into a laborious chore. It's also quite likely you're going to get poor results because of this.

On the flipside, when you have this service performed by a pro, you can feel confident that they're using a piece of equipment that they've taken good care of to ensure that it keeps operating its best.

We have also found that the plug depth created by our commercial-grade aerator is better than what homeowners typically achieve with the average rental. This is important as plug depth is what helps you to get the best results.
Availability and Transportation of Equipment
You should also consider the hassles involved in renting equipment. Just because you have a free weekend where you'll be able to perform lawn aeration does not mean that you'll be able to find an aerator that is available to rent.

Plus, when you do get that rental, you'll also need to think about transporting it. If you don't have access to a pick-up truck with ramps or a trailer, you may need to rent those as well. Now you're talking about not only a lot of hassle but a lot of money.
Performing the Service Properly
Of course, you also want to consider whether you feel confident that you can perform this service properly so that you get the maximum benefit. It's really important that aeration is performed when the timing and the conditions are right. If you get the rental equipment secured, get it transported to your home, and then suddenly find out the ground is too wet, it could be a major hassle. But aerating wet soil can cause a lot of damage to your lawn.
Taking on the Risk
Finally, you should also consider what sort of risk you'll take on by performing lawn aeration on your own. Operating heavy machinery is no simple feat. You could obviously do damage to your lawn if you use it improperly. But even more scary is that you could damage a vehicle, your hardscaping, or even worse, yourself! A lawn aerator is a large piece of machinery that can do damage when operated incorrectly.
Working with Rock Water Farm for Lawn Aeration in South Riding, VA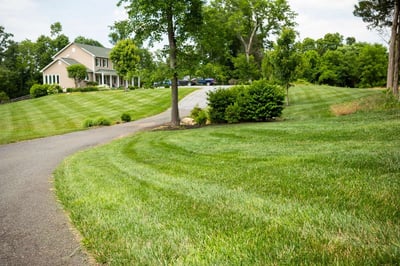 At the end of the day, if you truly want a great-looking lawn, then you cannot overlook lawn aeration (or the subsequent services of seeding and topdressing, which make it even more beneficial).

Investing in a professional to perform these services will ensure they're done right and that you get the best possible results.

At Rock Water Farm, you have options. We can do lawn aeration as part of a lawn care package, or we can perform it as a stand-alone service. We can work with your specific needs to find out what's best for you.

However you choose to move forward, by handing these services over to a pro, you can gain valuable peace of mind that it's going to help you get the results you're after.

If you'd like to discuss lawn aeration services for your South Riding, VA home, talk to an expert, choose a solution that rocks, and then get ready to see your beautiful lawn flourish.