When you picture the lawn of your dreams, you certainly aren't picturing one with thinned out areas, discoloration, or weeds popping up. You're imagining a lawn that the neighbors envy—that is, one that is thick, green, and weed-free.
While you likely know that various lawn care efforts go into making a lawn look that way (great lawns don't just happen, they're created), what you may not know is just how much impact the seed being used will have. In fact, you might even assume that all lawn care companies are using the same type of seed—but this just isn't the case.
For beautiful, healthy grass, it is important that you make your seed selection wisely, which may mean turning to a professional for guidance. When it comes to choosing the best grass seed for Northern Virginia, we are here to guide you.
Choosing the Best Grass Seed for Northern Virginia
It's very important to recognize that choosing grass seed is much more complex than just heading to the nearest box store and picking up a bag of seed. If you've been to a big box store and looked at seed, you already know there are an overwhelming number of types and brands of seeds.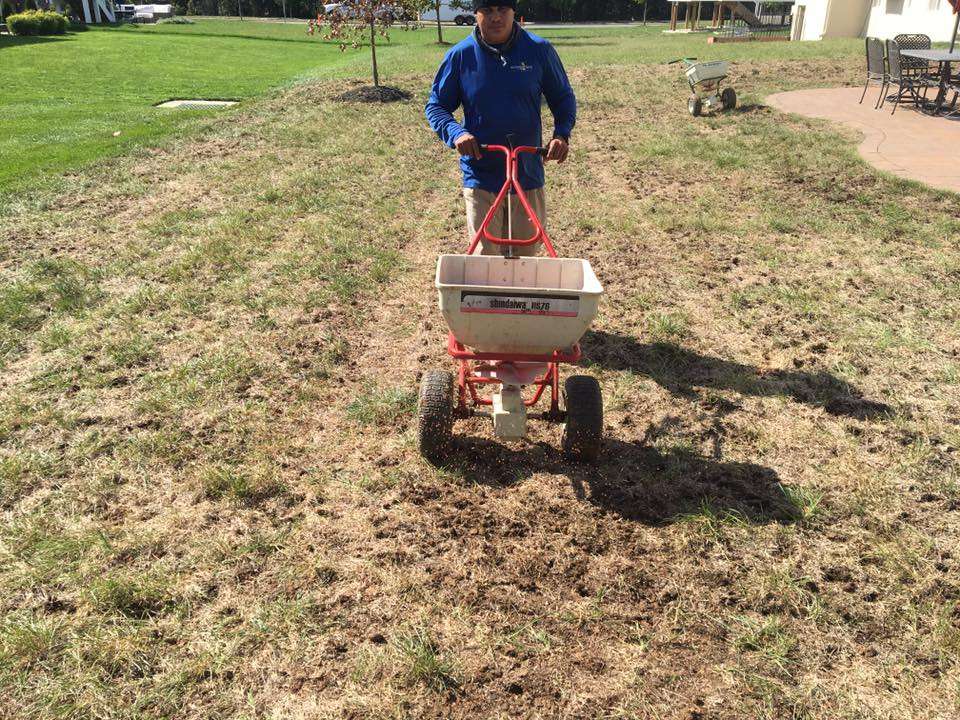 A poor choice could leave you with more hassle than you started with. That's because some seed blends contain filler (which can produce untreatable weeds). In addition, some turf types don't work well in our region and yet they are still available to buy around here.
We understand how confusing these options can be for you.
But purchasing high-quality grass seed is really important. You don't want to end up with weeds in your lawn due to using a low-quality product that has weed seeds mixed in. When homeowners see one or two bare spots in their yard, sometimes the inclination is just to grab a bag of seed and quickly take care of it themselves. But this really could do more harm than good by introducing unwanted weeds into your yard that will only spread.
Unfortunately, the grass seed purchased in big box stores is simply not going to be of the same high quality as that which is used by a reputable landscape professional.
The word "reputable" is important there. While we'd like to say that no so-called professional would ever use a low-quality grass seed, the fact is, many do it to cut cost. This is certainly taking advantage of homeowners who don't recognize that there is a difference between seed quality and it, unfortunately, happens all the time.
Even professionals get what they pay for. And the products available to them vary in price and quality as well.
The Best Northern Virginia Grass Types
So what type of grass should be used for Northern Virginia lawns?
Without a doubt, turf-type tall fescue is the best-adapted turfgrass for Northern Virginia lawns. That's because it tends to have the deepest root system of the different types of cool-season grasses. It can use water from deeper within the soil and therefore resist drought and continue to perform well in a variety of weather conditions.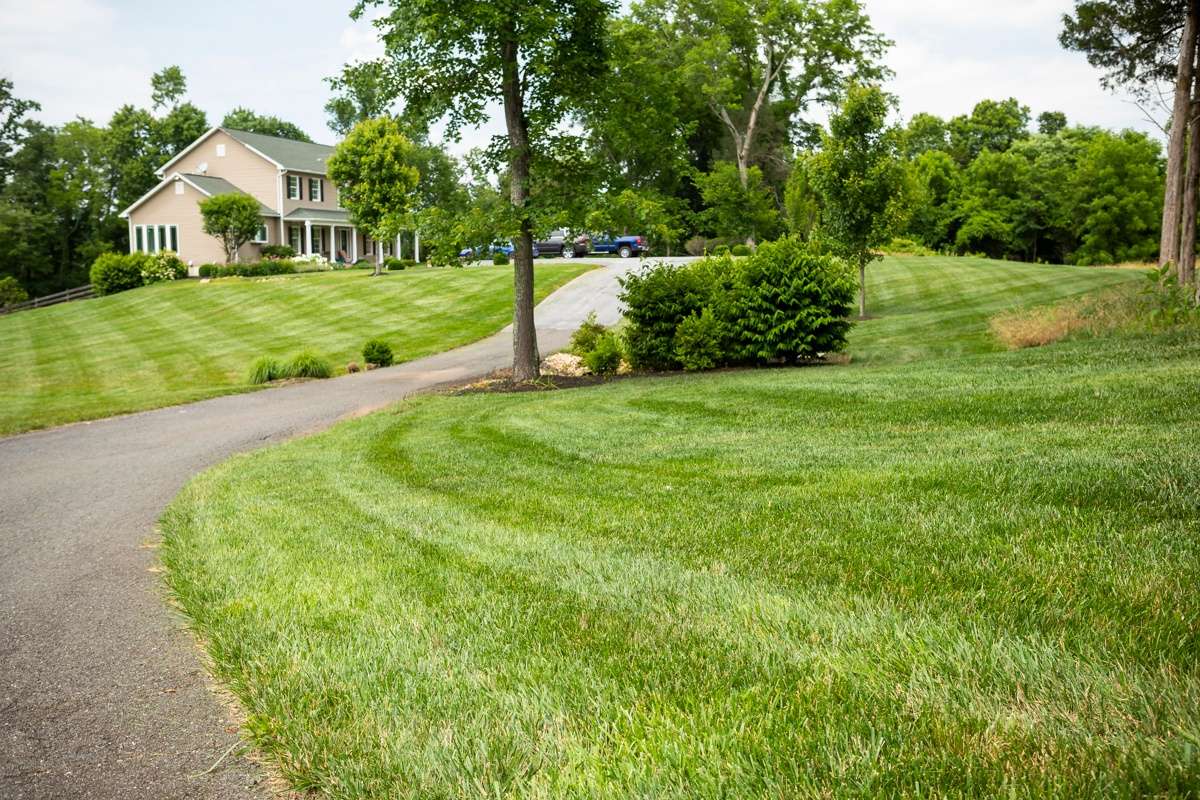 But with more than 100 cultivars of tall fescue, there are even choices within this category.
To dig even deeper, you specifically want to know, what is the best grass seed for Northern Virginia?
At Rock Water Farm, we are using a top-rated blue-tag fescue, which is ideally suited to our region. The seed selection that we've made is based on years of studies performed by researchers like those at Virginia Tech. This particular grass seed has been studied and proven to be a top performer.
The specific commercial-grade product that we've chosen is a blended turf-type tall fescue, meaning that it is not a single cultivar, but instead, several in order to provide the best possible performance.
The blue tag certification means that it contains no weed filler.
In addition, this particular seed is also special because it is coated in starter fertilizer in order to provide faster germination. Our grass is usually growing in a third of the time of most grass seeds—often times as quickly as within a week. Average grass seed is going to take as long as 3 weeks to even start growing.
Encouraging Grass to Grow with Supporting Services
Of course, actually getting your grass off to the best possible start requires more than just tossing down some seed. Your professional lawn care company should also perform valuable services like lawn aeration and topdressing to start your lawn the right way.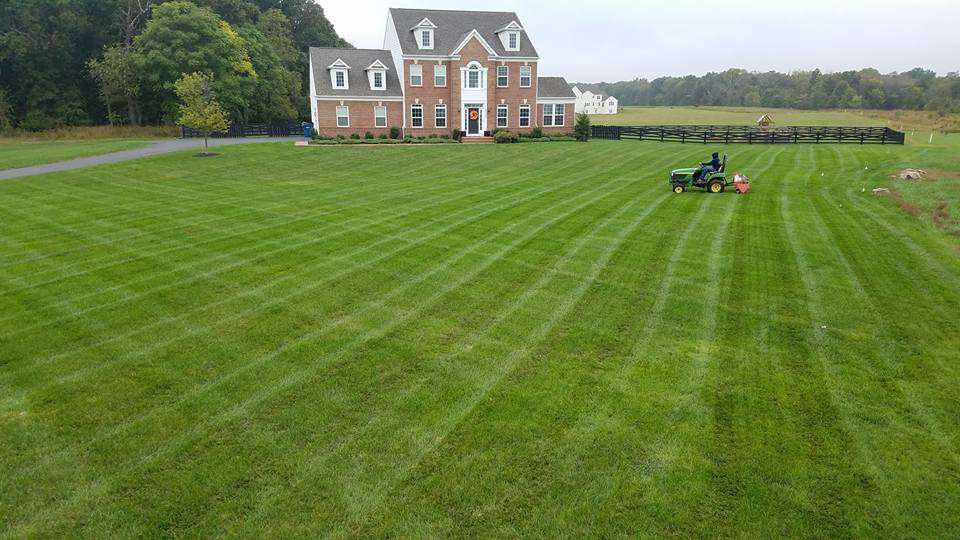 A lawn aeration service is performed by running a commercial-grade aerator across your lawn. At Rock Water Farm, we always do a double pass giving you the best possible results. We find that a lot of our competitors do not perform a double pass when aerating.
The best time to seed the lawn is immediately following lawn aeration when the seeds can fall into the holes that we created in the lawn.
The fall weather provides the ideal conditions for seed germination, increasing the odds that your new grass will survive and mature. To perform a lawn seeding service, we use push spreaders that are correctly set to properly seed your lawn at five pounds per thousand square feet.
Finally, in order to achieve the best possible results, topdressing the lawn with compost is a lawn service best-performed right after aeration and overseeding. The idea is for the compost to mix with the existing clay soil.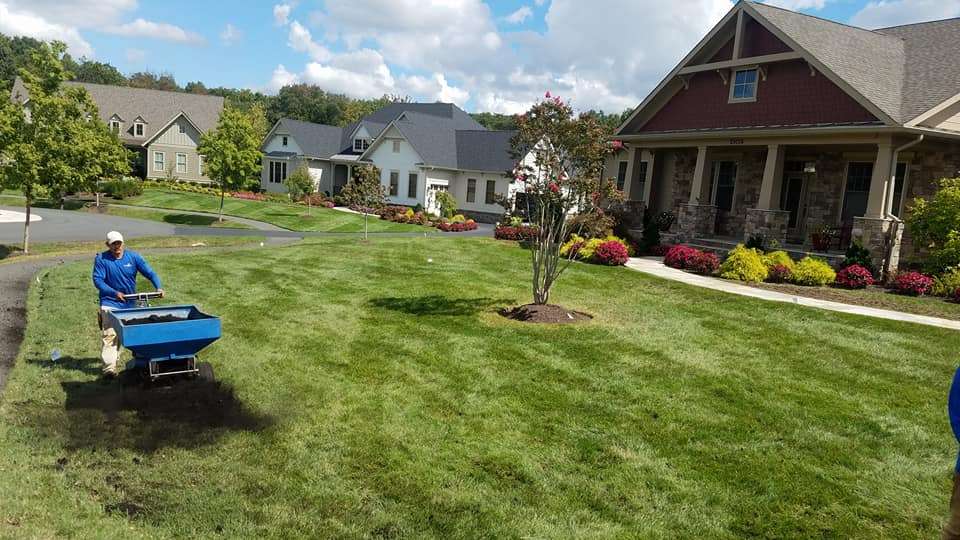 Topdressing is a lawn care secret that many haven't heard of, but it has long been a standard practice in the golf course industry. These days many more homeowners are using a topdressing service to achieve the lush green lawn they desire.
Topdressing is a great way to build a healthy balance in your soil by increasing healthy soil microorganisms, all while improving soil structure.
When is the Best Time to Plant Grass in Northern Virginia?
Seeding is best done in the fall because the weather conditions are ideal for new grass growth. While the soil is still warm, the air is cool. This provides the best possible growing conditions for seed germination which, in turn, improves the chance of new grass survival.
To be even more specific, the best time to plant grass in Virginia is between September 1 and October 31, but that's not to say that we wouldn't go a little later. The trouble is, as we get into November, the temperatures begin to drop more rapidly.
If we were to perform seeding after October 31, we'd likely use a process called slit seeding (or "slice seeding").
This method utilizes a piece of machinery called a slit seeder to make ½ inch to 1-inch deep slices in the ground with its vertical blades. Grass seed is then dropped into these slices. By creating these deep slices, the seed ends up in contact with the soil, where it will germinate best. With slit seeding, the new grass seed will be more protected from the colder temperatures.
Achieving the Lawn of Your Dreams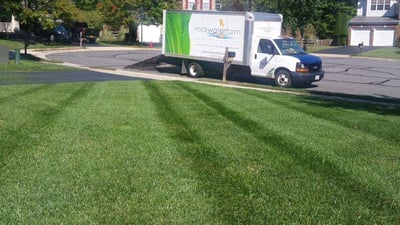 The best lawns begin with the best seed—and the specialized attention of a professional who knows how to grow grass as well as care for it as it grows and matures.
By choosing Rock Water Farm for seeding and other lawn care needs at your Northern Virginia home, you can ensure that you're getting the best possible seed on the market for our region. You can also be sure that your lawn is getting the care and attention that it needs to thrive. When it comes to having the lawn of your dreams, you need nothing less than the best.
If you're ready to have the lawn of your dreams at your Ashburn, Aldie, or Leesburg, VA home, talk to an expert, choose a solution that rocks, and get ready to watch that dream take shape today.